Malaysian Bak Kut Teh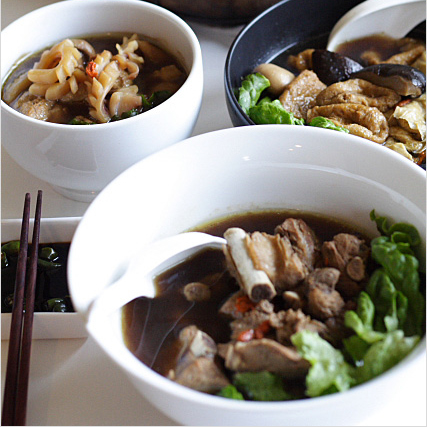 http://rasamalaysia.com/malaysian-bak-kut-teh/
It's been almost two weeks since we arrived in Malaysia. Needless to say, I have been stuffing myself silly with lots of great food daily. I apologize for the lack of posting but there are just too much fun being home, especially during the festive Chinese New Year celebration. There are always friends and family to visit, places to go, foods to eat, etc. Anyway, the good news is that I am currently working with my designer on a brand new Rasa Malaysia Photoblog, a new sub-domain which is pretty much about my life in photographs. The Photoblog will be a great tool for me to share many things with you, without writing a lengthy post. I am just very excited. Please stay tuned for the launch…
Anyway, when I was in Kluang during the first few days of Chinese New Year, I tried out some of the best Bak Kut Teh in town. Bak Kut Teh originated from Klang, Malaysia. It's a hearty soup made of pork ribs, Chinese herbs, mushrooms/wood ear, fresh lettuce, etc., and eaten with side dishes such as yam rice and fried youtiao. Bak Kut Teh is available throughout the day but I love it as my breakfast. Nothing comforts the empty stomach more than fall-off-the-bones pork ribs, fluffy yam rice, crispy fried youtiao, and the aromatic herbal-infused broth.
Here are the  photos of the Bak Kut Teh I had. My favorite is the clay pot Bak Kut Teh at Teoh Heng.
Restoran Teoh Heng (潮兴肉骨茶)
53 Jalan Lim Swee Sim,
Kluang Baru,
86000 Kluang, Johor
Phone: +6-016-754-4932
You Might Also Like These Recipes Below:
LOVE THE RECIPE & PHOTOS? PLEASE SHARE:
Sign Up for Email Updates
Enter your email for new updates: recipes, giveaways, and more!