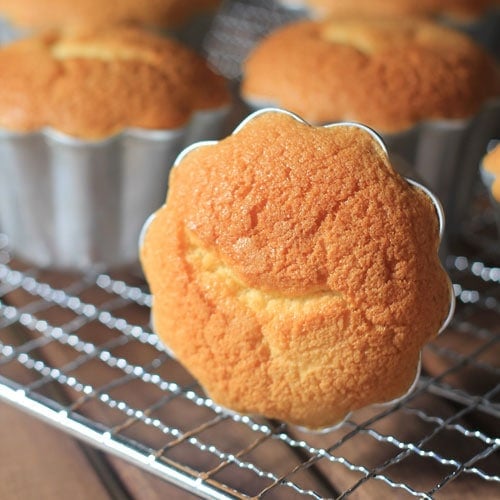 Mini Egg Cake (鸡蛋糕)
Mini egg cake. Soft, airy, light sponge cake. Learn how to make these mini cakes
Prep time:
Cook time:
Total Time:
Ingredients:
4 large eggs
7 oz (200g) castor sugar or fine sugar (do not use icing or powderd sugar)
A pinch of salt
6 oz (180g) all-purpose flour
1 tsp baking powder
1 oz (35g) Oil
Method:
Preheat the oven to 350F or 180C.
Whip eggs, castor sugar and salt with wire whisk at medium speed until light and fluffy.
Fold in sifted flour mixture (all purpose flour and baking powder) with rubber spatula until well combined.
Add oil lastly and mix until well combined.
Pour into greased and floured 3.75 X 2-inch flora cupcake moulds, or paper lined muffin tin.
Bake at the middle rack of the oven for 20 minutes.
Remove cakes from the moulds immediately after baking. Set aside to cool.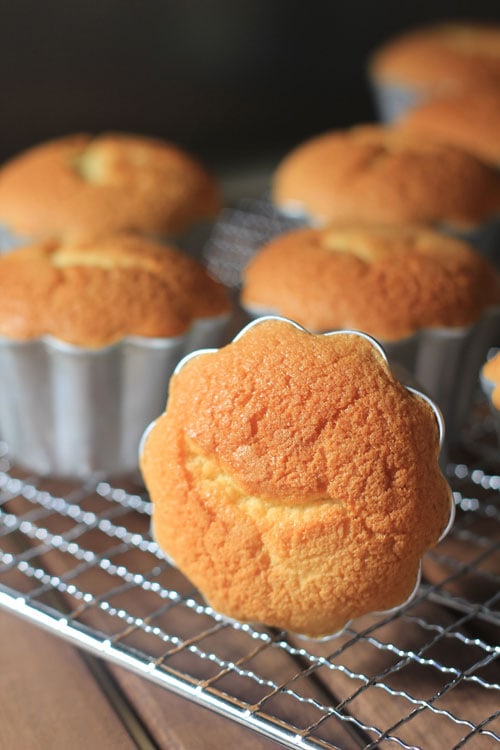 My friend CP is a fantastic baker. She always posts her beautiful baking recipes on Facebook. A few weeks ago, I asked her if she would be willing to share some of her recipes with the readers of Rasa Malaysia and she gladly said yes. I chose four baking recipes from her, which I will be posting in the next few weeks. They are all great stuff, and I hope you will love what she shares with us.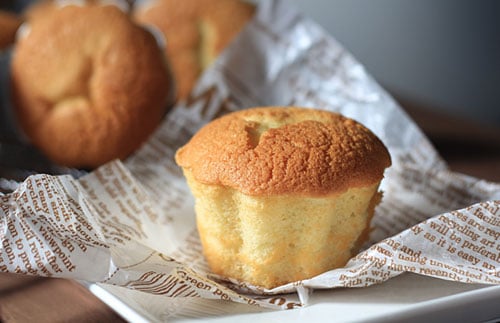 This mini egg cake or 鸡蛋糕 caught my attention when I was going through her photos. These mini cakes were my favorite when I was growing up as my mother would always buy them from the market, and I would snack on it the whole day: breakfast, tea, and supper, or whenever I am hungry. So this recipe does bring a lot of childhood memories back.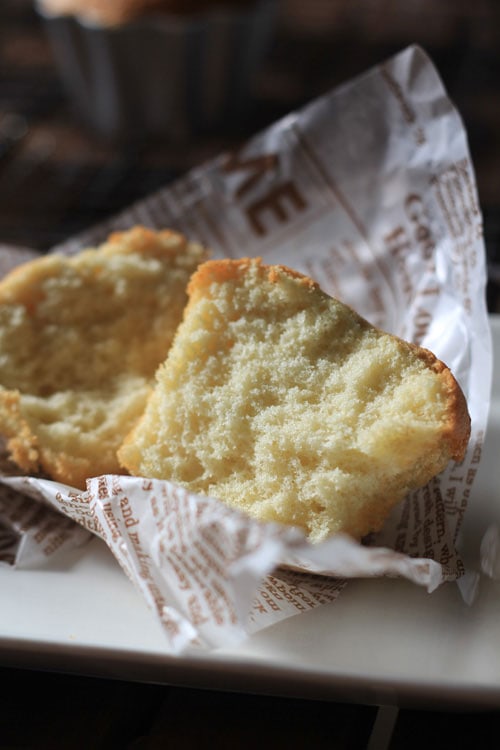 My friend CP told me that she adapted the recipe from a baking book by a very popular Malaysian baker. It is an easy recipe and takes less than 1 hour, so everyone can make this. There are no special ingredients involved so there is no need to stock up on new ingredients. Trust me, these mini egg cakes are soft, pillowy, and absolutely tasty. Enjoy!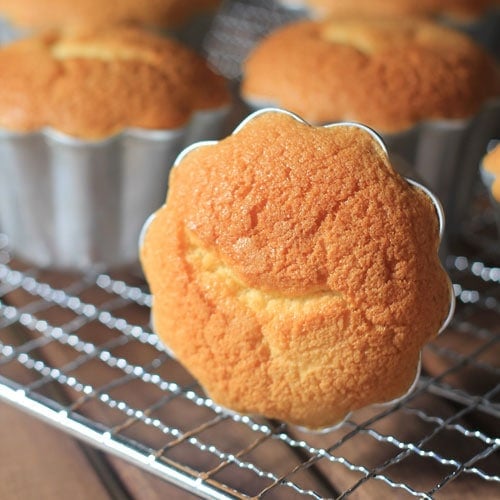 Rate This
Recipe Name
Preparation Time
Cook Time
Total Time
Average Rating

Based on 2 Review(s)