Ngoh Hiang Recipe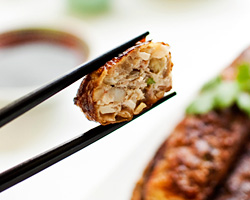 http://rasamalaysia.com/ngoh-hiang-recipe/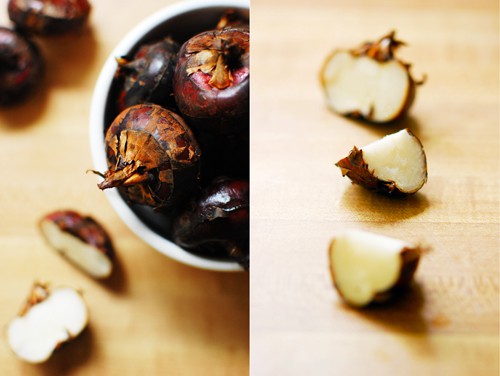 Ngoh Hiang (Chinese Five-Spice Pork Roll) recipe
Makes about 10 six-inch rolls
Recipe by: Danielle of Bon Vivant
Ingredients:
1 pound/ 455 grams minced pork (preferably the shoulder for its higher fat content)
½ pound/ 228 grams fresh shrimp, shelled and minced
1 large egg, lightly beaten
2 tablespoons light soya sauce
1 teaspoon fine sea salt
1 teaspoon ground white pepper
1 teaspoon five-spice powder
10 to 12 water chestnuts (about 11 ounces/ 300 grams), washed, peeled and smashed with a pestle
3 green onions, finely chopped
½ a yellow onion, minced
3 tablespoons self-rising flour
Dried soya bean skin (available in frozen, ½ pound packs from Chinese grocery stores), cut into 4 by 6-inch rectangles
Corn oil
Sweet dark soya sauce or Kecap Manis for dipping
Method:
Mix the pork and minced shrimp in a large bowl and add the egg, stirring to mix. In a separate bowl, stir together the soya sauce, salt, white pepper and five-spice powder until smooth, then add it to the pork/shrimp mix.
Stir in the water chestnuts, green onions and yellow onion, mixing as you go to distribute the ingredients evenly. Finally, sift in the flour and mix until no traces of flour are visible.
Lay out the prepared skins on your work surface. Arrange a heaping tablespoon of the prepared pork mix along the longer edge of the skin, leaving a ½-inch gap from the surrounding edges. Shape the meat into a slim sausage, it should be about 1 inch tall and 1½ inches wide. Add more pork if needed.
After shaping the meat, roll the skin starting with the edge closest to you, tucking in the side edges as you go. Roll until the meat is fully ensconced within the skin, then place it, seamside down, on a plate. Repeat until you've used up all the pork. (For a great step-by-step visual, check out The Little Teochew's images of how to roll ngoh hiang at the end of this post).
Lightly grease a steamer tray and steam the rolls for 8 to 10 minutes, until the skins turn translucent and the rolls feel firm. Remove and set aside on wire racks to cool. At this point, you can divide the rolls into batches and freeze them in plastic wrap for up to 3 months. To cook, defrost the rolls in a 350F/ 180C oven for 10 minutes before frying.
To finish the rolls, heat a non-stick saucepan large enough to hold 2 to 3 rolls comfortably and add enough oil to thinly cover the surface of the pan.
Add the rolls one at a time – I recommend cooking a maximum of 3 at one go, so as not to overcrowd the pan – and fry on medium high heat until the skins turn a crisp dark brown. Leave to cool on paper towels or a wire rack before slicing and serving. Wipe down the pan with paper towels after each batch before cooking the next.
Slice the rolls into 1-inch chunks and serve warm or at room temperature with the dipping sauce.
Sign Up for Email Updates
Enter your email for new updates: recipes, giveaways, and more!