Ngoh Hiang - Ngoh Hiang is the Singaporean version of five-spice pork rolls wrapped with beancurd skin. This simple ngoh hiang recipe is great as an entree or appetizer.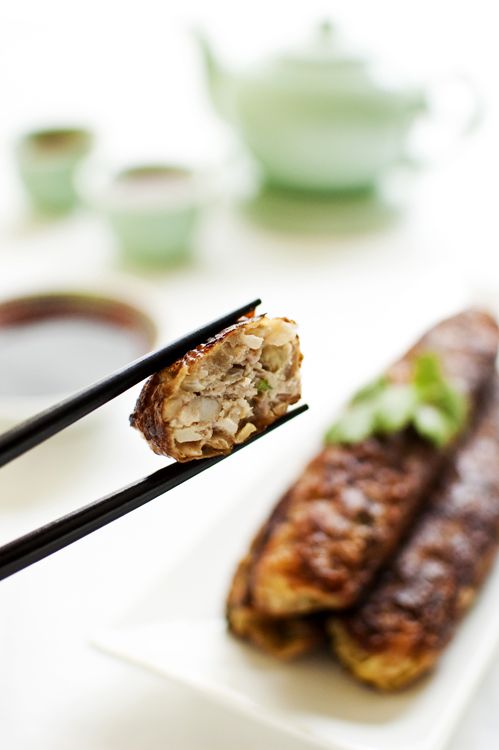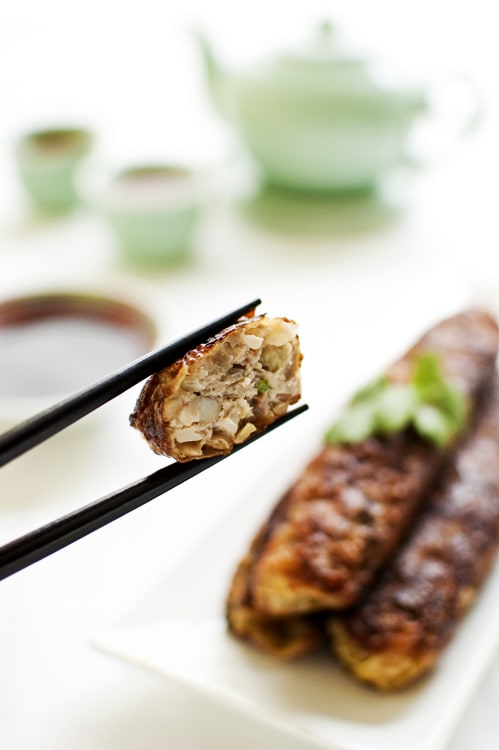 Ngoh Hiang is one of the most requested recipes from my Singaporean readers. Being a Malaysian, I have no idea what ngoh hiang is.
After poking around, I finally realized that ngoh hiang is the local Singaporean name for a similar dish "loh bak" or five-spice pork rolls wrapped with tofu skin.
So, I invited Danielle of Bon Vivant back for another guest post. (Check out her claypot chicken rice recipe.) Please welcome Bon Vivant to Rasa Malaysia again as she shares her mother's ngoh hiang recipe.
And to all my Singaporean readers, I hope you enjoy this post! Let us know if your family makes the Hokkien version or Teochew version.
These pork rolls are a delicious and dangerous concoction. Named for the Chinese five spice powder that gives the rolls their unique flavor, Ngoh Hiang (五香) is another take on the pork sausage, if you will.
A whole array of ingredients are stirred into a pound of fatty ground pork, which is then seasoned with five spice powder and snugly wrapped in dried beancurd skins.
First steamed, then pan-fried to a crisp, one bite of these juicy chunks is never enough for me as I'd have worked up a massive appetite by the time these rolls hit the table, thanks to the aromas that leak out in the cooking process…
Like any good Chinese dish, these rolls have their sub-cultural variations, depending on whether the cook was of a Teochew or Hokkien dialect.
In my maternal grandfather's Teochew version, there were shrimp and water chestnuts, but no onions or yam. Before cooking, each roll was tied with string, sectioning out pieces for easy cutting and serving once ready.
In my paternal grandmother's Hokkien version, however, there were the pork and onions, but no shrimp or water chestnuts. After tasting both versions, my mother, like any curious cook, took it upon herself to fuse the two traditions to produce a pork roll to her taste.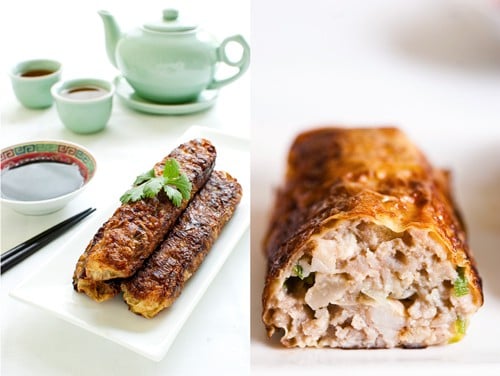 This took years of trial and error, and neverending rounds of scrutiny and questioning before her rolls received the seal of approval from the seasoned palates on both sides of the family.
With a new recipe for utterly addictive pork rolls came a change of cooking traditions: the Hokkien grandmother saw the merits of water chestnuts and started featuring them in her rolls, while the Teochew grandfather slowly came round to adding onions to his.
As you try out this particular recipe, take the liberty to substitute, add or remove ingredients according to your taste – it is, after all, in the spirit of culinary evolution and curiosity that led to this version in the first place!
How Many Calories per Serving?
This recipe is only 332 calories per serving.
What Dishes to Serve with This Recipe?
For a wholesome meal and easy weeknight dinner, I recommend the following recipes.
For more great recipes like this, sign up for our newsletter. We'll send daily recipes you'll love!
Join
Sign up for our newsletter!
Ngoh Hiang
Ngoh Hiang is the Singaporean version of five-spice pork rolls wrapped with beancurd skin. This simple ngoh hiang recipe is great as an entree or appetizer.
Ingredients
1

pound

minced pork

(preferably the shoulder for its higher fat content)

½

pound

fresh shrimp

(shelled and minced)

1

large egg

(lightly beaten)

2

tablespoons

light soy sauce

1

teaspoon

fine sea salt

1

teaspoon

ground white pepper

1

teaspoon

five-spice powder

10 - 12

water chestnuts

(washed, peeled and smashed with a pestle)

3

green onions

(finely chopped)

½

yellow onion

(minced)

3

tablespoons

self-rising flour

Dried soya bean skin

(available in frozen, ½ pound packs from Chinese grocery stores, cut into 4 by 6-inch rectangles)

Corn oil

Sweet dark soya sauce or Kecap Manis for dipping
Instructions
Mix the pork and minced shrimp in a large bowl and add the egg, stirring to mix. In a separate bowl, stir together the soya sauce, salt, white pepper and five-spice powder until smooth, then add it to the pork/shrimp mix.

Stir in the water chestnuts, green onions and yellow onion, mixing as you go to distribute the ingredients evenly. Finally, sift in the flour and mix until no traces of flour are visible.

Lay out the prepared skins on your work surface. Arrange a heaping tablespoon of the prepared pork mix along the longer edge of the skin, leaving a ½-inch gap from the surrounding edges. Shape the meat into a slim sausage, it should be about 1 inch tall and 1½ inches wide. Add more pork if needed.

After shaping the meat, roll the skin starting with the edge closest to you, tucking in the side edges as you go. Roll until the meat is fully ensconced within the skin, then place it, seam side down, on a plate. Repeat until you've used up all the pork. (For a great step-by-step visual, The Little Teochew's images of how to roll ngoh hiang check out at the end of this post).

Lightly grease a steamer tray and steam the rolls for 8 to 10 minutes, until the skins turn translucent, and the rolls feel firm. Remove and set aside on wire racks to cool. At this point, you can divide the rolls into batches and freeze them in plastic wrap for up to 3 months. To cook, defrost the rolls in a 350°F (180°C) oven for 10 minutes before frying.

To finish the rolls, heat a non-stick saucepan large enough to hold 2 to 3 rolls comfortably and add enough oil to thinly cover the surface of the pan.

Add the rolls one at a time - I recommend cooking a maximum of 3 at one go, so as not to overcrowd the pan - and fry on medium high heat until the skins turn a crisp dark brown. Leave to cool on paper towels or a wire rack before slicing and serving. Wipe down the pan with paper towels after each batch before cooking the next.

Slice the rolls into 1-inch chunks and serve warm or at room temperature with the dipping sauce.
Nutrition

Nutrition Facts

Ngoh Hiang

Amount Per Serving (5 people)

Calories 332

Calories from Fat 189

% Daily Value*

Fat 21g32%

Cholesterol 155mg52%

Sodium 1192mg52%

Carbohydrates 11g4%

Protein 25g50%

* Percent Daily Values are based on a 2000 calorie diet.

Notice: Nutrition is auto-calculated, using Spoonacular, for your convenience. Where relevant, we recommend using your own nutrition calculations.