Sichuan Red Oil Wontons (红油抄手)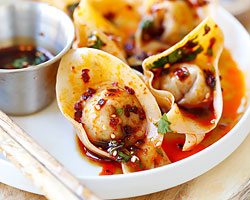 http://rasamalaysia.com/sichuan-red-oil-wontons-recipe/
Sichuan Red Oil Wontons (红油抄手)
Sichuan Red Oil Wontons Recipe (红油抄手)
Ingredients:
Sichuan spicy chili oil
Spicy black vinaigrette sauce
20 wonton wrappers
cornstarch solution (to wrap wontons: mix 1 tablespoon of water with 2 tablespoons cornstarch)
A wide surface stockpot
2-3 cups water (to boil wontons)
Sichuan Spicy Chili Oil:
1/2 cup oil
2 tablespoons dried red pepper flakes
2 teaspoons Sichuan peppercorns
1 stalk scallion, cut into 2-inch lengths
1 shallot, sliced
Method:
1. In a bowl, mix chili flakes, Sichuan peppercorns, scallions and shallots.
2. Heat up oil in a wok to smoking point. When the oil is ready, carefully pour the hot oil over mixed ingredients in step 1.
3. Let it sit for 2 hours or overnight.
4. Drain the oil into a storage container. Discard strained ingredients. Sichuan Spicy chili oil is ready to use.
Spicy Black Vinaigrette Sauce:
1/3-1/4 cup soy sauce
2 tablespoons regular black vinegar, Chinkiang, or balsamic (I prefer regular)
2-3 tablespoons Sichuan spicy chili oil (or store bought chili oil)
1 tablespoon sesame oil
1 teaspoon sugar
1/2-1 teaspoon Sichuan peppercorn powder (may use less depending on your heat tolerance)
2 tablespoons fried garlic (or 2 clove garlic, minced)
1 stalk scallion, finely chopped
a handful cilantro leaves, chopped
Method:
In a bowl, mixed all the Sauce ingredients and let it sit for 15 minutes.
Wonton Fillings:
8 oz ground pork
2 stalks scallions, finely chopped
1 teaspoon sesame oil
1/4 teaspoon sugar
1/4 teaspoon salt
2 dash of white pepper
Method:
Mix all the ingredients thoroughly.
To Make Hand Crossed Wontons:
Please click on the gallery above (picture 2) to learn how to fold the wontons.

1. Place about a teaspoon of wonton fillings in the center of the wonton wrapper.
2. Place the wrapper with 4 corners facing up, down, left and right.
3. Lift the bottom corner and make a 1 1/2 turn fold over the wonton filling, with bottom corner tucked under the filling.
4. Use both left and right thumb, lightly pressed down both left and right corners of the wrapper between the filling.
5. Lightly brush some cornstarch solution from left to right corners.
6. Fold wonton in a crossed hands fashion (over lapping at 45 degrees), left corner to the center, and then right to center.
7. Press firmly to seal wonton.
To Cook wontons:
Bring water to boil. Carefully drop the wontons, and as soon as the wontons started boiling, give it a quick stir to prevent sticking. Boil wontons for 3-5 minutes, or until the wontons float to the top of the pot and thoroughly cooked. If boiling water appears too starchy, wontons will not float and get cooked. If necessary, add some water and continue boiling until wontons are done. Dish up, toss them in the Spicy Black Vinaigrette dipping sauce, and ready to serve.
Click Images Below for Similar Recipes:
LOVE THE RECIPE & PHOTOS? PLEASE SHARE:
Sign Up for Email Updates
Enter your email for new updates: recipes, giveaways, and more!