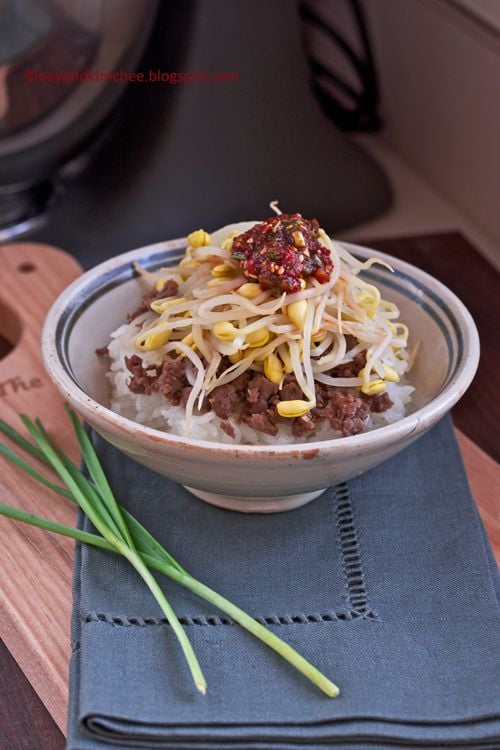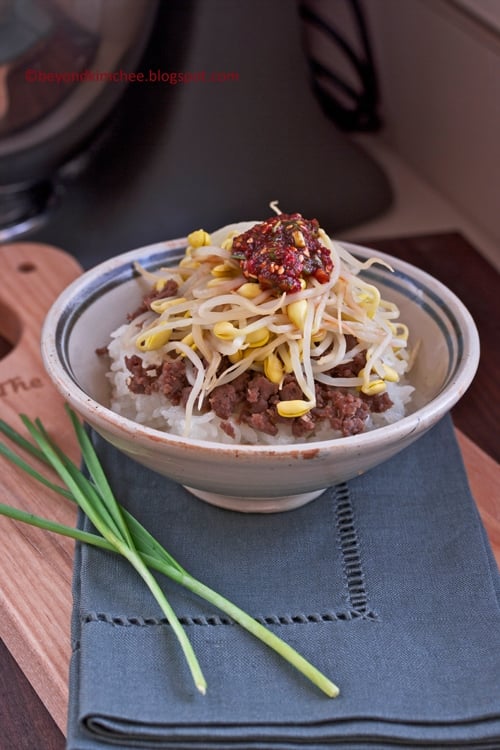 I am done with my confinement but am a little overwhelmed at the moment. Please enjoy this guest post by Beyond Kimchee, a fabulous Korean food blog that I recently discovered.
Authored by Hyegyoung (aka Holly), a native of South Korea, Beyond Kimchee is a chronicle of Holly's recipes and the food she prepares for her two kids and husband.
If you love Korean food, you ought to check it out as the step-by-step picture instructions on her site are absolutely awesome and makes learning Korean food so much more fun and easier! Welcome to Rasa Malaysia, Holly. (Please click on the image above to view the step-by-step cooking guide.)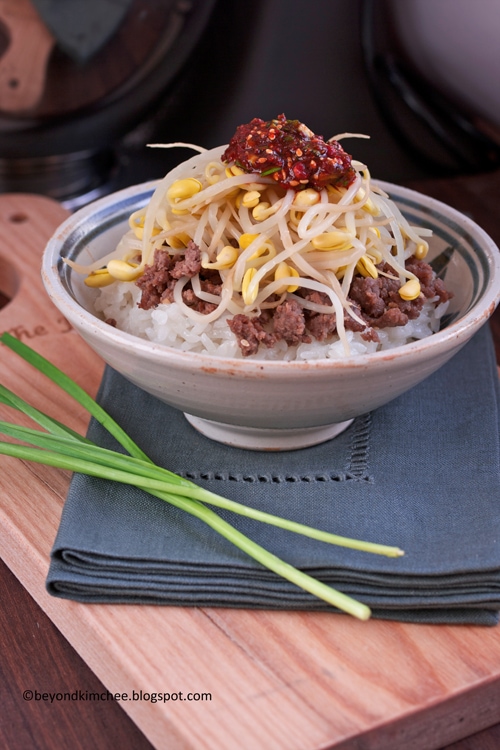 It is so exciting to see more and more people trying Korean recipes in their homes these days. I was blown away to see how many Galbi or Kimchee recipes are on the web when I first thought of having my own Korean food blog about 6 months ago.
Some recipes are very excellent and some, well… I had to raise my eyebrow. I must have been hibernating in the cave all these years while Korean Bulgogi Taco swiped the valley of California, or Kimchee stew had become an addictive to some of those K-pop lovers.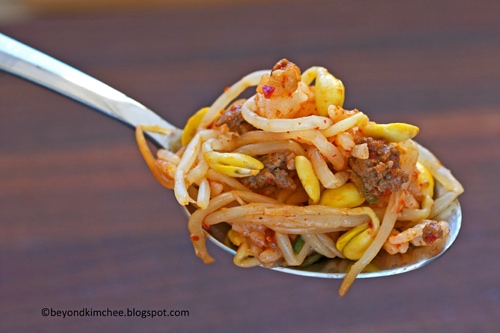 Korean food is earthy and somewhat rustic I would say. There's no exotic ingredients and you don't need special tools or gadgets to create wonderful meals. Your knife and hands are your best friends in the kitchen.
The biggest challenge I face every time I organize my recipes into my blog is converting a little bit of this into tablespoons, and a little bit of that into teaspoons. Most Korean home cooks don't use measuring cups or spoons.
I bet that goes same to other Asian home cooks as well. We just trust our senses and finger tips, don't we?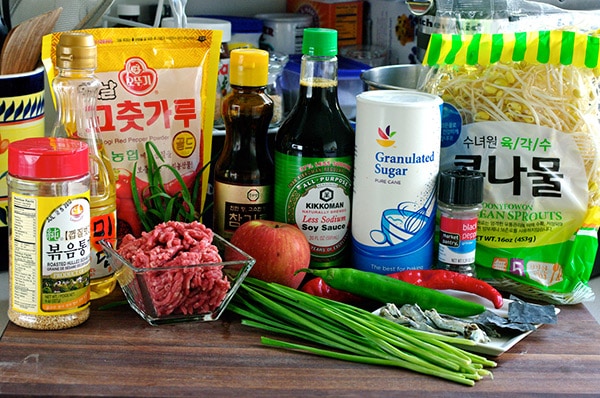 I am thrilled to post as a guest blogger on Bee's the famous "Rasa Malaysia". I have been a fan of her blog and thrilled for the opportunity to be part of it.
The recipe I am introducing is called "Bean Sprout Beef Rice Bowl with Chive Sauce". Wow, what a long name! Let's just call it "Bean sprout rice". That's what we call in Korea.
This is quite common dish among Koreans and everyone loves it. It is basically part of Bibimbop family but you only need one vegetable, the bean sprouts. It is simple (regardless of the long list), easy, budget friendly, and most of all, it's delicious!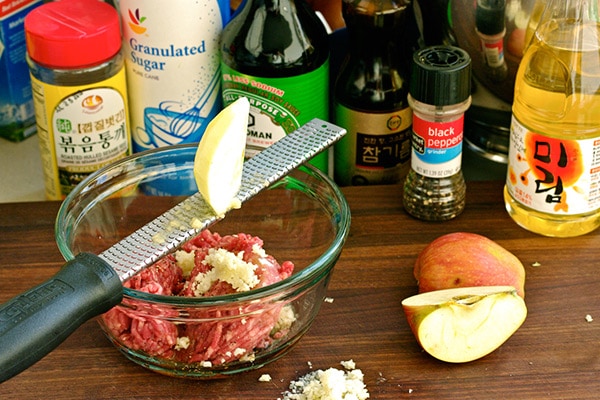 Ground beef is seasoned in basic Bulgogi marinade. Bean sprouts are cooked in a little bit of water with dried anchovies and sea kelp reserving the broth afterward.
Rice should be soaked in the water for 30 minutes and cooked later in the reserved bean sprout broth. Make the chive dressing with given ingredients and you are set to go.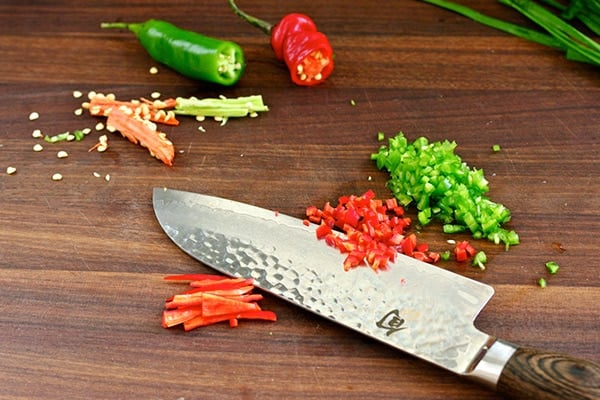 May I give a serving suggestion how to eat this? Like Bibimbop you need to mix in everything in the large bowl. Bibimbop mixing is an important step! :)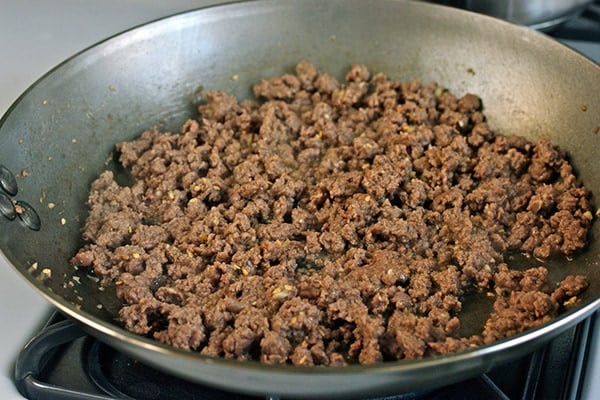 I have to confess that after the photo shot of this dish I dumped everything into a bigger mixing bowl, drizzled more sesame oil and mixed all in until they get nicely incorporated. The taste? Well, all I can say is, Mmmmmmmm…, Goooooood!
Enjoy!
P.S : Any questions on the recipes, ingredients, or just simply want to say, hi…?
"Ask, and it shall be given you; seek, and ye shall find; knock, and it shall be opened unto you."
Click Here to Pin This Recipe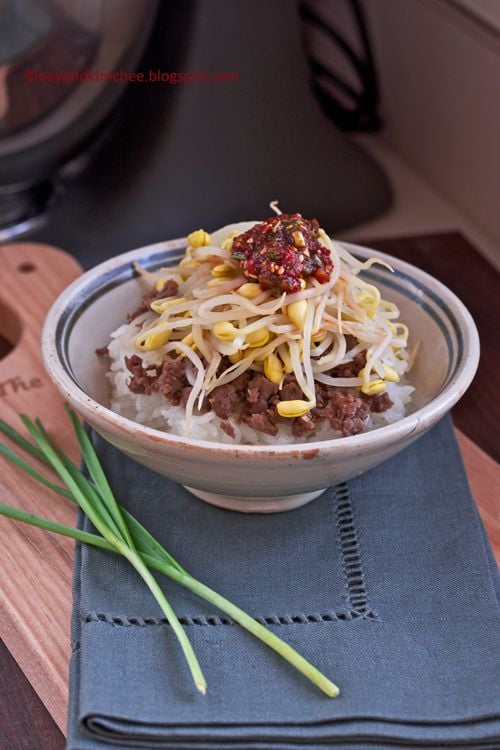 SUBSCRIBE AND NEVER MISS A RECIPE
SUBSCRIBE TO RASA MALAYSIA NEWSLETTER AND GET EASY AND DELICIOUS RECIPES DELIVERED TO YOUR INBOX. If you try my recipe, please use hashtag #rasamalaysia on social media so I can see your creations! Follow me on Facebook | Instagram | Pinterest | Twitter for new recipes, giveaways and more.