Easy Korean mandu (dumplings) recipe made with Korean Kimchi. Mandu is a must-have during Lunar New Year. Easiest and the best!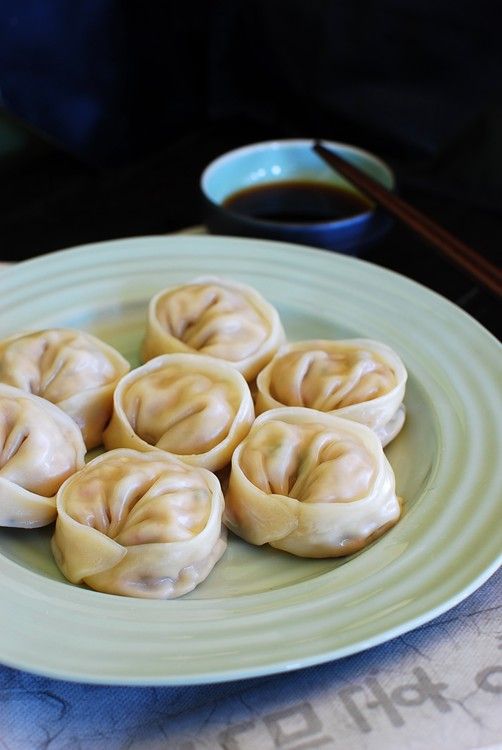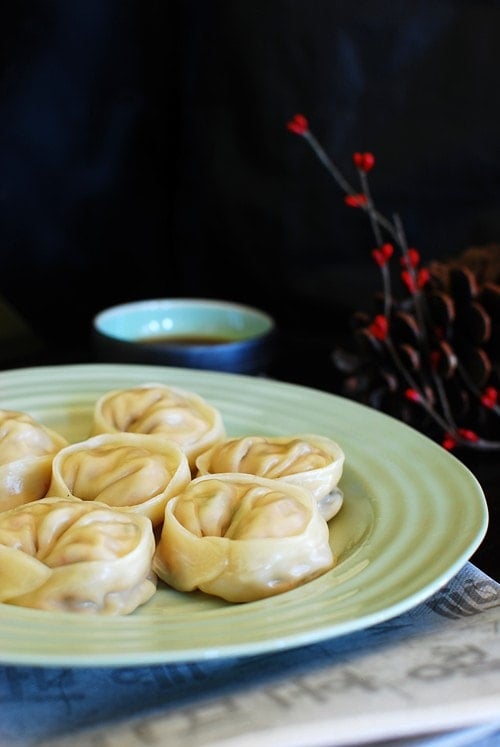 Lunar New Year is celebrated throughout Asia, notably China, Hong Kong, Taiwan, Korea, and Southeast Asia countries such as Malaysia, Singapore, and Vietnam.
Even though I know that Koreans celebrate Lunar New Year, I don't really know much about the traditions.
I invited my friend Hyosun to share a Korean mandu recipe with us, as well as educate us about Korean Lunar New Year.
(Previously, Hyosun shared her delicious bulgogi recipe with us.)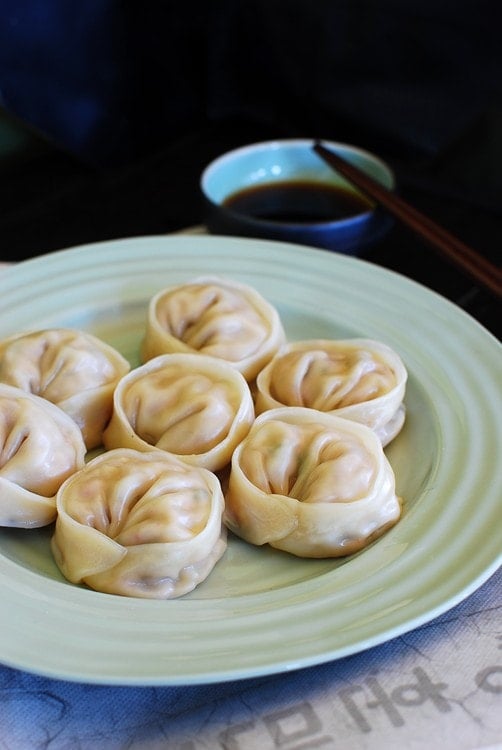 Hi! I'm Hyosun from Korean Bapsang, the Korean home cooking blog.
I am delighted to be back here at Rasa Malaysia, especially when Bee is featuring a series of special recipes for the Lunar New Year's celebration.
This time, Bee asked if I could share a mandu (Korean dumplings) recipe, which Koreans enjoy as part of the New Year's festivities.
Celebrated for three days, the Lunar New Year (Seollal) is the most significant traditional holiday in Korea.
It is a time for families to gather and pay respect to ancestors, through an ancestral rite (charae), and enjoy traditional food and games.
Young people also honor their elders, by wishing them a prosperous and healthy New Year, with a deep bow (sebae) and receive gifts (usually money) in return.
Growing up, this was one my favorite activities of New Year's day. We always wore a new traditional dress (hanbok) and visited the elders of relatives and family friends to perform sebae.
I remember I was a happy little kid with lots of money in my special little pouch made for the occasion.
Food, of course, is a big part of the New Year celebration in Korea.
As is the case in many cultures, it's a tradition to gather around the table to make the dumplings in preparation of the New Year's feast.
There are many variations of Korean dumplings. Here, I decided to share a dumpling recipe made with kimchi.
What can be more Korean than a dish made with kimchi?
Kimchi mandu is especially popular for making manduguk (dumpling soup) or tteok-manduguk (a variation of rice cake soup, tteokguk, with dumplings), which is a must-eat New Year's dish.
With its pungent flavor and crunchy texture, the kimchi version adds a nice contrast to the mildly flavored broth and soft rice cake slices.
I steamed the dumplings for this post, but you can cook them your favorite way.
I hope you make some Korean dumplings as part of your lunar New Year celebration!
Happy New Year!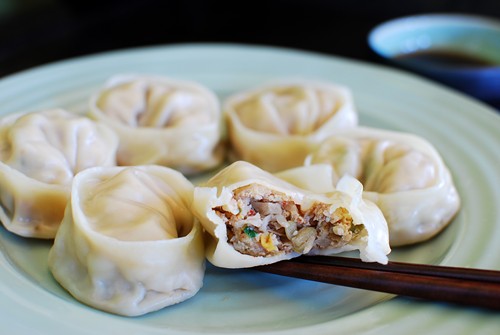 How Many Calories per Serving?
This recipe is only 61 calories per serving.
What Dishes to Serve with This Recipe?
For a wholesome meal and easy weeknight dinner, I recommend the following recipes.
For more great recipes like this, sign up for our newsletter. We'll send daily recipes you'll love!
Join
Sign up for our newsletter!
Korean Dumplings (Mandu)
Korean mandu and mandu recipe. Mandu are Korean dumplings. Mandu is a must-have during Lunar New Year. Easy Mandu recipe made with kimchi.
Ingredients
25 - 30

dumpling wrappers

(slightly thick)
Filling:
1

cup

packed finely chopped kimchi

6

oz.

tofu

8

oz.

mung bean sprouts

1/2

medium onion

3

scallions

4

oz.

ground pork or beef

1

tablespoon

minced garlic

1

teaspoon

finely grated ginger or juiced

2

teaspoons

sesame oil

2

teaspoons

soy sauce

1/2

egg

(use the other half to seal the wrappers)

salt to taste

(1/4 teaspoon)

1

pinch

pepper
Dipping Sauce:
1

tablespoon

soy sauce

1

teaspoon

vinegar

1

tablespoon

water

1/2

teaspoon

sugar

1

pinch

ground black pepper

1

pinch

red pepper flakes

(gochugaru)
Instructions
Finely chop the kimchi and squeeze out as much liquid as possible by hand. Squeeze out water from tofu.

I usually place tofu under a heavy object such as cutting board to press out water first and then squeeze by hand. Also, using a cheesecloth will make squeezing easier. Blanch the bean sprouts in boiling water, drain, chop and squeeze out water. Finely chop the onion and squeeze out water. Finely chop the scallions.

The squeezed ingredients should be dry and crumbly. Combine all the ingredients in a large bowl and mix well by hand.

Place one heaping teaspoonful to a tablespoon of the filling on a wrapper. Wet the edges of the wrapper with water or egg wash and seal tightly (pushing the air out with your fingers) into a half-moon shape. (Stop here if you want a half-moon shaped dumplings.) Then, bring the two ends together, moist the overlapping side with water or egg wash, and press tightly together to create a round shape. Repeat this process until all the filling/wrappers are used.

Kimchi mandu can be steamed for about 8 minutes in a steamer (longer if frozen). Make sure to line the steamer with a cheesecloth or paper towel to prevent mandu from sticking.

Tips for freezing: I usually make mandu in large quantities and freeze them for a quick snack or meal in the future. Freeze the dumplings on a tray with no pieces touching for about an hour, and then store them in a freezer bag. Otherwise, the skins will get soggy from the moisture in the filling and stick together in the freezing process.

To make the Dipping Sauce, combine all the ingredients together. Serve the mandu with the sauce.
Nutrition

Nutrition Facts

Korean Dumplings (Mandu)

Amount Per Serving (25 dumplingss)

Calories 61

Calories from Fat 18

% Daily Value*

Fat 2g3%

Cholesterol 4mg1%

Sodium 104mg5%

Carbohydrates 9g3%

Protein 3g6%

* Percent Daily Values are based on a 2000 calorie diet.

Notice: Nutrition is auto-calculated, using Spoonacular, for your convenience. Where relevant, we recommend using your own nutrition calculations.