This zucchini bread recipe creates a tender quick bread with both savory and sweet flavors. A ribbon of rich cheesecake baked through the loaf makes this bread a special treat.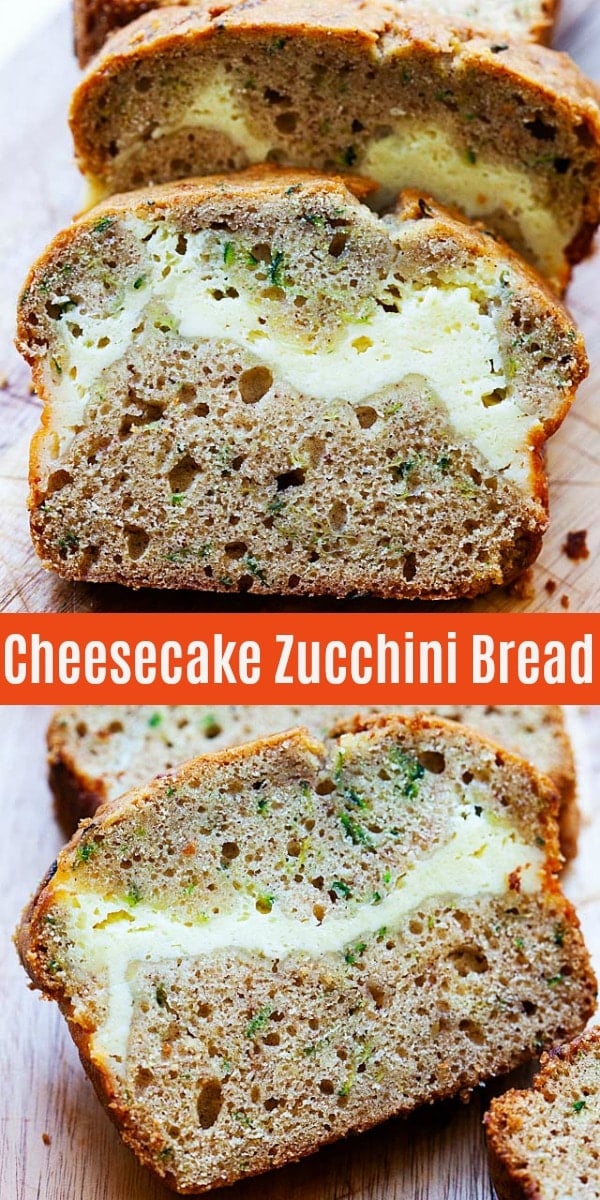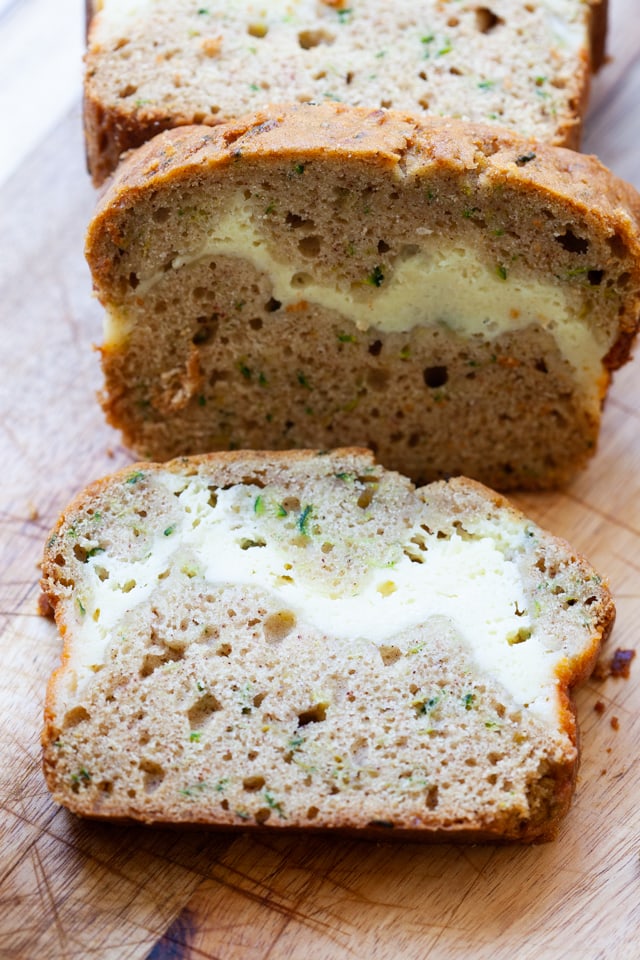 What Makes a Quick Bread Recipe Quick?
Zucchini bread is a type of quick bread recipe. They're called quick because it takes less time to make quick breads than yeast breads. This is because the batter uses baking powder and soda to help it rise. So, there's no rising time for this zucchini bread recipe!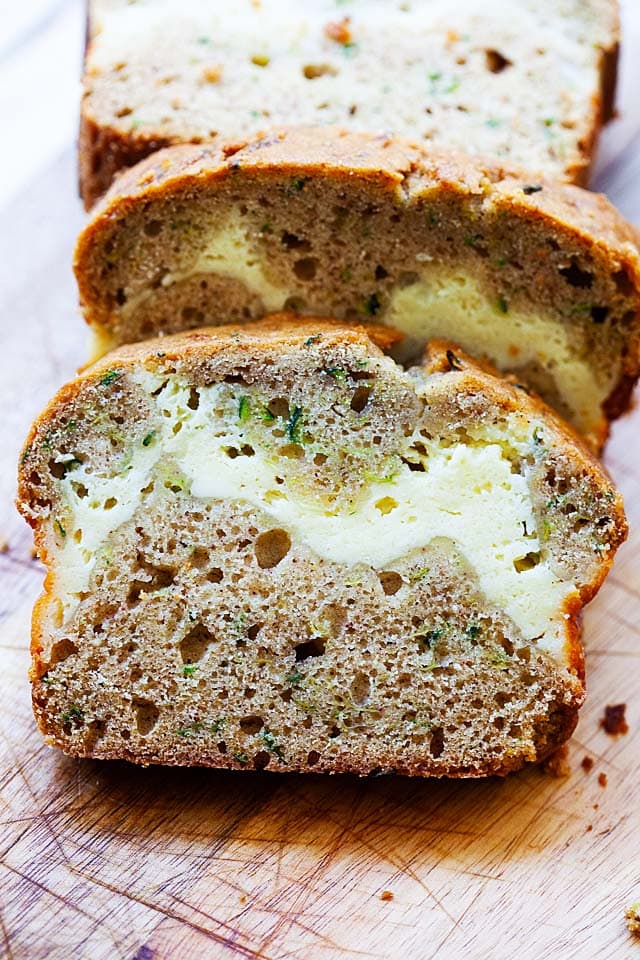 Other Recipes You Might Like
Zucchini Bread Recipe Notes
Here are a couple of commonly asked questions about making zucchini bread.
Do You Grate the Whole Zucchini for Bread?
When you make the batter for the bread, you will need unpeeled, grated zucchini. Some people use the shredding holes on a box grater to grate zucchini.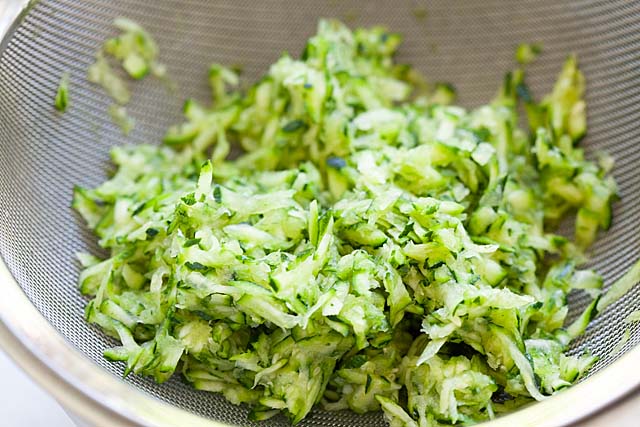 If you use a box grater, be careful as the piece of zucchini gets smaller; it's easy to scrape yourself.
If you have a food processor with a grating blade, grating zucchini is quicker and easier. You can also grate it in a high speed blender, such as a Ninja, Blendtec, or Vitamix.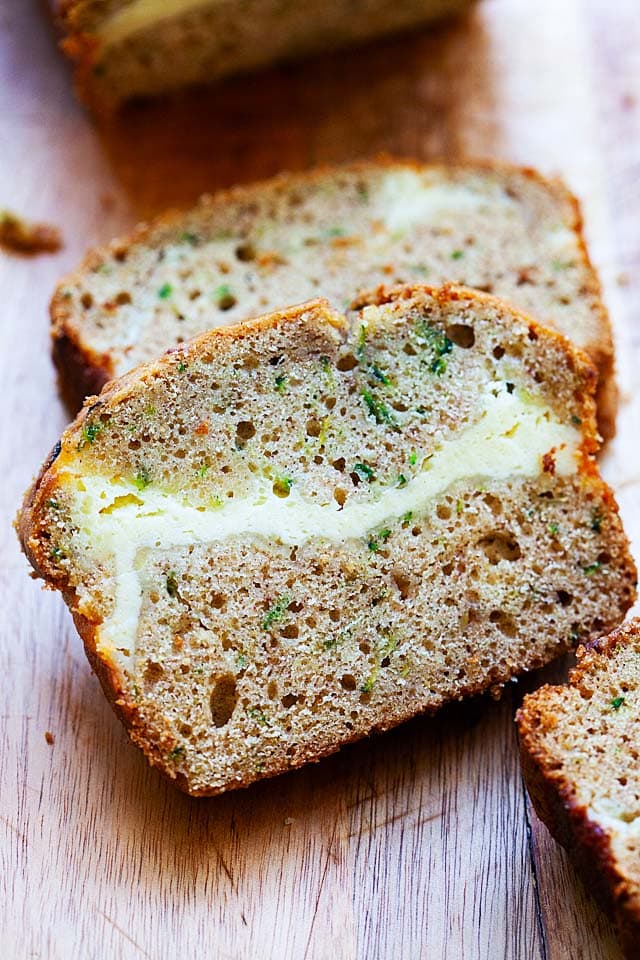 Can You Freeze Zucchini Bread?
Because the bread freezes so well, this zucchini bread recipe is perfect to make ahead of the holiday rush!
Wrap the bread well with a layer each of plastic wrap and aluminum foil. The frozen zucchini bread will keep well for up to 4 months.
To thaw frozen zucchini bread, remove the layer of foil, then refrigerate it wrapped in plastic wrap.
Can I Make Zucchini Muffins?
For zucchini muffins, make the batter using the zucchini bread recipe below. Rather than using a loaf pan, fill each well of a standard sized muffin tin (greased well!) 2/3 full. Bake at 350 degrees Fahrenheit for 20-25 minutes.
Whether you make zucchini bread or muffins, test for doneness. When a wooden toothpick or cake tester inserted in the center comes out clean, they're finished baking.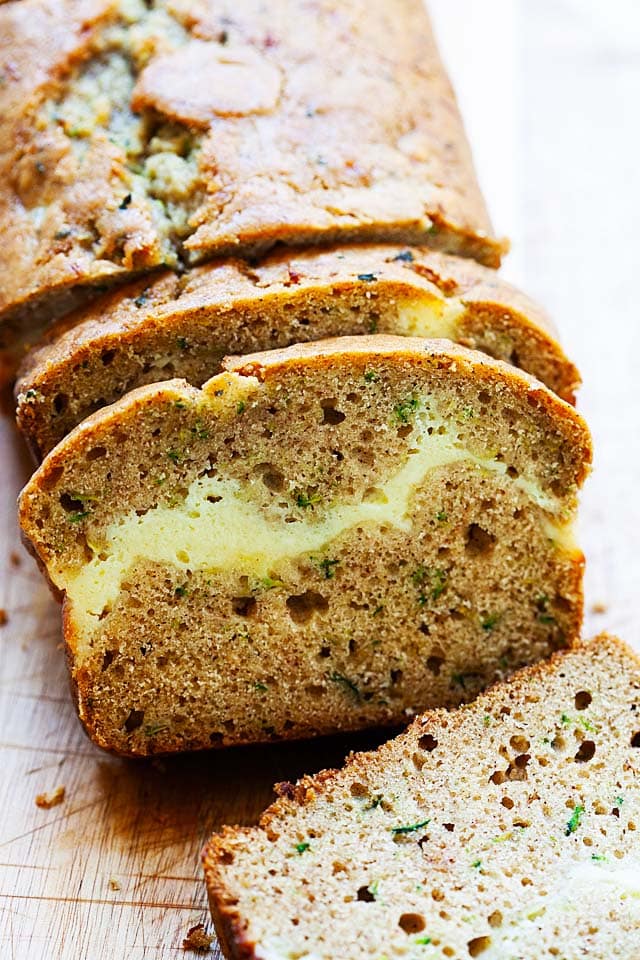 How Many Calories per Serving?
This recipe is only 520 calories per serving.
What Dishes to Serve with This Recipe?
For a wholesome meal and easy weeknight dinner, I recommend the following recipes.
5 Secrets to 20 Min Dinners
Get tricks for quick & easy meals!
Yield: 8 people
Cheesecake Zucchini Bread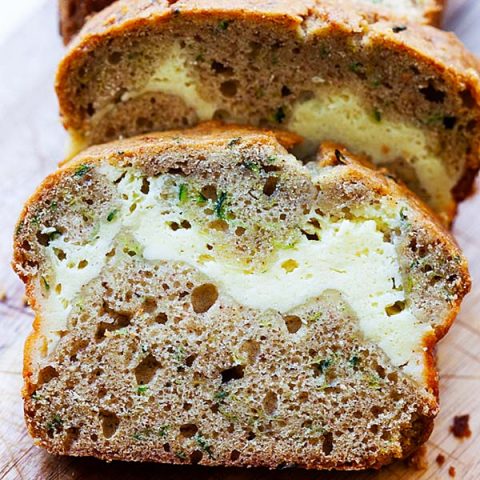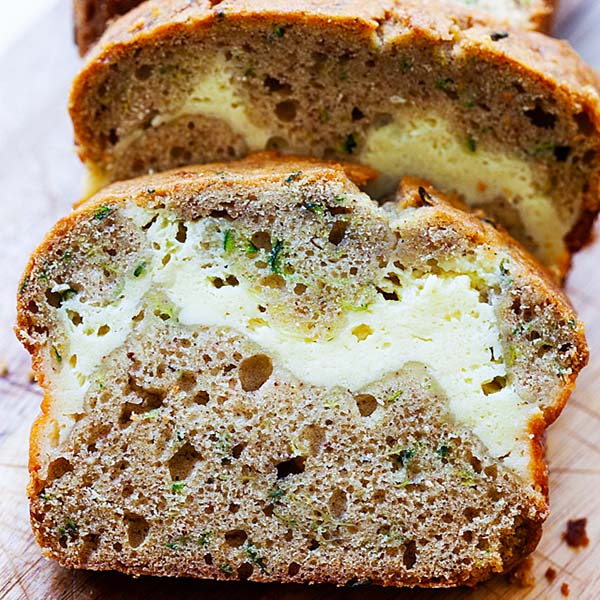 This zucchini bread recipe creates a tender quick bread with both savory and sweet flavors. A ribbon of rich cheesecake baked through the loaf makes this bread a special treat.
Total Time
1 hour
30 minutes
Ingredients
Cheesecake Ribbon:
8 oz. (226 g) cream cheese, softened
1/2 cup sugar
1 egg
1 teaspoon vanilla extract
Zucchini Bread:
2 cups coarsely grated zucchini
1/2 cup unsalted butter
2 eggs
1 cup sugar
2 teaspoon vanilla extract
1 teaspoon cinnamon
1 teaspoon salt
1 teaspoon baking soda
1/2 teaspoon baking powder
2 1/2 cups all-purpose flour
1/2 cup milk with a dash of vinegar, or buttermilk
Instructions
Cheesecake Ribbon:
Beat the cream cheese and the sugar together until smooth, add the egg and vanilla, stir to combine.

Preheat the oven to 350˚F (176°C). Drain the grated zucchini and squeeze out as much water as possible. Set aside.
Lightly grease two 8x4-inch loaf pans. Melt the butter, let it cool but not solidify, then stir in the sugar. Beat in the eggs, vanilla, cinnamon and add the zucchini, stir to combine well.
Add the all-purpose flour, salt and baking soda and baking powder in a separate bowl. Add the milk (or buttermilk) alternately with the flour mixture, stirring to combine, it will be lumpy.
Pour batter in to cover the bottom of the pans, carefully divide the cheesecake batter between the two loaf pans, spread to the edges of the pans.

Cover the cheesecake batter with the remaining batter.

Bake for 45-55 minutes or until a cake tester comes out dry. Cool completely before serving.
Nutrition Information
Serving Size
8 people
Amount Per Serving
Calories

520
Total Fat

23g
Saturated Fat

13g
Cholesterol

123mg
Sodium

547mg
Carbohydrates

70g
Fiber

1g
Sugar

39g
Protein

8g