Moist and sweet homemade banana bread with cream cheese cheesecake filling. This Cheesecake Banana Bread recipe is utterly rich and delicious. So good!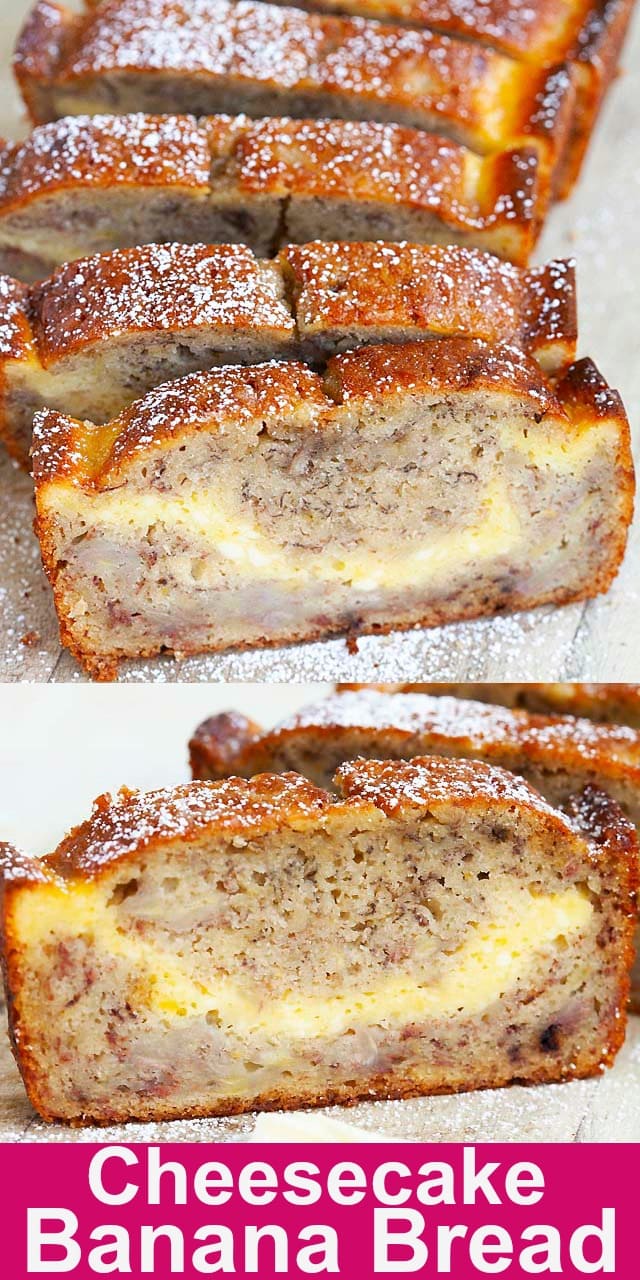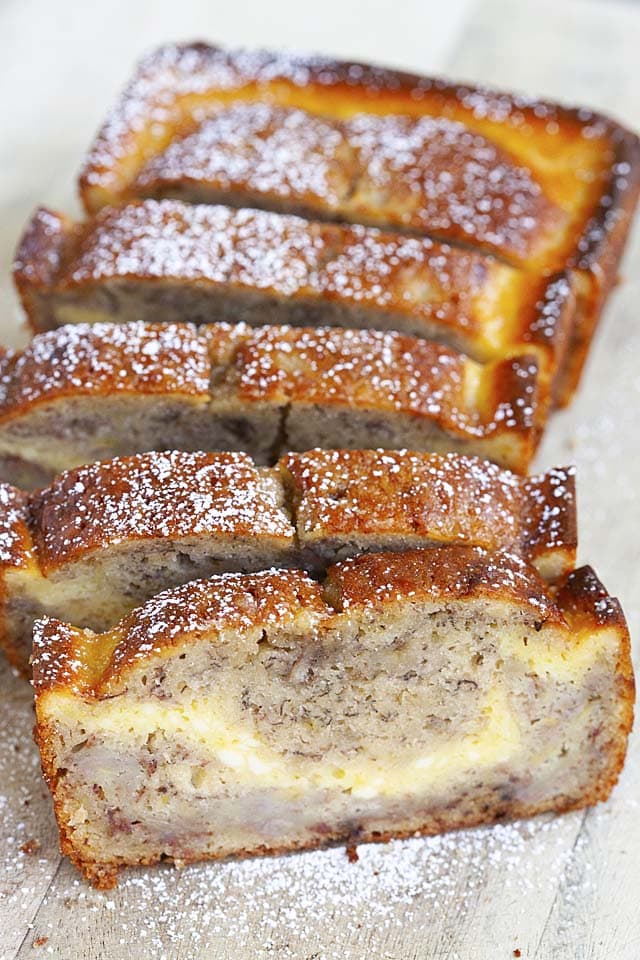 Banana Bread is one of my favorite baking recipes for breakfast, afternoon tea or as a late night snack. It's so good with a cup of tea or coffee; I could always have a slice or two of banana bread.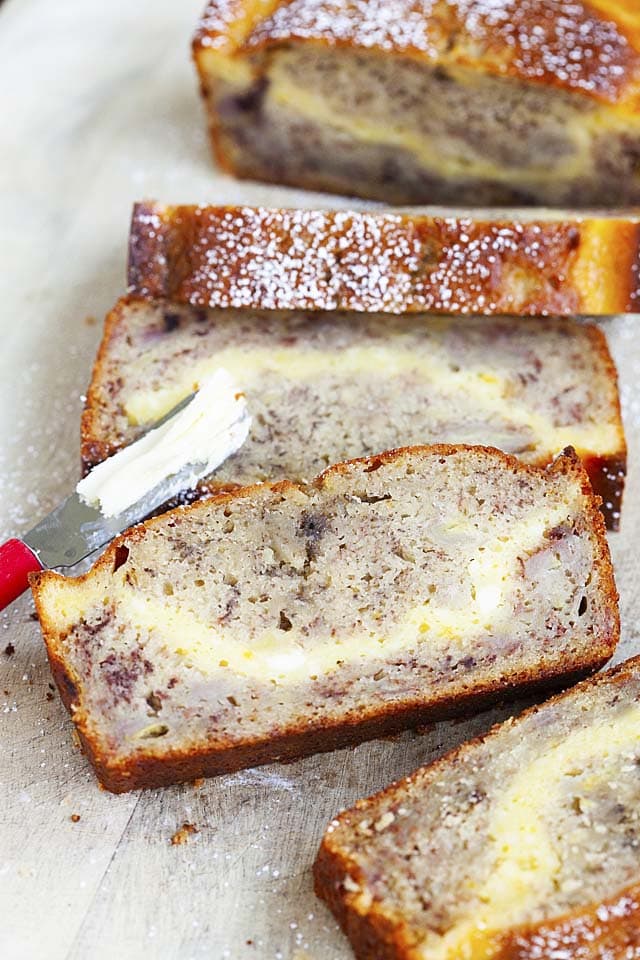 Now, what's better than regular banana bread? Cheesecake Banana Bread. Yes, imagine extra layer of creamy cheesecake in the middle of the aromatic, moist and sweet banana bread. This is the holy grail of banana bread recipe!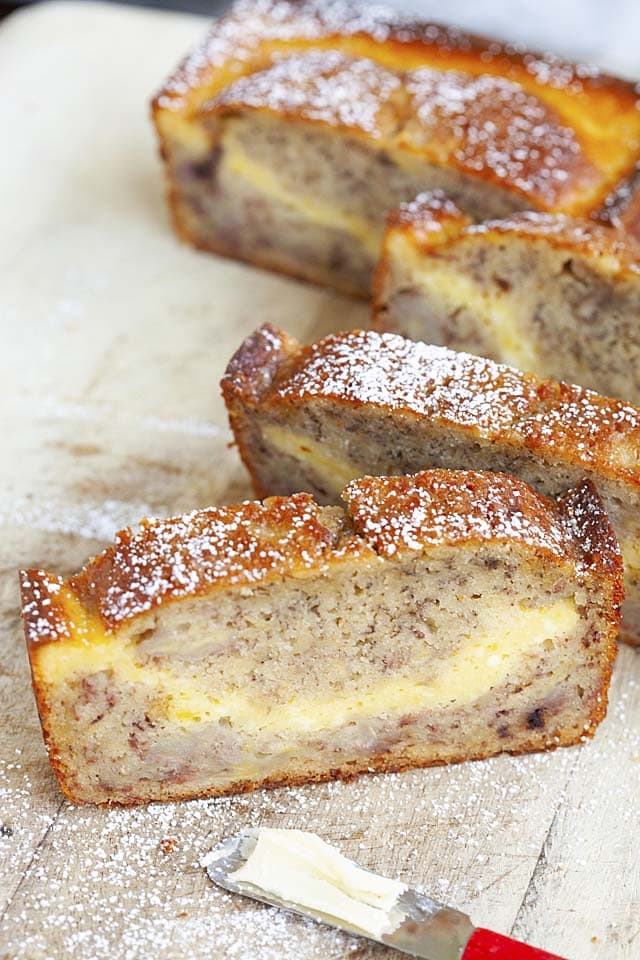 This Cheesecake Banana Bread recipe is from Delish. As you can see from the pictures, it's moist, loaded with bananas with a nice swirl of cream cheese "cheesecake" layer inside each piece of the banana bread. It's so yummy!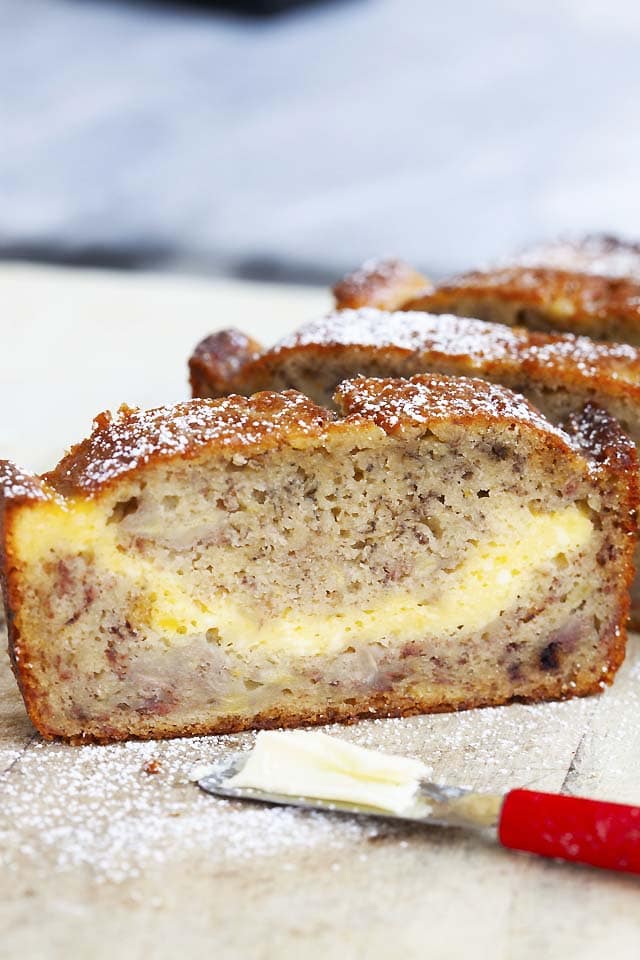 Other Recipes You Might Like:
How to Make Cream Cheese Banana Bread?
To create the cheesecake or cream cheese layer, you will need a Cream Cheese Filling with the following ingredients:
Cream cheese
Eggs
Flour
Sugar
To make the swirl, you want to layer the banana bread batter in the following order:
First layer: Banana Bread Batter
Second layer: Cream Cheese Filling
Third layer: the remaining Banana Bread Batter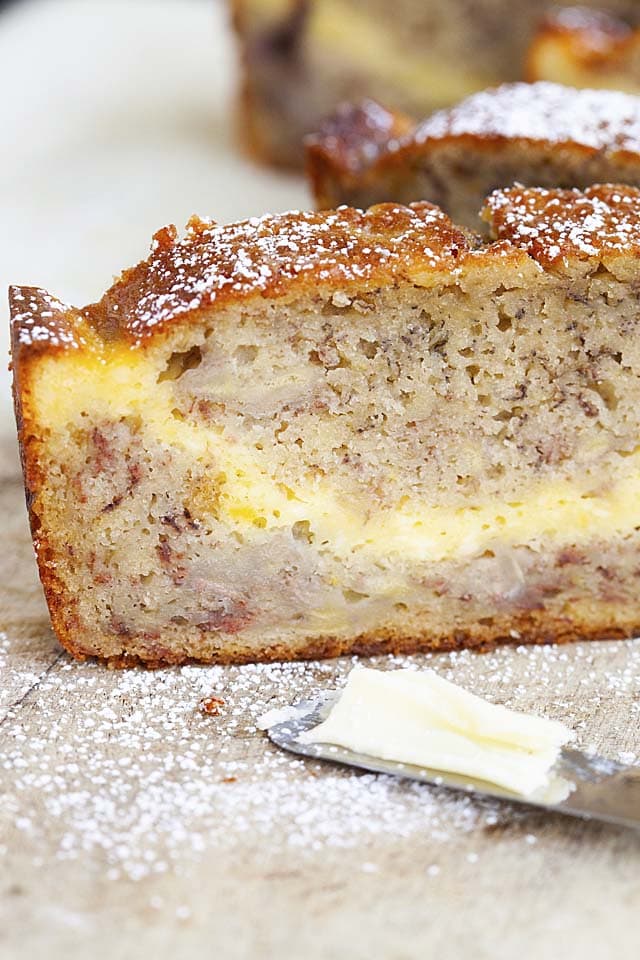 Voila, there you have it. This recipe is very simple, novice baker friendly and fail-proof. Try it and let the mouthwatering aroma of this Cheesecake Banana Bread fills the kitchen. Happy baking!
Serve Cheesecake Banana Bread With:
For a complete afternoon tea party, please make the following:
How Many Calories per Serving?
This recipe is only 479 calories per serving.
5 Secrets to 20 Min Dinners
Get tricks for quick & easy meals!
Yield: 6 people
Cheesecake Banana Bread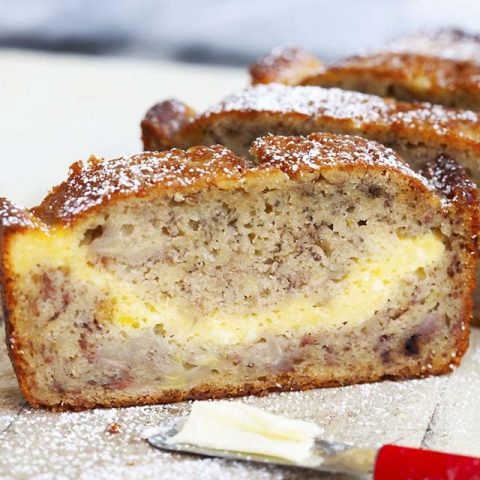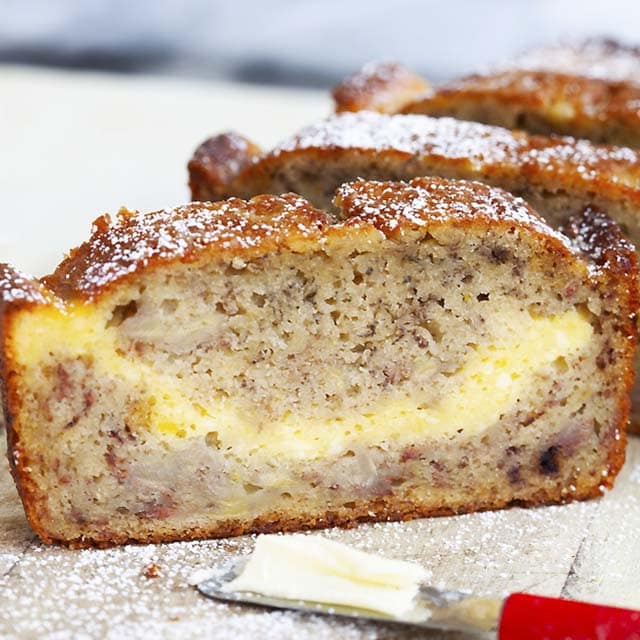 Moist and sweet homemade banana bread with cream cheese cheesecake filling. This Cheesecake Banana Bread recipe is utterly rich and delicious. So good!
Total Time
1 hour
15 minutes
Ingredients
Banana Bread Batter
1/2 cup melted unsalted butter, plus more for greasing the loaf pan (1 stick or 4 oz. butter)
1 cup all-purpose flour, plus more for dusting the loaf pan
1 teaspoon baking soda
1/4 teaspoon salt
3/4 cup sugar
1/4 cup buttermilk
1 teaspoon pure vanilla extract
2 large eggs plus 1 large egg yolk, divided
3 ripe (480 g) bananas
Cream Cheese Filling
4 oz. (115 g) cream cheese, softened
2 tablespoons all-purpose flour
2 tablespoons sugar
Instructions
Preheat oven to 350°F (176°C) and butter and flour a 9"-x-5" loaf pan. In a bowl, mash the bananas with a masher. Set aside.

In a large bowl, whisk together 1 cup flour, baking soda, and salt.
In another large bowl, combine 3/4 cup sugar, melted butter, buttermilk, vanilla extract, 1 egg and 1 egg yolk and mix until smooth. Pour wet ingredients over dry ingredients above and stir until combined, then fold in the mashed bananas.
Make Cream Cheese Filling: In a small bowl, stir together the remaining 1 egg, cream cheese, and 2 tablespoons flour and 2 tablespoons sugar.

Transfer half the batter to the loaf pan. Dollop the Cream Cheese Filling on top and smooth in an even layer with a spatula. Top with the remaining batter.

Bake until deeply golden and a toothpick comes out clean, 1 hour. Let cool at least 10 minutes before slicing and serving.

Nutrition Information
Serving Size
6 people
Amount Per Serving
Calories

479
Total Fat

23g
Saturated Fat

14g
Cholesterol

117mg
Sodium

374mg
Carbohydrates

61g
Fiber

2g
Sugar

37g
Protein

6g