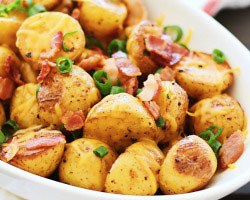 Cheesy Roasted Potatoes with Bacon
Cheesy Roasted Potatoes with Bacon – mini golden potatoes roasted with garlic, cheddar cheese and bacon. An amazing side dish for Thanksgiving | rasamalaysia.com
Prep time:
Cook time:
Total Time: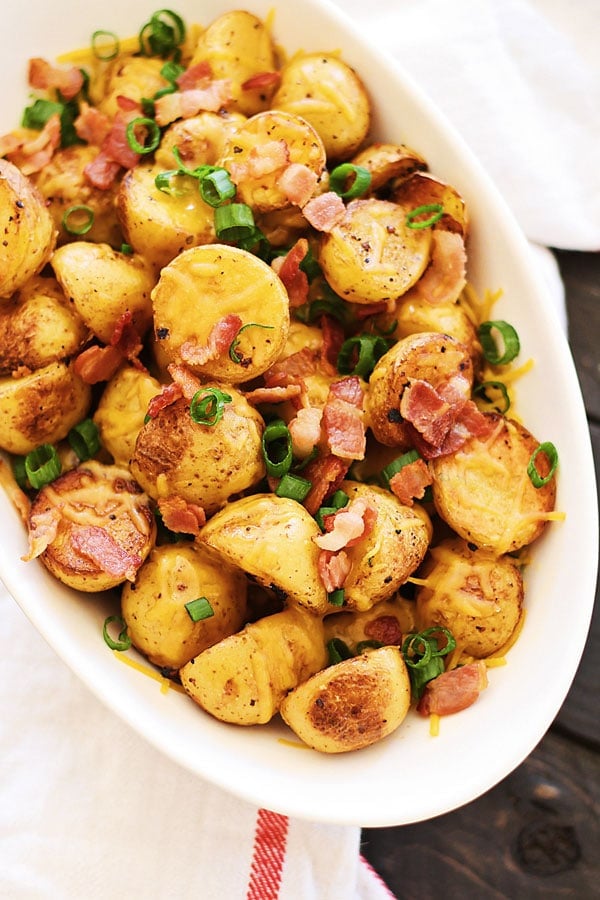 Cheesy Roasted Potatoes with Bacon
Cheesy Roasted Potatoes with Bacon – mini golden potatoes roasted with garlic, cheddar cheese and bacon. An amazing side dish for any occasions.
There is one thing I never get tired of and it's a loaded potato. Cooked to perfection, the fluffy white interior is enhanced with butter, cheese, and bacon. Using the same concept, I transformed the traditional potato dish into a new classic side that is sure to wow guests on Thanksgiving and takes only 30 minutes from prep to dinner table!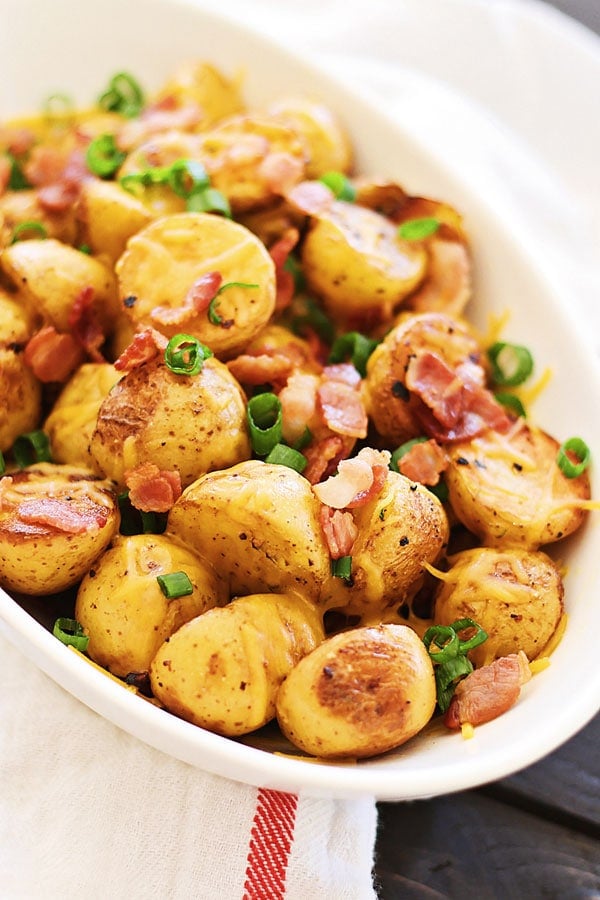 Cheesy Roasted Potatoes with Bacon Recipe
Serves 6 | Prep Time: 10 Minutes | Cook Time: 20 Minutes
Contributor: Joanna Meyer
Ingredients:
3 slices thick-cut bacon, diced
1 24-ounce (680 g) bag mini gold potatoes, cut into halves
3 cloves garlic, minced
Salt, to taste
Freshly ground black pepper, to taste
2 stalks green onion, chopped
1 cup (150 g) sharp cheddar cheese, shredded
Method:
Heat a pan on medium-high heat. Cook the bacon until crisp. Transfer the bacon, using a slotted spoon, to a paper-lined plate.
Reduce the heat to medium. Add the potatoes and garlic in the same pan used to cook the bacon. Season with salt and pepper and cover with the lid to cook for approximately 15 minutes, or until the potatoes are golden and tender. Stir every few minutes to evenly cook.
Transfer the potatoes to a bowl, along with the bacon, green onions and cheese. Mix together, and serve immediately.
Cook's Note:
Chives can be used in place of green onions. You can also use extra cheese for a more decadent dish.

NEW! Menu Pairing Ideas:
Most-Pinned Recipes
Chili Lime Chicken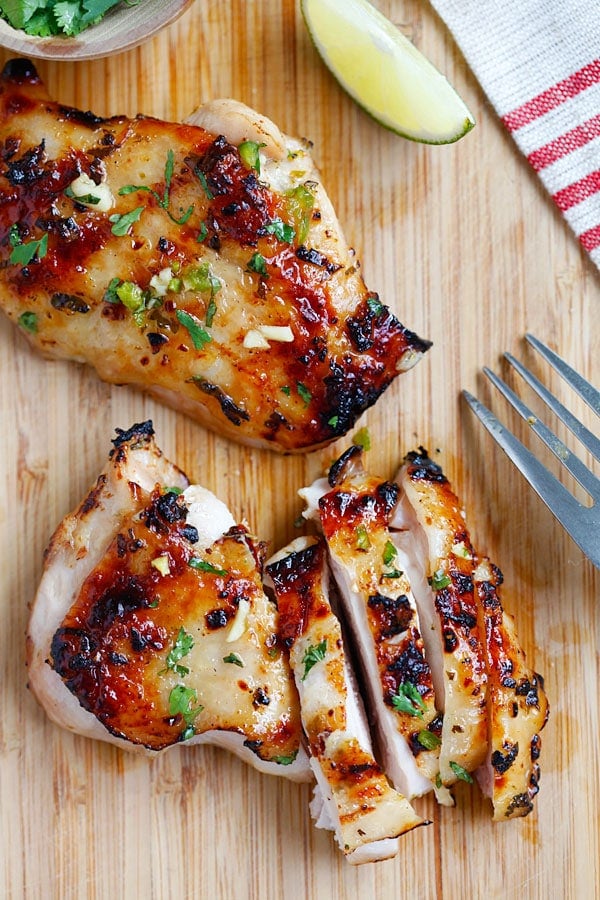 Honey Lime Chicken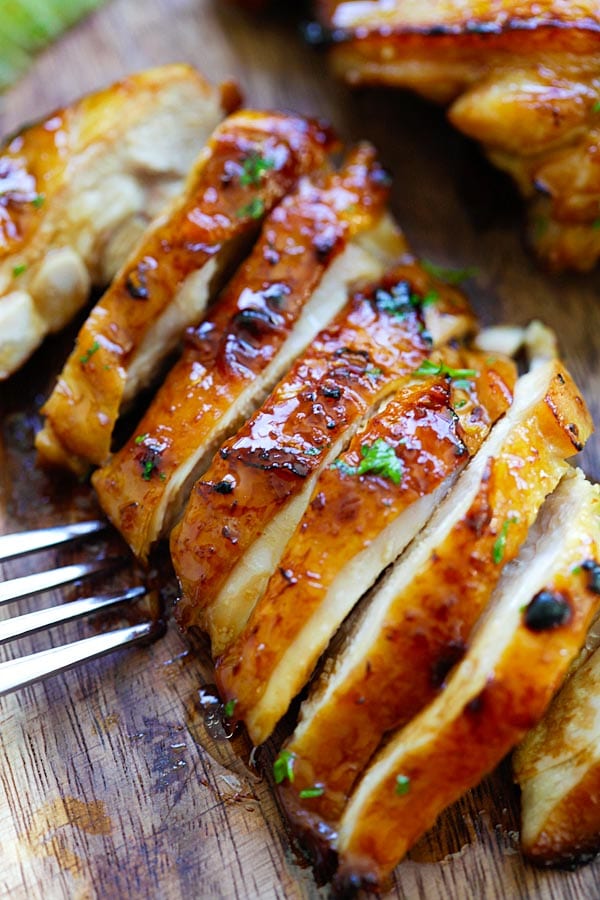 Brown Butter Garlic Honey Roasted Carrots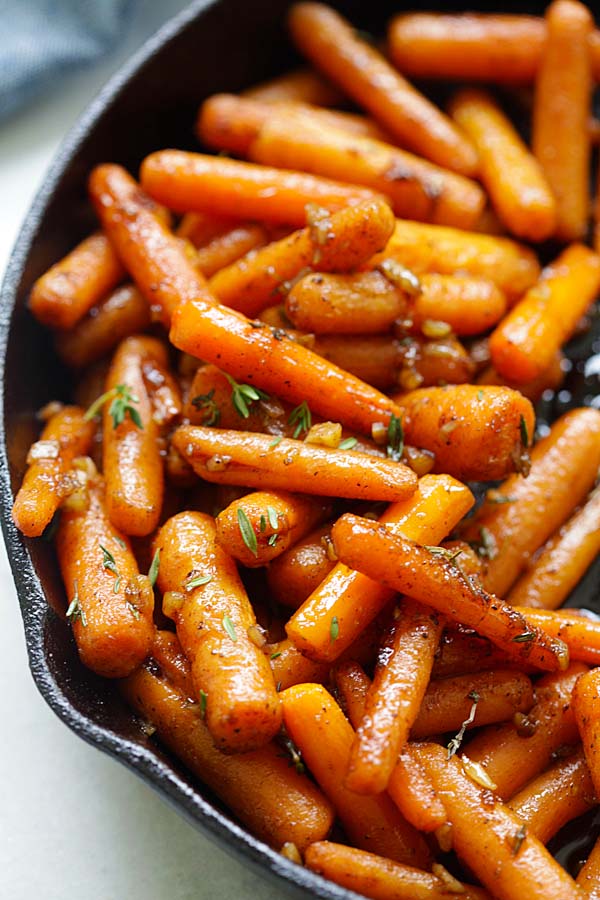 Cilantro Lime Chicken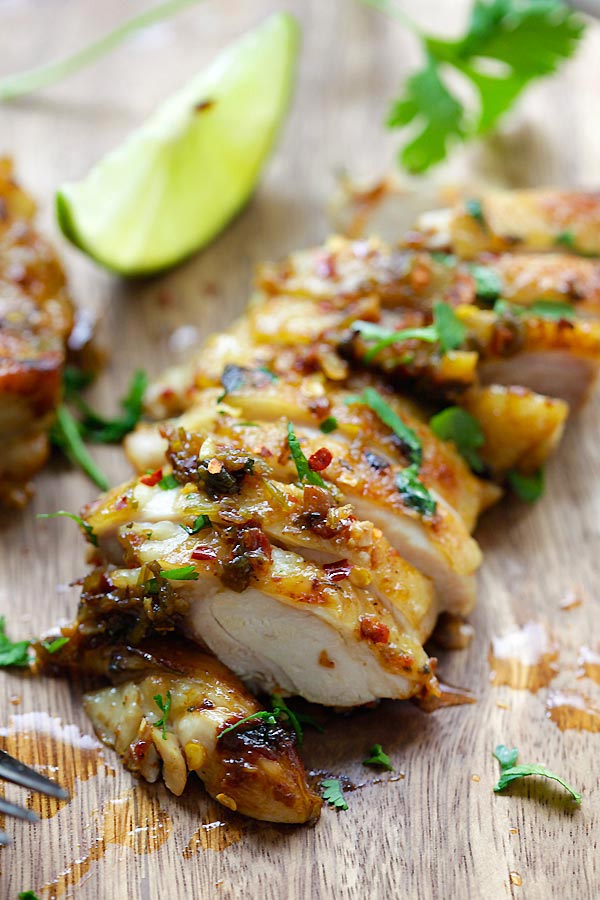 Italian Roasted Potatoes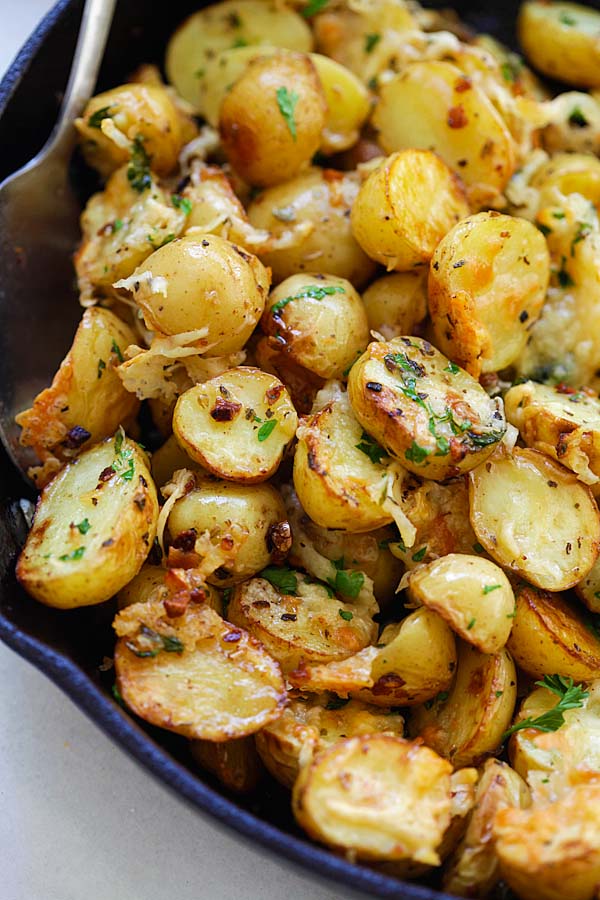 Honey Garlic Salmon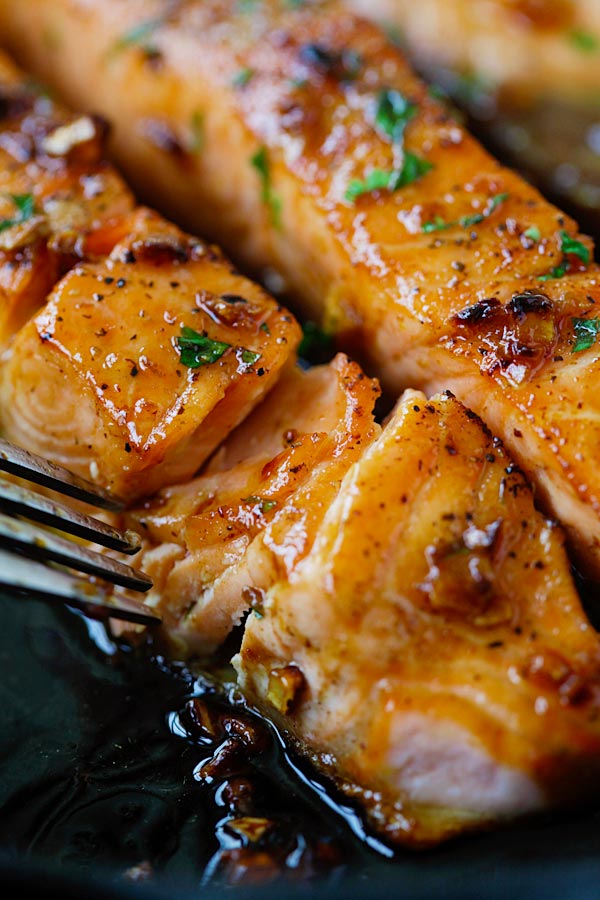 Parmesan Roasted Cauliflower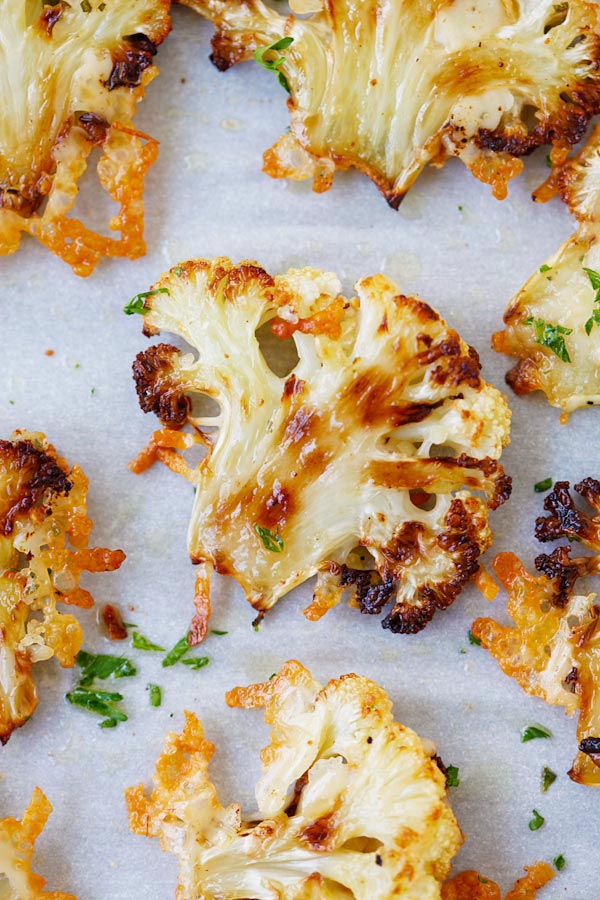 Garlic Herb Roasted Potatoes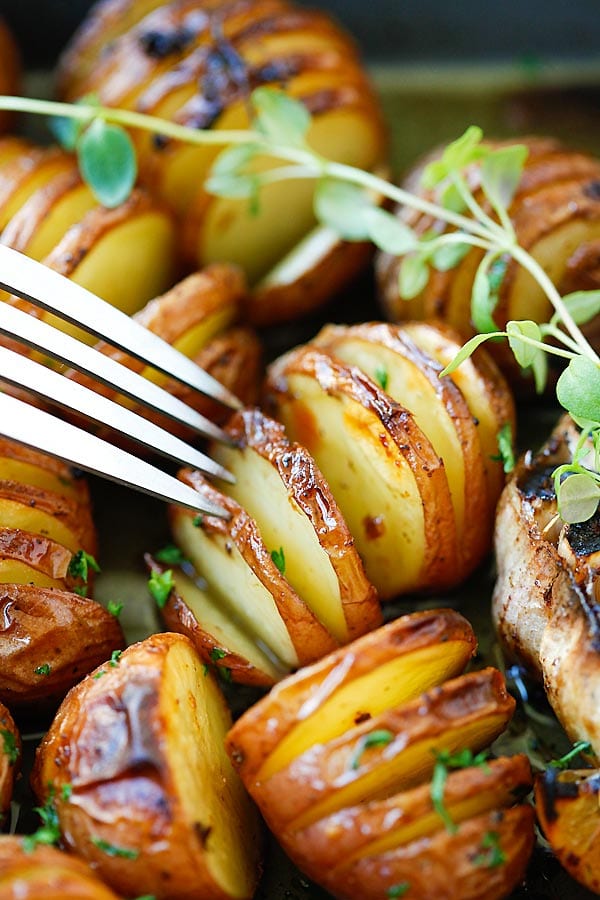 Creamy Garlic Chicken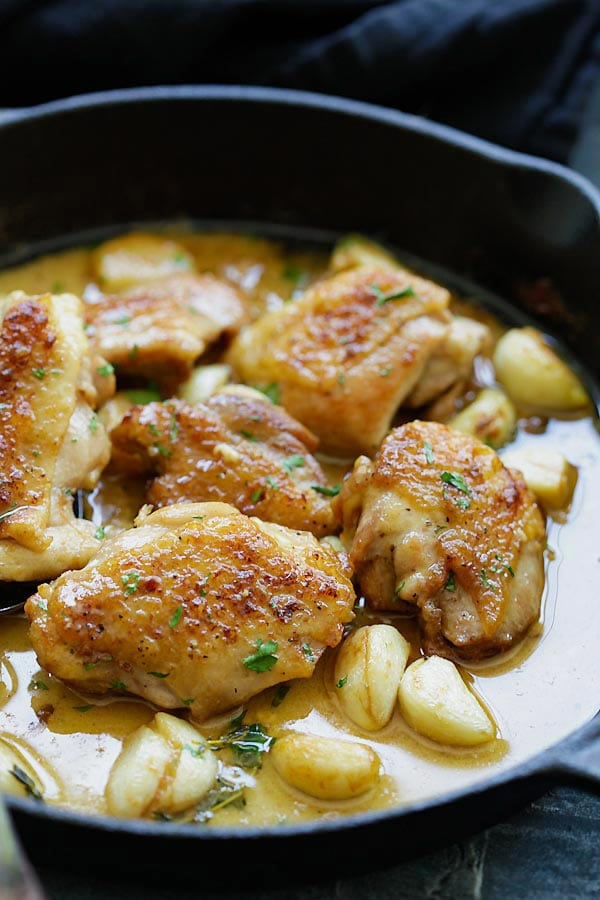 Garlic Parmesan Roasted Carrots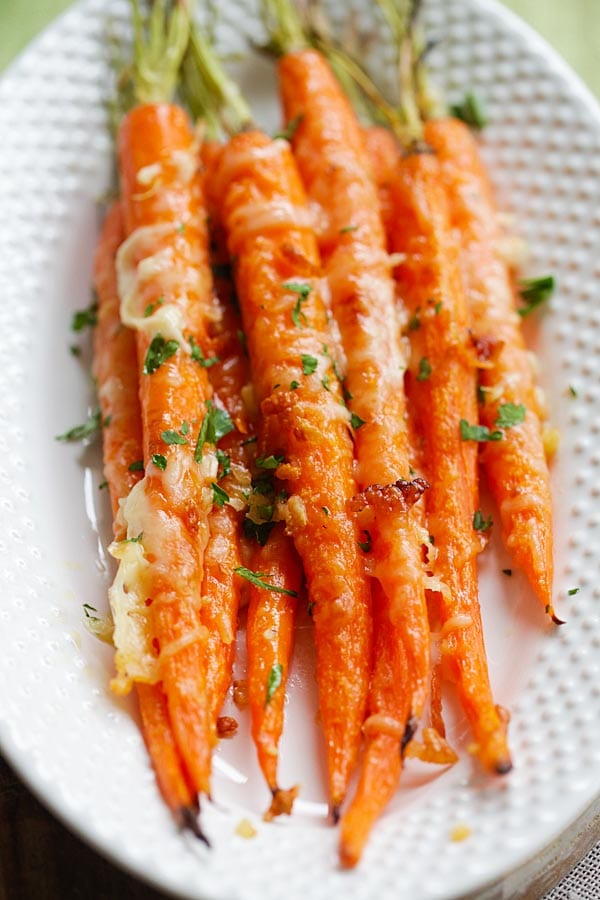 Hawaiian Shrimp Scampi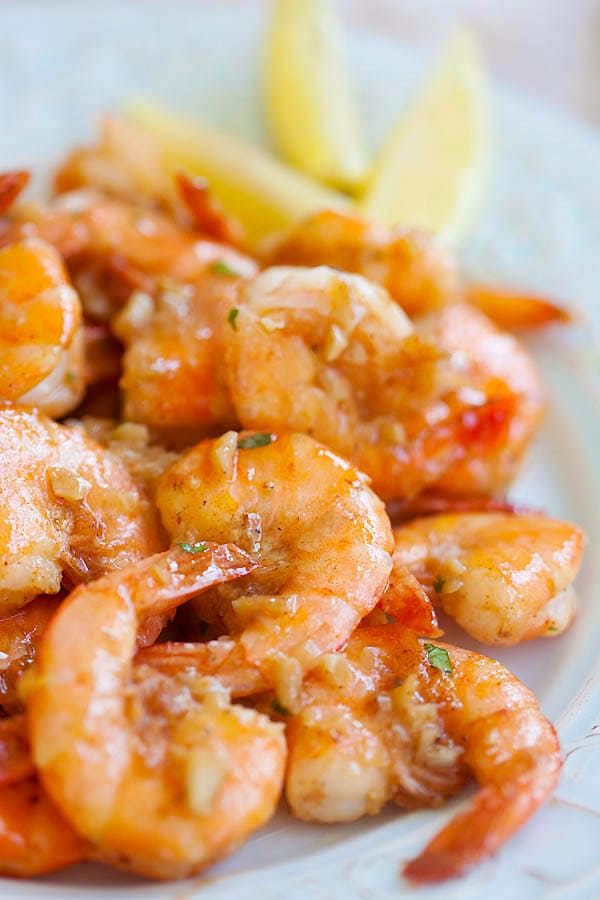 Garlic Butter Brazilian Steak