Learn the step-by-step on how to make tofu pudding or doufu hua 豆腐花 at home. This sweet tofu pudding recipe is easy and fail-proof.
Tofu Pudding
Chinese doufu hua (tofu hua or taufu fa) or tofu pudding is a sweet dessert.
The soft, silken pudding is served with sweet syrup, making it one of the best Chinese desserts ever.
In this recipe, you will learn the step-by-step on how to make tofu pudding at home.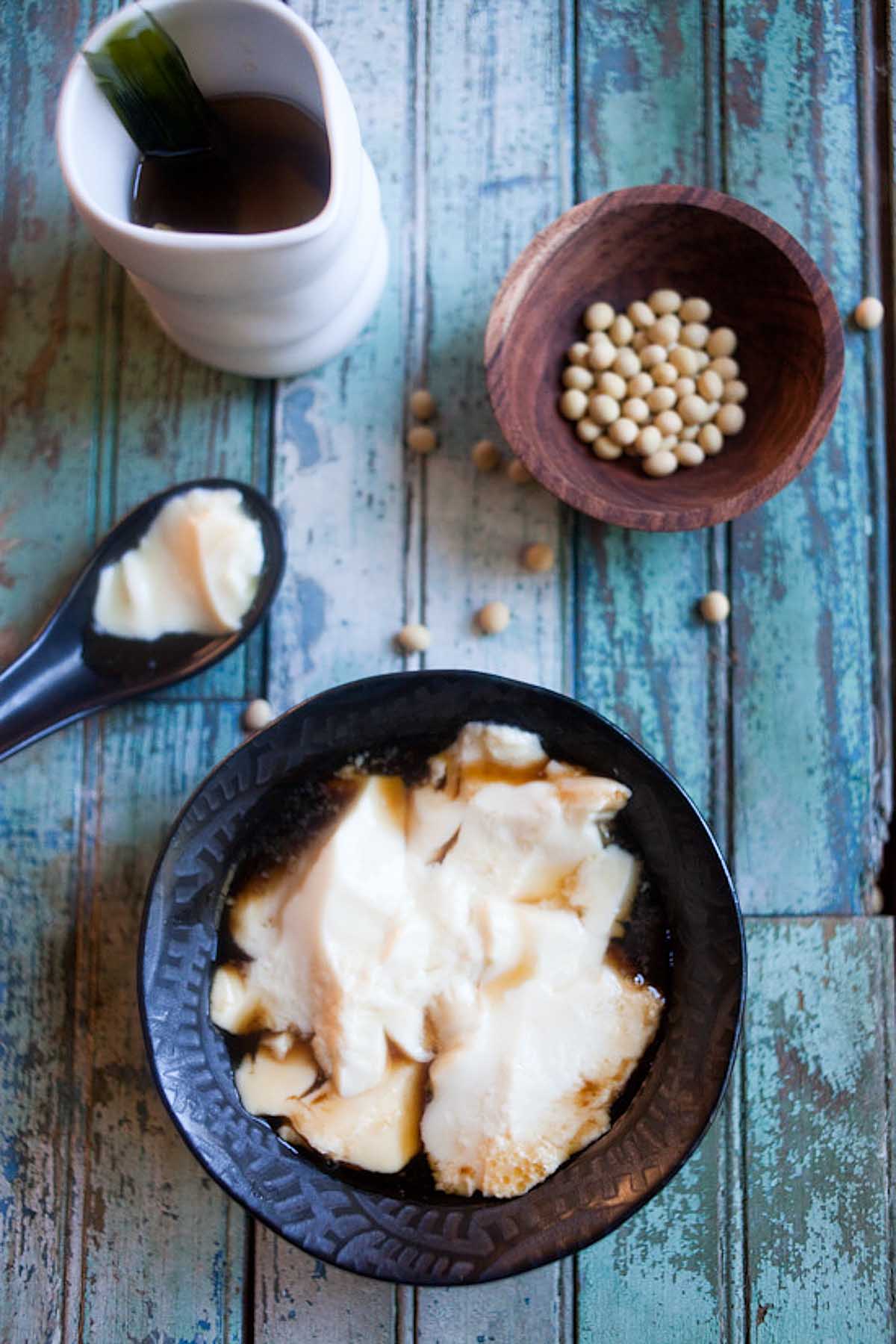 Other Recipes You Might Like
Tofu Pudding Recipe
After I published the "How to Make Soy Milk" post, many readers asked me to share or doufu hua (豆腐花) or tofu pudding recipe.
I have never made doufu hua before, as I always thought the recipe is hard and fail-prone.
Now that I have made this homemade tofu pudding, I can assure you that this recipe is so easy to make at home.
I grew up eating a lot of doufu hua, which is a very common and popular sweet dessert in Penang, Malaysia.
Walk down any streets or markets, one can always find soy milk hawkers (street vendors) selling both soy milk and doufu hua, freshly made each day.
There are also hawkers who cycle their mobile stall or cart around the neighborhood, hawking "doufu hua" loudly as they peddle down the street.
Both soy milk and doufu hua are excellent for the scorching hot and humid weather back home.
They are my absolute favorites.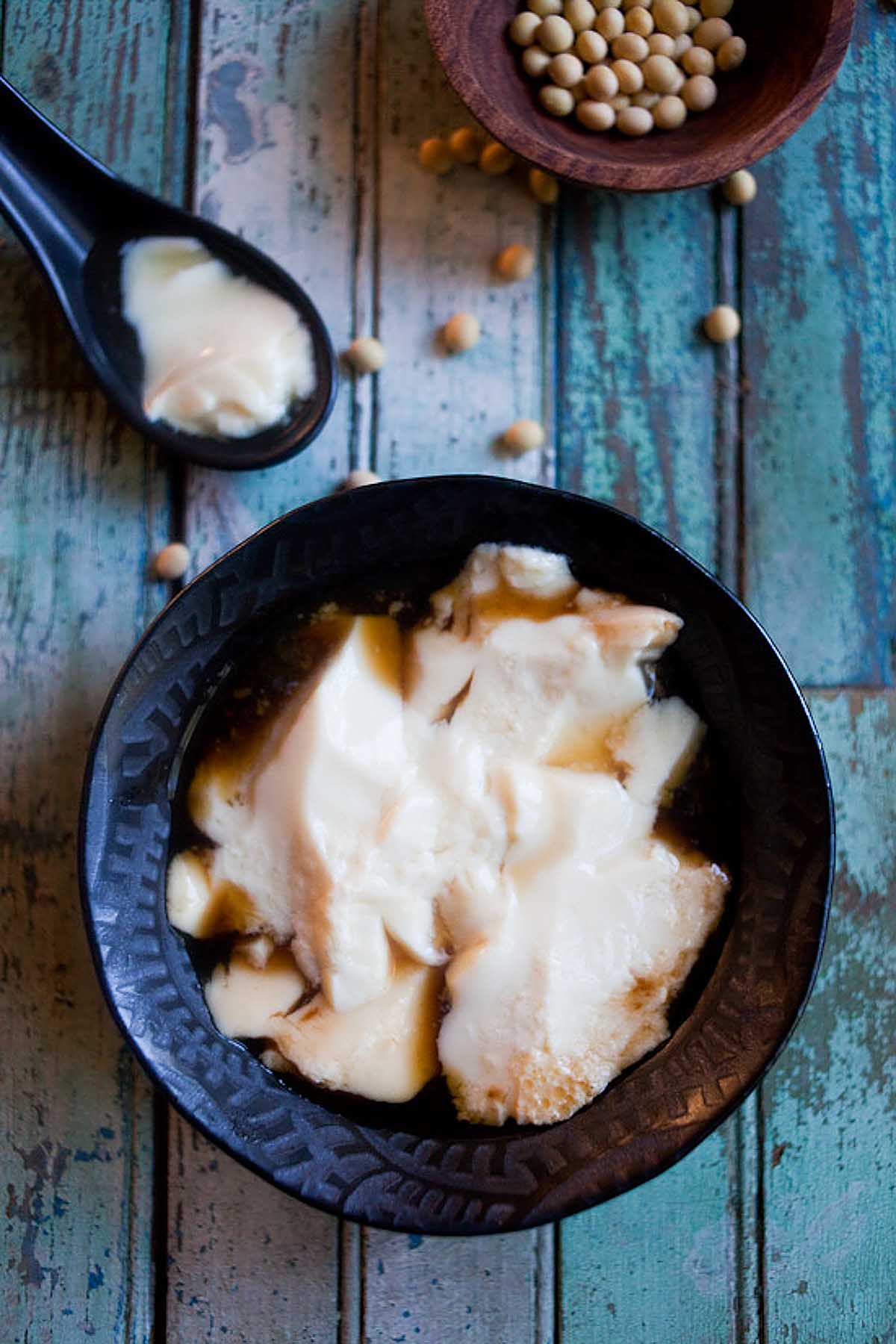 Cook's Tips
I consulted Andrea Nguyen, author of Asian Tofu for precious cooking tips and tricks to make the best tofu pudding at home.
To make the best homemade tofu pudding, you need a good master soy milk, which is a richer soy milk.
Store-bought soy milk is usually thinner compared to soy milk you make from scratch at home.
As a result, store-bought soy milk is not a good choice for homemade tofu pudding. If you want to make the best doufu hua, you have to make your own soy milk.
Here is my step-by-step soy milk recipe.
Next, you will need a coagulant. I use gypsum (石膏), which is used by the Chinese to make tofu.
You can buy gypsum online here.
To make sweet tofu pudding (Doufu Hua/豆腐花), you also need syrup to serve with it.
I like ginger and rock sugar syrup but I personally prefer gula melaka (Malaysian palm sugar), which is similar to dark brown sugar but with deeper flavors.
Frequently Asked Questions
Which Coagulant Should I Use?
Please read this guide "Tofu Coagulant Guide: What to Buy and Where to Find It".
Can I Freeze Tofu Pudding?
Chinese sweet tofu pudding is best served the same day it's made.
I don't recommend freezing but you can certainly keep it cold in the refrigerator for a day.
Please take note that water will seep out from the tofu pudding if you keep it overnight in the refrigerator.
To serve, discard the water and add syrup.
How Many Calories Per Serving?
This recipe is yields 8 servings and each serving is only 181 calories per serving.
What to Serve with this Recipe?
Serve this dessert with other Chinese dishes. For a healthy Chinese meal, I recommend the following recipes.
5 Secrets to 20 Min Dinners
Get tricks for quick & easy meals!
Yield: 8 bowls
Tofu Pudding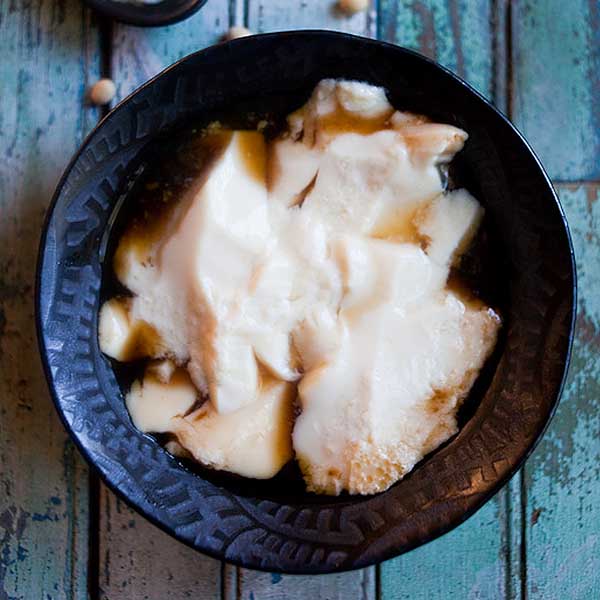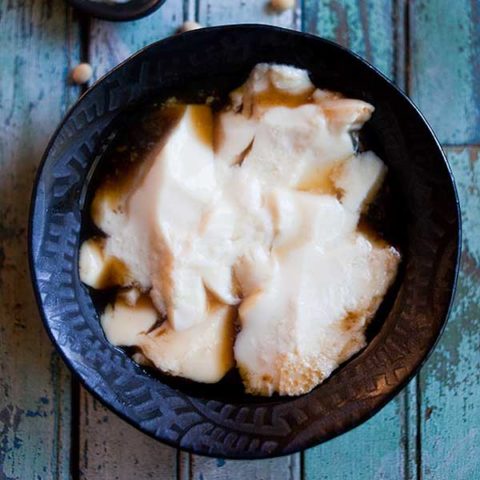 Learn the step-by-step on how to make tofu pudding or doufu hua 豆腐花 at home. This sweet tofu pudding recipe is easy and fail-proof.

Prep Time 10 minutes

Additional Time 1 hour

Total Time 1 hour 10 minutes
Ingredients
5 cups homemade rich soy milk
1 tablespoon gypsum
1 tablespoon corn starch or potato starch
1/3 cup water
Ginger Syrup:
1 piece (2 inch) fresh ginger knob, peeled and pounded
8 oz. (226 g) rock sugar
1 cup water
1 screwpine, pandan leaf, knotted, optional
Instructions
Make the syrup by boiling the ingredients until the syrup reduces to a thicker consistency. If you make both syrups, reduce the amount by half. Set aside but keep warm.
In a bowl, mix together the gypsum, starch and water. Stir to combine well.
Bring the soy milk to boil. As soon as it boils, skim off the foam and bubbles. Turn off the heat.
Stir the gypsum mixture and add to a wide and low-rise pot. (I used a Dutch Oven.) Pour the soy milk into the pot, at about 1 foot above the pot. This will make sure that the gypsum mixture distributes well in the soy milk. DO NOT STIR.
Cover the pot with a kitchen towel and then with the lid. Let the tofu pudding set, for about 1 hour.
6To serve, use a shallow metal ladle to scrape off the very top layer of the tofu pudding. Discard.
Transfer the smooth and silken tofu pudding into a serving bowl. Add some warm syrup into the bowl and serve immediately.
Notes
Preferably, use homemade soy milk instead of store-bought soy milk. Homemade soy milk tends to be richer. If you use store-bought soy milk, boil it longer and reduce it so it becomes richer and thicker.
To minimize the bubbles that form at the top surface of the tofu pudding, skim off the foam and bubbles at the top of the soy milk and pour the soy milk gently into the diluted coagulant.
Make sure you stir the gypsum mixture well before pouring the soy milk into it.
DO NOT do it the other way around, meaning pouring the gypsum mixture into the hot boiling soy milk. According to Andrea Nguyen (author of Asian Tofu), there will be too much agitation so the curd and whey get broken up and hence the tofu pudding will not be solid enough.
Scrape off the top layer of the tofu pudding before serving.
Nutrition Information
Yield
8
Serving Size
1
Amount Per Serving Calories 181Total Fat 3gSaturated Fat 0gTrans Fat 0gUnsaturated Fat 0gCholesterol 0mgSodium 77mgCarbohydrates 36gFiber 1gSugar 32gProtein 4g