Scallion Pancake - Crispy Chinese green onion pancake loaded with lots of scallion. Easy scallion pancake recipe for a snack that you can't stop eating!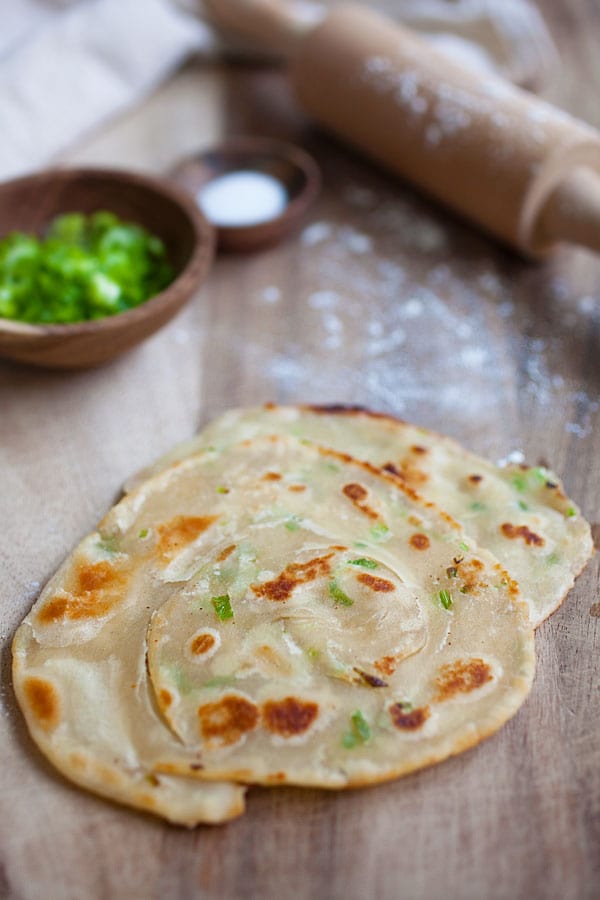 Best Scallion Pancake
It's extra crispy, light, full of scallion, and pan-fried to a beautiful golden brown.
In Chinese the name is cong you bing (蔥油餅), a savory flatbread made from dough as opposed to the Western pancake made from batter. You can find this dish as a popular street food or as an appetizer at many restaurants.
This specific scallion pancake recipe is from my best-selling cookbook "Easy Chinese Recipes" published in 2011.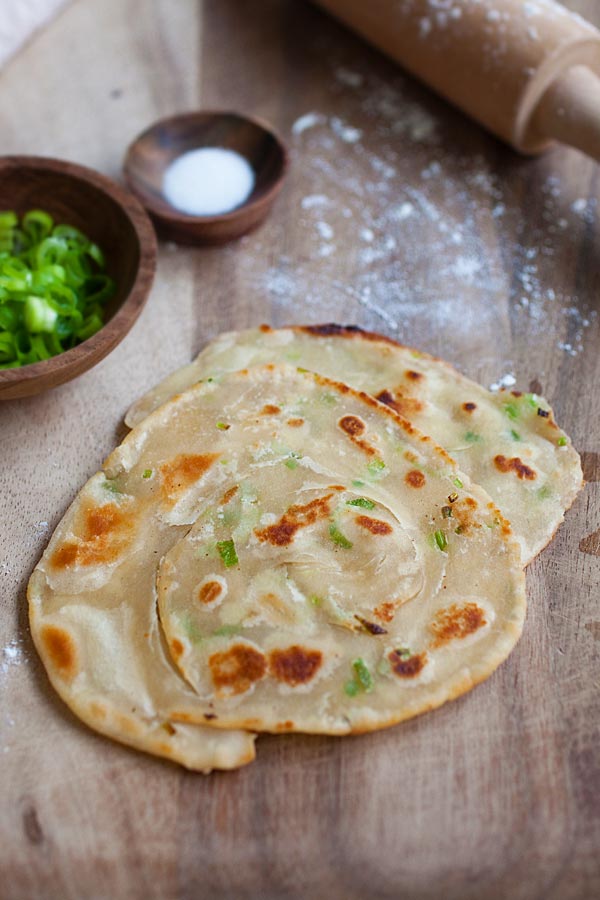 Other Recipes You Might Like
How to Make Scallion Pancake
There are two basic ways of making scallion pancake. One method is to roll out the dough and then add the scallions on the dough, and then roll the dough into a cylinder.
On the other hand, you can add the scallion into the dough before shaping them. My Chinese chef friends say that both methods are acceptable, but the second way is considered a "shortcut."
I like the shortcut method as I find that it infuses the dough with the aroma and fragrance from the scallion when you combine them together. In conclusion, make sure to scroll down below for the scallion pancake recipe with step-by-step photos. Enjoy!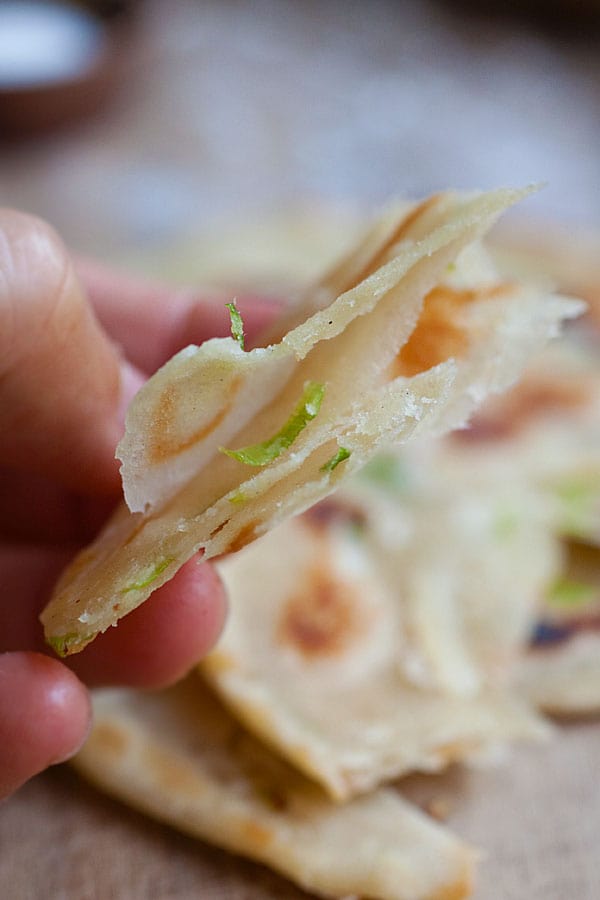 What Dishes to Serve with this Recipe?
This dish is best served with a side of soy sauce, hot sauce, or even eggs.
For a wholesome meal and easy weeknight dinner, I recommend the following recipes.
How Many Calories Per Serving?
This recipe is only 171 calories per serving.
Pairs well with: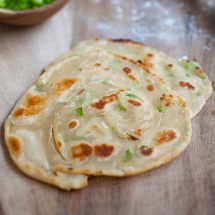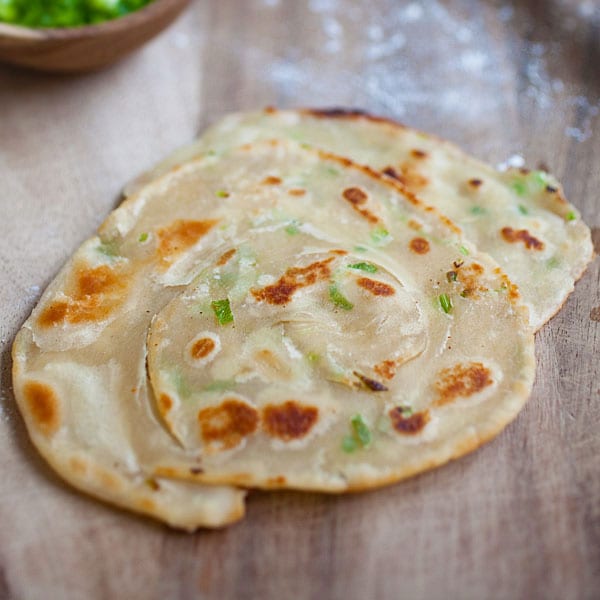 Scallion Pancake Recipe
Scallion Pancake - crispy Chinese green onion pancake loaded with lots of scallion. Easy scallion pancake recipe that you can't stop eating.
Ingredients
1 1/2

cups

all-purpose flour

(200 g)

1

teaspoon

salt

1/2

teaspoon

chicken bouillon powder, Knorr brand non-MSG

1/2

cup

water

(125 ml)

3 - 4

green onions, scallions, green parts only, trimmed and cut into small rounds, to yield about a tightly packed 1/3 cup or more

2

tablespoons

oil, for brushing

Some additional all-purpose flour, for dusting and rolling

oil, for frying
Click Here for Conversion Tool
Directions
Sift the all-purpose flour into a big bowl and then add the salt and chicken bouillon powder into the flour. Combine well and set aside.

Heat the water to a boil. Slowly add the water to the flour and knead the dough until it becomes soft, no longer sticky and the surface becomes smooth and shiny, about 15 minutes. If the dough is too dry, add 1 to 1 1/2 tablespoons of water to the dough. Cover the dough with a damp cloth and let it rest for 30 minutes.

Add the green onion into the dough and combine well.

Make the Green Onion Pancake by following the picture guide below.

Add about 1/4 inch (6 mm) of oil into a stir-fry pan or skillet over moderately high heat. Transfer a piece of the pancake onto the pan or skillet. Shallow fry each side of the pancake to a light golden brown, about 1 minute. Flip the pancake over and shallow fry the other side. Add more oil, repeat the same for the remaining pancakes and serve immediately. They are best eaten with warm and homemade soy milk.
How to Make Scallion Pancake:
On a flat and floured surface, divide the dough into 8 equal-sized pieces. Roll each piece of dough into a ball using your palm.

Working with one dough ball at a time, roll the dough to a thin disc using a rolling pin. Dust the rolling pin with some all-purpose flour as you go. Brush the surface of the pancake with the oil.

Roll the dough into a cylinder.

Dust the rolling pin with the flour and roll the dough until flat, measuring about 6 inches (15cm) in diameter. Set the dough aside on a baking sheet. Repeat Step 2-6 for the rest of the dough.
Recipe Notes
If you don't use the chicken bouillon powder, then use a total 1 1/2 teaspoons salt for the dough instead of 1 teaspoon salt as stated in the recipe.
To jazz up the aroma of the pancake, you add a little sesame oil to the oil and brush onto the surface before rolling up into a cylinder.
You can also pan-fry the pancakes...just oil your pan and pan-fry both sides until they turn lightly brown with dark brown spots.
Nutrition Facts
Scallion Pancake Recipe
Amount Per Serving (4 people)
Calories 171
% Daily Value*
Sodium 643mg28%
Potassium 50mg1%
Carbohydrates 35g12%
Protein 4g8%
Calcium 7mg1%
Iron 2.2mg12%
* Percent Daily Values are based on a 2000 calorie diet.