Braised Pork Belly (Dong Po Rou) - Wait for the tantalizing aroma to remind you of the mouth-watering concoction simmering on your stovetop.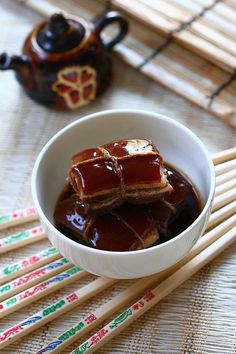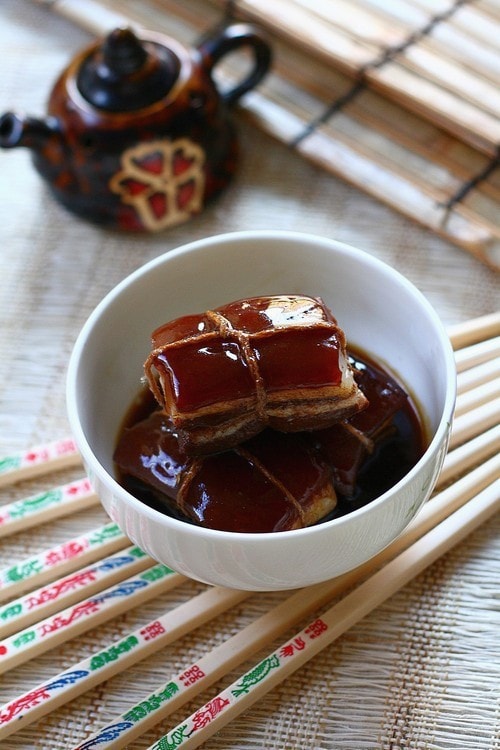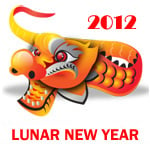 Pork is most definitely not just "the other white meat" in China.
From the smoky-licious BBQ Pork (叉烧) and Crispy Pork Belly (烧肉) in Cantonese cuisine to the dainty-licious Xiao Long Bao (小笼包) from Shanghai and numerous other famous Chinese pork dishes in between, pork is clearly the meat of choice in Chinese cooking.
In fact, the Chinese character for meat '肉' (ròu), refers to pork if no particular meat is specified (e.g. 咕噜'肉' translates to Sweet and Sour 'Pork').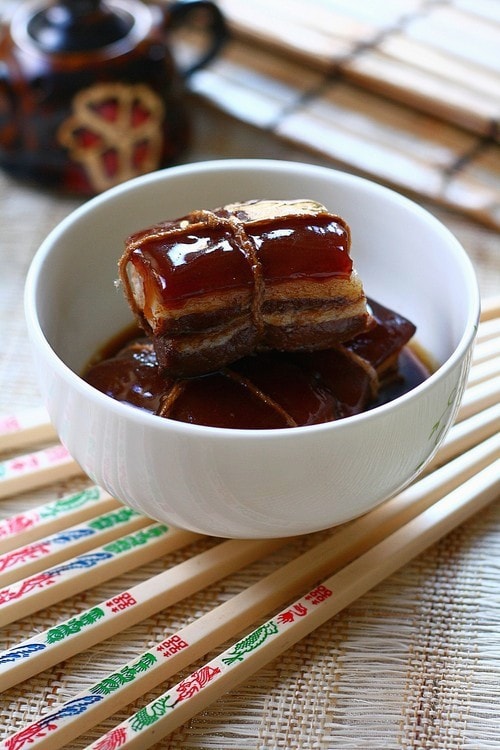 During one of my travels to China, I had the pleasure of introducing my taste buds to a deservedly popular pork dish in Chinese cuisine—the delicate and delectable Braised Pork Belly, Dongpo Pork (东坡肉). As I have mentioned before, many Chinese dish names tell interesting stories, like Beggar's Chicken (叫化鸡) or Goubuli Baozi (狗不理包子).
Dongpo Pork is an iconic feature of Hangzhou (杭州) cuisine and can be attributed to Su Shi (苏轼) a.k.a Su Dongpo (苏东坡), a scholar and court official during the Song Dynasty (宋朝), renowned today for his brilliance in poetry, calligraphy, and writings in Chinese literary history.
There was a time when Su Dongpo was demoted for criticizing the emperor and sent to Huangzhou (黄州) in exile.
One day, he was so engrossed in a game of Chinese chess (象棋) with an old friend that he forgot all about the Red-Cooked Pork Belly (红烧肉) braising on his stove.
The fragrant aroma from the lengthy braising drifting in from the kitchen suddenly reminded him.
As he took a bite of the pork, he was pleasantly surprised to find that the dish he thought had been ruined turned out to be even more tender and tastier than expected.
Dongpo Pork was thus born.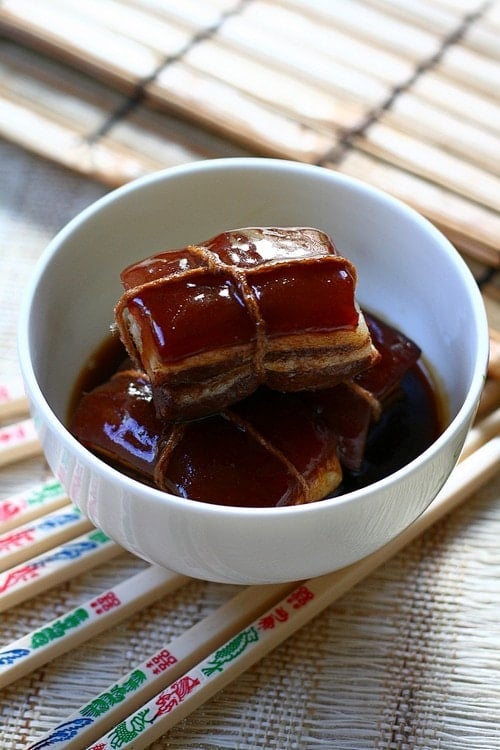 When he was later stationed in Hangzhou (杭州) and was overseeing a reconstruction project on the West Lake (西湖), he cooked the same dish with the pork cut up into cubes and distributed them to the workers as a sign of gratitude.
The dish was thoroughly enjoyed by all and Dongpo Pork rapidly gained popularity then and there right up to the present day, where it has become a notable signature dish in Hangzhou cuisine and famous all around the world.
The key discerning factor between Red-Cooked Pork and Dongpo Pork is undoubtedly the lengthier braising process, which increases the caramelization of the sugar to enhance the flavor, infuses the cooking wine into the meat longer for an even richer fragrance, and last but definitely not least, breaks down the fat further to give the pork that tender "melt-in-your-mouth" texture minus the greasiness.
In other words, this is one dish that is definitely worth the wait.
And as a bonus for your patience, you can always "forget" to set your kitchen timer and wait for the tantalizing aroma to remind you of the mouth-watering concoction simmering on your stovetop. Who knows?
You might just get a dish named after you!
How Many Calories per Serving?
This recipe is only 376 calories per serving.
What Dishes to Serve with This Recipe?
For a wholesome meal and easy weeknight dinner, I recommend the following recipes.
For more great recipes like this, sign up for our newsletter. We'll send daily recipes you'll love!
Join
Sign up for our newsletter!
Braised Pork Belly (Dong Po Rou/东坡肉)
Braised Pork Belly (Dong Po Rou/东坡肉) – You can always "forget" to set your kitchen timer and wait for the tantalizing aroma to remind you of the mouth-watering concoction simmering on your stovetop.
Ingredients
Equipment:
clay pot

(dutch oven or stainless steel pot)

Food safety strings

(optional)
Ingredients:
1

lb.

pork belly

1

tablespoon

oil

3

stalks scallions

(cut into 3-inch (6 cm) lengths)

1-

inch

peeled ginger

(cut into slices)

2-3

tablespoons

low sodium soy sauce or 1-2 tablespoons regular soy sauce

2

tablespoons

dark soy sauce

3 1/2

tablespoons

Shaoxing wine

water

(enough to cover the pork belly)

1

oz.

rock sugar, lightly crushed or 2 1/2 tablespoons (40 g) brown sugar

extra sugar

(as per taste)
Instructions
Bring a pot of water to boil. Add the pork belly and boil for 5 minutes. Discard water, remove pork from pot, rinse and pat dry. Cut the meat into 2 1/2-inch squares. Tie the pork pieces with food safety strings as tight as possible to avoid meat from falling apart while braising.

Heat up a clay pot or stainless steel pot with oil, stir-fry the ginger and scallions until aromatic. Pour in the water and continue boiling for 10 minutes.

Add light soy sauce, dark soy sauce and wine, adequate amount of water just to cover the pork belly and boil in high heat. Mix in rock sugar, pork pieces, skin side down and cook for 5 minutes.

Lower the heat to medium-low, at a gentle simmering level, cover the pot and braise pork for 30 minutes. Turn pork skin side 'up', and continue braising for 1 1/2-2 hours, or until pork is tender enough to your liking. Adjust seasoning, as per taste, eg. sugar.

Dish up and serve pork with Dongpo sauce over steamed rice or buns and vegetables.
Notes
After dishing out the cooked pork belly, bring the sauce to a second boil to thicken it, add sugar and other seasonings as desired.
Food safety string is not required if you prefer to braise the whole slab of pork belly.
Hence, skip the cutting part of the pork belly.
You can use regular Shaoxing Wine for the Dongpo Pork recipe. Shaoxing 'Hua Tiao' wine will add a more robust and richer flavor to the dish.
Nutrition

Nutrition Facts

Braised Pork Belly (Dong Po Rou/东坡肉)

Amount Per Serving (4 people)

Calories 376

Calories from Fat 567

% Daily Value*

Fat 63g97%

Cholesterol 81mg27%

Sodium 955mg42%

Carbohydrates 9g3%

Protein 12g24%

* Percent Daily Values are based on a 2000 calorie diet.

Notice: Nutrition is auto-calculated, using Spoonacular, for your convenience. Where relevant, we recommend using your own nutrition calculations.