How to make soy bean milk at home? Learn the easy step-by-step guide for a healthy and refreshing soy milk.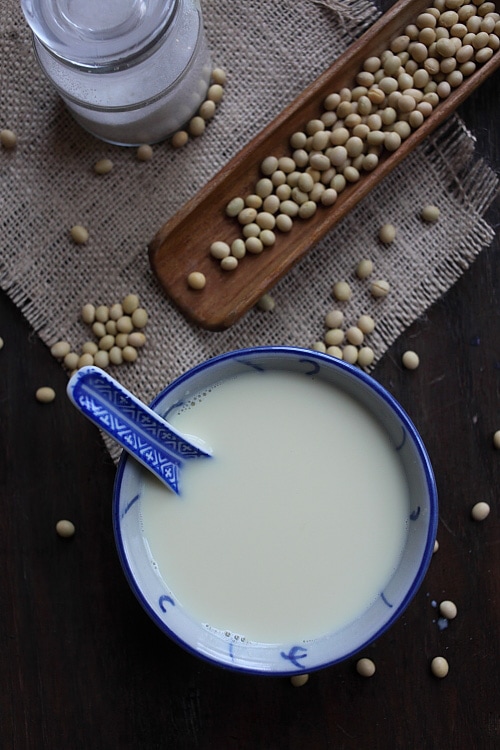 Soy milk has been gaining popularity in the United States due to its many health benefits.
Nowadays, you can get soy milk at any regular grocery stores or Asian food stores.
However, mass-produced soy milk are mostly made with non-organic and GMO (genetically modified) soybeans, and preservatives are added.
As more and more people are turning away from GMO ingredients and go for natural foods, many are wondering how to make soy milk at home.
The good news is I will be showing you the step-by-step, so everyone can enjoy the purest soy milk made with organic and non-GMO soybeans.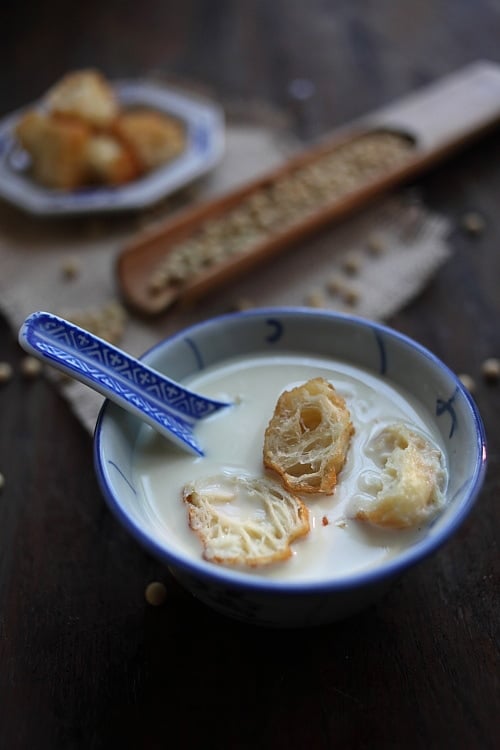 Now a little history about soy milk.
Soy milk, or soybean milk (豆浆 doujiang) is a traditional staple in Asia, especially in China, Taiwan, Hong Kong, Malaysia and Singapore.
The Chinese invented soy milk thousands of years ago, and from soy milk, they also created tofu and tofu skin.
Soymilk is very versatile and can be served sweet or salty.
In China and Taiwan, soy milk with fried Chinese crullers or youtiao (pictured above) is a staple breakfast for many people.
To make soy milk, you need only two key ingredients: soybeans and water.
A good blender is always handy to blend the soybeans.
I used the Blendtec Designer Series Wildside and the blending of the soybeans was a breeze.
Three seconds and a big batch of soybeans and water were finely blended.
It was really amazing.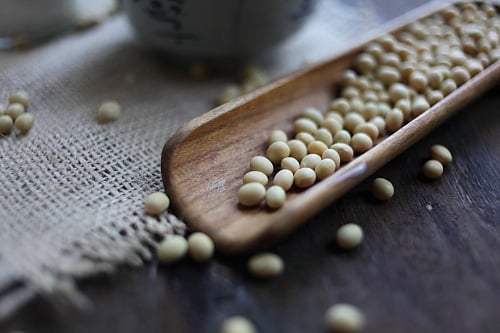 You can find organic and non-GMO soybeans online or at stores such as Whole Foods.
Some Asian grocery stores also carry them.
Please take note that organic soybean doesn't mean that they are non-GMO, so make sure you read the label and packaging well.
I got mine online.
Making soy milk is rewarding as homemade soy milk is richer in taste, with a pleasant soy aroma.
It keeps well in the fridge for a few days, so making a big batch is definitely the way to go!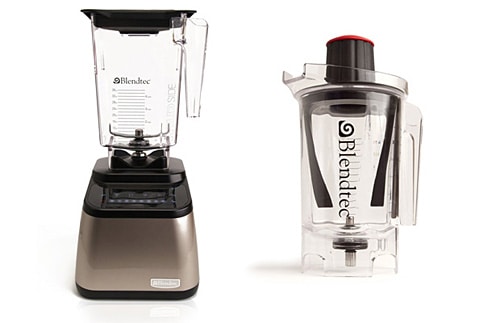 Now the good news: I am giving away a Blendtec Designer Series Wildside with Twister Jar (retail value: $620) to a lucky reader of Rasa Malaysia.
Enter to win now!
How Many Calories Per Serving?
This recipe is only 196 calories per serving.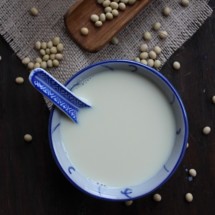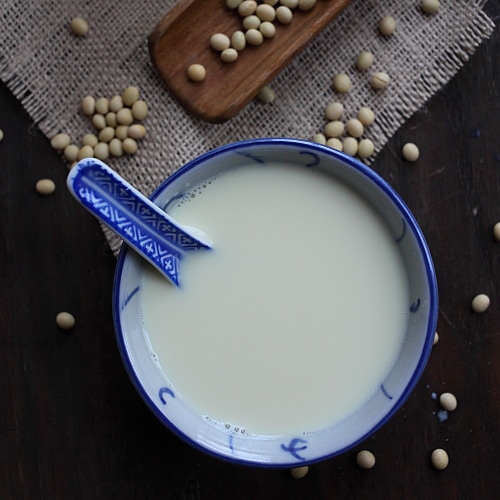 Soy Milk Recipe
How to make soy bean milk at home? Learn the easy step-by-step guide for a healthy and refreshing soy milk.
Ingredients
1 1/2

lbs

organic and non-GMO soybeans

7

quarts

water

(6 1/2 liters)

sugar, to taste
Click Here for Conversion Tool
Directions
Rinse the soybeans thoroughly with water and soak them overnight with water. The next day, discard the water and rinse the soybeans a few times. Remove the soybean skins as much as you can. Drain and set aside.

In a blender, add the soy beans (in batches). Add some water to the soybeans and blend well. Transfer the blended soybeans and water into a big 8-quart stock pot. Repeat the same until all soybeans are blended.

Bring the soybean mixture to boil on medium height. Stir occasionally to avoid the soybeans from sticking to the bottom of the pot. As soon as it boils, lower the heat to medium-low and continue to simmer for about 30 - 45 minutes or until the soy milk reduces to your desired consistency (I like my soy milk richer so I boil it longer).

Turn off the heat once the soy milk is done. Use a cheese cloth or paper or cloth coffee filter (you can get it on Amazon) to filter out the soybean residue. Squeeze the residue and make sure that all soy milk is fully extracted. Discard the residue. Add sugar to taste before serving the soy milk. If you like fried youtiao or Chinese crullers, you can dip it into the soy milk or cut them into pieces and dunk them into the soy milk. It's delicious and a great breakfast.
Recipe Notes
There are many ways to make soy milk. Some people blend the soybeans and then filter out the blended soybeans before boiling the juice. I prefer my method because boiling the blended soybeans releases the soy aroma. The soy milk is also richer in taste.
Nutrition Facts
Soy Milk Recipe
Amount Per Serving (6 people)
Calories 196
Calories from Fat 90
% Daily Value*
Fat 10g15%
Sodium 323mg14%
Potassium 584mg17%
Carbohydrates 11g4%
Protein 18g36%
Vitamin A 10IU0%
Vitamin C 1.9mg2%
Calcium 149mg15%
Iron 5.8mg32%
* Percent Daily Values are based on a 2000 calorie diet.