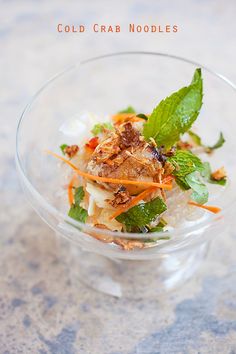 Cold Crab Noodles – With the scorching heat outside, I find a serving of this Cold Crab Noodle very refreshing.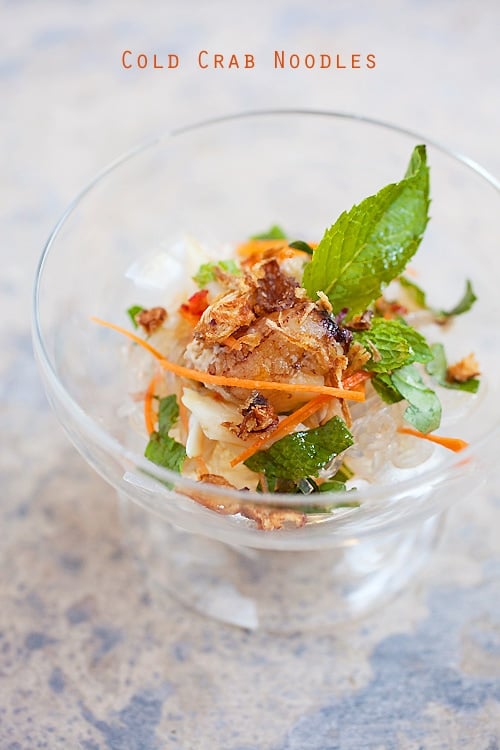 A couple of weeks ago, I attended the Asian Street Food festival at my friend's restaurant in Denver, the culmination of our trip to Vietnam or Red Boat Odyssey that I participated a few months ago.
I presented two dishes: Cold Crab Noodles and Tamarind Shrimp.
When I developed the recipe for Cold Crab Noodles and posted the pictures on my social media, many fans and readers were asking for the recipe.
So here it is, I have decided to share it here with you.
I am not sure about the rest of America, but the weather has gotten really hot here in Southern California.
It's strange, but it seems like the real HOT summer in SoCal always starts in September when the rest of the country cools down after Labor Day.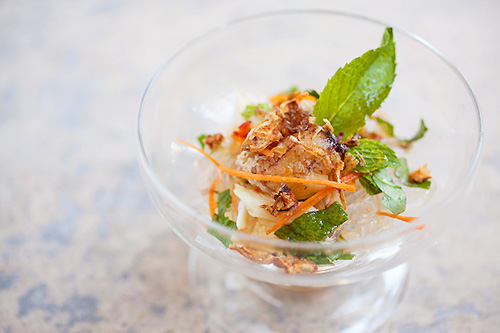 With the scorching heat outside, I find a serving of this Cold Crab Noodle very refreshing.
The recipe below makes a big batch of the fish sauce based dressing, which you can keep in the refrigerator and use it whenever you want.
For the fish sauce, I recommend Red Boat Fish Sauce, which is the best artisanal fish sauce in the market, made purely from anchovies and salt, and no MSG.
I visited the factory so I can attest to the fact.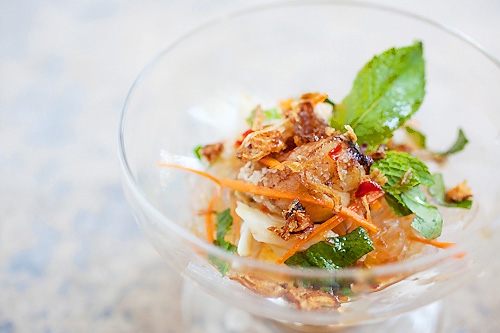 For the crab meat, for the best results, use crab meat picked from live crabs.
If you can't find fresh crabs where you are, you can use frozen crab meat.
However, the end result will not be as great. If you have a seafood store where you are, you can also get crab lump meat, which is commonly used for crab cakes.
In any case, the fresher and the more crab you use, the better tasting this dish is.
Enjoy the flavors of Vietnam in this dish, enjoy!
How Many Calories per Serving?
This recipe is only 522 calories per serving.
What Dishes to Serve with This Recipe?
For a wholesome meal and easy weeknight dinner, I recommend the following recipes.
5 Secrets to 20 Min Dinners
Get tricks for quick & easy meals!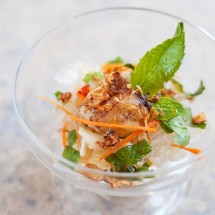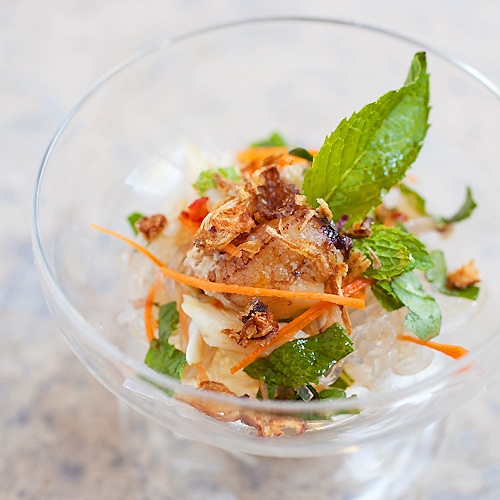 Cold Crab Noodles
Cold Crab Noodles - With the scorching heat outside, I find a serving of this Cold Crab Noodle very refreshing.
Ingredients
8

oz.

mung bean or cellophane noodles

1

Dungeness crab

meat picked and chilled in fridge

1/2

carrot

peeled and cut into thin match-stick strips

Fried shallot crisp
Fish Sauce Dressing
1/2

cup

Red Boat fish sauce

1/4

cup

water

2

stalks lemongrass

white parts, smashed with the back of cleaver

5

kaffir lime leaves

bruised, optional

6

oz.

palm sugar, crushed into small pieces, or to taste

1

tablespoon

Rooster brand garlic chili sauce

3

tablespoons

lime juice

cornstarch mixture
Mixed Herbs
mint leaves

rau ram

polygonum leaves

Thai basil leaves
Garnishing
cilantro leaf or mint leaf
Click Here for Conversion Tool
Directions
Bring the water to a boil and cook the mung bean/cellophane noodles until al dente, transfer the noodles and place them in an ice water bath. Drain and chill in the fridge. Combine all the herbs together and sliced thinly. Chill in the fridge.

Prepare the Fish Sauce Dressing by combining all the ingredients (except garlic chili sauce and lime juice) together in a sauce pan. Simmer on low heat to a slightly thicker consistency. Add corn starch mixture to thicken the dressing. Filter the dressing and discard the lemongrass and kaffir lime leaves. Stir in the garlic chili sauce and lime juice. Chill the dressing in the fridge.

To assemble the crab noodles, combine the noodles, crab meat, carrots and mixed herbs together. Toss gently. Transfer the noodles to a serving ware and drizzle the Fish Sauce Dressing on top, with a squirt of lime juice. Top the crab noodles with some fried shallot crisps and garnish with cilantro leaves or mint leaves. Serve cold.
Nutrition Facts
Cold Crab Noodles
Amount Per Serving (3 people)
Calories 522
Calories from Fat 9
% Daily Value*
Fat 1g2%
Cholesterol 32mg11%
Sodium 3398mg148%
Carbohydrates 102g34%
Protein 29g58%
* Percent Daily Values are based on a 2000 calorie diet.