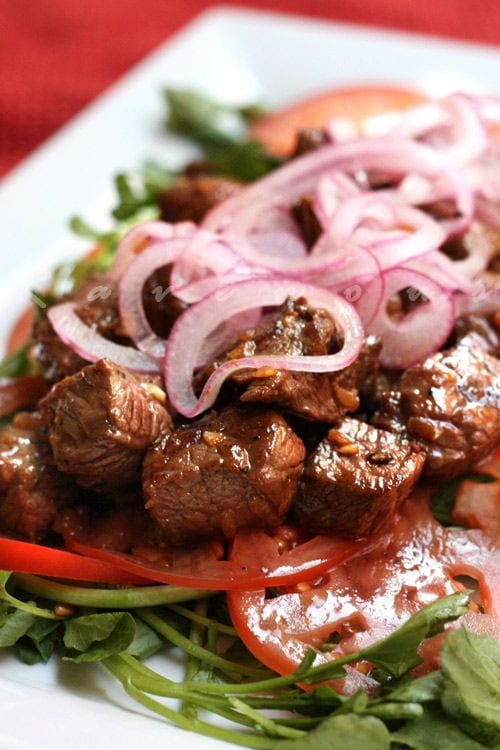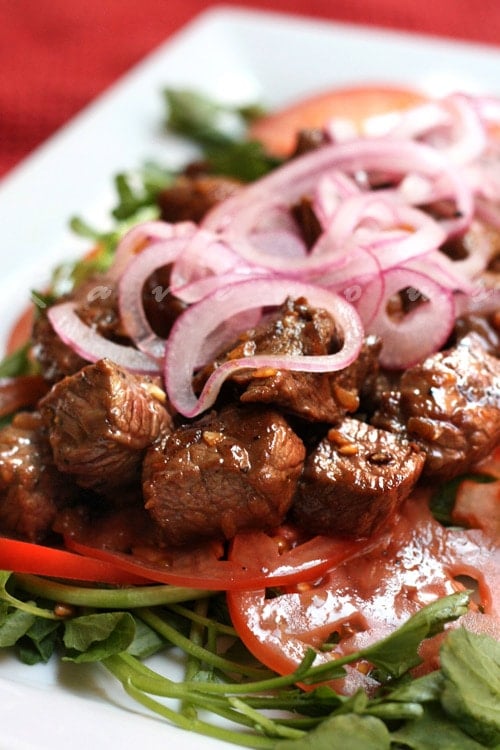 Ravenous Couple: Cooking Up Life is one of the new blogs I discovered recently. Authored by Hong and Kim, Ravenous Couple is a chronicle of the authors' cooking and eating adventures, with an emphasis on Vietnamese cuisine.
Other Recipes You Might Like
As a Vietnamese food lover, I often refer to great blogs such as White on Rice Couple and Vietworld Kitchen for inspirations, and Ravenous Couple is a great addition to that space. Please welcome Hong and Kim as they share with us the popular Vietnamese Shaking Beef or Bo Luc Lac recipe.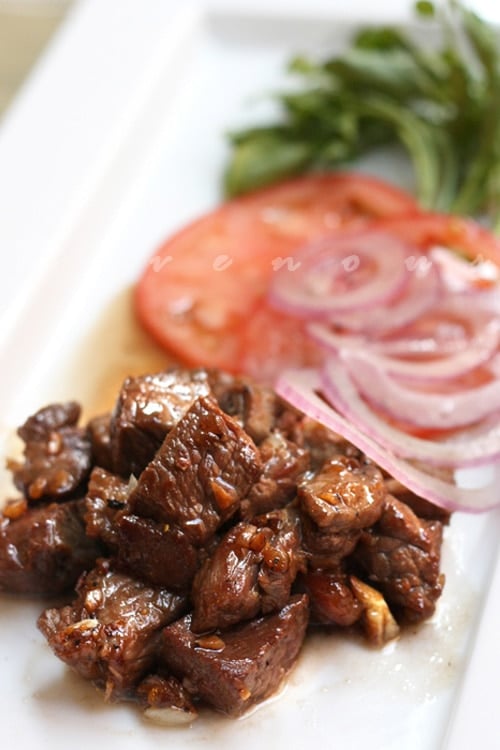 It's been four months since we started Ravenous Couple and not much longer that we first discovered the world of blogging. Several blogs got us hooked and planted the seed, but if we were forced to single one out on a police line up, Rasa Malaysia would be the guilty one.
Yes, Bee you didn't know it then but now you do–your blog really inspired us to enthusiastically share our love of Vietnamese cuisine but to also learn about others as well.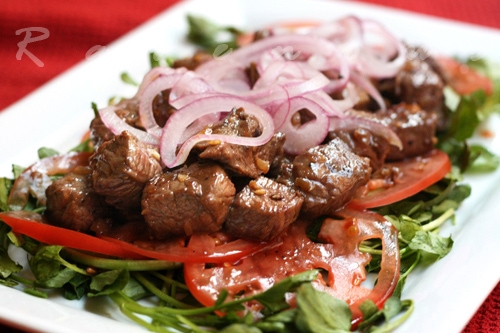 So when Bee asked us to write a guest post on Bo luc lac (Vietnamese Shaking Beef), we were surprised and flattered–you mean us newbies? But we gladly accepted as it's one of our favorite dishes.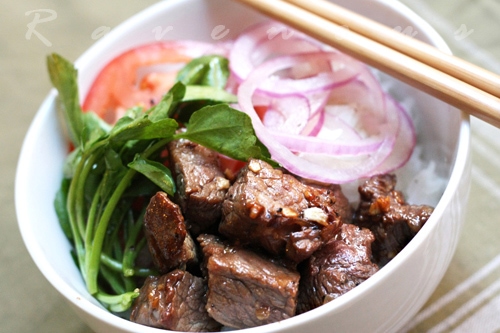 Not completely lost in translation, the "luc lac" is merely a description for the "shaking" or tossing of the beef back and forth in the wok after it's quickly seared. 
It's a widely popular Vietnamese dish and as such, has many variations on how it's served. Some restaurants serve it with sauteed onions, lettuce, and rice (white or tomato paste rice) while others may present it more like a steak salad served on a bed of watercress and tomatoes, topped with pickled onions. Dipping sauces might vary from a lime/salt/pepper sauce to a soy chili sauce…
Regardless of how you serve bo luc lac, it's an easy and fantastic dish to make for a dinner for two or a party of ten. You can use any cut of steak you like such as filet or ribeye, but we prefer sirloin.
How Many Calories Per Serving?
This recipe is only 304 calories per serving.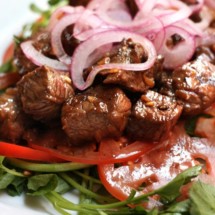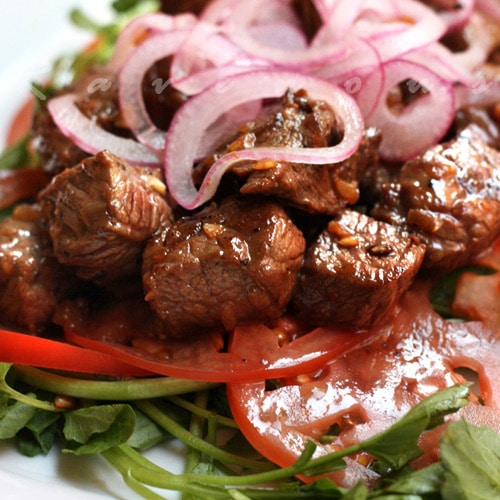 Bo Luc Lac Recipe (Vietnamese Shaking Beef)
Shaking beef or bo luc lac is a popular Vietnamese dish. Easy shaking beef recipe that is delicious and simple to make.
Ingredients
Dipping Sauce:
1

lime juice

1/2

ts

kosher salt

1/2

ts

fresh cracked pepper

1

red onion, thinly sliced

2

bunches of watercress, long stems trimmed

2 to

matoes, thinly sliced

Cooking oil for frying
Click Here for Conversion Tool
Directions
Prepare marinade by combining garlic, oyster sauce, sugar, fish sauce, thick soy sauce and sesame oil with the beef for at least half an hour, preferably 1-2 hrs.

Prepare vinaigrette by mixing rice vinegar with salt and sugar. It should be a balance of sour, salty and sweet.

Thinly slice the red onion and use about 3-4 tbs of the vinaigrette to pickle and set aside covered in fridge for about 10 minutes. Prepare bed of watercress and tomatoes in a serving platter and set aside.

Heat a large wok or pan over high heat. Add about 2 tbs cooking oil and when it begins to smoke, add an even layer of beef and allow to sear for about 2 minutes, before "shaking" to sear the opposite sides for about another 1-2 minute more to brown all the sides. Do this in batches to cook all the beef if necessary.

Transfer beef to bed of watercress and tomatoes. Drizzle another 3-4 tbs of vinaigrette over the beef and greens and top with pickled red onions. Lastly, squeeze lime juice over salt and pepper in a small ramekin.
Recipe Notes
We like our beef medium rare and test the meat by touch and sight--it will plump up slightly and be bouncy to the touch with a spatula.
Nutrition Facts
Bo Luc Lac Recipe (Vietnamese Shaking Beef)
Amount Per Serving (4 people)
Calories 304
Calories from Fat 81
% Daily Value*
Fat 9g14%
Cholesterol 93mg31%
Sodium 1877mg82%
Potassium 642mg18%
Carbohydrates 14g5%
Protein 37g74%
Vitamin A 15IU0%
Vitamin C 5.8mg7%
Calcium 50mg5%
Iron 3.2mg18%
* Percent Daily Values are based on a 2000 calorie diet.