Easy Goi Cuon recipe wrapped with rice noodles, vegetables, herbs and shrimp. These Vietnamese fresh spring rolls are served with hoisin peanut dipping sauce.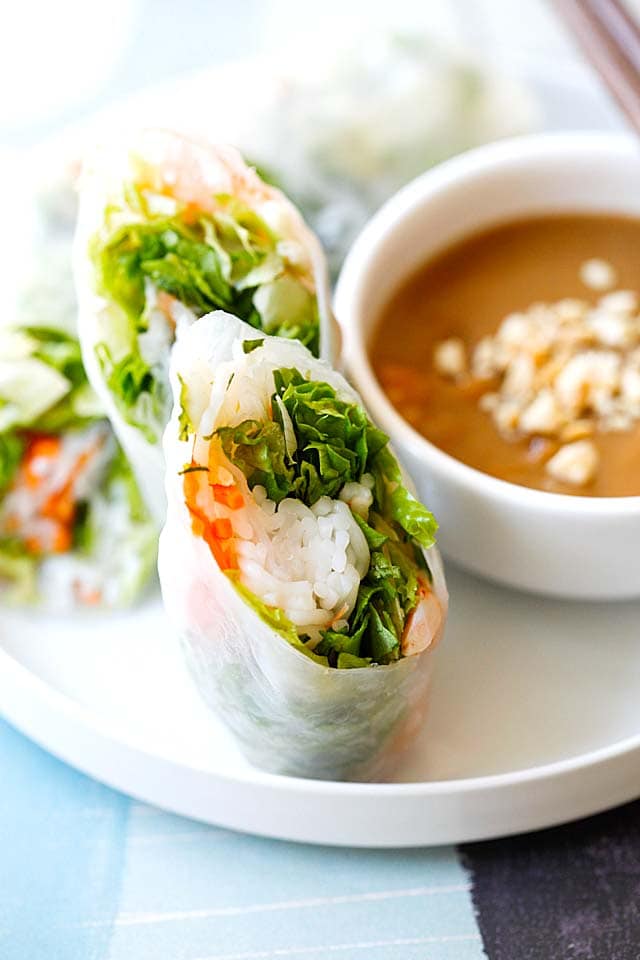 Goi Cuon Recipe
Goi Cuon are Vietnamese fresh spring rolls. They are also called Summer Rolls.
Unlike fried Vietnamese spring rolls, these fresh rolls are commonly wrapped with Vietnamese rice paper with rice vermicelli, fresh vegetables, herbs, boiled shrimp and sliced pork.
There are a variety of recipes with grilled pork, pork sausage, salmon and mini fried spring rolls inside the fresh rolls.
This appetizer is commonly served with dipping sauce, for examples: hoisin peanut sauce or a basic Vietnamese dipping sauce called Nuoc Cham.
Other Recipes You Might Like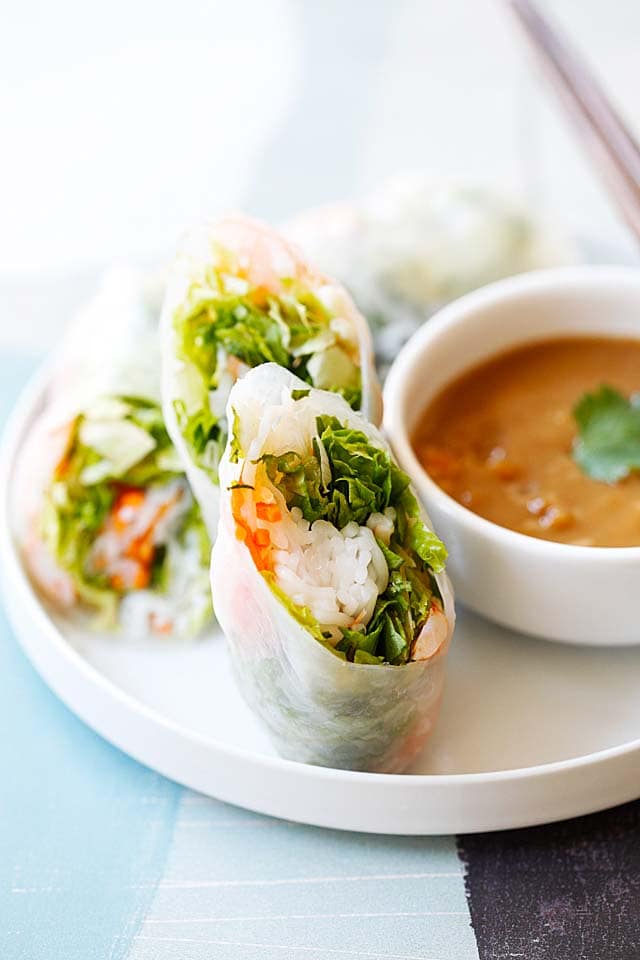 How to Make Goi Cuon?
Making homemade Goi Cuon is very easy and takes less than 30 minutes from start to finish.
First, prepare the filling of cooked rice noodles, boiled shrimp, fresh vegetables and herbs.
Next, soak the rice paper in luke warm water to soften them.
The last step is to roll the fresh spring rolls using the rice paper. In this recipe, I will teach you the step-by-step techniques on how to wrap goi cuon.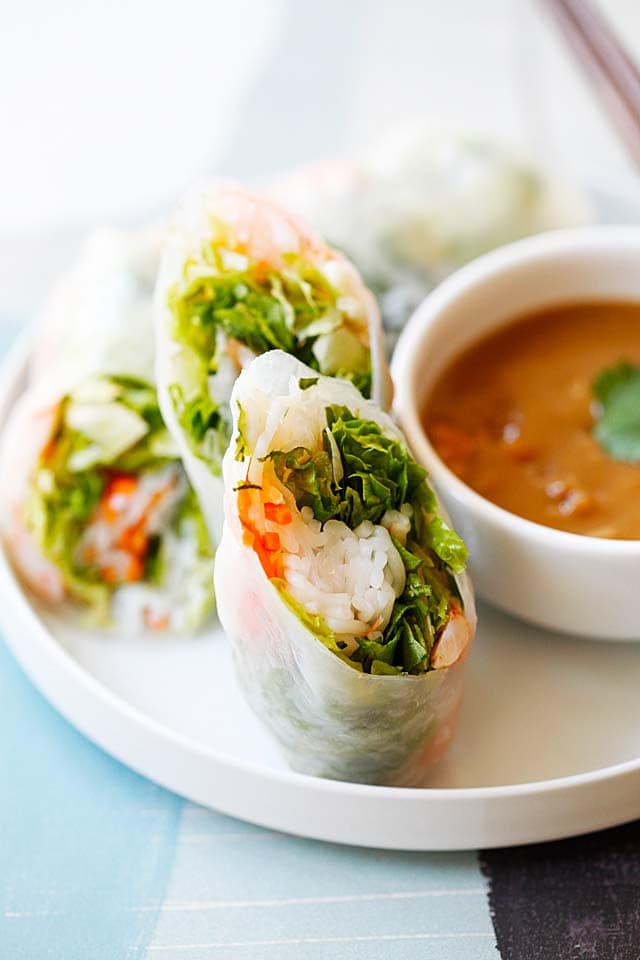 Peanut Dipping Sauce
In most Vietnamese restaurants, the rolls are served with a brown colored peanut sauce flavored with Hoisin sauce.
It's the perfect dipping sauce and take only 5 minutes to make.
Frequently Asked Questions
Can I Use Grilled Pork As the Filling?
Yes, you can. Grilled pork fresh spring rolls are called Goi Cuon Thit Heo Nuong.
In fact, they are probably the best with charred and grilled pork inside the rolls.
Can I Make the Recipe into Vegan or Vegetarian Recipe?
Yes, you can. Just substitute the protein into soy protein, for example, fried tofu slices and this recipe will be 100% vegan and vegetarian.
The peanut sauce is vegan and vegetarian friendly.
How Many Calories per Serving?
This recipe is only 178 calories per roll.
What to Serve with This Recipe?
Serve this dish with other Vietnamese recipes. For a healthy Vietnamese meal and easy weeknight dinner, I recommend the following recipes.
5 Secrets to 20 Min Dinners
Get tricks for quick & easy meals!
Yield: 8 Rolls
Goi Cuon (Vietnamese Fresh Spring Rolls)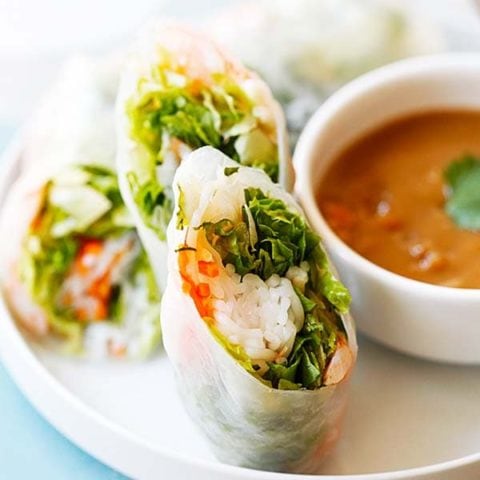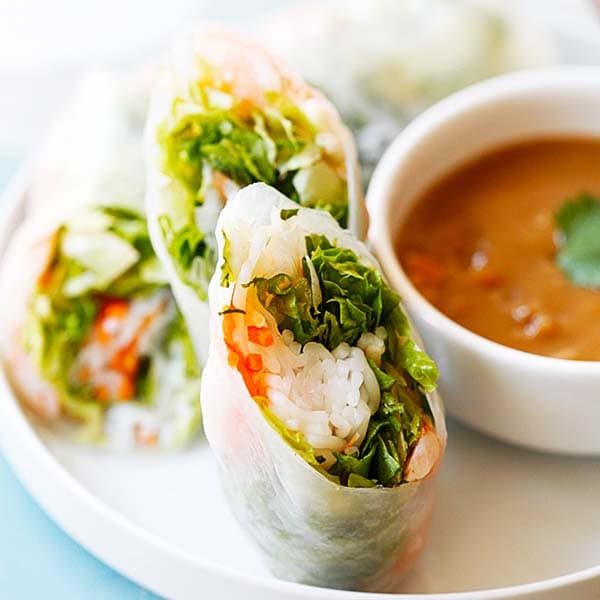 Easy Goi Cuon recipe wrapped with rice noodles, vegetables, herbs and shrimp. These Vietnamese fresh spring rolls are served with hoisin peanut dipping sauce.
Ingredients
6 oz. (170 g) dry Vietnamese rice sticks (rice noodles or vermicelli)
6 oz. (170 g) peeled and deveined shrimp
3 leaves lettuce
8 sheets Vietnamese rice paper
2 oz. (56 g) carrot, peeled and cut into thin strips
1/3 cup cilantro leaves
1/3 cup mint leaves
Hoisin Peanut Dipping Sauce:
4 tablespoons hoisin sauce
1 tablespoon creamy peanut butter
4 teaspoons apple cider vinegar
1/4 cup warm water
sugar, to taste
1 tablespoon roasted peanuts, coarsely chopped
Instructions
Cook the rice sticks according to the package instructions. Strain in a colander and run cold running water until the rice sticks become cold. Set aside.
In another small pot, bring some water to boil. Cook the shrimp for 1 minute, or until they are completely cooked through. Drain and let cool. Slice the shrimp into halves, lengthwise. Set aside.
Cut off the spines of the lettuce and tear them into 8 pieces. Divide the rice sticks, shrimp, carrot and mint leaves into 8 portions.
To assemble Goi Cuon, dip one sheet of the rice paper into a big bowl of lukewarm water. Shake off the excess water and quickly transfer it to a dry chopping board. Lay a piece of the lettuce on the rice paper, follow by the rice sticks, carrot, cilantro and mint leaves.
Fold the bottom side of the rice paper over the filling securely, then fold the left and right sides of the rice paper over the filling. Make sure the filling is wrapped tightly. Place 3 shrimp halves horizontally above the roll, with the orange side of the shrimp facing down. Continue to roll it over. Repeat the same until everything is used up.
Combine the ingredients for the Hoisin Peanut Dipping Sauce together in a small bowl. Whisk it to mix well. Transfer to a dip bowl adn garnish with the chopped roasted peanuts.
Cut the Goi Cuon diagonally in the middle into halves, place them on a platter and serve immediately with the Hoisin Peanut Dipping Sauce.
Nutrition Information
Serving Size
8
Amount Per Serving
Calories

178
Total Fat

3g
Saturated Fat

1g
Cholesterol

55mg
Sodium

429mg
Carbohydrates

30g
Fiber

1g
Sugar

3g
Protein

8g