Crab with tamarind and chili or Cua Rang Me is a coastal Vietnamese recipe. Easy recipe with step-by-step photo guide how to prepare live crab.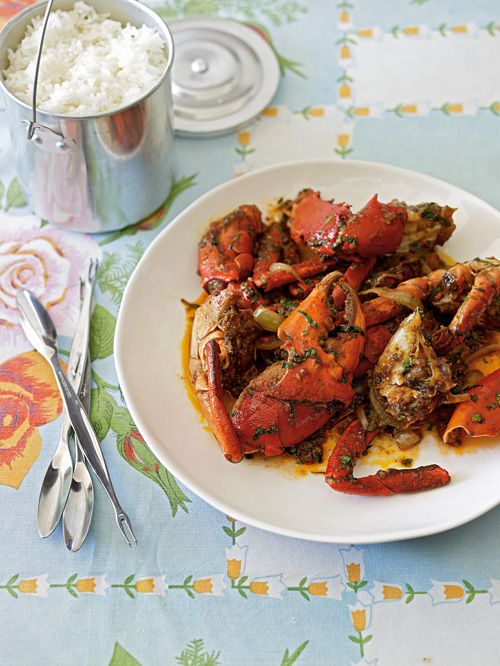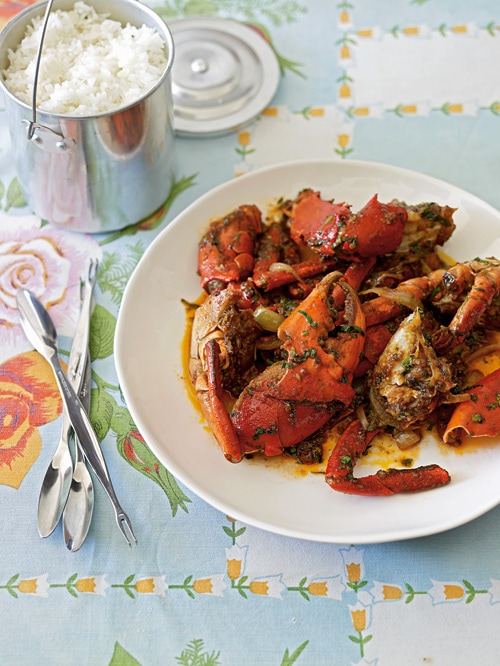 Recently, my publisher Tuttle Publishing sent me a copy of their new cookbook called Little Vietnam by Nhut Huynh.
I like the cookbook because I would actually use it.
Some cookbooks are meant for reading, some for browsing and flipping through, while some are packed with recipes that I can see myself cooking from.
This is the latter.
This crab with tamarind and chili immediately caught my attention.
The reasons are simple: I am a huge fan of crab (click here to check out all my crab recipes) and the recipe looks absolutely mouthwatering and delicious.
As the Dungeness crab season starts in November, this is the crab recipe that I am definitely going to try soon.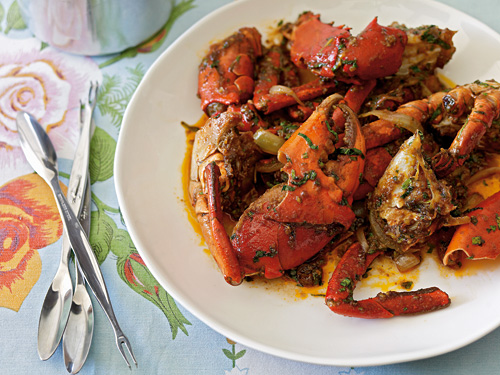 As the headnote suggests, it is essential to use live crab which I can't agree more.
All the crab recipes that I have featured on Rasa Malaysia call for live crab, but if you can't find it where you are, you will have to make do with frozen crabs, but the taste and texture are not the same.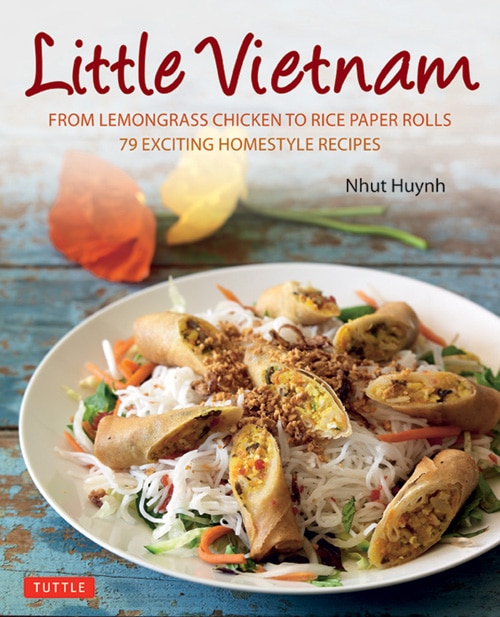 Many home cooks—despite their love for crab—almost never attempt to cook crab at home because it is intimidating to handle a live crab.
This is actually quite a misconception because many Asian stores would cut up and clean the crab for you, so all you have to do is cook the crab.
Even back home in Malaysia, if you ask the fish monger to clean the crab for you, they would always do that.
If you do need to clean and chop up the crab yourself, this recipe offers clear step-by-step picture guide how to prepare live crab.
Click here to view the steps.
This crab with tamarind and chili recipe originated from coastal Vietnam.
The best way to devour the crab is to eat with your hands.
Extract all the sweet crab meat from the shells, legs and claws, and lick up the delicious sauce.
Bon appetit!
How Many Calories per Serving?
This recipe is only 484 calories per serving.
What Dishes to Serve with This Recipe?
For a wholesome meal and easy weeknight dinner, I recommend the following recipes.
5 Secrets to 20 Min Dinners
Get tricks for quick & easy meals!
Yield: 4 people
Crab with Tamarind and Chili (Cua Rang Me)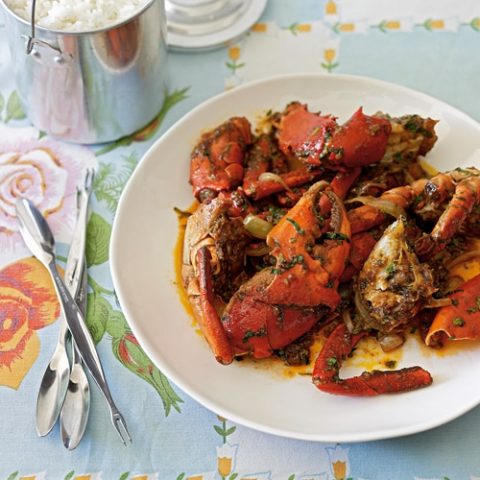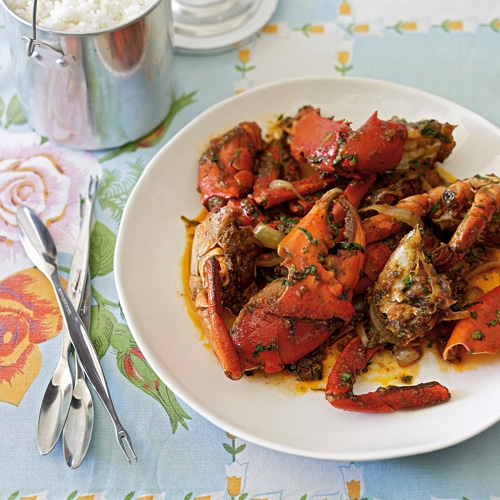 Crab with tamarind and chili or Cua Rang Me is a coastal Vietnamese recipe. Easy recipe with step-by-step photo guide how to prepare live crab.
Ingredients
4 lbs. (2 kg) fresh crabs, about 3 pcs, placed in freezer for 30 minutes
Oil, for frying
1 egg
1 tablespoon tamarind juice
2 tablespoons oyster sauce
1 tablespoon sesame oil
2 tablespoons sugar
1 clove garlic, finely chopped
1 small onion, halved lengthwise and cut into thin wedges
1 fresh small red chili, finely chopped
¼ cup (10-15 g) saw tooth herb, finely chopped
¼ cup (10-15 g) rice paddy herb, finely chopped
Steamed rice, to serve
Instructions
To prepare the mud crab, scrub the outside with a brush under cold running water. Place the crab on its back on a chopping board, then lift up the flap/tail. Pull this away from the crab's body, then turn the crab over and pull out the long grey 'dead man's fingers.' Carefully scrape out the green-brown matter surrounding the liver (also called the 'mustard') and set aside; leave the liver in place but remove any other innards.
Cut the crab in half lengthwise through the head, then remove the claws and legs and cut the body into two pieces.
Using the flat side of a cleaver or a large heavy-bladed knife, gently crack the crab claws and legs so they cook more evenly and are easier to eat. Rinse them under cold running water.
Heat the oil in a wok over high heat. Working in batches, fry the crab pieces for 2-3 minutes, then remove and drain on paper towels.
Mix together the reserved 'mustard,' egg, tamarind juice, oyster sauce, sesame oil and sugar and set aside.
Heat 1 tablespoon of oil over high heat in a clean wok, then add the chopped garlic and cook for 15-20 seconds. Add the onion and chili and cook for 1-2 minutes or until the onion is translucent.
Add the tamarind and egg mixture to the wok, then bring to a boil and simmer until slightly reduced and sticky. Add the crab pieces and herbs and toss for 5 minutes to coat with the sauce and heat through. Serve with steamed rice.
Notes
You can use any type of crab: live mud crab (as pictured above), Dungeness crab, rock crab or blue crab.
Nutrition Information
Yield
4
Serving Size
4 people
Amount Per Serving
Calories

484
Total Fat

9g
Saturated Fat

1g
Unsaturated Fat

0g
Cholesterol

308mg
Sodium

1604mg
Carbohydrates

15g
Sugar

8g
Protein

81g