Egg Roll - Popular Chinese appetizer, and this recipe makes for the best egg rolls. There's even a step-by-step picture guide!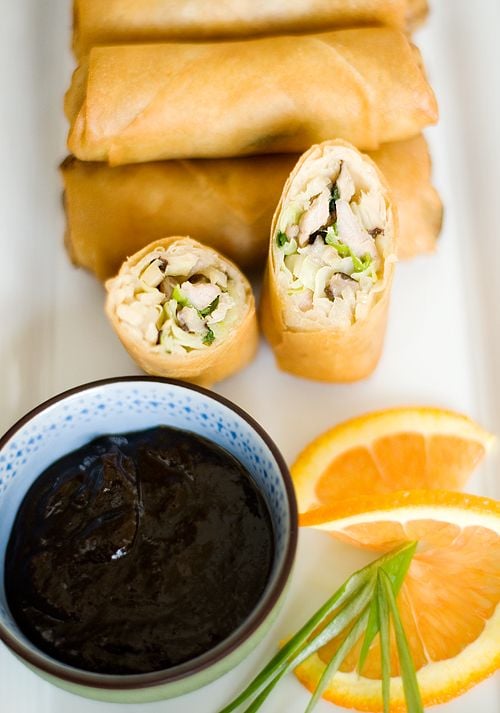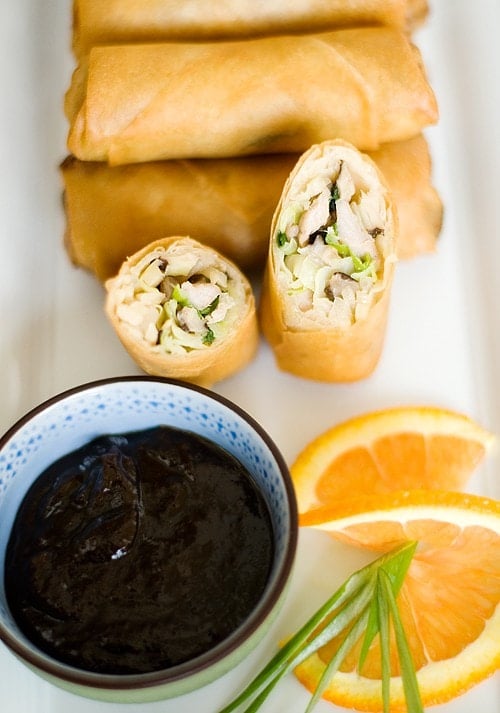 When it comes to traditional Chinese recipes, I always turn to Use Real Butter as my ultimate online resource.
(I learned how to make Chinese dumplings and potstickers from her.) Use Real Butter is a seriously good blog–very down-to-earth, real, and choked full of delicious recipes plus breathtaking landscape photography and some of the cleanest food porn; I become a fan instantly.
Today, I am very happy to feature Jen Yu of Use Real Butter as our guest writer. Jen shares her easy egg roll recipe (with sweet egg roll) and step-by-step picture cooking guide.
Please give her your warmest welcome and support, and don't forget to pay her a visit at her wonderful blog.
Egg Roll Recipe
Guest Writer: Jen Yu of Use Real Butter
I can't tell you what a pleasure and an honor it is for me to be guest blogging on Rasa Malaysia.
This is one of my all-time favorite sites for fantastic Asian recipes (and if you know me, I am picky when it comes to authentic Chinese food) and beautiful photography.
When Bee asked if I'd be interested in writing a guest post, I practically fell out of my chair. Yes, of course! But what would I blog? To be honest, I come here to reference many of Bee's recipes. Eventually, we settled on egg rolls.
Egg rolls are one of those dishes that I don't make at home very often. Deep frying is something I tend to let the restaurants specialize in.
However, I quite love a really good, crispy, hot, fresh egg roll from time to time. Now there is a burning question about the difference between a spring roll and an egg roll.
I think most of what I have encountered in Chinese restaurants is what might be classified as a spring roll: loaded with vegetables (cabbage, carrots, mushrooms, sprouts), sometimes containing meat (pork), and wrapped in a thin flour skin that becomes delicately crispy when fried.
I usually only see egg rolls in more westernized Chinese take-out joints and they always contain meat (usually pork), are fried in a thicker flour and egg wrapper, and tend to be about twice as large as their spring roll cousins. I think I read somewhere that the egg roll is Cantonese.
green onions, bamboo shoots, chinese mushrooms, pork, cabbage, sprouts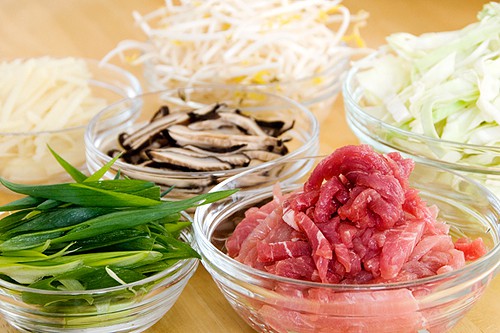 In my mind, a spring roll doesn't contain meat, so these are egg rolls by default.
I started by stir-frying the vegetables that require the most time to cook: the cabbage and mung bean sprouts. I heated a little vegetable oil in the pan until it was hot and then tossed in half of the green onions to flavor the oil. When things began to sizzle, I added the cabbage and sprouts, stir-frying until they were wilted at which point I removed the contents to a bowl.
cabbage and mung bean sprouts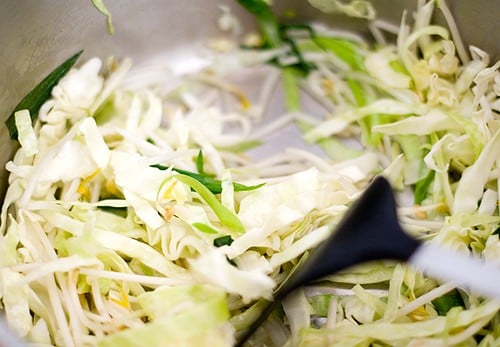 I prefer to use dark pork meat and I don't use a lot of it, allowing the vegetables to dominate the egg roll. The quantities should be dictated by what you like, so feel free to add more, use less, or replace the pork with chicken or tofu.
You can mix the pork strips with a variety of seasonings, but my mom suggested (nay, instructed me to use) soy sauce, Chinese cooking sherry, and some cornstarch. Using the same pan, I added a little more vegetable oil and the remaining green onions. As the onions sizzled, I poured in the pork strips and stir-fried until the meat was barely pink anymore.
thin strips cook in just a few minutes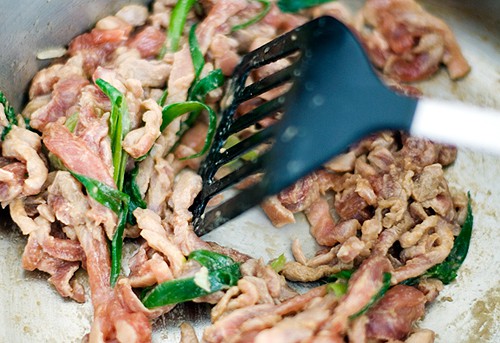 Once the pork was nearly done, I emptied the cabbage and sprouts back into the pan and also added the remaining ingredients (in this case, the bamboo shoots and the mushrooms) and stir-fried everything until the pork was cooked through.
the filling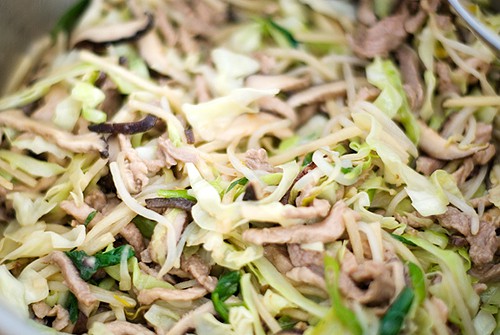 I used spring roll wrappers (it read: Spring Roll Wrappers on the package) as my tiny Asian grocer did not have any egg roll wrappers in stock.
I prefer these thinner wrappers anyway, but just so you know, I have seen egg roll wrapper packages in larger Asian grocery stores. I think they are called egg rolls because egg is used in making the wrapper dough.
rolling the wrapper around a spot of filling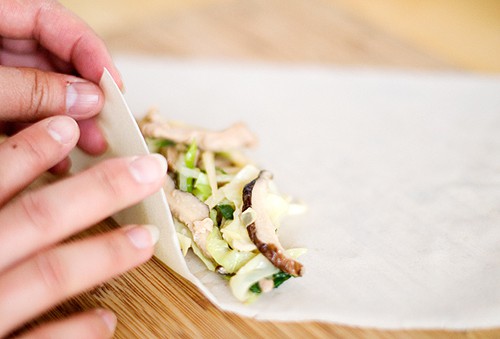 folding the sides over neatly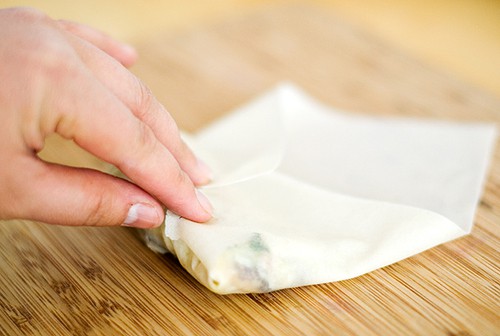 Wrapping the rolls is straightforward if you keep one thing in mind – no gaps.
I oriented each wrapper as a diamond with one corner pointing toward me and piled a few tablespoons of filling two-thirds of the way down from the center to the corner nearest me. I folded the nearest corner over the filling, then folded the sides over, making sure no filling was "exposed" and then rolled the rest of it up. A little egg wash smeared along the edges of the last corner helped to keep the egg roll sealed.
awaiting the fryer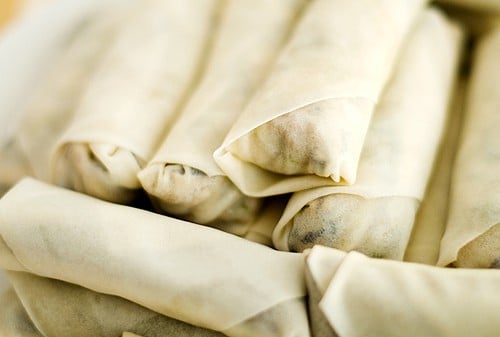 My final egg rolls measured about 5 inches in length and 1.5 inches in diameter which is probably on the small side for an egg roll, but on the large side for a spring roll. Go figure.
I fried them in a 3-quart saucepan with 3 cups of vegetable oil at 375°F (I used a candy thermometer to monitor the temperature) and they browned in about 3-4 minutes. Rather than setting the fried egg rolls on paper towels where they would get soggy, I let them cool on a baking rack which allowed them to maintain their crispy shells. They are delicious when eaten hot.
egg rolls (with spring roll skins)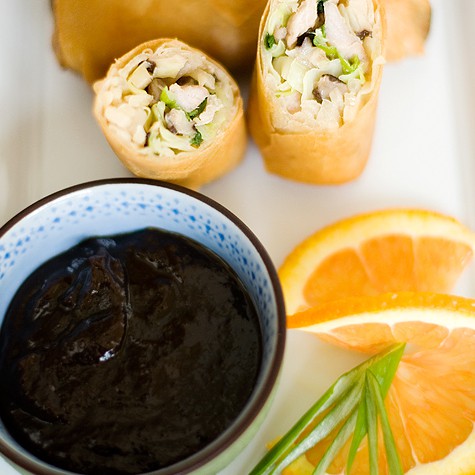 Since I had extra spring roll wrappers, I opened a can of sweet red bean paste (easily found at any Asian market) and wrapped several sweet bean paste rolls, frying them just like the egg rolls. Served fresh and dusted with some powdered sugar, these make a great little dessert. Thanks for having me, Bee!
How Many Calories per Serving?
This recipe is only 192 calories per serving.
What to Serve with This Recipe?
Serve this dish with other Malaysian dishes. For a Malaysia meal and easy weeknight dinner, I recommend the following recipes.
For more great recipes like this, sign up for our newsletter. We'll send daily recipes you'll love!
Join
Sign up for our newsletter!
Egg Roll
Egg rolls are a popular Chinese appetizer, and this recipe makes for the best egg rolls. There's even a step-by-step picture guide!
Ingredients
1

package

egg roll wrappers or spring roll wrappers

(about 25)

1

lb.

pork

(trimmed of fat and cut into strips (I like the dark meat best))

2-3

tablespoons

soy sauce

2

tablespoons

Chinese cooking sherry

2

teaspoons

corn starch

4

tablespoons

vegetable oil

(like canola or corn oil, but not olive oil)

1

cup

green onions

(cut into 1 inch (2 cm) strips)

4

cups

cabbage

2

cups

mung bean sprouts

1

cup

bamboo shoots

(cut into strips)

1

cup

Chinese mushrooms

(stems removed and cut into strips)

1

egg white

(beaten (for egg wash))

3-4

cups

vegetable oil for frying
Sweet Bean Paste Rolls
17

oz

sweet red bean paste

12

spring roll wrappers

powdered sugar for dusting
Instructions
Defrost the egg roll (or spring roll) wrappers according to the package instructions. Keep the wrappers under a damp cloth while not in use. In a small bowl, mix the pork, soy sauce, sherry, and cornstarch together. Set aside. Heat 2 tablespoons of oil and half of the green onions in a sauté pan on high.

When onions begin to sizzle, add the cabbage and bean sprouts and stir-fry until they are wilted. Remove from pan and set aside in a medium bowl. Heat the remaining 2 tablespoons of oil with the rest of the green onions on high until the onions sizzle. Add the pork to the pan and stir-fry. When the pork is almost cooked through, return the cabbage and sprouts to the pan, along with the mushrooms and bamboo shoots. Sauté until cooked. Remove from heat. If there is excessive liquid in the pan, you can drain that off.

On a clean work surface, orient a wrapper so that a corner points toward you. Place 2-3 tablespoons of filling (more if your wrapper is larger) near the corner closest to you. Fold that corner over the filling, and then fold the sides over toward the center. Roll the rest up toward the far corner. Wash the edges of the far corner with the beaten egg white and gently seal the egg roll. Repeat until all of the filling or the wrappers are gone.

In a medium saucepan, heat the frying oil to 375°F (190°C) and fry 3-4 egg rolls at a time for about 3-4 minutes or until golden brown. Remove the egg rolls from the oil and set on a baking rack to cool. (Paper towels will make them soggy). Serve hot with soy sauce, hoisin sauce, sweet and sour sauce, etc. Makes about 24.
Sweet Bean Paste Rolls
Follow the wrapping instructions above, except place 2 tablespoons of sweet red bean paste in the wrapper instead of the savory filling. Frying time will likely be faster - about 2-3 minutes at 375°F (190°C) to reach golden brown. When the rolls are done, remove from oil and let cool on a baking rack. Dust with powdered sugar before serving. Makes about a dozen.
Nutrition

Nutrition Facts

Egg Roll

Amount Per Serving (4 people)

Calories 192

Calories from Fat 495

% Daily Value*

Fat 55g85%

Cholesterol 82mg27%

Sodium 642mg28%

Carbohydrates 94g31%

Protein 32g64%

* Percent Daily Values are based on a 2000 calorie diet.

Notice: Nutrition is auto-calculated, using Spoonacular, for your convenience. Where relevant, we recommend using your own nutrition calculations.