Sambal Asparagus Recipe
Sambal asparagus with scallops. Learn how to make sambal (Malaysian chili paste) and sambal asparagus with this easy recipe.
Ingredients:
12 oz. asparagus
4 oz. scallops or medium-size shrimps
1 1/2 – 2 tablespoons sambal paste (if you like spicy, use 2 tablespoons)
1/4 teaspoon sugar
1/4 teaspoon fish sauce or to taste
1 teaspoon belacan (breaks into small bits)
2 tablespoons oil
Sambal (Chili Paste) Recipe:
20 dried chilies (seeded and soaked to soften)
10 fresh red chilies (seeded and sliced)
8 shallots (peeled and chopped)
4 cloves garlic (peeled and chopped)
6 tablespoons cooking oil
Method:
Rinse the asparagus with water. Chop off 1 inch to 1.5 inches off the stems (depending on the toughness of the stems) and slice the stems into half. Cut the rest of the asparagus into 2-inch lengths. Set aside.
Heat up the wok with oil. Add the sambal (recipe below) and belacan. Stir well until you start smelling the pungent aroma of belacan. Add in scallops/shrimps and do a quick stir and then follow by the asparagus. Add fish sauce, sugar, and continue to stir fry until asparagus is cooked through (don't overcook it). Dish out and serve hot.
Sambal (Chili Paste) Recipe:
Use a mortar and pestle to pound the sambal ingredients or use a mini food processor to blend well. Heat up a wok with oil. As soon as the oil is heated, transfer the sambal paste into the wok and stir-fry continuously for a few minutes or until you smell the heat from the sambal or the oil separates from the sambal. Dish out and set aside. Refrigerated for future use.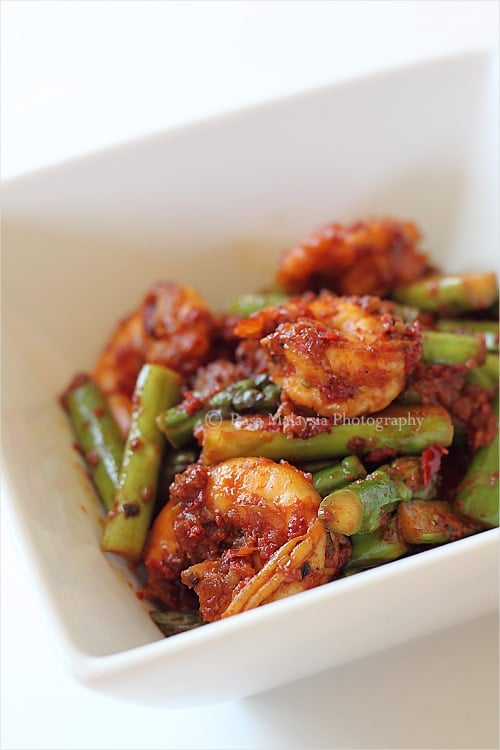 (Gallery updated with sambal asparagus with prawns/shrimps.)
Sambal is core to many signature Malaysian recipes.
In its most basic composition, sambal is a condiment or chili paste made with chilies and belacan (Malaysian shrimp paste), although other ingredients such as garlic, shallots, lemongrass, galangal, etc. might be added to suit each individual recipe. 
Traditionally pounded with a mortar and pestle, sambal is the magic ingredient for numerous scrumptious local fares: sambal udang (prawn), sambal sotong (squid), sambal telur (eggs), sambal okra, asparagus, and the list goes on.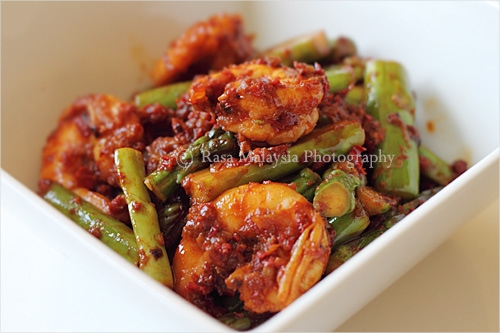 Sambal asparagus can be made with either shrimps or scallops. (I have pictures of both versions in the gallery.) For the asparagus, I simply chop off 1 inch to 1.5 inches (depending on the toughness) of the bottom stem and slice all stems into half so the asparagus cooks evenly. You can also use a peeler to remove the skin of the stems. I usually skip this step merely because of convenience.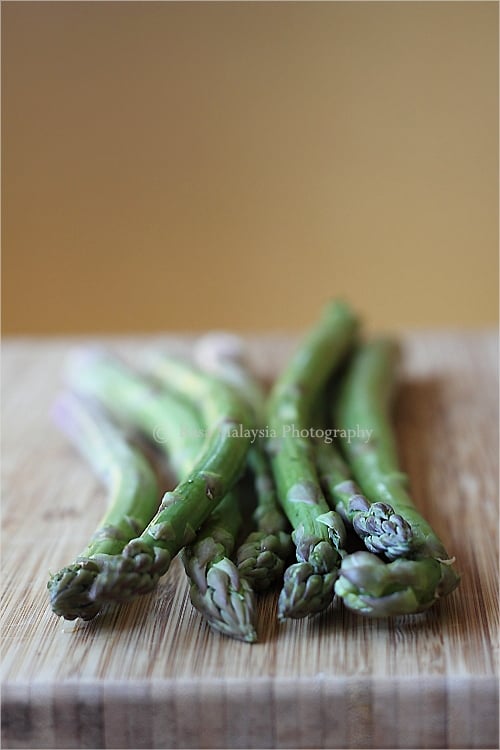 This is my sambal asparagus recipe, including my sambal recipe. Sambal asparagus is delicious with a lot of depth in its taste and it goes extremely well with steamed white rice.  I finished two servings of rice just by drenching it with the sambal sauce. Yummy!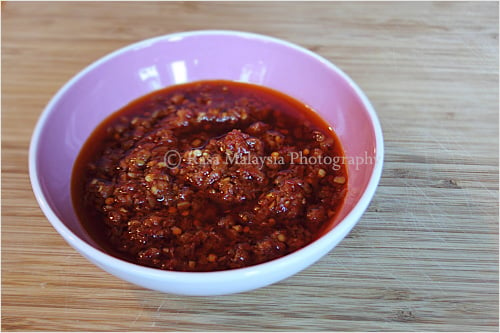 Click Here to Pin This Recipe
SUBSCRIBE AND NEVER MISS A RECIPE
SUBSCRIBE TO RASA MALAYSIA NEWSLETTER AND GET EASY AND DELICIOUS RECIPES DELIVERED TO YOUR INBOX. If you try my recipe, please use hashtag #rasamalaysia on social media so I can see your creations! Follow me on Facebook | Instagram | Pinterest | Twitter for new recipes, giveaways and more.