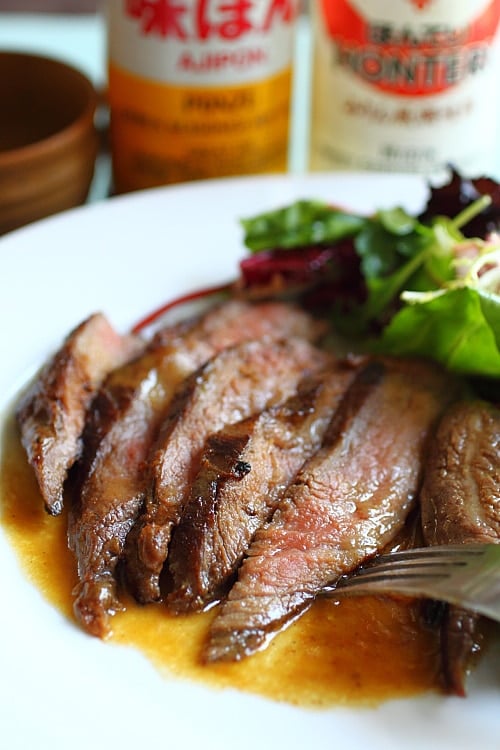 Flank Steak with Ponzu and Miso Butter
Flank Steak with Ponzu and Miso Butter – Mizkan Ponzu and miso butter glaze on a Japanese flavored steak. Easy and delicious flank steak recipe, a must try!
It's amazing how time flies, it's almost August. I hope everyone is enjoying summer and busy firing up your grill for BBQ parties.
Every summer, I host a small BBQ party where I invite only a few close friends—every year there is a theme, we dress up, eat really good food, and just enjoy the warm summer days.
This year is no exception…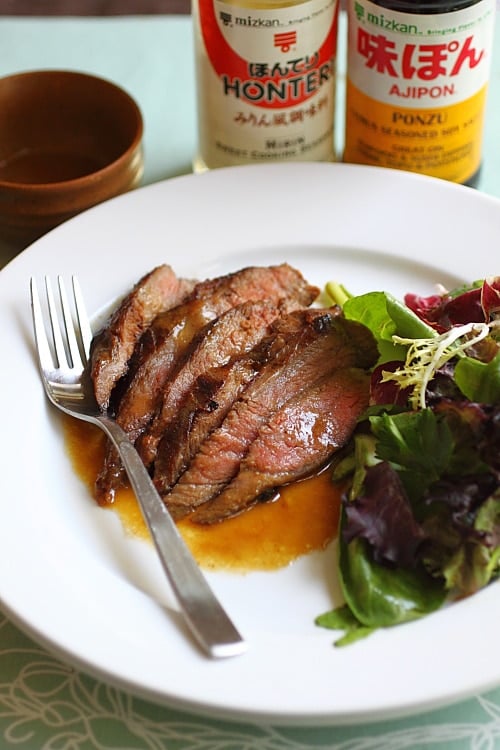 The theme of this year's party was Wagyu beef and Japanese. If you love beef, I am sure you know that Wagyu beef is prized for its supreme tenderness, sublime flavor, and marbled texture.
I got my Wagyu beef from Ohio Wagyu, they were flown in to me overnight. With the superior meat in my hand, I knew that I had to create a killer steak recipe to impress my guests.
I turned to my friend Harry Soo, a top BBQ Pitmaster in the US whose team Slap Yo' Daddy BBQ was featured on TLC Channel's BBQ Pitmasters. Together, we developed this amazingly delicious and irresistible steak recipe with a ponzu and miso butter glaze, using none other than the Mizkan AJIPON® Ponzu, MIZKAN HONTERI® Mirin Seasoning, miso, sake, and butter.
The steak was a HUGE hit at the party…they were gone as soon as they were off the grill!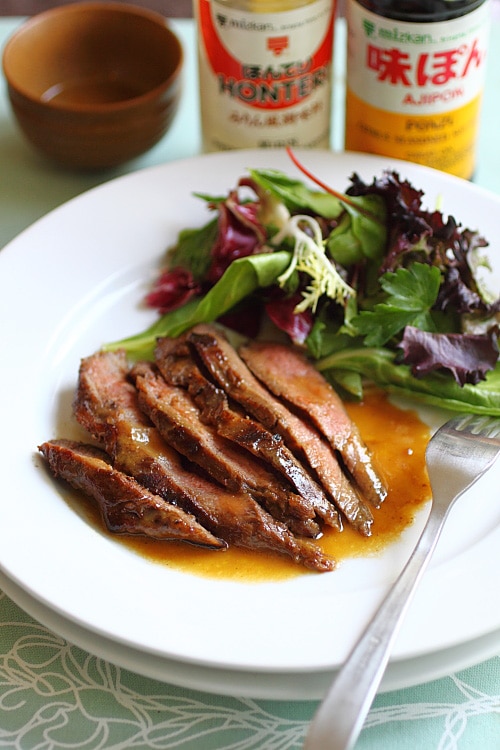 Now, you don't need summer or an outdoor grill to have a great piece of steak. You can use an indoor grill or even pan-fry the steak.
The ponzu miso butter glaze recipe is very easy, and it's also great for fish, shellfish, and other meat of your choice (though I will say that it pairs perfectly with steak).
I especially love the ponzu and miso butter glaze with the tender flank steak, which you can easily pan-fry in a pan.
If you love steak, you must give this flank steak recipe a try. The Mizkan ponzu and miso butter glaze is what makes the steak so mouthwatering and scrumptious, I am almost certain that you will love it.
How Many Calories Per Serving?
This recipe is only 474 calories per serving.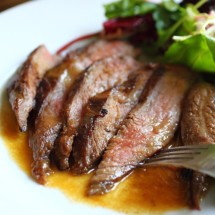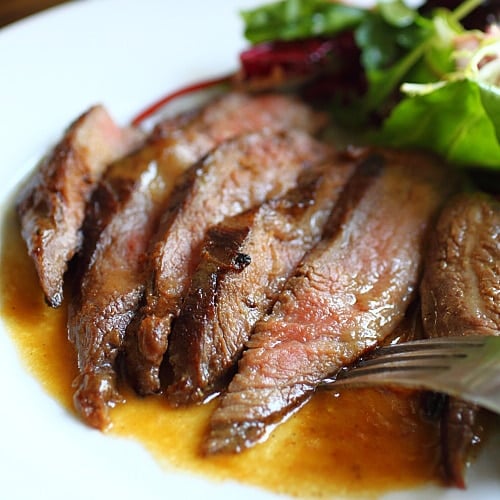 Flank Steak with Ponzu and Miso Butter Recipe
Flank Steak with Miso Butter – the most tender, juiciest, and delicious flank steak ever. Make it at home with this easy recipe.
Click Here for Conversion Tool
Directions
Mix all the ingredients for the Ponzu and Miso Butter Glaze in a sauce pan. Bring it to boil and remove from the heat immediately. Let cool.

In a plastic bag, marinate the steak for 1 hour with half of the glaze. Fire up the grill, scrape off the excess glaze and then grill. If the grill flares up, move the steak to the cooler spot to prevent burning. Return the steak to the heat when the flame dies down.

Grill each side for about 3-4 minutes, then gently pick it up with a pair of tongs and grill the other side for another 3-4 minutes, or until the surface becomes nicely charred or to your desired doneness. Brush some glaze on the surface of the meat and let set on the grill for another 1 minute on each side.

Remove the steak from the grill and let rest for 10 minutes.

This will allow the juice inside the steak to redistribute so it will not leak out when you slice it. (A tip from Harry Soo, BBQ expert)

While the steak is resting, toss the fresh herb salad with Mizkan AJIPON® Ponzu.

On a serving plate, place about 1 tablespoon of the Ponzu and Miso Butter glaze on the plate. Place the steak on top of the glaze. Drizzle a little more glaze on top, and serve with some fresh herb salad.
Recipe Notes
This Mizkan Ponzu and Miso Butter glaze tastes great with salmon, black cod, sea bass, and lobster.
Nutrition Facts
Flank Steak with Ponzu and Miso Butter Recipe
Amount Per Serving (4 people)
Calories 474
Calories from Fat 207
% Daily Value*
Fat 23g35%
Cholesterol 166mg55%
Sodium 1101mg48%
Potassium 810mg23%
Carbohydrates 11g4%
Protein 50g100%
Vitamin A 375IU8%
Calcium 62mg6%
Iron 3.9mg22%
* Percent Daily Values are based on a 2000 calorie diet.