Fried Mochi Rice (Nuo Mi Fan) - an amazing recipe from The Unseasoned Wok writer, Jamie. This hearty Chinese recipe is perfect for your next meal.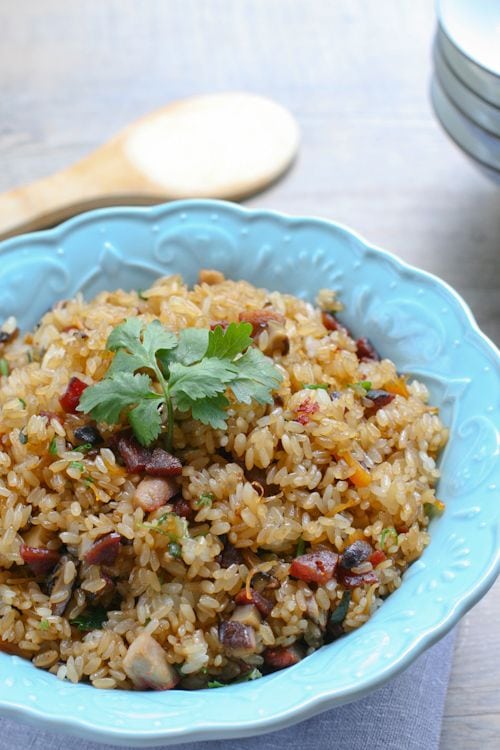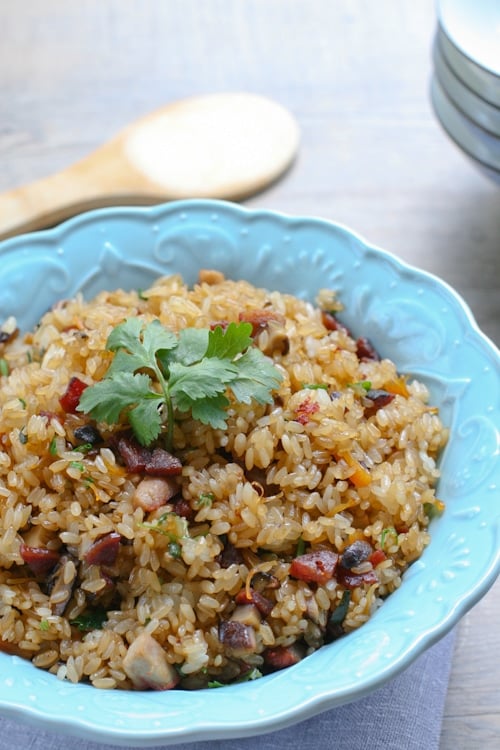 I love discovering great looking and delicious food blogs, and recently, I found The Unseasoned Wok while browsing around.
The story of a daughter-in-law learning authentic Chinese cooking from a master Chinese chef/restaurateur had me ogling The Unseasoned Wok and the delicious posts for hours.
The nori-wrapped shrimp—one of my favorite appetizers was calling my name.
Meet Jamie, the blogger behind The Unseasoned Wok, who blogs from Hawaii.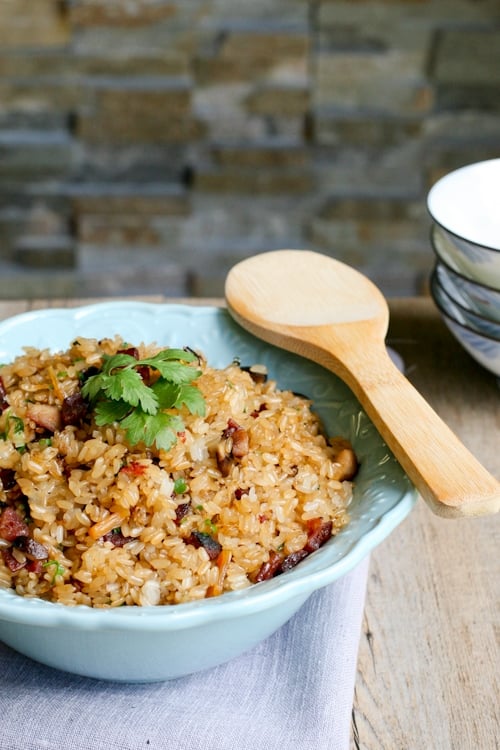 When I first received Bee's email asking me to be a guest on Rasa Malaysia, I was star struck.
Up until then, I was a girl with a crush, lurking around Bee's site typing out comments and then deleting them because they weren't smart enough.
Now here I am with a whole post to fill on Rasa Malaysia.
Thank you Bee for having me!
Bee asked me to post a dish that is true to my roots.
If you don't know me, my roots are Japanese, transplanted in Hawaiian soil generations ago amidst a bed of sprouting diversity during the plantation days of old Hawaii.
Most recently I've added Chinese to the mix when I married a smart and cute Chinese guy who can not only whip up an awesome fried rice, but can also serve as a handy spell checker and blog groupie.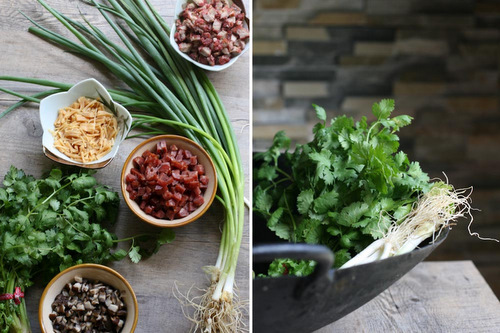 Before I met my husband, I barely knew what to do with a clove of garlic, and my understanding of "good" Chinese food was an order of beef broccoli drowning in brown sauce.
I wasn't really a fan, mostly because fortune cookies and soggy take-out don't qualify as Chinese food.
And then I married him—the only son of a Chinese restaurateur.
That is how my education in all things good and tasty began.
noun
Today I am sharing with you my family's recipe for nuo mi fan (proced noh-my-fahn in Cantonese).
This is the dish that comes to mind when I think of being true to my roots, Chinese home cooking, family, togetherness, comfort and laughter.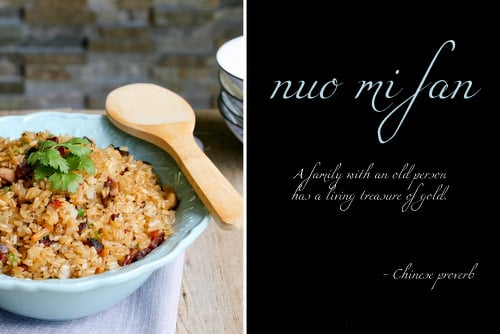 Popo says, "Eat nuo mi fan when it's cold because it warms your stomach."
I'm sure it has something to do with the Chinese belief in the balance of hot and cold, yin and yang, and qi.
But I like to think she means eat nuo mi fan when it's cold because it warms the soul.
It's a dish that sits on the family buffet, totally unglamorous, but wholly satisfying.
It's there with us on family holidays, at Sunday dinners, and to greet out-of-town guests, silently comforting us with each chewy morsel.
And when the day is done, and you're exhausted and ravenous, a heaping bowl of nuo mi fan on the dinner table is all you need to bring you back to the important things in life.
The Chinese have a saying, "A family with an old person has a living treasure of gold."
This recipe comes from my father-in-law, our old person, our treasure.
I hope it brings you as much joy as it does our family.
Enjoy!
How Many Calories per Serving?
This recipe is only 605 calories per serving.
What Dishes to Serve with This Recipe?
For a wholesome meal and easy weeknight dinner, I recommend the following recipes.
For more great recipes like this, sign up for our newsletter. We'll send daily recipes you'll love!
Join
Sign up for our newsletter!
Fried Mochi Rice (Nuo Mi Fan)
Nuo Mi Fan (Fried Mochi Rice) - an amazing recipe from The Unseasoned Wok writer, Jamie.
Ingredients
32

oz.

sweet rice

4

pieces

lup chong

(diced)

3/4

cup

char siu

(diced)

1

oz.

dried scallops, soaked in warm water for 2 hours and shredded, optional

7

shitake mushrooms

(soaked in warm water for 2 hours and diced)

3/4

cup

good soy sauce

3/4

cup

water

2

teaspoons

sesame oil

1/2

teaspoon

white pepper

1/2

teaspoon

mushroom seasoning

(msg or salt)

1/2

cup

chopped green onions

1/2

cup

chopped cilantro

Vegetable oil for frying.
Instructions
Wash and drain the rice with cold water several times until the water is no longer cloudy (3-4 times). Cover the rice with water and soak for 3-4 hours or overnight if possible.

Fill a steamer with 1 to 2 inches of water and bring to a rapid boil. Line the steamer with a damp cheesecloth to keep the grains from falling through the holes. In a separate pot, bring about 4 cups of water to a boil.

Drain the rice in a colander and pour the boiling water evenly around the rice. Immediately transfer the rice to the steamer (on top of the cheese cloth). The purpose of doing this is to bring all the rice to the same temperature before putting it in the steamer so that it steams evenly from top to bottom.

Steam on high for 20 minutes. Remove from the steamer and set aside. Keep the rice covered with a kitchen towel so it doesn't dry out.

Combine the soy sauce, water, sesame oil and white pepper in a bowl. Heat about 2 tablespoons of vegetable oil in a wok or pan on medium high heat. Stir fry the lup chong and char siu until they are heated through. Add the rice and fry for 2-3 minutes while trying to break up the clusters of rice with a spatula.

Next, add the scallops and shitake mushrooms and mix. Add the soy sauce mixture and continue to mix and break up the rice until the rice is evenly coated with the soy sauce. Add the mushroom seasoning (or msg or salt) and mix. Keep scraping the bottom, so the rice doesn't burn.

If the rice appears to be dry or hard, move all the rice to the center of the wok and lower the heat. Pour 1/4 cup of water over the rice, quickly cover the wok, and allow it to steam until the water evaporates.

Remove from the heat and mix in the green onions and cilantro. Serve immediately.

For best results, use a steamer instead of a microwave to reheat the rice. If you want to reheat it in the microwave, sprinkle the rice with water and cover it with a wet paper towel before microwaving.
Nutrition

Nutrition Facts

Fried Mochi Rice (Nuo Mi Fan)

Amount Per Serving (6 people)

Calories 605

Calories from Fat 36

% Daily Value*

Fat 4g6%

Cholesterol 3mg1%

Sodium 1653mg72%

Carbohydrates 124g41%

Protein 13g26%

* Percent Daily Values are based on a 2000 calorie diet.

Notice: Nutrition is auto-calculated, using Spoonacular, for your convenience. Where relevant, we recommend using your own nutrition calculations.