Grilled Coconut Chicken with Lemon Basil (Ayam Panggang Sulawesi) - Chicken recipe from Indonesia. The chicken is boiled in coconut milk and then grilled.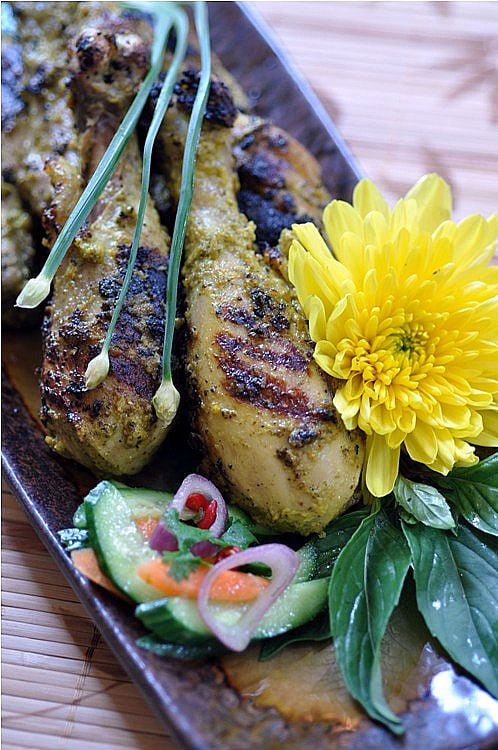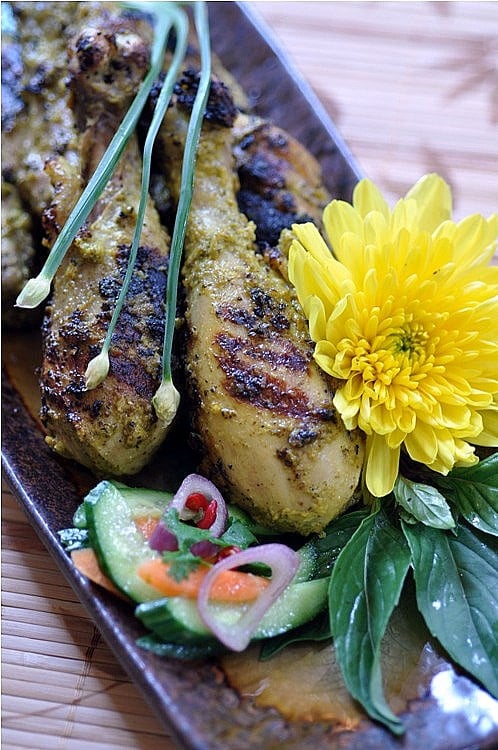 When it comes to cooking (and eating), I am all about embracing global flavors. Today, I wanted to introduce you to One Tribe Gourmet, a gorgeous new food blog dedicated to global cuisine.
Sara, the author, is very talented and One Tribe Gourmet is loaded with her culinary creations from all over the world.
All the dishes Sara made are real feasts to the eyes and her macro food photography is both vivid and mouthwatering. Please welcome One Tribe Gourmet as she shares a delicious Indonesian recipe with us: ayam panggang Sulawesi or grilled coconut chicken with lemon basil. Can you say YUM?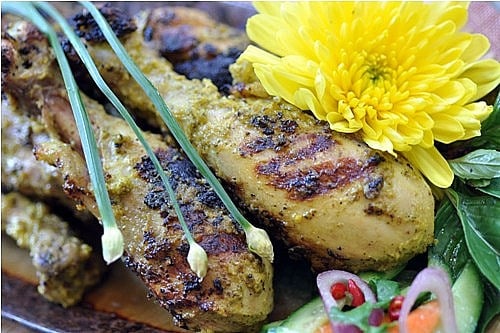 First and foremost I would like to thank Bee for inviting me to do a guest post on her wonderful blog, Rasa Malaysia. I am utterly honored & humbled.
It's ironic that I'm doing a guest post, since I have been a fan of Rasa Malaysia for a while now. I stumbled upon it by total coincidence. Back in December, 2009 a dear friend of mine who shares with me the similar passion of collecting cookbooks, recommended that I check out James Oseland's James Beard Award-Winning book, "Cradle of Flavor".
Of course once I bought & read the book I was totally intrigued by Malaysian, Indonesian & Singaporean Cuisine. I wanted to learn more about James wonderful book & James, so I looked up his website online.
It was James Oseland's website that introduced me to Rasa Malaysia and rest is history. I am a huge fan of the website and the cuisine! It was around February, 2010 that I decided to start a food blog of my own and have asked for Bee's advice on many occasions.
Bee, you have been a wonderful mentor & an inspiration to me, I am forever grateful to you…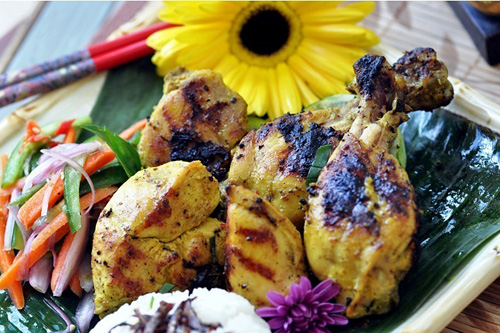 I hope that you will enjoy making the grilled coconut chicken with lemon basil as much as I did. It's an excellent dish to make on hot summer months. I was able to find all of the ingredients at my local Asian grocers.
Grilled Coconut Chicken with Lemon Basil or ayam panggang Sulawesi is an Indonesian dish from a town called Sulawesi, Indonesia.
A wonderful dish for summertime grilling! A cut-up chicken or drumsticks are pre-cooked in an aromatic curry-like coconut milk broth seasoned with ginger, fresh turmeric root, chilies, kaffir lime leaves, & lemon basil (you can alternate with Thai basil). The broth is reduced to a thick paste, then used to baste the chicken as it grills.
This is a common way of cooking chicken throughout Indonesia & Malaysia, but this particular combination of ingredients comes from Manado, the capital of North Sulawesi, Indonesia.
Manado's cuisine is marked by an almost religious devotion to ginger, lemon basil, and lemongrass. Wow when I read about Manado cuisine's devotion to ginger, lemon basil & lemongrass, I was immediately planning a trip to the beautiful countries, Indonesia & Malaysia.
I strongly believe that once you open your hearts & senses to a global cuisine, then you are opening your heart & soul to humanity & to the world! Cheers & Regards, Sara!
How Many Calories per Serving?
This recipe is only 361 calories per serving.
What Dishes to Serve with This Recipe?
For a wholesome meal and easy weeknight dinner, I recommend the following recipes.
For more great recipes like this, sign up for our newsletter. We'll send daily recipes you'll love!
Join
Sign up for our newsletter!
Grilled Coconut Chicken with Lemon Basil (Ayam Panggang Sulawesi)
Grilled coconut chicken or ayam panggang Sulawesi is a fabulous chicken recipe from Indonesia. The chicken is boiled in coconut milk and then grilled.
Ingredients
8

shallots

(coarsely chopped)

5

cloves

garlic

(coarsely chopped)

3 to 4

red Thai chilies

(use according to your taste, coarsely chopped)

4

tablespoon

peanut oil

2

stalks lemongrass cut into 2 inch

(5 cm long pieces)

8

whole kaffir lime leaves

6

candlenuts

(I found them in my Asian grocers or unsalted macadamia nuts)

1

piece

fresh turmeric root

(peeled & ground (2 teaspoons))

3 ½

teaspoons

fresh grated ginger

1 ½

cups

unsweetened coconut milk

1/2

cup

loosely packed fresh lemon basil

(Thai basil can be used as an alternate)

¾

teaspoon

salt

3

tablespoons

fresh lime juice

cut up chicken
Instructions
To make the flavoring paste, place the shallots, garlic, red chilies, green chilies, candlenuts, turmeric, and ginger in a small food processor. Pulse until you have a smooth paste.

Heat the 4 tbsp of oil in a large skillet (non-stick) over medium-low heat. When you add the paste to the oil, it should sizzle. Sauté constant until the shallots & garlic no longer smell raw & the paste begins to separate from the oil, Sauté for about 5 minutes. Now add the lemongrass, kaffir lime leaves, & basil, then Sauté some more for 3 minutes until the lemony aroma arises.

Add the coconut milk and salt and stir well to combine with the flavoring paste. Raise the heat slightly and let the coconut milk come to a steady, gentle simmer, stirring occasionally, for about 10 minutes. Taste the broth. It should be spicy and rich.

While the broth continues to simmer, rinse the chicken under cold running water and pat it dry. Poke the chicken flesh with a fork.

Add the chicken to the coconut milk broth and cook in a steady simmer. Stirring every 5 minutes to prevent from burning and until the chicken is 3/4th cooked for about 30 – 40 minutes. Chicken should be tender and all the way cooked, but not mushy or falling off the bones. You can transfer the chicken pieces to another dish. And for the Coconut broth, it should have a thick consistency, so let it cook and thicken some more.

I grilled the chicken on my outdoor gas grill at medium-high heat. I grilled for 5 minutes on both sides of the chicken, until the attractive grill marks form!

Menu suggestions: Lemongrass coconut rice & Javanese Carrots & Cucumbers Salad!
Nutrition

Nutrition Facts

Grilled Coconut Chicken with Lemon Basil (Ayam Panggang Sulawesi)

Amount Per Serving (4 people)

Calories 361

Calories from Fat 297

% Daily Value*

Fat 33g51%

Sodium 455mg20%

Carbohydrates 15g5%

Protein 3g6%

* Percent Daily Values are based on a 2000 calorie diet.

Notice: Nutrition is auto-calculated, using Spoonacular, for your convenience. Where relevant, we recommend using your own nutrition calculations.