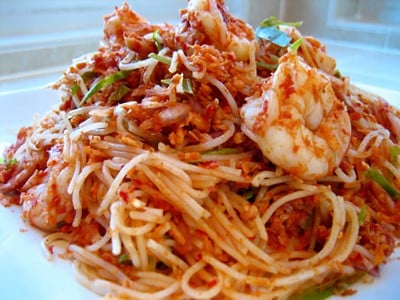 They say that the sense of smell is most closely tied to that of memory, and preparing my late grandmother's recipe for Kerabu Bee Hoon with its aroma filling the kitchen certainly brought back a lot of wonderful memories for me.
It had been almost two decades since I last had Kerabu Bee Hoon. My grandmother used to prepare it when the family came over to her house for our traditional Sunday feast.
My grandmother was a Nyonya and probably one of the best cooks of her generation. She came from a place called Lunas – a small town in the State of Kedah – on the mainland of Peninsular Malaysia. She used to sell Nyonya Kuih in Lunas.
I heard from many people that she was famous for her Kuih Talam, Kuih Ko Chee, Kuih Ko Sui, and Pulut Tai Tai.
Whenever I went back with her to Lunas on festivals and occasions, her old friends and neighbors would come by to say hi and mention how they missed her and her cooking.
They would go on forever raving how great her meals were. When we left she would always wear a sly, self-satisfied smile.
When she moved to Penang, preparing Kuih and Nyonya dishes became her favorite past-time. Growing up in her house, I was lucky enough to savor all her cooking.
I remember vividly that she loved Kerabu Bee Hoon and naturally it became my favorite too. I always grew excited whenever she talked of preparing this dish.
As years passed by, Kerabu Bee Hoon slowly faded away in my culinary thoughts as I left Penang and settled down far away.
Once in a while I would crave Kerabu Bee Hoon, but I never attempted to make it myself. At many of the places I lived, it wasn't easy to assemble the proper list of ingredients.
Don't let that stop you from trying this recipe, Kerabu Bee Hoon is really not too difficult to prepare. I will warn you though, it is time consuming.
The motivation of cooking this dish surfaced after I read about "Merdeka Open House 2006" organized by Babe in the City.
To many people in Malaysia, this is probably not a very special dish but it means a lot to me. It certainly qualifies as a long forgotten recipe in my gastronomic dictionary.
So, how did my version of Kerabu Bee Hoon turn out? Well, I have to admit that it was a far cry from my late grandmother's version.
However, cooking it once more brought back the sweet memories of my almost forgotten past. And that's what made it taste special.
How Many Calories Per Serving?
This recipe is only 127 calories per serving.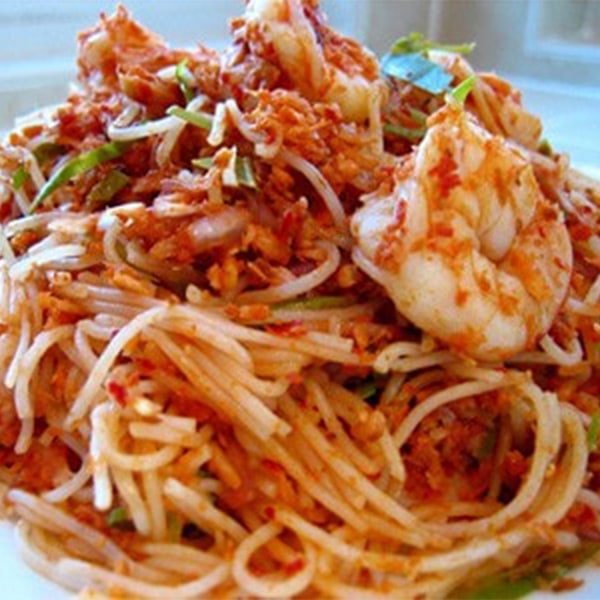 Kerabu Bee Hoon Recipe
Preparing my late grandmother's recipe for Kerabu Bee Hoon with its aroma filling the kitchen certainly brought back a lot of wonderful memories for me.
Ingredients
1/2

pack

Bee Hoon, vermicelli

10-12

shrimps, shelled, deveined, and then boiled in hot water

1

shallot, thinly sliced

1

stalk

lemongrass, white part only(thinly sliced)

5

kaffir lime leaves, finely sliced

1/2

cup

grated coconut
Blend the following in a blender:
1

teaspoon

belacan, toasted(shrimp paste)

1

handful

dried prawns, soaked in hot water for 10 minutes

6

red chilies

5

teaspoons

lime juice

1

teaspoon

fish sauce

sugar to taste
Click Here for Conversion Tool
Directions
Boil the Bee Hoon in hot water, drain, and set aside. Toast the grated coconut in a wok until they turn dry and golden brown in color. Combine the toasted coconut, shallot, lemon grass, kaffir lime leaves, boiled shrimps, Bee Hoon, and the blended chili paste in a large serving plate. Toss and mix all the ingredients well. Serve cold.
Nutrition Facts
Kerabu Bee Hoon Recipe
Amount Per Serving (4 people)
Calories 127
Calories from Fat 63
% Daily Value*
Fat 7g11%
Cholesterol 52mg17%
Sodium 289mg13%
Potassium 335mg10%
Carbohydrates 11g4%
Protein 6g12%
Vitamin A 645IU13%
Vitamin C 100mg121%
Calcium 39mg4%
Iron 1.8mg10%
* Percent Daily Values are based on a 2000 calorie diet.