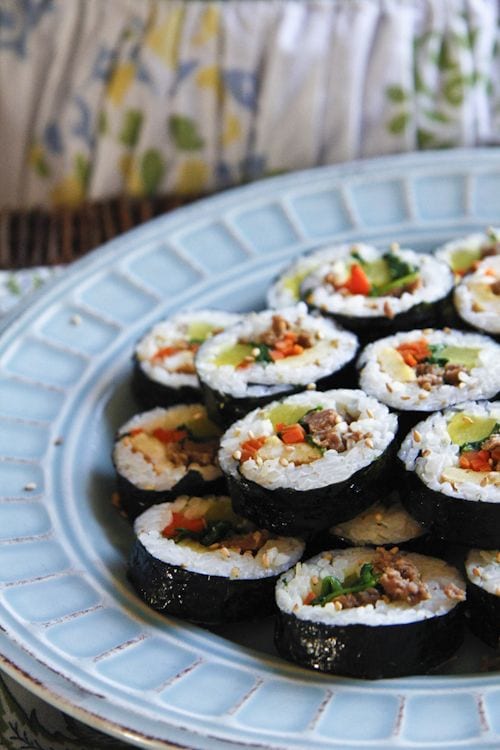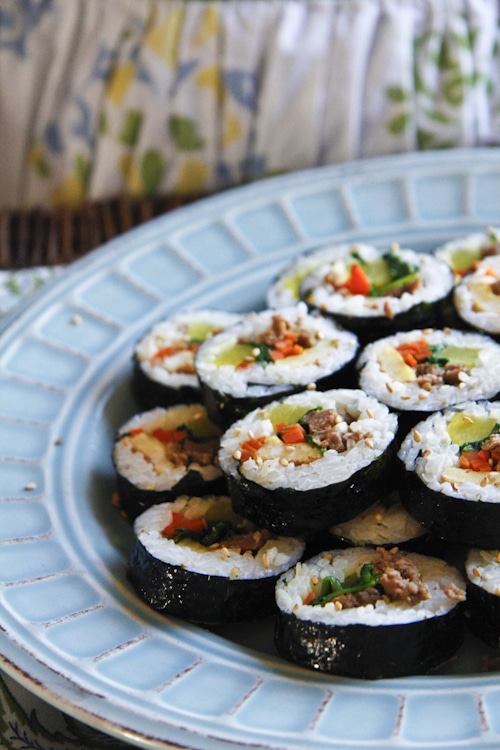 I'd like to introduce you to chef Julie Yoon, who is a chef based in Orange County.
As you all know, I am into Korean food and have been eating out at many Korean restaurants and also cooking Korean recipes at home.
Whenever I shop at Korean food markets, I am always intrigued by Korean kimbap, which is about the same as Japanese sushi rolls (there are debates that the Koreans invented this type of rolls).
Anyway, I invited Julie to teach us how to make kimbap, check out her delicious beef kimbap recipe including detailed step-by-step pictures.
Please welcome Julie and remember to check out her wonderful blog.
Hey this is Julie from chefjulieyoon.com.
I'm honored to be writing on Bee's blog, but I'm all about simple gourmet cooking with a laid back attitude, so I'm not gonna lie.
When Bee asked me if I could make kimbap for this entry, I nearly fainted. Kimbap has a lot of steps and ingredients, and is a little bit of a nuisance to make.
This recipe is not for your Monday night after you get off of work type of dinner.
I often forget this because kimbap is designed to be "travel-friendly food," mainly taken on the road or to picnics.
And you pop it into your mouth without giving it much thought.
In fact if you walk into any Korean grocery store, you can easily buy a pack of freshly made kimbap, for just a few bucks.
So by no means do people consider it "luxury food."
Kimbap is the Korean version of the Japanese "maki," or rice rolls.
The flavor comes from sesame oil and individually seasoned meats and veggies.
But the one particular ingredient that is the heart of Kimbap is "danmuji," or bright yellow pickled radish you can find at the Korean grocery store in the refrigerated section.
Also, everything is seasoned so well that you don't need to dip it into any kind of sauce.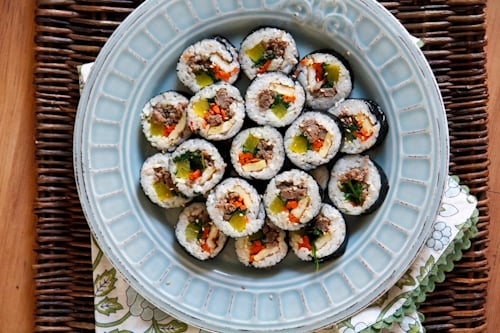 Maybe you've seen a Korean drama, where they show a mom waking up early at the crack of dawn to roll, slice, and pack these delicious bites for her kids.
This is a labor of love, but once you have all the ingredients prepped, the assembling goes by pretty quickly, and it's worth it because it's like having a well balanced meal in every bite.
You can put all sorts of stuff in here, but in my recipe, I simply didn't want to be bothered with too many ingredients, so I omitted some.
In some recipes, you may find fish cake, imitation crab, or burdock root.
But I wanted to keep it simple and just tackle the basics.
I personally like to add julienned perilla (or sesame) leaves in mine instead of the spinach, which adds a burst of freshness.
But to keep it as authentic as I could, I left it out, and saved it for my "Julie" version, which I'll probably post on my blog sometime soon.
And lastly, before you run off and make this, I will leave you with one tip: season all the individual ingredients well, but don't go nuts.
The ingredient with the most flavor should be the marinated beef.
The rice should be a tad bland, and everything together should be balanced, all in one bite.
Talk about high maintenance, huh?
But after you make kimbap, you'll feel so successful and proud, so definitely give it a try.
It's perfect for a road trip, picnic, potluck, or party. Just be sure to eat it on the same day you make it.
But if you do have leftovers, just refrigerate them.
The next day, dip the pieces in egg and pan fry them.
They'll be as good as new, but with a tasty twist!
Click Here to Pin This Recipe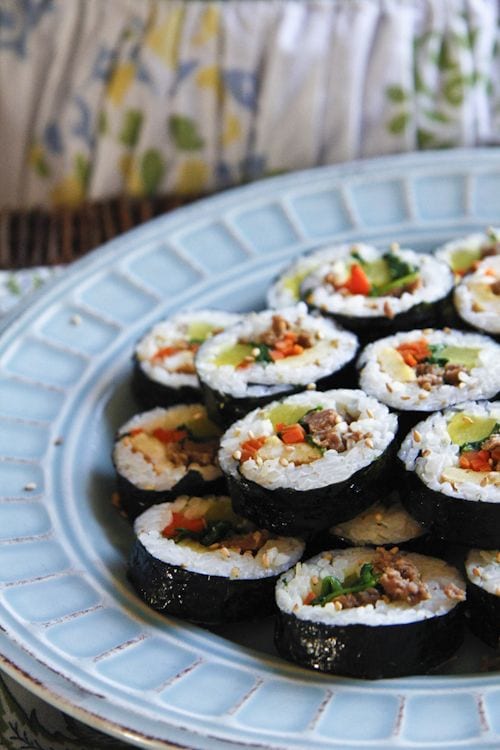 SUBSCRIBE AND NEVER MISS A RECIPE
SUBSCRIBE TO RASA MALAYSIA NEWSLETTER AND GET EASY AND DELICIOUS RECIPES DELIVERED TO YOUR INBOX. If you try my recipe, please use hashtag #rasamalaysia on social media so I can see your creations! Follow me on Facebook | Instagram | Pinterest | Twitter for new recipes, giveaways and more.