Beef Kimbap - the Korean version of Japanese "maki," or rice rolls. The flavor comes from sesame oil and individually seasoned meats and veggies.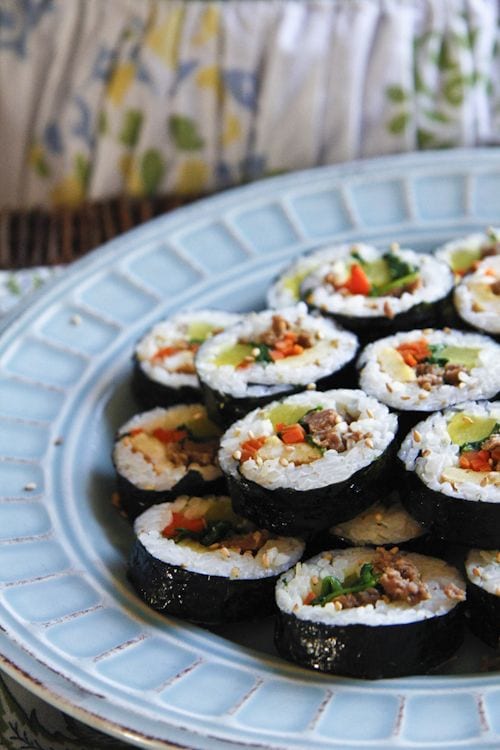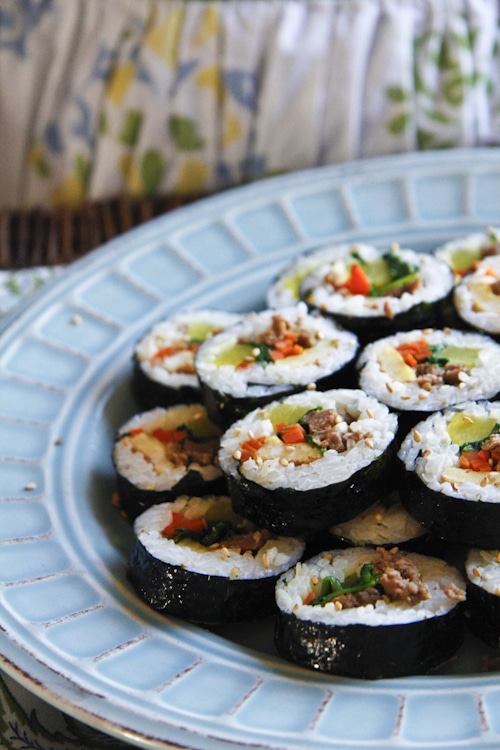 What Is Kimbap?
Kimbap is a Korean Seaweed Rice Roll that consists of seasoned rice and various vegetables and meat that's rolled in dried seaweed (kim). It's so delicious, and makes for a great snack or lunch!
The flavor comes from sesame oil and individually seasoned meats and veggies.
But the one particular ingredient that is the heart of Kimbap is "danmuji," or bright yellow pickled radish that you can find at the Korean grocery store in the refrigerated section.
Also, everything in the roll is seasoned so well that you don't need to dip it into any kind of sauce.
Once you have all the ingredients prepped, the assembling goes by pretty quickly, and it's worth it because it's like having a well balanced meal in every bite.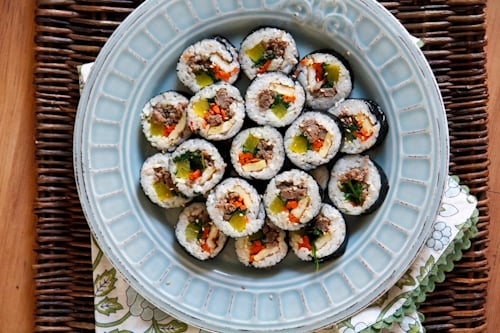 Cooking Tips for Kimbap Recipe
Feel free to add any ingredients you might deem delicious. Some recipes include fish cake, imitation crab, or burdock root.
If you'd like, you can add julienned perilla (or sesame) leaves instead of the spinach, which adds a burst of freshness.
Season all the individual ingredients well, but don't go nuts.
The ingredient with the most flavor should be the marinated beef.
The rice should be a tad bland, and everything together should be balanced, all in one bite.
Kimbap is best eaten the day of. However, if you have leftovers, just dip the pieces in egg and pan fry them for a yummy twist.
Frequently Asked Questions
What Is the Difference between Sushi and Kimbap?
They are both similar in that they both include steamed rice and seaweed. However, sushi rice is seasoned with vinegar while kimbap rice is seasoned with sesame oil.
How Long Is Kimbap Good For?
Leave the kimbap at room temperature for about 30 minutes before you cut it. Kimbap rice gets dry easily, so it's best for you to eat it the day you make it.
How Many Calories?
This recipe has 105 calories per serving.
What Dishes to Serve with This Recipe?
This dish is best served as an entree. For a wholesome Korean meal, I recommend the following recipes.

For more great recipes like this, sign up for our newsletter. We'll send daily recipes you'll love!
Join
Sign up for our newsletter!
Beef Kimbap
Beef Kimbap - the Korean version of Japanese "maki," or rice rolls. The flavor comes from sesame oil and individually seasoned meats and veggies.
Ingredients
6-7

sheets

dried laver seaweed

1

bag

ready to use spinach

1

log

yellow pickled radish

(or "danmuji")

1

large carrot

(or 2 medium sized carrots, peeled)

5

eggs

kosher salt

(divided)

sesame oil

(divided)

olive oil

(divided)

roasted sesame seeds

(divided)
Beef Ingredients:
1

lb.

ground beef

2

cloves

garlic

(finely minced)

3

tablespoons

soy sauce

2

tablespoons

sugar

2

teaspoons

sesame oil
Rice Ingredients:
6

cups

short grain or sushi rice

(cooked 3 cups uncooked )

½

tablespoon

sesame oil

½

tablespoon

olive oil

½

tablespoon

sesame seeds

¼-½

teaspoon

kosher salt

(or to taste)
Instructions
For the beef:
In a bowl, combine all the ingredients for the beef. Mix everything together by hand and set it aside to marinate while you prepare the other ingredients.

When all the other ingredients are prepped, and the beef has had time to marinate, heat a large pan with some olive oil and fry the beef until it is nicely browned. Remove the beef with a slotted spoon into a bowl and set aside.
For the spinach:
Add the entire 9 or 10 oz bag of ready to use spinach in salted boiling water. Boil for 30 seconds, and drain. Run cold water over it to stop the cooking, and squeeze out all the excess moisture with your hand.

Transfer to a bowl and season with 1 teaspoon sesame oil, and a couple pinches of kosher salt. Mix well. Set aside.
For the "danmuji," or pickled radish:
Slice the log of radish into ½" thick slices. Cut each slice into strips, so that you end up with thin long strips, about ½" thick in diameter. Set aside.
For the carrots:
Peel and slice your carrot(s) thinly on a diagonal. Lay the slices flat and run your knife through them lengthwise to create thin julienned slices. Saute them in a pan with some olive oil and season with a couple pinches of salt to taste. Set aside.
For the eggs:
Break 5 eggs and add a couple pinches of salt. Whisk well. Heat a large pan with olive oil over medium low heat. Use a paper towel to wipe the pan so that it is evenly coated. Pour in the eggs and let it cook until the bottom is firm and light golden brown. Flip the egg over and cook until light golden brown. Remove to a plate and cut the egg into half-inch strips. Set aside.
For the rice:
Mix the rice last. After all the ingredients are prepped and the beef is cooked, place the 6 cups of cooked rice into a large bowl, along with the other ingredients for the rice. Mix gently, and get everything ready for assembly.
Assembly and slicing:
Place a sheet of dried laver seaweed, shiny side down, on a bamboo mat. Starting from the bottom, spread some rice in a thin even layer, filling about ⅔ of the seaweed sheet.

All of the filling that goes on top of the rice should start at 1" from the bottom, and have 2" of rice above it. Place the danmuji and egg first, leaving a gap in between them. In that gap, add your beef in a neat row. On top of the beef, place the carrot and spinach side by side, also in neat rows.

Starting from the bottom, roll the seaweed sheet, using the mat. The first roll should land right where that excess rice is. That will help it stick together. Gently push and squeeze down on the bamboo mat. Move the mat a litttle further away from you, allowing the kimbap to roll with it.

Again, squish down and press with your hands. Then wrap and roll the entire kimbap up in the mat. Squeeze firmly across the entire length of the mat to make the sure the kimbap is tight. If you're having trouble keeping the seaweed shut, add a few grains of the rice at the edge of the seaweed sheet.

Use a brush or a gloved hand to put some sesame oil on the surface of the kimbap rolls. This adds flavor and helps keep the kimbap shiny. It also helps to add a little sesame oil to your knife blade.

With a sharp knife, slice the kimbap into thin half inch or bite sized pieces. Kimbap is characteristically sliced thinner than Japanese maki. You can then sprinkle with some more roasted sesame seeds if you want. Pop it into your mouth and enjoy your hard work!
Notes
TIP: For the summer time, instead of the marinated beef, you can use strips of cooked ham, and instead of spinach, you can either use thin strips of cucumber, or julienned perilla (sesame) leaves to lighten it up and keep it easy!
Recipe by chefjulieyoon.com
Nutrition

Nutrition Facts

Beef Kimbap

Amount Per Serving (4 people)

Calories 105

Calories from Fat 315

% Daily Value*

Fat 35g54%

Cholesterol 285mg95%

Sodium 1149mg50%

Carbohydrates 238g79%

Protein 49g98%

* Percent Daily Values are based on a 2000 calorie diet.

Notice: Nutrition is auto-calculated, using Spoonacular, for your convenience. Where relevant, we recommend using your own nutrition calculations.