Thai Leaf-wrapped Bites Miang Kham - One of my favorite Thai recipes. Make it for yourself at home! Incredibly easy recipe.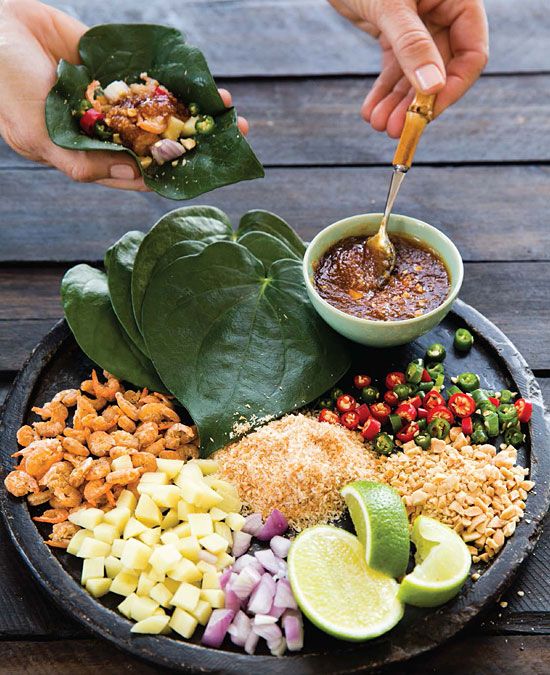 I have known Leela at She Simmers for a few years now. Even though we have never met in person, we connected through our blogs and our email exchanges.
I admire Leela's beautifully written blog She Simmers; more importantly, I love her many authentic Thai recipes.
In fact, I perfected my Thai Tom Yum recipe through her blog post and the secrets she shared. She Simmers is one of my to go blogs when it comes to authentic Thai cooking.
I am so psyched when I learned about her new cookbook Simple Thai Food.
I got in touch with Leela and her publisher's PR because I wanted to share a few of her amazing recipes in her gorgeously photographed and well-written cookbook.
The first recipe I wanted to showcase is Miang Kham, or betel leaf-wrapped salad bites, one of my favorite Thai recipes.
Other Recipes You Might Like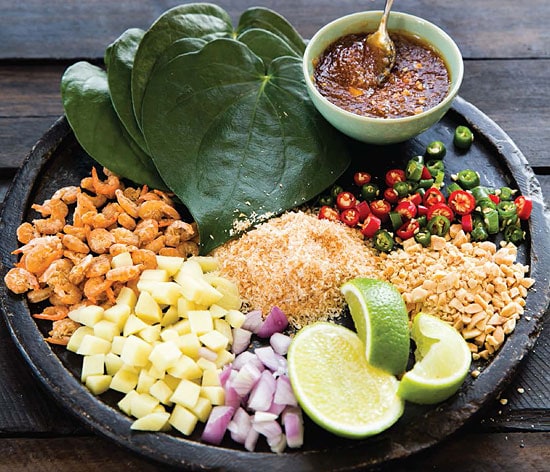 My great grandmother was from Thailand…as a result, my grandmother spoke Thai and Thai influences were evident in her cooking and some of our family recipes.
Through my grandmother and my aunt—whom I spent most of my childhood and teenage years with—I was introduced to Miang Kham, an iconic Thai concoction that I consider a flavor explosion in a bite!
Who would have thought that random raw ingredients of cut ginger, bird's eye chilies, toasted coconut, roasted peanuts, shallots, dried shrimp wrapped in betel leaves with a sticky, sweet and savory sauce would be such a delicacy?
Well, that's basically the premise of Thai food, the perfect balance of flavors with the most unassuming—and humble—ingredients.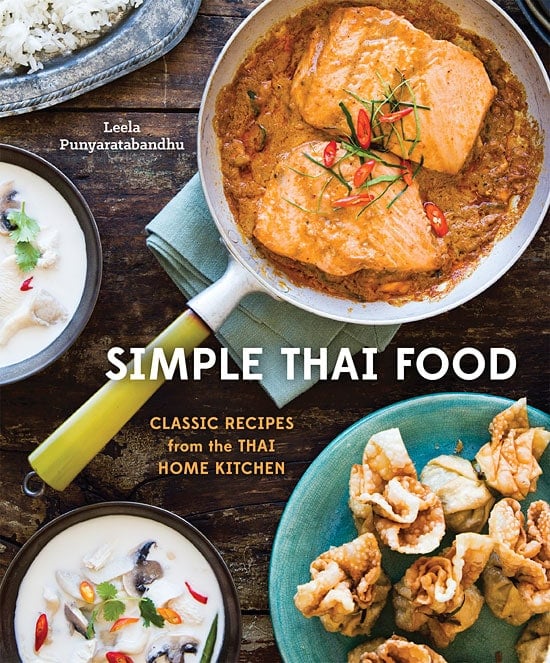 When I was growing up, my aunt would travel to the border town of Hatyai not that far away from Penang, and she would always bring back Miang Kham, all wrapped up in plastic bags.
Our family would be so happy savoring all the foods she brought back for us from Hatyai, and Miang Kham was always one of them. We would quickly wrap up the salad bites, and reveled in the wonderful great taste of the dainty package.
Anyway, here is Leela's recipe of Miang Kham. Simple Thai Food is a wonderful compilation of some of the most popular and delicious Thai recipes, all made with easy-to-get and store-bought ingredients.
If you want to learn how to make Thai food, and to learn the fundamentals of Thai cuisine, for example: making the curry pastes from scratch, pick up a copy of Simple Thai Cooking when it releases in May.
You can also pre-order the cookbook now at Amazon. I can assure you that you will love Leela's book, I know I do.
How Many Calories per Serving?
This recipe is only 427 calories per serving.
What Dishes to Serve with This Recipe?
For a wholesome meal and easy weeknight dinner, I recommend the following recipes.
For more great recipes like this, sign up for our newsletter. We'll send daily recipes you'll love!
Join
Sign up for our newsletter!
Leaf-Wrapped Salad Bites (Miang Kham)
Miang Kham, or betel leaf-wrapped salad bites, one of my favorite Thai recipes.
Ingredients
Sauce
1

tablespoon

meaty dried shrimp

½

cup

hot water

1

stalk

lemongrass

½

cup

unsweetened dried coconut flakes

(plus 2 tablespoons )

1

shallot

(about 1 oz. (28 g), peeled and sliced thinly against the grain)

2

galangal, coarsely chopped

(1/4-inch slices )

2

tablespoons

coarsely chopped peeled ginger

1

tablespoon

shrimp paste

½

cup

packed grated palm sugar

(plus 1/3 cup packed dark brown sugar or substitute 2/3 cup packed dark brown sugar)

1

tablespoon

fish sauce

¼

cup

water

2

tablespoons

finely chopped roasted peanuts
Salad
1

lime

1 3-

inch

piece fresh ginger

(peeled and cut into ¼-inch dice)

2

shallots

(about 1 oz. (28 g) each, peeled and cut into ¼-inch dice)

½

cup

roasted peanuts

5-6

fresh bird's-eye chilies

(sliced crosswise ¼ inch thick)

1/3

cup

meaty dried shrimp

20 to 30

cha-plu leaves

(or 3-inch squares collard green or Chinese broccoli leaves)
Instructions
To make the sauce, soak the dried shrimp in hot water for 15 minutes. Meanwhile, trim off and discard the leafy parts of the lemongrass stalk, remove the tough outer leaves of the bulb portion until the smooth, pale green core is exposed, and trim off the root end.

Working from the root end, cut the bulb crosswise into paper-thin slices, stopping once you reach the point at which the purple rings disappear. Set the slices aside and discard the remainder.

Put the dried coconut flakes in a wok or 14-inch skillet and toast them on medium heat, stirring constantly, until medium brown, about 2 to 3 minutes. Reserve 2 tablespoons of the toasted coconut flakes for the sauce and set the remainder aside for the salad. Wipe out any toasted coconut sediment from the wok.

Add the lemongrass slices, shallot, galangal, and ginger to the clean wok, then toast over medium-high heat, stirring constantly, until fragrant and the shallot slices are dry to the touch, about 5 minutes. Place the toasted mixture, drained dried shrimp, and shrimp paste in a mortar or a mini chopper and grind to a smooth paste.

Put the prepared paste, sugars, fish sauce, and water in a 1-quart saucepan and bring to a boil over medium-high heat, stirring constantly. When the sauce has thickened and reduced to about 1 cup, after 2 to 3 minutes, take the saucepan off the heat. Let the sauce cool completely. Once the dressing is cooled, stir in the chopped peanuts and the reserved 2 tablespoons toasted coconut flakes and transfer to a small serving bowl.

To prepare the salad, quarter the lime lengthwise and trim away the core. Cut the quarters into 1⁄4-inch dice, leaving the rind intact. Alternatively, for those who are sensitive to the bitterness of the lime rind, cut the lime into wedges (as shown in the photograph) and invite diners to squeeze about 1⁄2 teaspoon lime juice onto each composed salad bite.

Arrange the lime, ginger, shallots, peanuts, chiles, dried shrimp, cha-phlu leaves, and the dressing on a large serving platter.

To eat, put a leaf on your palm, add a bit of each component to the center of the leaf, top with a small spoonful of dressing, gather up the corners of the leaf to form a bag, and eat the whole thing in one bite.
Notes
If the diced ginger tastes too spicy hot, rinse it in cold water three or four times until the water runs clear and blot it dry.
Nutrition

Nutrition Facts

Leaf-Wrapped Salad Bites (Miang Kham)

Amount Per Serving (4 people)

Calories 427

Calories from Fat 180

% Daily Value*

Fat 20g31%

Cholesterol 310mg103%

Sodium 1481mg64%

Carbohydrates 38g13%

Protein 33g66%

* Percent Daily Values are based on a 2000 calorie diet.

Notice: Nutrition is auto-calculated, using Spoonacular, for your convenience. Where relevant, we recommend using your own nutrition calculations.