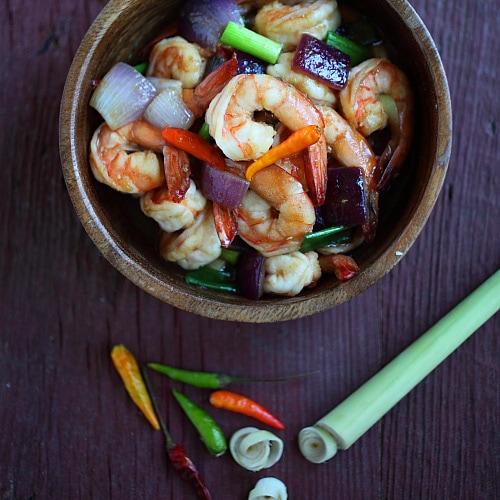 Lemongrass Shrimp
Lemongrass Shrimp – the EASIEST and BEST shrimp stir-fry recipe ever, with lemongrass onion and hoisin sauce
Prep time:
Cook time:
Total Time:
Ingredients:
1 1/2 tablespoons oil
1 small onion, quartered
1 tablespoon grated lemongrass
3 bird-eye's chilies, lightly pounded
10 oz shelled and deveined shrimp
1 tablespoon hoisin sauce
1 teaspoon fish sauce
1/3 cup water
1 stalk scallion, cut into rounds
Method:
Heat up the wok with the oil. Add the onion, lemongrass, and bird's eye chilies into the wok and do a few quick stirs before adding the shrimp. Stir continuously until the shrimp is half-cooked, then add the hoisin sauce, fish sauce, water, stir to combine well. When the sauce starts to bubble and the shrimp is cooked, add the scallion into the wok, stir a few times, dish out and serve immediately with steamed rice.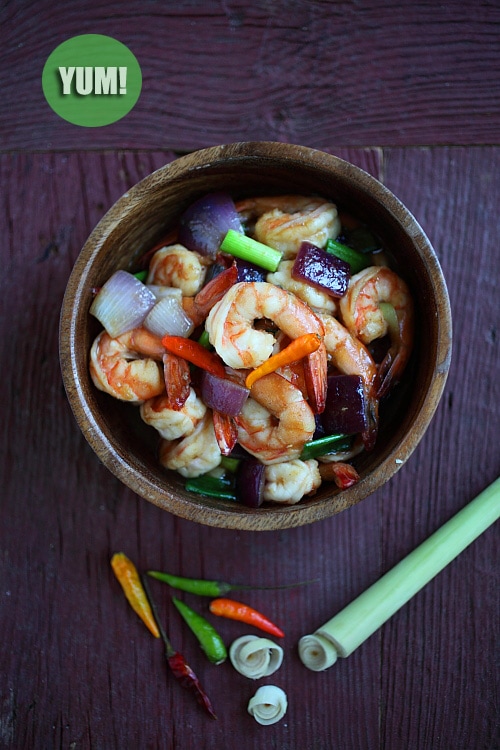 I am lucky that I live in Orange County because I can pretty much get all the ingredients I want at the many ethnic food stores here. Whenever I want to cook Chinese, there is 99 Ranch Market. When I am in the mood for Japanese food, I go to Mitsuwa or Marukai. And when I need ingredients for Malaysian, Thai, or Vietnamese, I head to Little Saigon.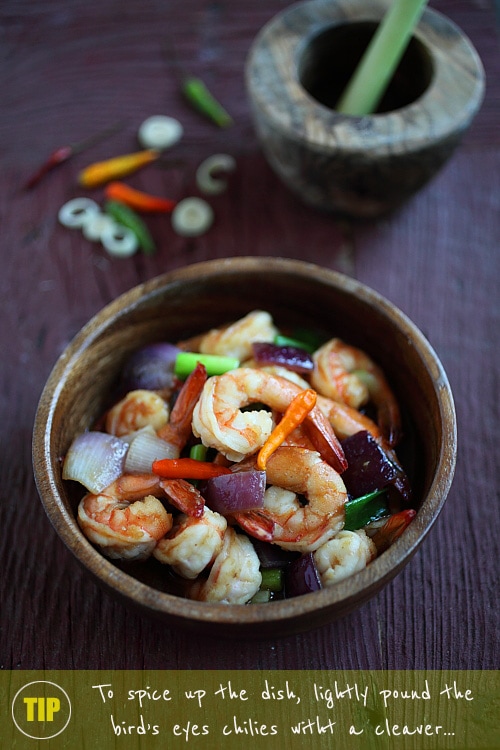 Whenever I shop at Little Saigon, I tend to go hog wild on the spices and aromatics—lemongrass, turmeric, galangal, basil, fresh Thai chilies, etc. Things are cheaper, fresher at Little Saigon, so I always buy more than what I need. Case-in-point: I have 10 stalks of lemongrass in my fridge now because it was on sale! When life gives me lemongrass, I make lemongrass chicken or lemongrass shrimp, like what I have here.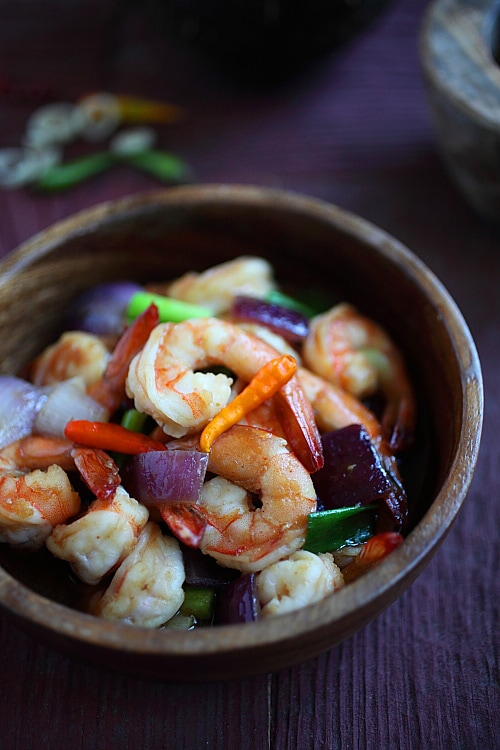 This lemongrass shrimp is aromatic, mouthwatering, and extremely tasty with steamed rice, plus it's super easy to cook (it took me only 15 minutes). My designer and developer R at Zedesino recently told me that he loves shrimp, so I wanted to dedicate this lemongrass shrimp recipe to him so he can make the dish. I also wanted to thank him for making the new design of Rasa Malaysia so gorgeous looking. He is awesome!
AVG RATING

Based on 10 Review(s)4
SUBSCRIBE TO RASA MALAYSIA NEWSLETTER AND GET EASY AND DELICIOUS RECIPES DELIVERED TO YOUR INBOX. If you try my recipe, please use hashtag #rasamalaysia on social media so I can see your creations! Follow me on Facebook | Instagram | Pinterest | Twitter for new recipes, giveaways and more.