Nigiri or nigiri sushi is a popular Japanese sushi. Shrimp nigiri is one of the easiest nigiri recipes that you can make at home with shrimp and sushi rice.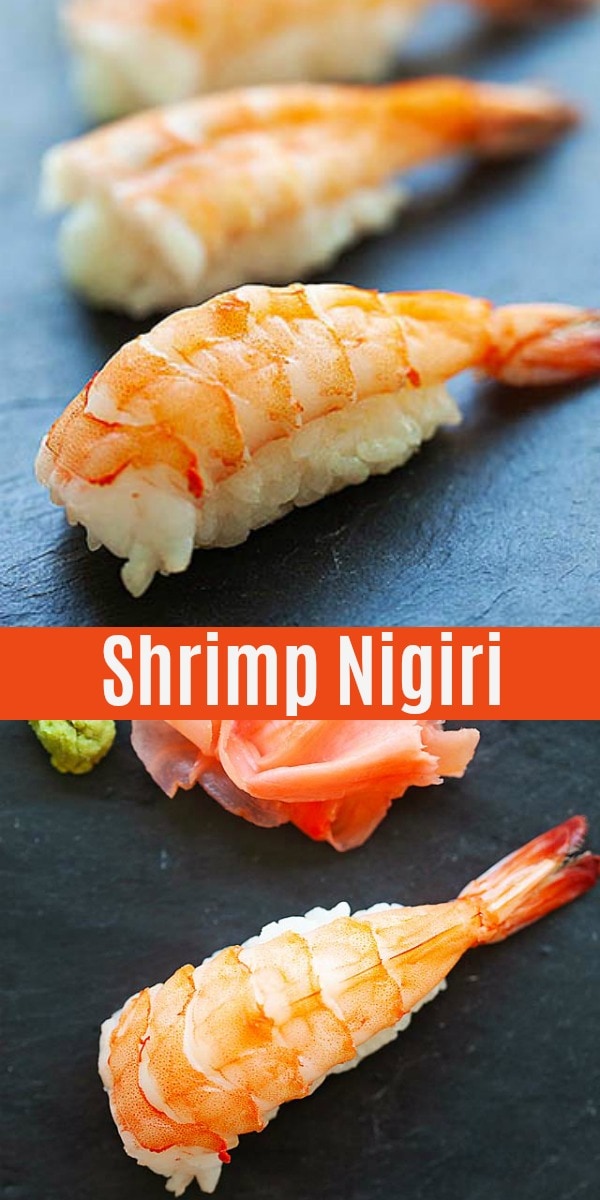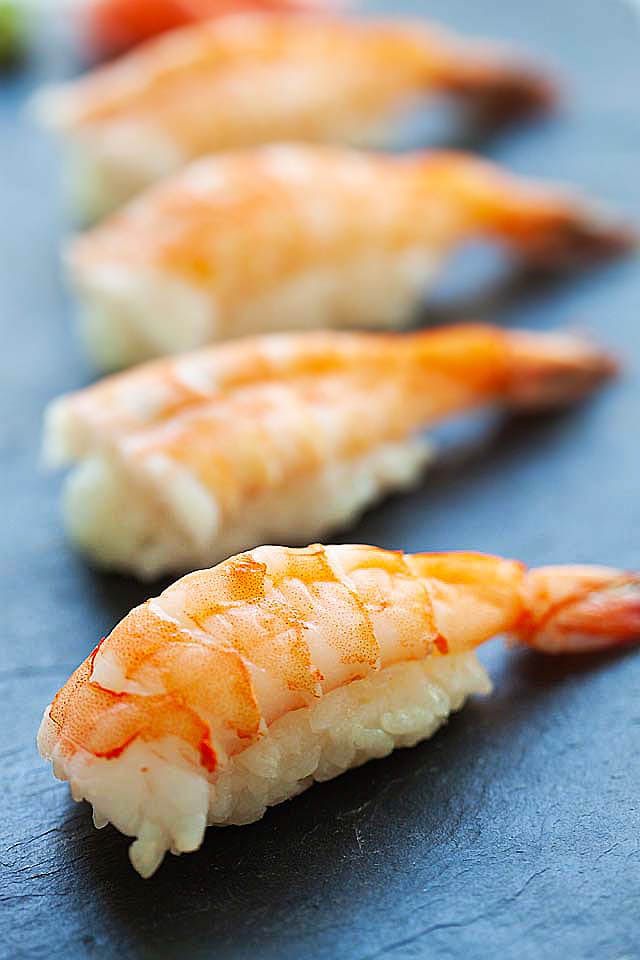 Nigiri Sushi
What is Nigiri?
Nigiri sushi is highly prized in Japanese recipes and well loved all around the world.
They are hand-formed sushi and called Nigiri-zushi in Japanese.
According to my Japanese cookbook, they can be traced back to the Edo period in Japan when it was sold and eaten at food stalls just fast food today.
If you love sushi, I'm sure you have seen or tried them. They are mostly made with a slice of raw fish on top of sushi rice.
Some nigiri is made with cooked fish or other ingredients, for examples: eel, shrimp or Japanese rolled ommelette or tamagoyaki.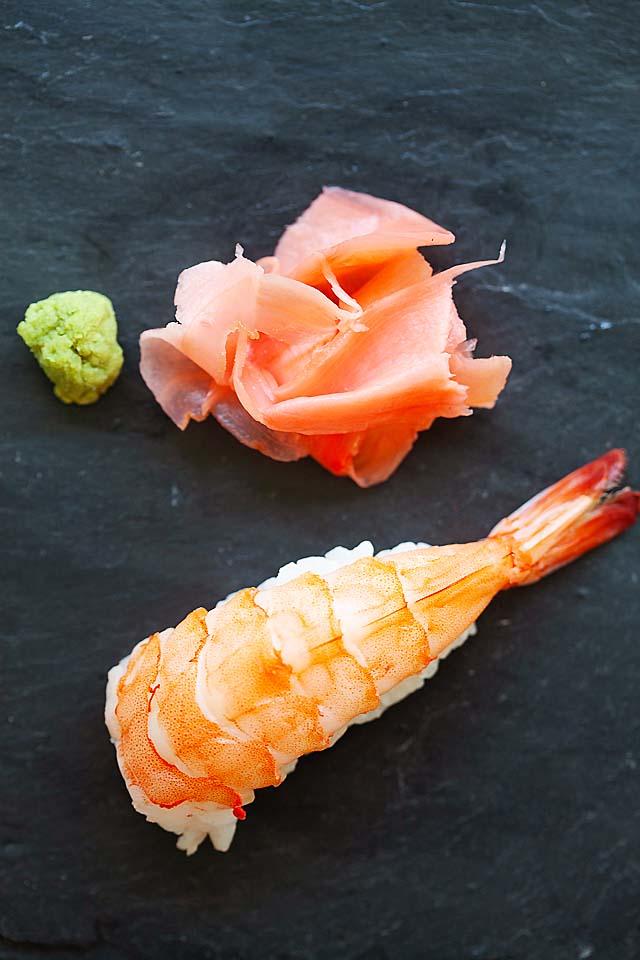 Other Recipes You Might Like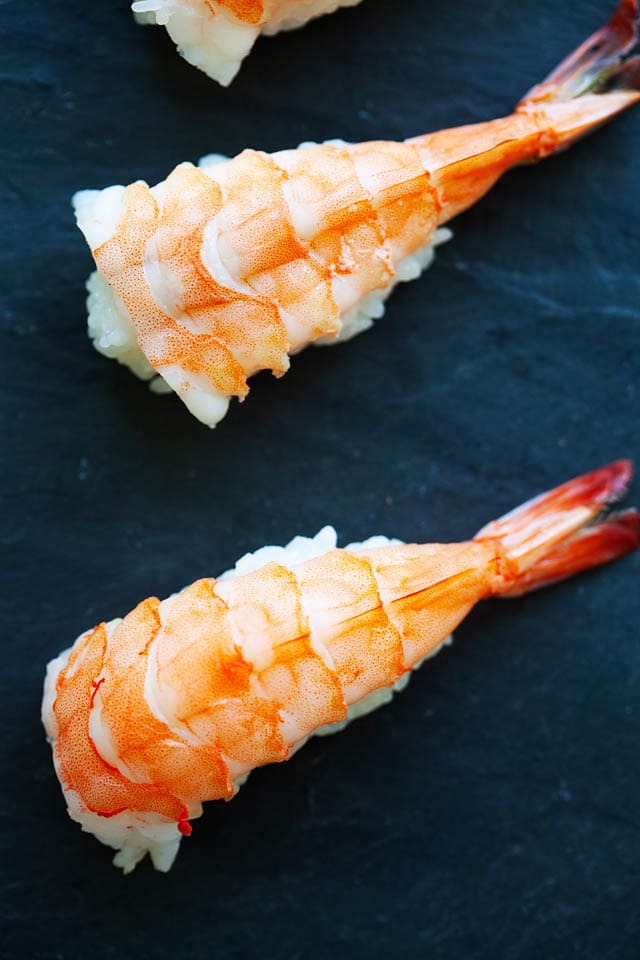 Shrimp Nigiri
In this recipe, I am going to teach you how to make shrimp nigiri, with cooked shrimp and sushi rice.
Here are the list of ingredients:
Japanese short-grain rice
Japanese rice vinegar
Salt and sugar
Shrimp
Wasabi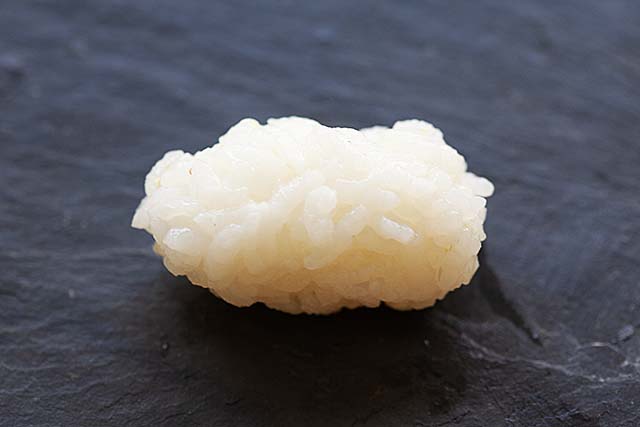 How to Make Nigiri?
To make nigiri, first you make the Japanese vinegared sushi rice.
Next, prepare the shrimp by boiling and cooking the shrimp.
Slice the underside of the shrimp and spread them open.
Finally, assemble the sushi rice into barrel shape and press the sushi rice to the shrimp to form nigiri sushi.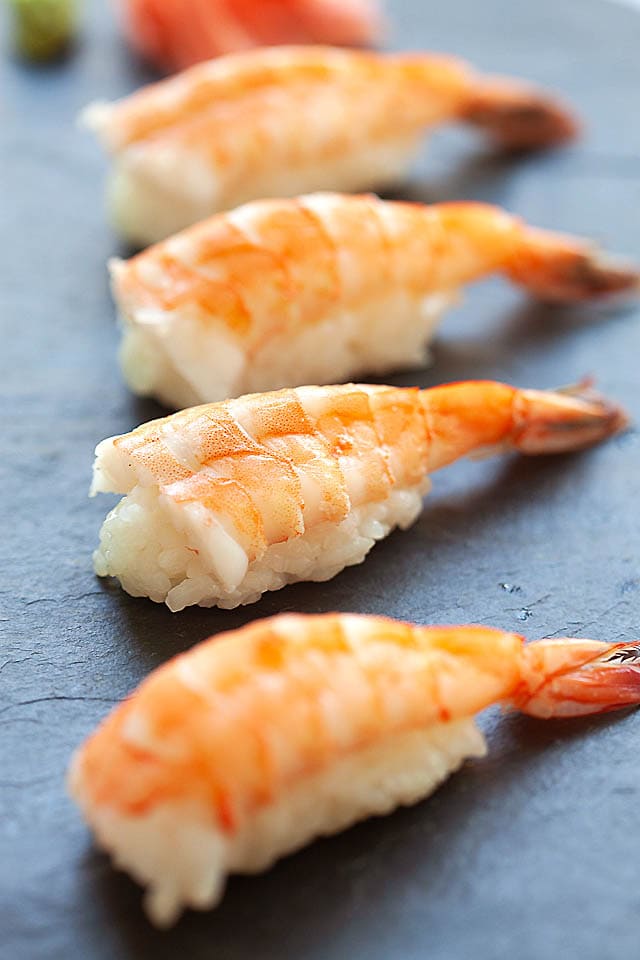 Frequently Asked Questions
What's the Difference between Nigiri Sushi and Maki Sushi?
Nigiri sushi isn't rolled like maki sushi.
Maki sushi is rolled with toasted seaweed into a sushi roll and then cut into pieces before serving.
What's the Difference between Nigiri and Sashimi
Sashimi is a Japanese delicacy consisting of fresh raw fish sliced into thin pieces.
They are served raw with soy sauce and grated wasabi.
Nigiri consists of sushi rice and sliced raw fish.
How Many Calories per Serving?
Each shrimp nigiri is only 12 calories per piece.
What to Serve with This Recipe?
Serve this dish with Japanese dishes. For a healthy Japanese meal and easy weeknight dinner, I recommend the following recipes.

For more great recipes like this, sign up for our newsletter. We'll send daily recipes you'll love!
Join
Sign up for our newsletter!
Nigiri
Nigiri or nigiri sushi is a popular Japanese sushi. Shrimp nigiri is one of the easiest nigiri recipes that you can make at home with shrimp and sushi rice.
Ingredients
1/2

portion

Sushi Rice

1/2

cup

water

1/2

cup

Japanese rice vinegar

1

teaspoon

wasabi

Gari

(Japanese pickled ginger)
Instructions
Make the vinegared water by mixing the water and vinegar together. Stir to mix well. Set aside.

Devein the shrimp with a tooth pick. Pick the vein and then pull it out with your thumb and index finger.

Thread each shrimp onto a tooth pick. Make sure the shrimp is straight on the tooth pick. Repeat the same for the rest of the shrimp.

Bring a small pot of water to boil, cook the shrimp for about 1-2 minutes, or until they are cooked through and the shells turn red.

Remove the shrimp with a colander, set aside and let cool.

Remove shells and make an incision on the underside of each shrimp. Open up and spread each shrimp on a flat surface.
Making Nigiri Sushi
Rub the vinegared water on your hands and roll the sushi rice using your right hand into a barrel shape.

Place a shrimp in your left hand and add wasabi.

Place the sushi rice on the shrimp , firmly press using the first two fingers of your right hand. Flip the shrimp sushi over so the shrimp is on top. Transfer it to a serving platter.

Repeat the same until all the shrimp sushi are assembled. Serve immediately with soy sauce, gari (pickled Japanese ginger) and wasabi.
Notes
Adapted from Japanese Dishes by Mayuko Matsumura.
Nutrition

Nutrition Facts

Nigiri

Amount Per Serving (1 g)

Calories 12

% Daily Value*

Cholesterol 11mg4%

Sodium 58mg3%

Carbohydrates 1g0%

Protein 1g2%

* Percent Daily Values are based on a 2000 calorie diet.

Notice: Nutrition is auto-calculated, using Spoonacular, for your convenience. Where relevant, we recommend using your own nutrition calculations.