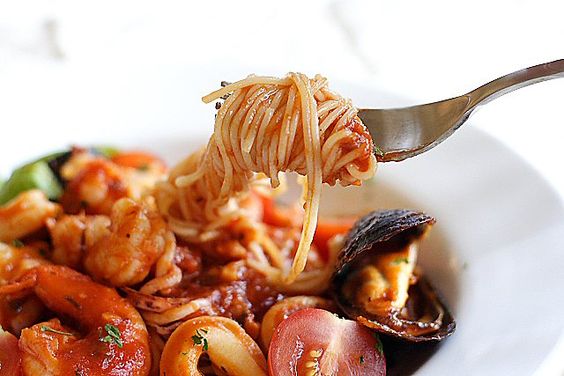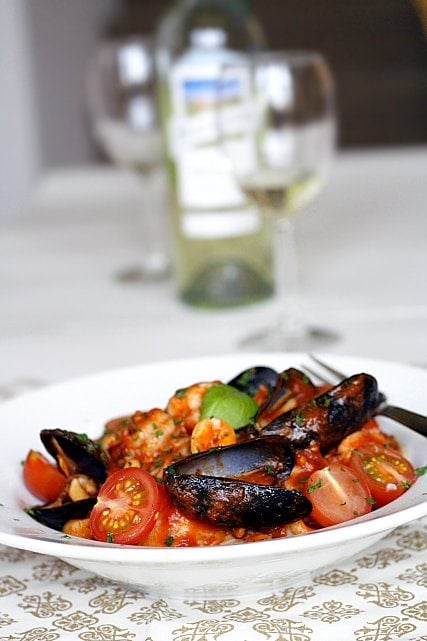 My old roommate in San Francisco A taught me how to make pasta.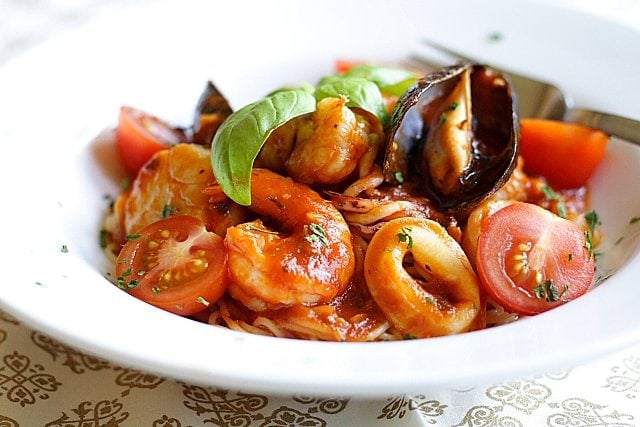 When we were living together in the bay area many years ago, I was in charge of making Malaysian and Chinese food in the kitchen, while A excelled in western food.
She made killer mash potatoes (from scratch!) and great pasta. While we didn't indulge in seafood-loaded pasta like this back then, her pasta was always delectable–with really simple ingredients such as unpeeled straw mushrooms, chicken or shrimp. It was a very humble, easy, and practical dish. It was great for our budgets, especially during the dot bomb days…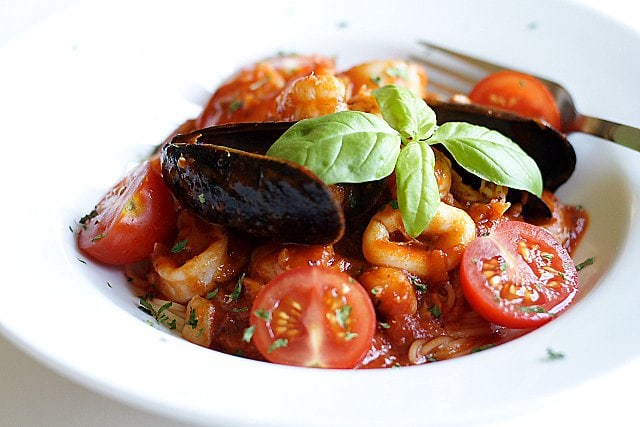 If A were to read this post today, I am sure she would be amazed by my newly acquired cooking skill.
I have since perfected my Italian pasta, plus I have upgraded the toppings to all our favorite fruits de la mer. I suspect she would ask for a second helping. *wink*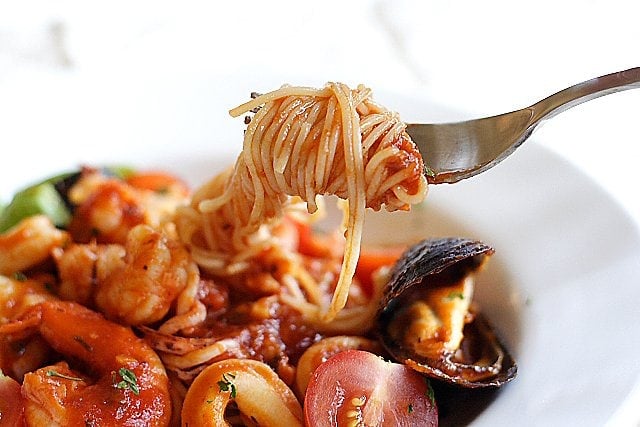 To make it an ultra luxury dish, I got some fresh Florida rock shrimp. Both crunchy and succulent, Florida rock shrimp is worth every buck I spent.
(They were priced at $19.95 per pound.) Throw in some calamari rings, scallops, shrimp, mussels, cherry tomatoes, and freshly-plucked sweet basil leaves, you have a 5-star dish that you can make anytime to impress yourself, or your guests.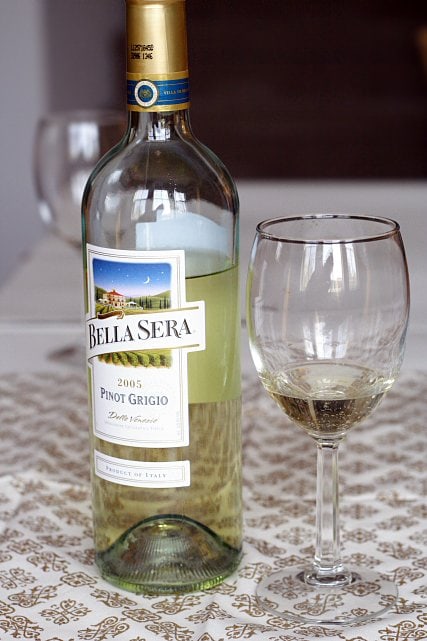 Click the above gallery to view the complete pictures set; a total of 8 pictures for your drooling viewing pleasure.
How Many Calories Per Serving?
This recipe is only 434 calories per serving.
What Dishes To Serve with this Recipe?
For a wholesome meal and easy weeknight dinner, I recommend the following recipes.
5 Secrets to 20 Min Dinners
Get tricks for quick & easy meals!
Yield: 4 people
Angel Hair Pasta with Seafood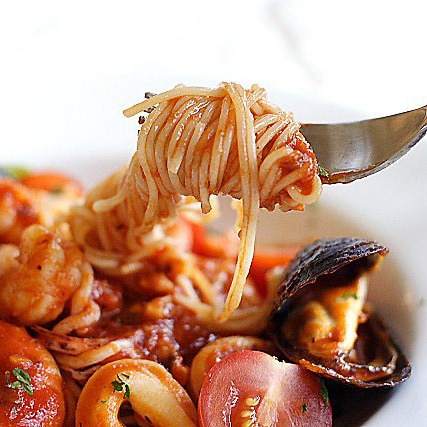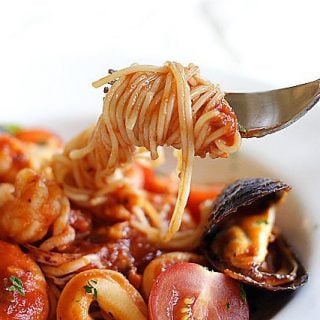 Angel Hair Pasta with Seafood Recipe - Florida rock shrimp, calamari rings, scallops, shrimp, mussels, cherry tomatoes, and freshly-plucked sweet basil leaves.

Prep Time 5 minutes

Cook Time 20 minutes

Total Time 25 minutes
Ingredients
2/3 pack (12 oz./340 g) angel hair pasta
1/2 bottle (10 oz./283 g) pasta sauce
4 oz. (114 g) rock shrimp
1/2 lb. (0.2 kg) mussels
6 shrimp
2 calamari, cut into rings
Italian sweet basil
8 cherry tomatoes, cut into halves
3 cloves garlic, finely chopped
1 tablespoon oyster sauce or salt to taste
2 tablespoons olive oil
Dried parsley flakes
Instructions
Bring water to boil in a pot and add in the mussels. As soon as all mussels are open, transfer the pot to the sink and drain the water. Rinse the mussels with cold water to get rid of foams. Set aside the mussels.
Bring water to boil in a pot. Cook the angel hair pasta according to the instructions on the package.
While boiling the pasta, heat up a deep saute pan with some olive oil.
Saute the garlic for 30 seconds.
Add in all seafood except the mussels.
Once the seafood are cooked, add in the mussels and cover the saute pan for about a minute.
Add in oyster sauce (or salt to taste). Lower the heat to low.
Drain the cooked angel hair pasta and divide them equally into 3-4 servings.
Dish out the pasta sauce and pour it on top of the angel hair pasta.
Garnish with cherry tomatoes, sweet basil leaves, and spinkle some dried parsley flakes on the dish. Serve immediately.
Notes
I used Prego brand traditional pasta sauce for this dish. See my new napkin? Isn't it cute? $2.00 each at Target!
Nutrition Information
Yield
4
Serving Size
4 people
Amount Per Serving Calories 434Total Fat 9gSaturated Fat 1gUnsaturated Fat 0gCholesterol 103mgSodium 950mgCarbohydrates 64gFiber 3gSugar 6gProtein 22g