Curry Puff – A snack filled with curried potatoes commonly found in Malaysian and Singapore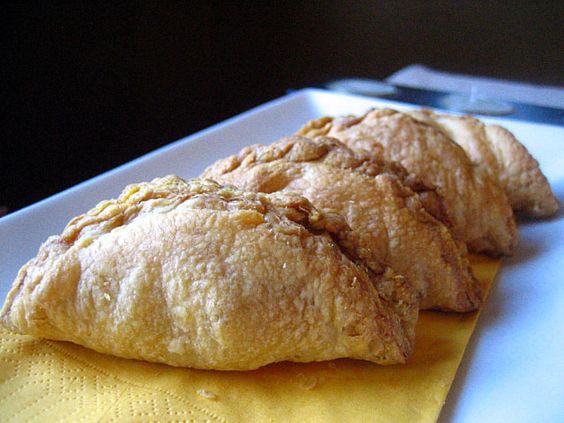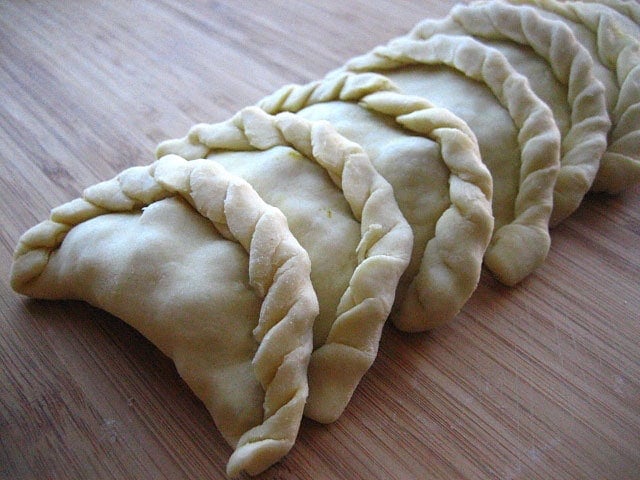 Curry Puff–a snack filled with curried potatoes commonly found in Malaysian and Singapore–has been a hit in my circle of food blogosphere recently.
Simcooks kicked off the craze for curry puff and did a "super-size-me" version; Budding Cook quickly followed with her rendition.
Lured by these munchies, Keropok Man rushed out to his favorite joint in Singapore and stuffed himself silly with three big, crunchy, and golden ones while Tigerfish secretly made her cute minis…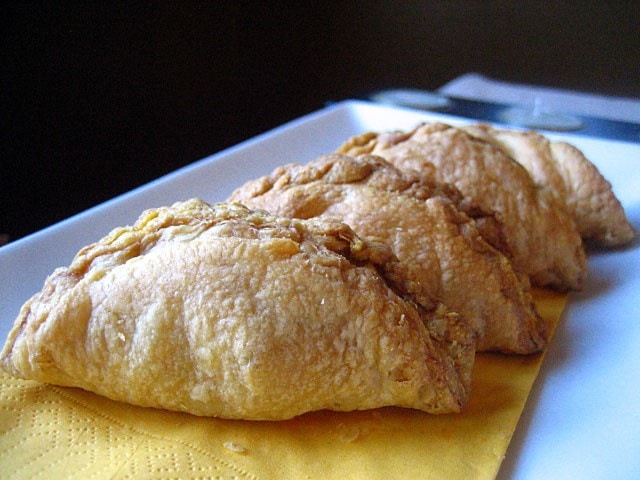 And then there is me.
Inspired by all the foodies above, I made some, too. Although not perfectly executed (almost half of my curry puffs exploded due to mishandling of Pepperidge Farm puff pastry), I was quite pleased with the result.
As a Malaysian food ambassador-wannabe, I feel obliged to tell you that the authentic recipe does not call for frozen puff pastry (which is probably very hard to find in the region) and baking! The traditional method has dough kneading power as a pre-requisite.
The crispy skin as seen on Keropok Man's picture is the end result of serious kneading of flour with margarine and water, a resting time for the dough, and deep-frying to golden goodness.
So, instead of providing you with my "cheated" recipe, I will give you the recipe adapted from "Authentic Recipes from Malaysia."
If you have time and would love to make curry puff from scratch, by any means, please do so. But if you want to take a shortcut in the kitchen once in a while, it's perfectly fine, too.
For the latter, the filling recipe stays the same, but I must warn you that following the instructions of the frozen puff pastry is very important so your curry puffs don't explode like mine!
Melting Wok, Habeas Brulee, and Wandering Chopsticks, what are you waiting for? Now it's your turn to curry puff away.
What Dishes To Serve with this Recipe?
For a wholesome meal and easy weeknight dinner, I recommend the following recipes.
5 Secrets to 20 Min Dinners
Get tricks for quick & easy meals!
Curry Puff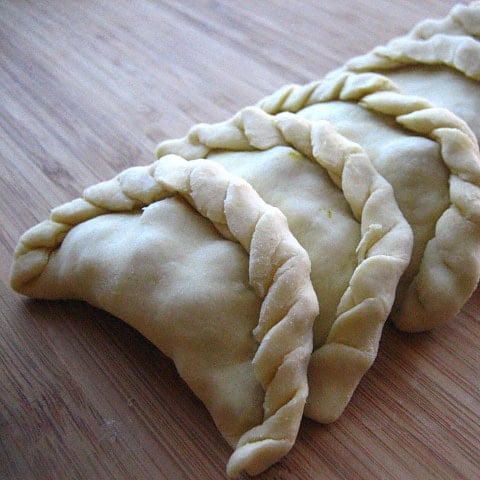 Curry Puff–a snack filled with curried potatoes commonly found in Malaysian and Singapore

Prep Time 30 minutes

Cook Time 10 minutes

Total Time 40 minutes
Ingredients
Filling:
5 tablespoons oil
1 medium red onion, finely chopped
1/2 teaspoon kurma powder or chicken curry powder
2 teaspoons meat or chicken curry powder
1 teaspoon chili powder
1/2 teaspoon turmeric powder
1/2 cup finely diced chicken breast meat
2 large potatoes, boiled and finely diced
1 1/2 teaspoon sugar
1/2 teaspoon black pepper
1/2 teaspoon salt
Pastry:
1 lb. (400 g) plain flour
5 oz. (140 g) margarine or shortening
3/4 cup water
1/2 teaspoon salt
Instructions
Make the filling first. Heat oil and fry onion gently until golden brown. Add the kurma powder, curry powder, chili, turmeric and fry gently. Add the chicken, potatoes, sugar, pepper, salt and cook for 5 minutes. Mix well and leave aside to cool.
To make pastry, mix flour with margarine, water, salt, and knead well. Let it rest for 1/2 hour. Cut the dough into circles (3 in) in diameter. Fold pastry over to make a half circle and crimp at edges. Deep fry in hot oil until golden.