Curry Puff - This recipe is so easy to make, mouth-watering and delicious!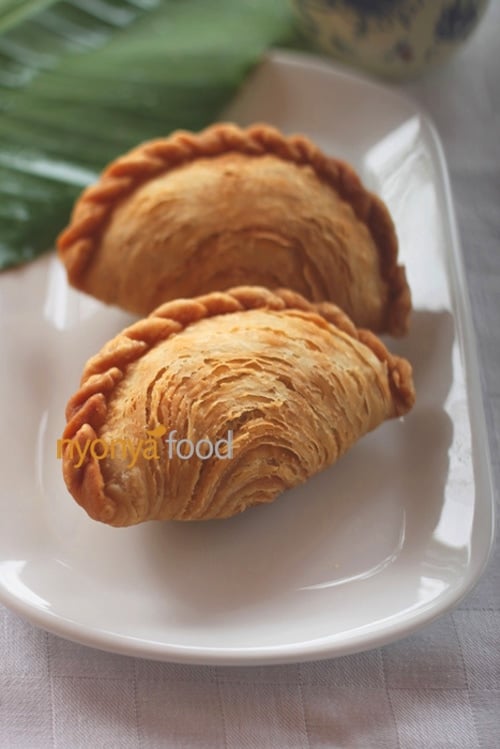 Contributor: Ho Siew Loon
I would like to thank my mother-in-law, a refined Nyonya cook for sharing this recipe with me. It is a very traditional way of making spiral curry puffs.
As a traditional cook, her cooking is always based on estimation and last weekend, I have managed to get the recipe and the measurement down. The crispiness of the skin blended together with the spicy chicken curry and potatoes is just perfect for a relaxing afternoon tea…(get curry puff recipe after the jump)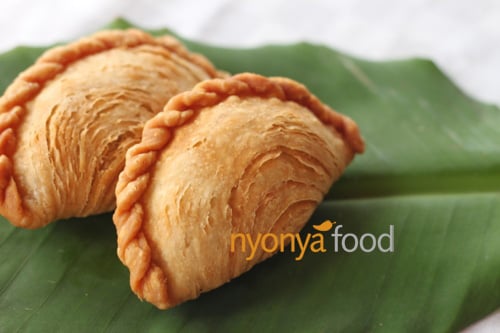 Curry puff is a very popular Asian snack especially in Malaysia and Singapore.
It is quite similar to the western puff or pies except that for this curry puff, it is deep fried to give the crispiness. The skill in this popular snack lies in the making of the skin. But once you have mastered it, this popular snack will definitely be a hit at your parties.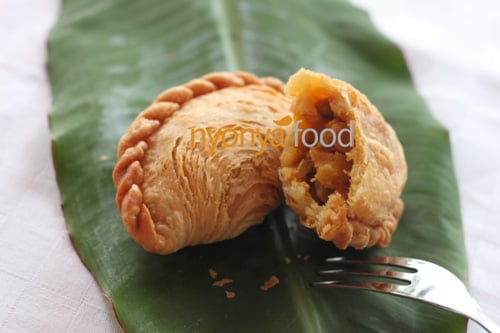 How Many Calories Per Serving?
This recipe is only 144 calories per serving.
What Dishes To Serve with this Recipe?
For a wholesome meal and easy weeknight dinner, I recommend the following recipes.
5 Secrets to 20 Min Dinners
Get tricks for quick & easy meals!
Yield: 2 puffs
Spiral Curry Puff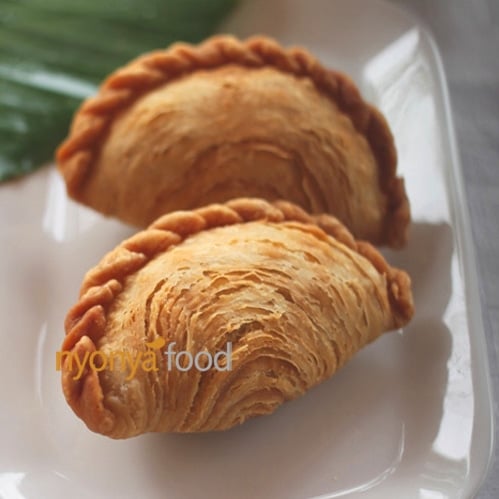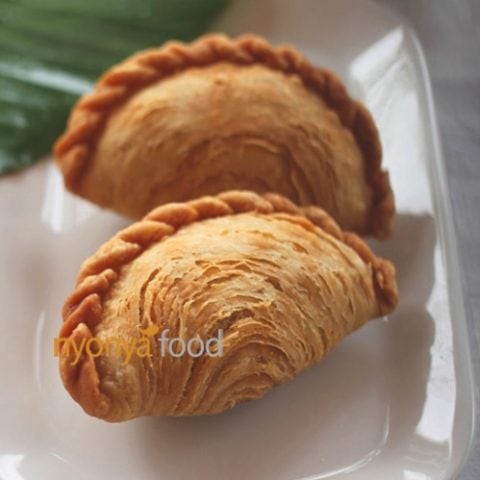 Curry Puff - Irresistible taste of Malaysia.
Ingredients
Filling Ingredients
1 kg (35 oz.) chicken meat, diced
1 kg (35 oz.) potatoes, diced
500 g (17 oz.) onions, diced
4-5 curry leaves
2-3 tablespoons curry powder
15 dried chillies
8 shallots
125 ml (4 oz.) water
Salt to taste
Sugar to taste
5 tablespoons oil
Water Dough
900 g (3 oz.) flour
1.5 teaspoons salt
335 g (11 oz.) water
Oil Dough
340 g (12 oz.) butter
20 g (1 oz.) Ghee, optional
730 g (25 oz.) flour
Instructions
Filling
Soak dried chillies in hot water for 5 minute. Rinse and blend together with shallots till fine. Mix in curry powder.
Heat oil in wok and saute chilly paste and curry leaves till fragrant.
Add in diced chicken, potatoes. Fry for 3 minutes on medium fire. Add in onions and water. Simmer for 5 minutes or until almost dry.
Remove to cool.
Dough
Water Dough
Mixed salt to water to make salt water.
Add salt water to flour gradually and slowly knead to form a nice white dough.
Divide into portions of 85 g each. Roll into a ball.
Leave aside.
Oil Dough
Add butter and ghee to flour and knead to form a dough.
Divide into 70 g (3 oz.) portion each.
To make spiral skin
Flatten the water dough and wrap the oil dough inside. Pinch the edges to seal it nicely.
Let dough rest for 10 minutes.
Using a rolling pin, roll out dough to form a rectangle of 20 x 11 cm. Working on the shorter end, slowly roll up tightly into a swiss roll.
Roll from the shorter end of the swiss roll to flatten dough. Slowly roll up from the shorter side to form a swiss roll.
Let dough rest for 10 to 15 minutes.
Repeat the process until you finished with the rest of the dough.
Cut dough into 4 pieces.
To fill and shape puff
Roll a piece of the cut dough into a circle with rolling pin.
Put 1 Tbsp of filling in the centre.
Brush the edge with water and fold into half. Press the edge together and seal it. This will give you a half moon shape.
Pinch the edge of the puff with your thumb. Bring the back side forward and seal it with the front. Repeat the process. You should be able to get about 8-9 pleats.
Heat oil in wok or deep fryer. Oil must be very hot before putting in the puff and enough to cover to the puff.
Deep fry the puff on medium heat until golden brown.
Nutrition Information
Yield
2
Serving Size
2 puffs
Amount Per Serving
Calories

144
Total Fat

268g
Saturated Fat

145g
Unsaturated Fat

0g
Cholesterol

766mg
Sodium

3414mg
Carbohydrates

730g
Fiber

45g
Sugar

22g
Protein

197g