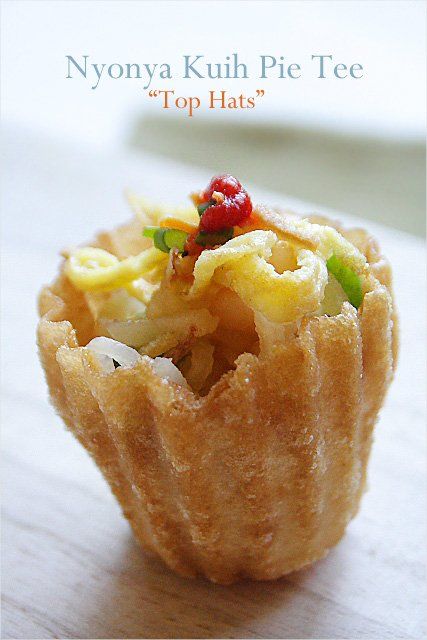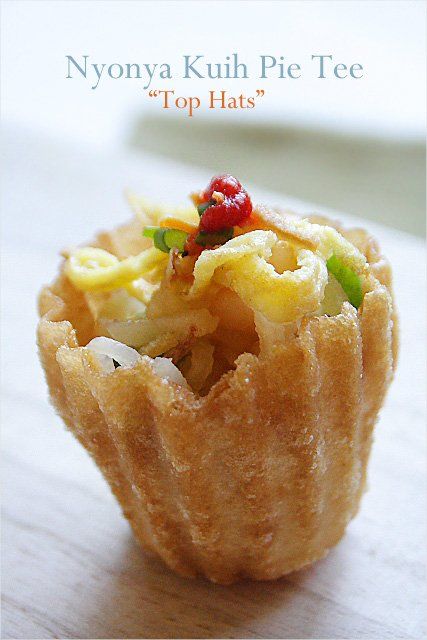 Great things do come in small packages–such is true when it comes to Nyonya Kuih Pie Tee.
Alluringly gorgeous in presentation and rank high in the taste and flavor department, Nyonya Kuih Pai Tee are virtuous snacks that showcase clean flavors and brilliant combination of fresh ingredients–it's undeniably one of the most inventive and vividly luscious Nyonya creations.
Making Kuih Pie Tee is no small feat as it requires ample amount of patience and time. With its aesthetic so crisp, delicate, beautiful, the results are well worth the effort.
The two-step process starts with the making of the cases or "top hats" with a metal mold, follow by the cooking of julienned jicama, carrot, and chopped shrimp.
These ingredients are then assembled to form these eye candy treats.
Nyonya Kuih Pie Tee make a killer hor'deurves in any parties, be it a Malaysian party or an all-American schmooze fest. Everyone will marvel at the wow factor of these munchies.
How Many Calories Per Serving?
This recipe is only 201 calories per serving.
What Dishes To Serve with this Recipe?
For a wholesome meal and easy weeknight dinner, I recommend the following recipes.
5 Secrets to 20 Min Dinners
Get tricks for quick & easy meals!
Yield: 4 people
Nyonya Kuih Pie Tee (Top Hats)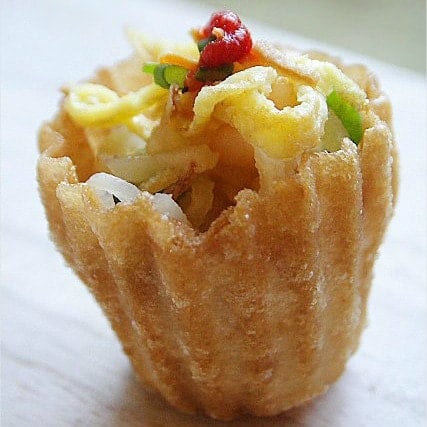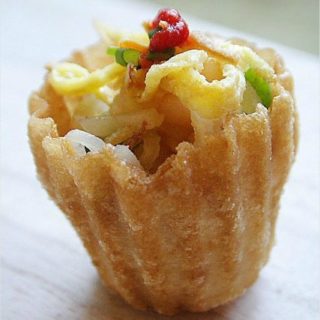 Nyonya Kuih Pie Tee make a killer hor'deurves in any parties, be it a Malaysian party or an all-American schmooze fest.
Ingredients
Step 1: Top Hats Cases
1 metal mold
100 g plain flour
1 tbsp rice flour
1 egg, lightly beaten
180 ml water
1 pinch salt
oil for deep frying
Step 2: Filling
1 jicama, julienned
1 carrot, julienned
2 cloves garlic, chopped
2 shallots, chopped
6-8 shelled and deveined shrimp, chopped into small pieces
salt to taste
white pepper powder to taste
1 dash oyster sauce
Instructions
Pour all ingredients in step 1 into a bowl and beat with an electronic mixer. If you do not have an electronic mixer, whisk the batter until smooth. Heat oil in a wok with the mold in the oil. Do not overheat the mold. Dip the mold into the batter so it's evenly coated and then deep fry the batter. To remove the case from the mold while frying, jiggle the mold up and down. Once the case turns light brown, remove it from the wok and set aside.
To cook the filling, add some oil into a wok. Stir fry the chopped garlic and shallots until light brown. Add in shrimp, jicama, and carrot and season with salt, pepper, oyster sauce. Cook for 5 minutes.
To serve, fill the cases with the filling, garnish with spring onion, and serve with chili sauce.
Nutrition Information
Yield
4
Serving Size
4 people
Amount Per Serving
Calories

201
Total Fat

1g
Unsaturated Fat

0g
Cholesterol

54mg
Sodium

113mg
Carbohydrates

39g
Fiber

9g
Sugar

4g
Protein

7g