Shrimp Tempura - the best shrimp tempura recipe ever, made with a crispy, airy, light, and non-greasy tempura batter. Try my easy recipe and learn how to make a bento.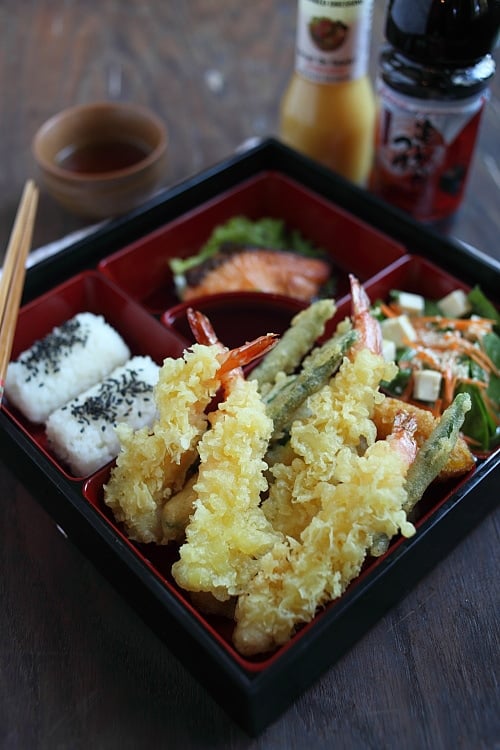 What Is Shrimp Tempura?
Even though shrimp tempura is an iconic Japanese food, it originated from Portugal. Just like some other popular Japanese dishes, the talented Japanese chefs and home cooks had perfected the original recipes and make them uniquely Japanese.
While you can get shrimp tempura at many Japanese restaurants, it's a dish that's easy enough to make at home, with a few store-bought ingredients.
For example: this gorgeous looking shrimp tempura bento takes about 40 minutes to make, including the assembling time. Moving forward, a perfect tempura should be crispy with a yellowish/golden, lacy exterior.
Other Tempura and Shrimp Recipes
Ingredients for Shrimp Tempura Recipe
Shrimp
Rice Flour
Baking Powder
Salt
Egg yolk
Oil
Ice Cubes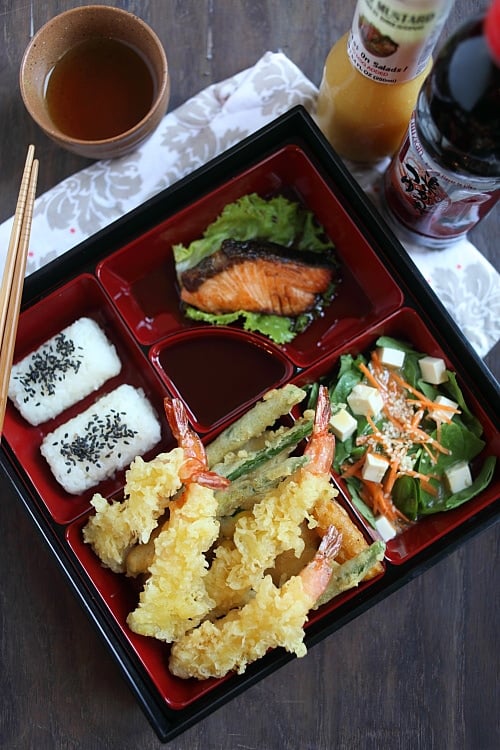 Cooking Tips
A great tempura lies in the batter, which should produce crispy, airy, light, and non-greasy tempura. Ice cold water and ice cubes are very important ingredients to the batter, and the deep-frying technique and the oil temperature are key to achieving the crispy lacy effect. A little baking powder also makes the batter crispier.
The batter should be made just before the deep-frying. When making the batter, use a pair of chopsticks to stir the batter. Do not over-stir it as it should stay a little lumpy.
Right before you use the batter, add in a few ice cubes and stir to combine with the batter. This loosens up the batter and chills it further to provide an airy, fluffy, and crispy exterior of the tempura.
Cut off the pointed tail of the shrimp to avoid the shrimp from splattering while frying. (See picture guide in the recipe below.)
To make a quick and easy tempura dipping sauce, use Mizkan (Bonito Flavored) Soup Base and dilute with warm water. The perfect ratio is 1:5. Add a little grated daikon and you have the perfect dipping sauce.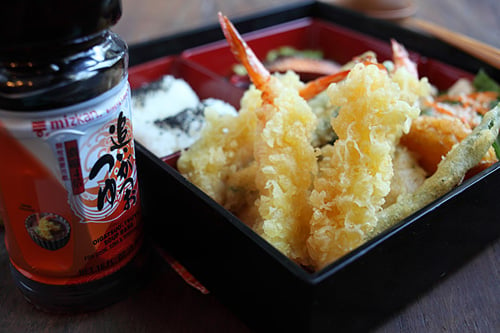 Tempura Dipping Sauce
For this recipe, I used Mizkan (Bonito Flavored) Soup Base and diluted it with water.
For homemade tempura dipping sauce, you will need dashi, mirin, soy sauce, and sugar mixed in a sauce pan and boiled. Pair this with daikon radish and you have a delicious dipping sauce!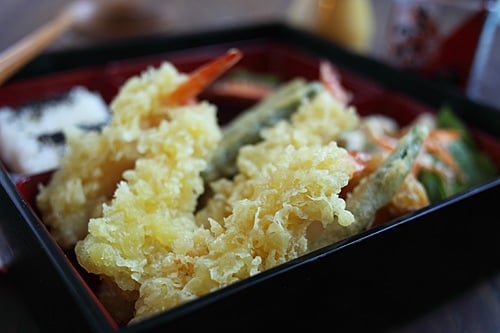 Frequently Asked Questions
What Do You Eat with Shrimp Tempura?
Tempura is usually served with rice or soba noodles, paired with daikon radish and tempura dipping sauce.
Is It Ok to Eat Shrimp Tempura While Pregnant?
Shrimp's low levels of mercury make it a great dish to eat while pregnant! And, it's high in protein as well.
How Many Calories?
There are only 212 calories per serving of shrimp tempura.
What Dishes to Serve with This Recipe?
This meal is best served as a side dish. For a wholesome Japanese meal and easy weeknight dinner, I recommend the following recipes.
For more great recipes like this, sign up for our newsletter. We'll send daily recipes you'll love!
Join
Sign up for our newsletter!
Shrimp Tempura
Shrimp Tempura – A great tempura lies in the batter, which should produce crispy, airy, light, and non-greasy tempura. Try my recipe!
Ingredients
6

shrimp or tiger prawn

(shelled, deveined and tail on)

3

pieces

Italian squash or zucchini

3

pieces

sweet potato

(yam)

3

green beans

3

pieces

kabocha

(Japanese pumpkin)

Vegetable oil for deep frying

Steamed rice

Black sesame seeds

Baby Spinach and Tofu Salad
Tempura Sauce:
1

tablespoon

Mizkan

(Bonito Flavored Soup Base)

5

tablespoons

water

1/4

tablespoon

grated daikon
Batter:
3

oz.

rice flour

1

oz.

all-purpose flour

1/2

tablespoon

baking powder

1/4

tablespoon

salt

1

tablespoon

vegetable oil

1

egg yolk

150

ml

ice cold water

3

small ice cubes
Baby Spinach and Tofu Salad:
Baby spinach

Tofu

(cut into small cubes)

Some shredded carrot

Mizkan Miso and Mustard Dressing

White sesame seeds
Instructions
Rinse the shrimp and pat dry with paper towels. Cut the sharp tail off with a pair of kitchen scissors. This will avoid excessive splattering while deep-frying.

To avoid the shrimp from curling, cut a few shallow vertical slits at the bottom of the shrimp.

Prepare the other vegetable ingredients and lay on a flat surface or plate.

Prepare the dipping sauce in a small bowl and set aside.

Right before you're ready to fry the tempura, mix all the ingredients of the Batter in a bowl, with a pair of chopsticks. Stir to combine well. The texture should have a runny consistency, but a little lumpy is fine. Add the ice cubes in the batter.

Heat about 3 inches of oil in a flat bottom deep skillet to about 340°F (170°C) for deep-frying. Stir the batter with a pair of chopsticks before coating the ingredients with the batter.

Start off by frying the vegetables. Coat each piece of the vegetables with the batter and deep fry until light brown. Do not overcrowd the skillet, so you might need to deep fry the vegetables in two batches. When the vegetables are done, transfer them out onto a dish lined with paper towels.

To deep fry the shrimp, dip each shrimp in the batter and drop the shrimp into the wok, laying it flat on the skillet, so the bottom part of the shrimp goes down to the skillet, which will make the lacy effect on the shrimp.

Repeat the same for the other shrimp. When the shrimp turn yellowish and light golden in color and become crispy, dish out with a strainer or slotted spoon, draining the excess oil on a dish lined with paper towels.
Baby Spinach and Tofu Salad:
Arrange all the ingredients of the salad in the bento box. Drizzle some Mizkan Miso and Mustard Dressing on top of the salad and add the sesame seeds on top.
Assembling the Shrimp Tempura Bento:
Arrange the steamed rice in the rice compartment and top with some black sesame seeds. Next, prepared the salad according to the Salad recipe above. Place the salmon teriyaki and arrange the shrimp tempura and vegetables in the main compartment of the bento box.

Add a little dipping sauce in the small compartment next to the tempura, save the remaining in a small bowl for dipping.

The bento is now done and ready to be served.
Notes
To make sure that the shrimp tempura stays crispy, prepare it the last.
Nutrition

Nutrition Facts

Shrimp Tempura

Amount Per Serving (4 people)

Calories 212

Calories from Fat 54

% Daily Value*

Fat 6g9%

Cholesterol 155mg52%

Sodium 920mg40%

Carbohydrates 25g8%

Protein 14g28%

* Percent Daily Values are based on a 2000 calorie diet.

Notice: Nutrition is auto-calculated, using Spoonacular, for your convenience. Where relevant, we recommend using your own nutrition calculations.