4.6
42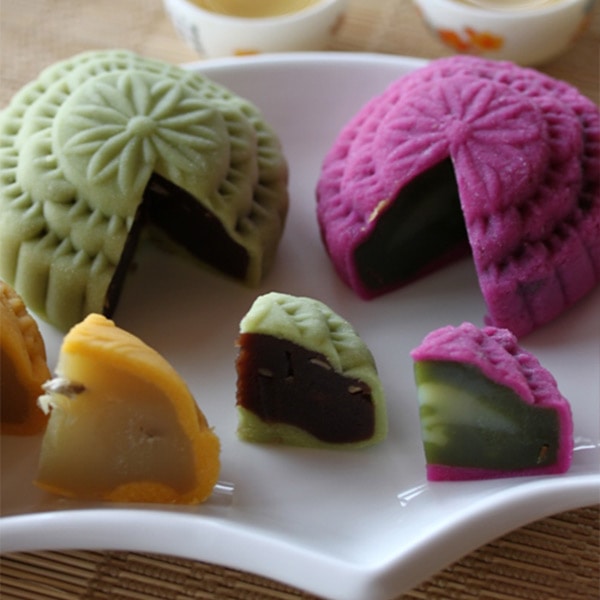 Snow Skin Mooncake (冰皮月饼)
Snow skin mooncake or crystal mooncake is a non-baked mooncake with a soft and chewy texture. It is eaten chilled best eaten with a cup of hot Chinese tea.

Ingredients:
Mooncake Skin
130g Cooked Glutinous Rice Flour (Gao Fen) Sifted
160g powdered sugar
130 ml boiled carrot, dragonfruit juice or screwpine leaves juice
2 Tbsp fresh milk
1 Tbsp shortening (I use Crisco)
Filling
1 kg Moocake paste  (Red Bean, Lotus, Green tea)
80g melon seeds (lightly toasted)

Method:
Squeeze the juice and heat till boiling point. Cool the juice in fridge for about 4-6 hours.
Sieve together the icing sugar and cooked glutinous flour.
Add in the shortening. Combine until the mixture resembles bread crumbs.
Add in the juice and milk. Mix to a soft and smooth dough. Let it rest for 10 minutes.
Divide the dough in 60g and roll into a ball. Wrap each ball with cling wrap until ready to use.Filling:
Add melon seeds to mooncake paste.
Roll it tightly into a ball of 120g each.To make MooncakesLightly dust hands with cooked glutinous rice flour. Flatten the dough. Place the filling into the center of the dough.
Wrapped it up tightly and seal the edges.
Put in a floured mooncake mould. Tap and remove it.
Chill for at least 6 hours before serving.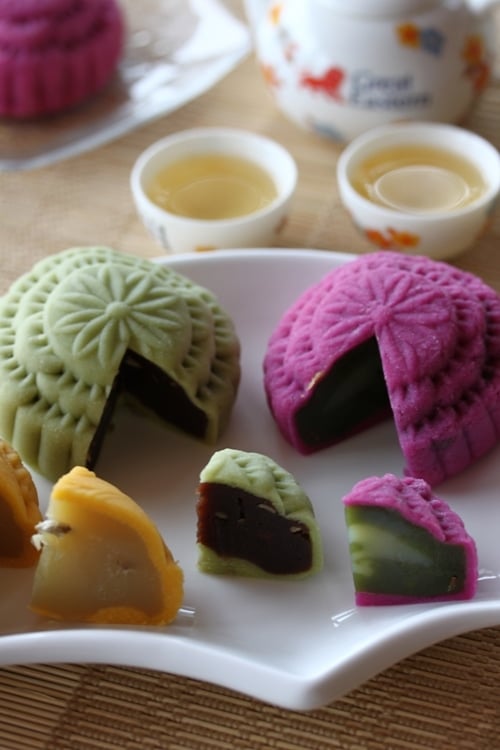 Snow Skin Mooncake
Snow Skin Mooncake – Crystal mooncake is a non-baked mooncake with a soft and chewy texture. It is eaten chilled best eaten with a cup of hot Chinese tea.
It's almost the time of year for mooncake as the Chinese will be celebrating Mid-Autumn festival (中秋节) on Sept 12. The markets and stores are filled with various brands and forms of mooncake. I have never attempted to make mooncake at home but my contributor Siew Loon is so talented that she even makes her own mooncake. Check out these gorgeous looking snow skin mooncake. Enjoy! (If you wish to buy mooncake, click the link. This pork jerky is also great with mooncake.)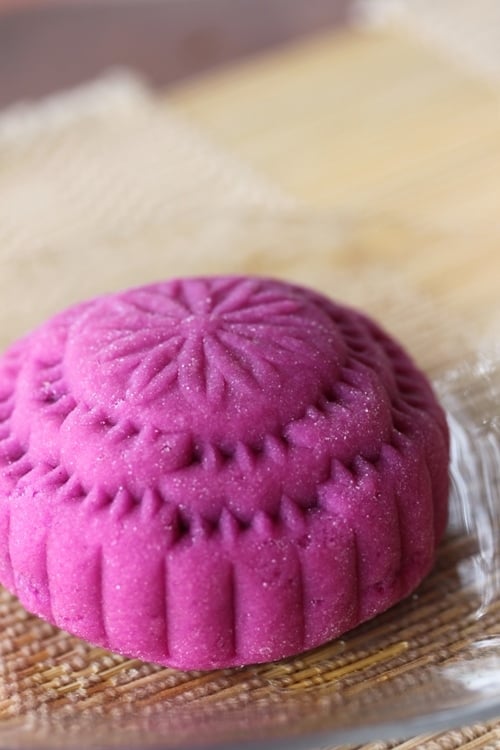 Time flies and in 2 weeks time we will be celebrating the Mid-Autumn festival. The history Mid-Autumn festival can be found at this link. This year the Mid-Autumn festival will be celebrated on September 12. This festival is also commonly known as Mooncake Festival. There are so many varieties of mooncakes these days and honestly I have lost count of it. Like every other year, I will make some mooncakes to be given away as gifts to friends and relatives. Instead of the traditional mooncakes, there was a special request from a very close friend to do Snowskin Mooncakes with natural ingredients. It came as a challenge, and I finally decided  to use carrots, dragonfruits and screwpine leaves. I thought it will be great to share with our Rasa Malaysia readers.
Snowskin mooncake is a non-baked mooncake which is commonly eaten cold and fresh. It has a elastic, chewy and soft skin. It is made of Cooked Glutinous Rice flour (Gao Fen) which you can get at any Asian grocery shops or bakery supply shops. This is a must try recipe for those who loves Snowskin Mooncakes.
SUBSCRIBE AND NEVER MISS A RECIPE
SUBSCRIBE TO RASA MALAYSIA NEWSLETTER AND GET EASY AND DELICIOUS RECIPES DELIVERED TO YOUR INBOX. If you try my recipe, please use hashtag #rasamalaysia on social media so I can see your creations! Follow me on Facebook | Instagram | Pinterest | Twitter for new recipes, giveaways and more.