Spicy basil beef salad - Perfectly seared beef with basil leaves, tomatoes and a spicy Thai dressing, so healthy and yummy!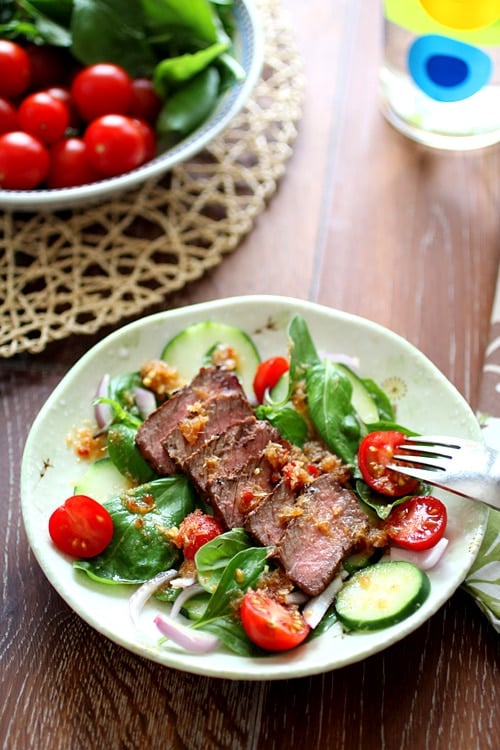 One of my favorite things to do is reading food and travel magazines. I usually go crazy when it's summer as the newsstands are filled with all sorts of summer-themed magazines. Each with a mouthwatering cover and big bold text that pretty much screams "buy me and eat me." Other than my regular magazine subscriptions, I usually succumb to these many temptations and stack up my collections.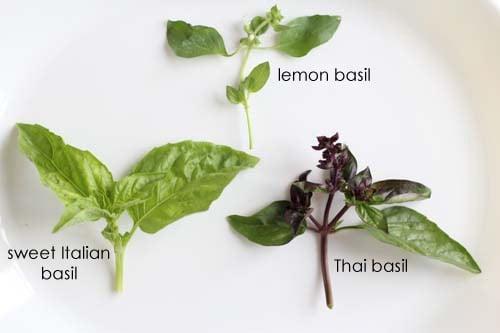 This year, my favorite summer magazines are Cooking Light and Martha Stewart's Everyday Food. Each page lures me to try the recipes and this Spicy Basil Beef Salad recipe is just one of the many I have earmarked. I love the combination of three different types of basil, paired with perfectly pan-seared beef. There is no need to fire up the grill.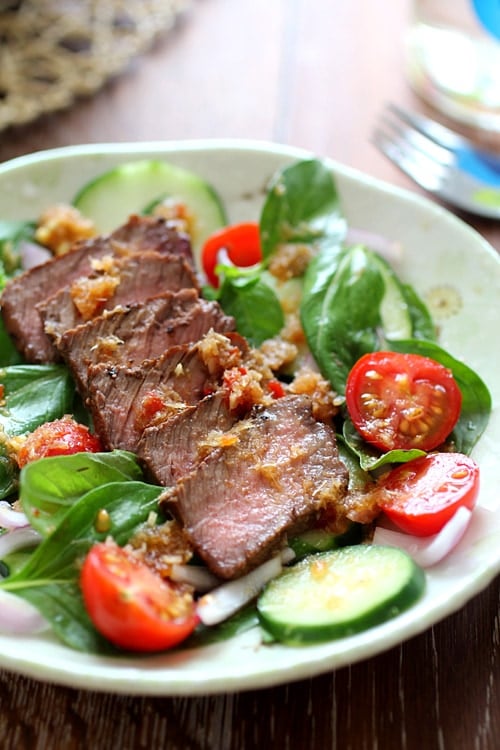 The dressing is Asian, savory, spicy, with a tart note. The minced lemongrass adds an aromatic nuance and texture to the overall dish. It's one refreshing, beautiful, and pleasant tasting salad, which I am sure many of you will like.
Do you have a favorite summer salad recipe? Please share.
How Many Calories per Serving?
This recipe is only 175 calories per serving.
What Dishes to Serve with This Recipe?
For a wholesome meal and easy weeknight dinner, I recommend the following recipes.
5 Secrets to 20 Min Dinners
Get tricks for quick & easy meals!
Yield: 4 people
Spicy Basil Beef Salad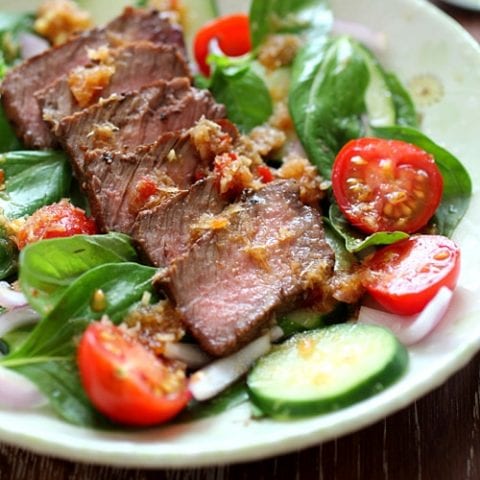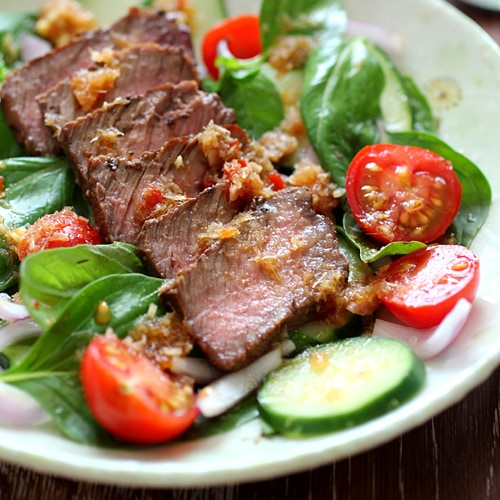 Spicy basil beef salad. Perfectly seared beef with basil leaves, tomatoes and a spicy Thai dressing, so healthy and yummy.
Ingredients
12 oz. (340 g) top sirloin steak
1/4 teaspoon salt
1/2 teaspoon freshly ground black pepper
Dressing:
3 tablespoons low sodium soy sauce
2 tablespoons fresh lemon juice
2 tablespoons minced fresh lemongrass
1 tablespoon sesame oil
2 teaspoons fish sauce
2 teaspoons sambal oelek
1/8 teaspoon sugar
Salad:
1 1/2 cups fresh basil leaves, Thai, Italian and lemon basil
1 cup sliced cucumber
1 cup cherry tomatoes, halved
2 shallots, sliced
Instructions
Heat a nonstick pan at medium-high heat. Season the steaks with the salt and black pepper. Add the steaks to the pan and cook until desired tenderness. Turning the steaks every few minutes will help it cook more evenly.
Transfer the cooked steaks to a plate and let stand for 8-10 minutes before slicing.
Prepare the Dressing by mixing all the ingredients.
Combine the Salad's ingredients in a salad bowl. Drizzle 3/4 of the Dressing mixture over the salad and toss gently.
Divide the salad into 4 servings and top each plate with sliced steaks. Drizzle the remaining dressing on the steaks.
Notes
You can reduce the fresh basil leaves to 1/2 cup and add 1 cup of mixed spring green.
Feel free to substitute the top sirloin steak with your choice of steak.
Sambal oelek can be found at Asian grocery stores.
Nutrition Information
Yield
4
Serving Size
4 people
Amount Per Serving
Calories

175
Total Fat

6g
Saturated Fat

1g
Unsaturated Fat

0g
Cholesterol

50mg
Sodium

835mg
Carbohydrates

7g
Fiber

1g
Sugar

3g
Protein

21g