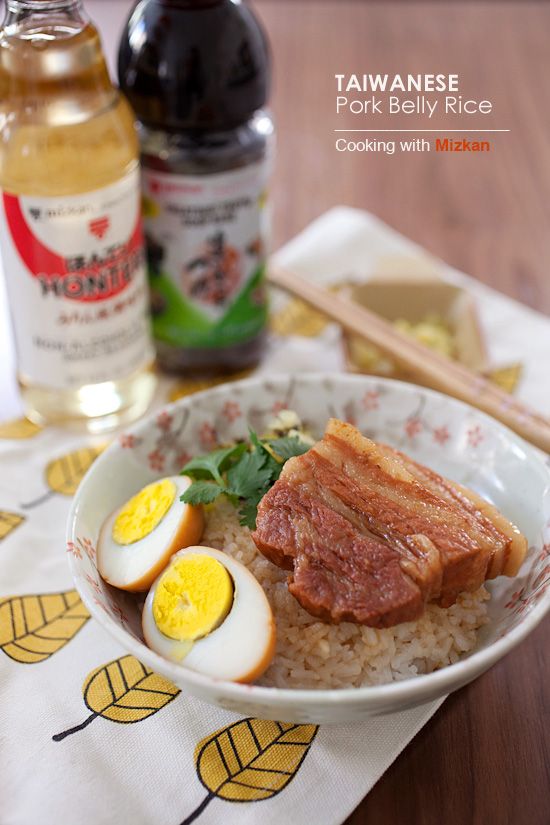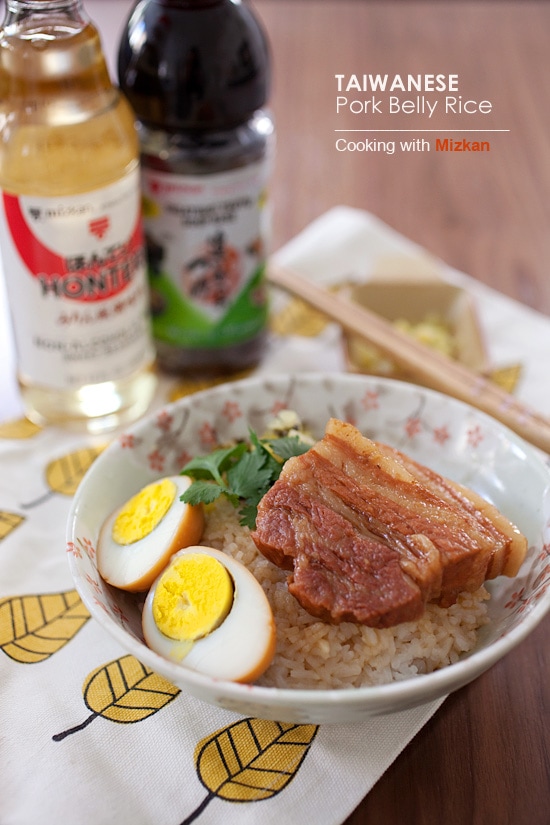 I love Taiwanese food. Technically, Taiwanese food is Chinese food.
There are many overlaps, but Taiwanese cooking has its own interpretations of similar dishes, and with an array of unique concoctions not found in mainland China.
And that's just one of the many reasons why I love Taiwanese food so much—take the expansive menu of traditional Chinese food, infuse it with local flavors and cooking styles, and you have something that are distinctly Taiwanese and utterly homey and delicious!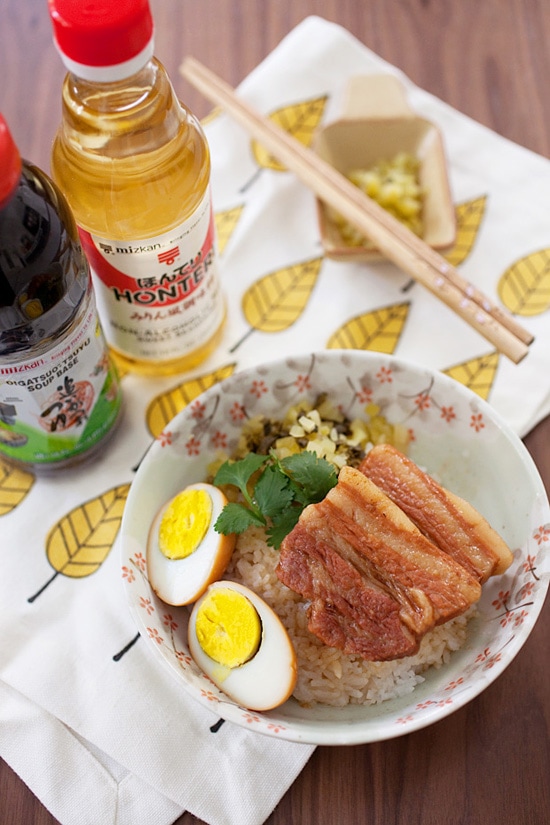 One of my favorite Taiwanese fare is its many braised meat dishes—mostly pork—slowly simmered and cooked in a soy sauce mixture and then served over rice with some pickled vegetable and soy sauce eggs, such as this Taiwanese Braised Pork Belly Rice, or in Chinese, 控肉饭.
Going into any Taiwanese restaurants and you will find many different kinds of rice bowls, but this pork belly rice is probably the most popular.
The reason is simple: not many people can resist soft, tender, scrumptious fatty pork belly steeped in a savory and flavorful sauce, and served on top of steaming warm rice.
Take a bite of the pork belly, scoop in some rice, plus a nibble of the soy sauce egg, and the sour pickled vegetables, I am transported to food heaven.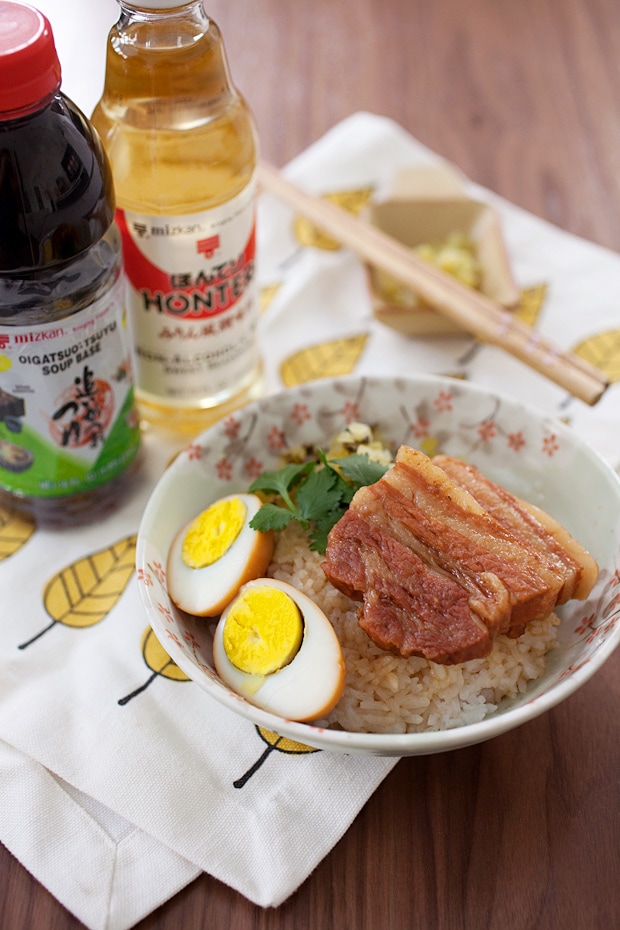 Many people have the hesitation to prepare this popular Taiwanese braised pork belly rice at home, thinking that it's tedious, and the recipe is hard to do. It's a huge misconception.
Taiwanese braised pork belly rice is so easy to do with very minor active time, takes only a couple sauces and few ingredients, and the end result is a complete meal that is fulfilling, filling, and extremely satisfying.
Instead of the traditional soy sauce mixture with rock sugar/sugar, I made my Taiwanese braised pork belly with Mizkan Oigatsuo Tsuyu Bonito Flavored Soup Base (no MSG) and Mizkan Honteri Mirin (sweet cooking seasoning).
I started off by fast boiling the pork belly, and then add the two Mizkan sauces into the pork, plus some regular Chinese/Taiwanese dark soy sauce (for coloring purpose).
Let the two Mizkan sauces do the magic, and the slow braising will eventually turn the pork belly into utter deliciousness. Mizkan Oigatsuo Tsuyu Bonito Flavored Soup Base (no MSG) is a magical sauce that I use as a soy sauce replacement.
This sauce has a green label and has no MSG. There is also a Mizkan Bonito Flavored Soup Base which has a red label.
If you are allergic to MSG, make sure you pick up the bottle with green label.
Now, why did I use Mizkan Japanese sauces to make a Taiwanese dish? Because I can, without sacrificing the authentic good taste of this iconic Taiwanese dish using Mizkan products.
As I previously shared with you, Mizkan Japanese condiments are versatile and should not be limited to only Japanese cooking.
They can be used for other Asian cooking, for example: Chinese (check out my Dan Dan Mian recipe), Taiwanese, Korean, etc. They are what you need for Asian cooking.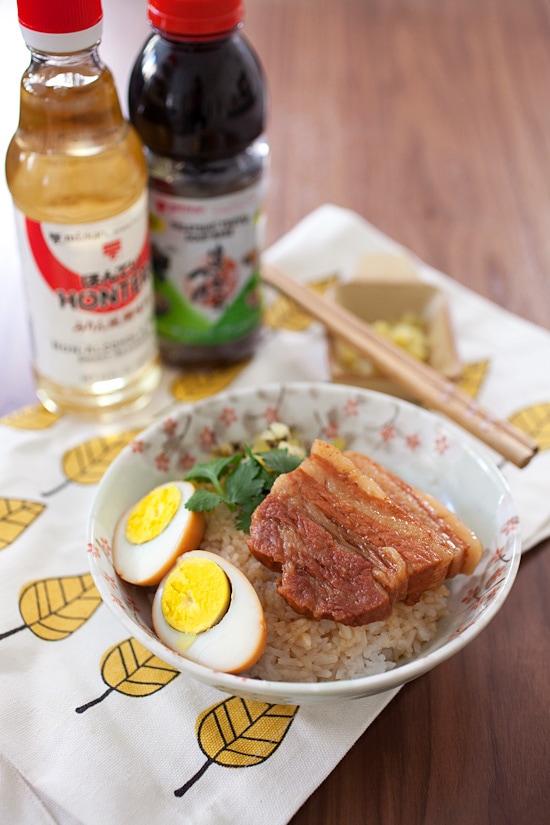 By using Mizkan Oigatsuo Tsuyu Bonito Flavored Soup Base (no MSG) as a soy sauce replacement, and the Mizkan Honteri Mirin as a sweetener, this Taiwanese braised pork belly is even more delicious than using regular soy sauce and sugar.
The taste is more refined and delicate, but still taste every bit Taiwanese. This Taiwanese braised pork belly rice was so good that Mr. Rasa Malaysia couldn't stop raving about it, and even my picky 3-year old finished his rice!
I can guarantee you that you will immediately fall in love with this Taiwanese braised pork belly recipe, should you try it yourself.
With a handful of key ingredients, plus easily found Mizkan sauces, you ought to try it out.
The best part of this recipe, you can also make the yummy braised soy sauce eggs which you serve together with this dish, so you're basically killing two birds with one stone. Sweet!
Other Recipes You Might Like
Complete Meal Plan
Click Here to Pin This Recipe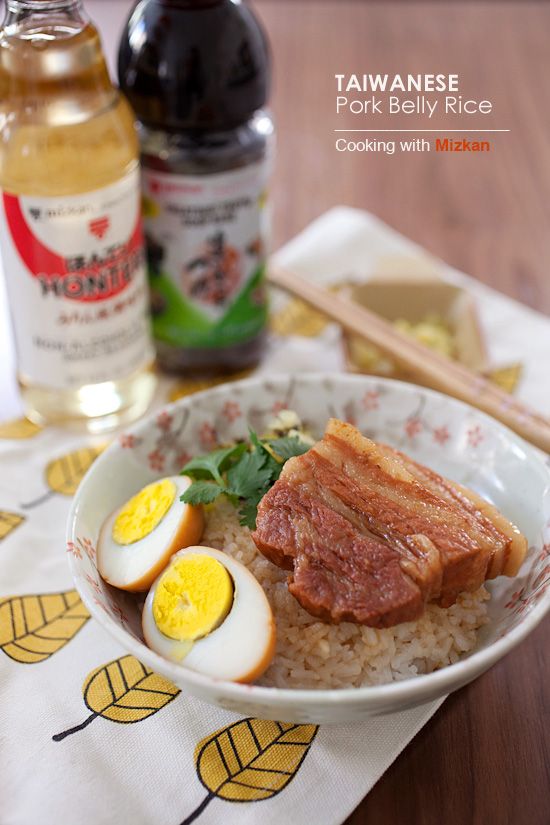 SUBSCRIBE AND NEVER MISS A RECIPE
SUBSCRIBE TO RASA MALAYSIA NEWSLETTER AND GET EASY AND DELICIOUS RECIPES DELIVERED TO YOUR INBOX. If you try my recipe, please use hashtag #rasamalaysia on social media so I can see your creations! Follow me on Facebook | Instagram | Pinterest | Twitter for new recipes, giveaways and more.
IMPORTANT:
All photos and recipes on Rasa Malaysia are copyright protected. Please do not use the photos and recipes without prior written permission. If you wish to republish this recipe, please rewrite the recipe in your own words instead of copy and paste and link back to //rasamalaysia.com/taiwanese-braised-pork-belly-rice/. Thank you very much!