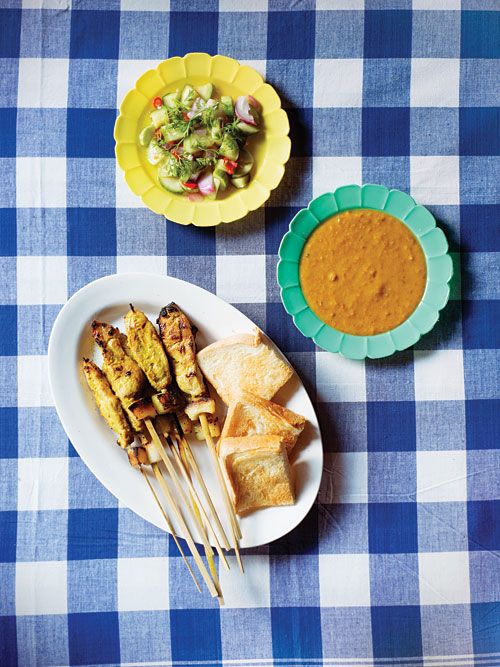 Muu Sateh (Thai Pork Satay). This recipe is from the famous chef Andy Ricker of Pok Pok fame.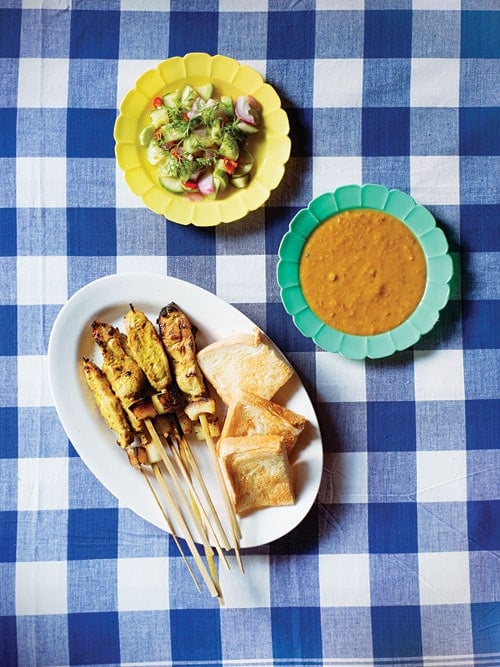 I'd been waiting anxiously for Andy Ricker's (of Pok Pok fame) cookbook—aptly named Pok Pok—for the longest time and finally it came out a couple of months ago.
My friend Austin at Austin Bush Photography is the photographer, and he told me about his gig way before anyone knew about it.
Austin is a good friend and I love his work, so Pok Pok—the book—is everything I have been waiting for.
Real Thai recipes, authentic, each with very clear description plus original food photography that is unlike regular cookbooks; they are real…the photos and the dishes look just like the way they are presented in Thailand, not some pretty-up-and-propped-up look in most cookbooks.
That to me, adds to the authenticity of the Pok Pok cookbook.
Anyway I am sharing the Pork Satay or Muu Sateh from the cookbook.
Enjoy!
"From its stranglehold on Thai menus in the US, you might assume that sateh occupies a place of eminence in Thailand.
Sure, there are vendors who are renowned for their renditions, but really sateh is just a street snack, one among hundreds.
Still, whoever was responsible for raising its profile among Americans is a genius.
We honkies love this stuff.
Tender meat soaked in a sweet coconut marinade—it's a no-brainer.
That's why I put it on Pok Pok's menu early on.
Yet now, if I had my druthers, I'd take it off.
It's not just that the slicing and skewering is time-consuming (not so much for the home cook, who doesn't have to produce several hundred per night).
It's the reality that if the words "peanut sauce" appear on the menu, you get people who want to order peanut sauce by the liter to dump on rice.
If I sound grumpy, it's because I'm tired of seeing people disrespect what I consider to be one of the greatest cuisines on earth.
Everyone likes hollandaise sauce, too, but you don't get people requesting it and dumping it on top of every dish you order at a good French bistro.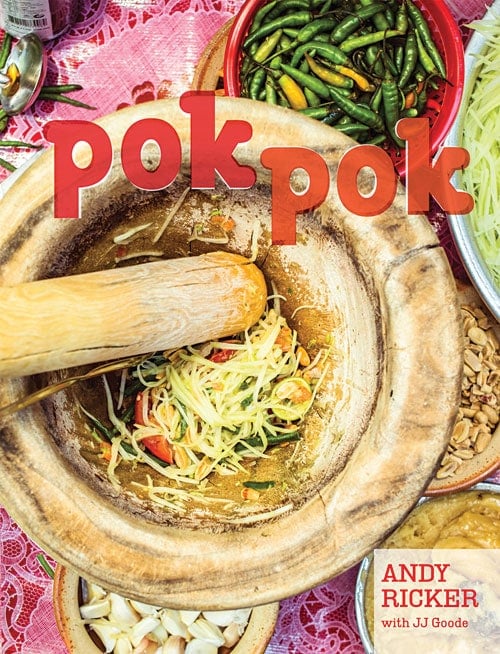 But what are you going to do?
Dishes like sateh, Kai Yaang, and Som Tam get people in the door—don't get me wrong, they're delicious too, and my hope is that along with these sure things, a slightly more challenging plate of Laap Meuang (page 106) or Jin Hoom (page 154) finds its way into the mix.
Despite its near-omnipresence on Thai menus in the US, sateh (or "satay," in the common English spelling) is still a bit of a mystery.
Its origins are, like so many dishes, lost to time, though David Thompson, a dogged researcher, has attempted to trace its spread through Southeast Asia, identifying Middle Eastern immigrants, primarily Muslims, as its likely source.
To further complicate matters, in Thailand it almost goes without saying that sateh is made from pork (muu)—a no-no for Muslims and probably a surprise to anyone who's eaten sateh only in the States, where chicken breast rules the roost.
You'll find sateh on the streets where, even in Thailand-in-April levels of heat, vendors tend to vast rows of skewers grilling over a trough of glowing coals.
I like to watch them turning the skewers with their fingers and sometimes using scissors to trim off blackened bits a strange sight to any lover of char.
The strips of meat on these skewers, by the way, tend to be twice as narrow and twice as short as those at Pok Pok.
Making them as small as they are in Thailand is a major pain and would essentially double their labor cost.
You'll see sateh, too, at restaurants that specialize in Khao Soi or khao man kai, the Hainanese-Thai masterpiece of boiled chicken and rice.
Typically, on the table alongside the skewers, you'll find the familiar cucumber relish and peanut sauce, plus the perhaps-not-so-familiar pieces of grilled white bread.
At Pok Pok, I figured that if we were going to do muu sateh, troublesome as it might be, we're going to do it well.
Our version has been gradually changing since the beginning.
All the recipes at Pok Pok begin with some skeletal grasp of a dish, which evolves as my understanding does.
After one particularly intense sateh-sampling spree, from Bangkok to Chiang Mai to Lampang, I decided the version I'd been thrilled with for years was actually lacking something.
I upped the sweetness and the galangal, I scaled back on coriander, I tweaked and tweaked until I was incrementally happier.
I'd guess that, in total, the marinade took two years of refining to achieve, the peanut sauce three.
All that effort and I'm not sure anyone notices but me.
And I still hear the same grumbles about how it's not spicy enough.
Guess what? It's not supposed to be."
SUBSCRIBE AND GET NEW RECIPES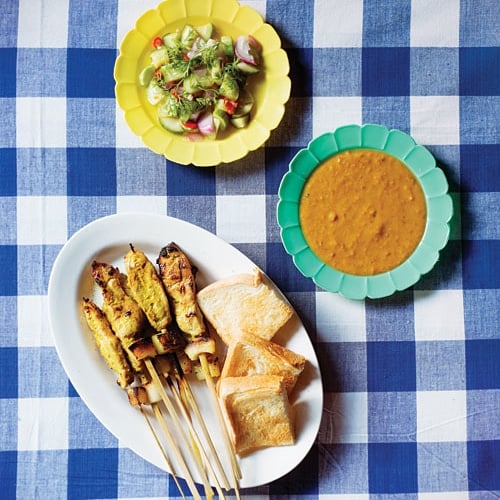 Muu Sateh Recipe (Pork Satay)
Muu Sateh (Thai Pork Satay). This recipe is from the famous chef Andy Ricker of Pok Pok fame.
Reprinted with permission from Pok Pok by Andy Ricker with J.J. Goode , copyright © 2013.
Published by Ten Speed Press, a division of Random House, Inc.
Photography credit: Austin Bush © 2013
Ingredients
SPECIAL EQUIPMENT
36

wood skewers, 8 inches or so each, soaked in tepid water for 30 minutes

A Thai granite mortar and pestle

A charcoal grill, highly recommended, grates oiled
MEAT
1

6-ounce piece pork back fat (highly recommended but optional)

2

pounds

boneless pork loin, cut into strips that are approximately 3 inches long, 1 inch wide, and 1/4 inch thick
MARINADE
11/2

teaspoons

coriander seeds

Very small pinch cumin seeds

1

teaspoon

kosher salt, plus extra for seasoning the skewers

14

grams

thinly sliced lemongrass, tender parts only, from about 2 large stalks

1

14-gram piece peeled fresh or frozen (not defrosted) galangal, thinly sliced against grain

1

14-gram piece peeled fresh or frozen (not defrosted) yellow turmeric root, thinly sliced against grain

2

tablespoons

granulated sugar

6

tablespoons

sweetened condensed milk, preferably Black & White or Longevity brand

1/2

teaspoon

ground white pepper

1

cup

unsweetened coconut milk, boxed

preferably
TO SERVE ALONGSIDE
About 11/2 cups Naam Jim Sateh, Peanut sauce, page 281

About 11/2 cups Ajaat, Cucumber relish, page 283

About 6 thick slices Pullman or other thick-cut white bread, lightly grilled or toasted, then quartered
Instructions
MAKE THE SKEWERS
Put the fat in a small pot, add just enough water to cover, and set the pot over high heat. Bring the water to a rolling simmer, decrease the heat to maintain it, and cook until the opaque white fat has turned slightly translucent, about 5 minutes. Drain the fat, discarding the water, and cut it into approximately 3/4-inch squares that are about 1/4 inch thick.

Skewer one fat cube per skewer (discard any extras), pushing the cubes down to about 4 inches from the tip. Weave one skewer through the center of each strip of pork, exiting and entering several times, so the strip is fixed firmly to it and ends just below the tip of the skewer.
MAKE THE MARINADE
Combine the coriander and cumin in a small pan, set the pan over medium-low heat, and cook, stirring and tossing often, until the spices are very fragrant and the coriander seeds turn a shade or two darker, about 8 minutes. Let the spices cool slightly and pound them in a granite mortar (or grind them in a spice grinder) to a coarse powder. Combine the spice powder, condensed milk, lemongrass, galangal, turmeric, sugar, salt, pepper, and all but a few tablespoons of the coconut milk in a blender. Blend until smooth, then pour the marinade into a container, preferably a deep, narrow one. Swish the remaining coconut milk in the blender and pour it into the container.
MARINATE THE PORK
Add the skewers to the container with the marinade so that the meat (not necessarily the fat) is submerged in the marinade. Let it sit for at least 30 minutes or up to 1 hour while you prepare the grill.
COOK THE PORK
Prepare a grill, preferably charcoal, to cook over medium-high to high heat (see page 124). Or preheat a lightly oiled, large flat griddle over medium-high heat. Remove the skewers from the marinade, letting any excess drip back into the container. Season both sides of the pork with salt and cook in batches, if necessary, turning the skewers over once and moving them around to contain flare-ups, until the pork is just cooked through and the outsides are as charred as you like them, 3 to 6 minutes total.

Serve them right away (or cover loosely with foil for up to 15 minutes after grilling) alongside the peanut sauce, cucumber relish, and bread.
Recipe Notes
Up to 1 day in advance: Make the cucumber relish and skewer the pork 1 hour before: Marinate the pork
Nutrition Facts
Muu Sateh Recipe (Pork Satay)
Amount Per Serving (30 people)
Calories 74
Calories from Fat 27
% Daily Value*
Total Fat 3g 5%
Cholesterol 20mg 7%
Sodium 98mg 4%
Potassium 152mg 4%
Total Carbohydrates 3g 1%
Protein 7g 14%
* Percent Daily Values are based on a 2000 calorie diet.
Click Here to Pin This Recipe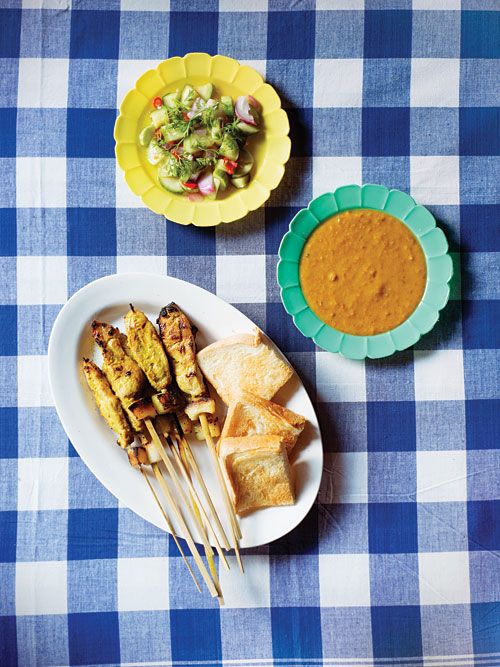 If you try my recipe, please use hashtag #rasamalaysia on social media so I can see your creations! Follow me on Facebook | Instagram | Pinterest | Twitter for new recipes, giveaways and more.