Kitsune Udon - easy to make, this hearty Japanese udon noodle recipe features a dashi soup that is topped with delicious deep-fried tofu.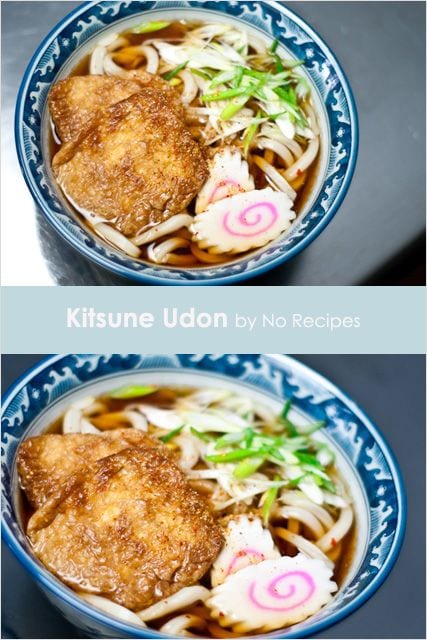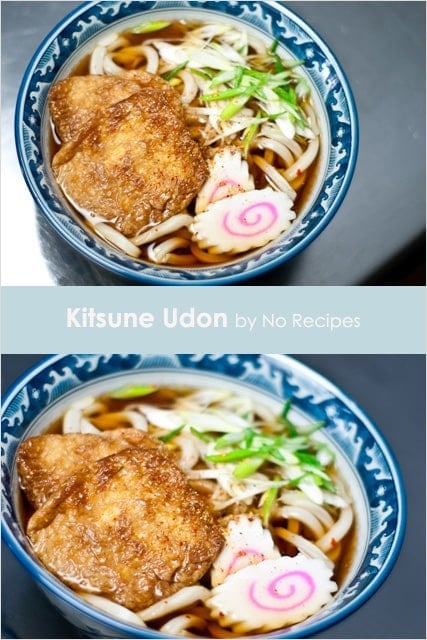 The Best Kitsune Udon
Kitsune Udon is a Japanese soul food, featuring a hot dashi soup with udon noodles with aburaage in a sweet and salty sauce on top.
The term dashi refers to a whole family of stocks which are mostly seafood, using umami-rich ingredients such as kezurikatsuo, niboshi, kombu and even shiitake mushrooms.
Aburaage, fried thin tofu, maintains a taste of soy sauce and sugar, as you may know from this dish and also in Inarizushi.
Together, they create a hearty soup that is sure to be filling and delicious.
Ingredients for Udon
Kezurikatsuo, bonito shavings
Niboshi
Soy sauce
Mirin
Abura-age
Udon noodles
Dashi
Scallions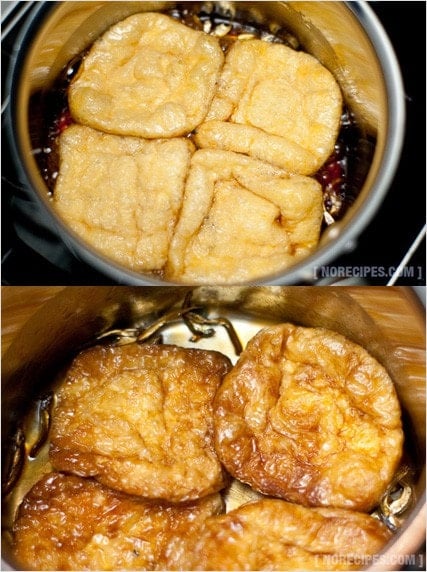 Frequently Asked Questions
Why Is It Called Kitsune Udon?
Kitsune literary means 'fox' in Japanese. It's thought to relate to old Japanese folktales, where foxes love to eat aburaage.
What Can I Add to Udon Noodles?
If necessary, you can add almost any vegetable to the dish. Think cabbage, spinach, eggs, carrots, etc.
How Many Calories?
This recipe has 290 calories per serving.
What Dishes to Serve with This Recipe?
This dish is best served as the entree. For a wholesome Japanese meal and easy weeknight dinner, I recommend the following recipes.
For more great recipes like this, sign up for our newsletter. We'll send daily recipes you'll love!
Join
Sign up for our newsletter!
Kitsune Udon
Japanese udon and udon recipe plus how to make kitsune udon and dashi. Learn how to make Japanese udon with this step-by-step udon recipe. With pictures.
Ingredients
Dashi:
4 1/2

cup

water

1/4

cup

loosely packed kezurikatsuo

(shaved bonito)

3

piece

dried dashi kombu

(optional)
Abura-age:
Instructions
Bring the water to a boil in a pot. Once it boils, turn the heat down to maintain a gentle simmer (boiling makes the stock cloudy). Put the kezurikatsuo into a disposable tea bag, or wrap it in cheese cloth and tie the top.
For the dashi:
Drop the satchel in the water along with the kombu if you are using it. You can also just put the kezurikatsuo straight into the water and strain it when the stock is done. Let this steep for about 15 minutes, then discard the tea bag, or strain the stock into another pot and discard the solids.
For the Abura-age:
Add everything except the abura age into a small pot and bring to a boil. Once the sugar has dissolved, add the abura-age and simmer, flip several times until most of the liquid is absorbed and the abura-age is a deep brown color.

Transfer from the pot to a small bowl and allow it to cool a bit. When it's cool enough to handle, press out some of the excess liquid. You don't want to squeeze all the liquid out, just enough to keep it from being salty.

Boil a large pot of water and boil the udon for the length of time specified on the package. If the instructions are in Japanese, click here to figure out how long you should boil it for.

Make sure the noodles are al dente, as they will be sitting in a bowl of hot broth, and you don't want them to go soggy before you're done eating them. When they're done, rinse them under cold water to stop the cooking.

To finish it all off, put the dashi, soy sauce, mirin and sugar into a pot and heat until it comes to a simmer. Taste it and add salt if you feel like it needs more. Add the noodles to heat through, then divide them into two bowls.

Top with the seasoned abura-age, scallions and naruto then pour the broth over everything. For a little extra color and kick, you can serve this with shichimi togarashi (Japanese 7 spice chili flakes).
Nutrition

Nutrition Facts

Kitsune Udon

Amount Per Serving (2 people)

Calories 290

Calories from Fat 441

% Daily Value*

Fat 49g75%

Cholesterol 180mg60%

Sodium 5009mg218%

Carbohydrates 89g30%

Protein 119g238%

* Percent Daily Values are based on a 2000 calorie diet.

Notice: Nutrition is auto-calculated, using Spoonacular, for your convenience. Where relevant, we recommend using your own nutrition calculations.