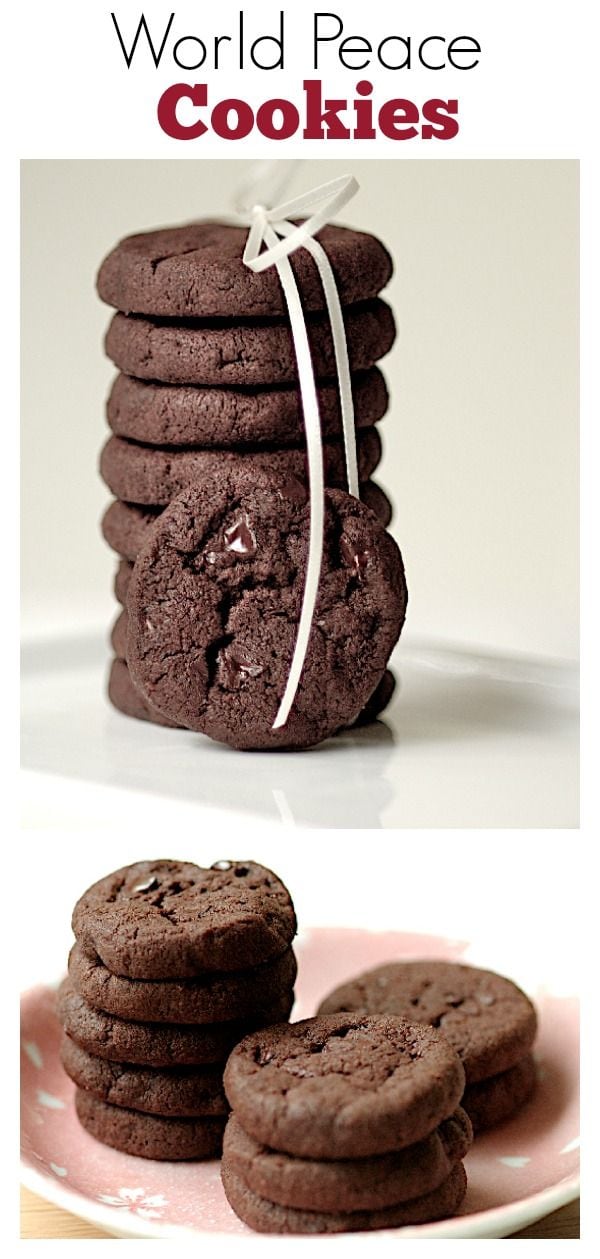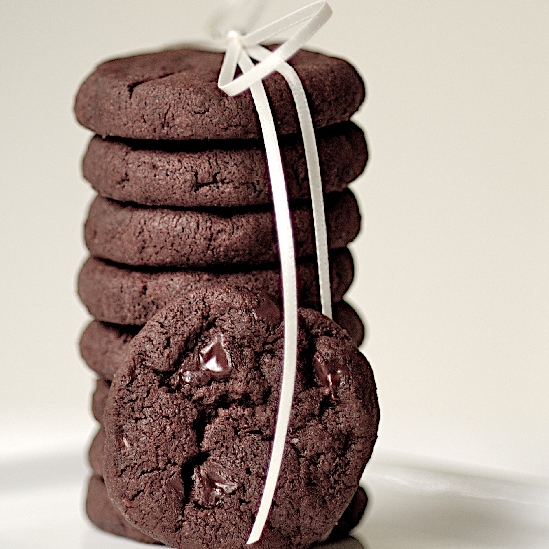 World Peace Cookies
Dorie Greenspan's World Peace Cookies – loaded with chocolate and oh-so-good you will want these for holidays this year
Ingredients:
1¼ cups (175 grams) all-purpose flour
1/3 cup (30 grams) unsweetened cocoa powder
½ teaspoon baking soda
1 stick plus 3 tablespoons (11 tablespoons or 150 grams) unsalted butter, at room temperature
2/3cup (120 grams) (packed) light brown sugar
¼ cup (50 grams) sugar
½ teaspoon fleur de sel or 1/4 teaspoon fine sea salt
1 teaspoon vanilla extract
5 ounces (150 grams) bittersweet chocolate, chopped into chips, or a generous ¾ up store-bought mini chocolate chips
Method:
Make the cookie dough:
Sift the flour, cocoa and baking soda together. Working with a stand mixer, preferably fitted with a paddle attachment, or with a hand mixer in a large bowl, beat the butter on medium speed until soft and creamy.
Add both sugars, the salt and vanilla extract and beat for 2 minutes more.
Turn off the mixer. Pour in the flour. Drape a kitchen towel over the stand mixer to protect yourself and your kitchen from flying flour and pulse the mixer at low speed about 5 times, a second or two each time.
Take a peek — if there is still a lot of flour on the surface of the dough, pulse a couple of times more; if not, remove the towel.
Continuing at low speed, mix for about 30 seconds more, just until the flour disappears into the dough — for the best texture, work the dough as little as possible once the flour is added, and don't be concerned if the dough looks a little crumbly.
Toss in the chocolate pieces and mix only to incorporate.
Turn the dough out onto a work surface, gather it together and divide it in half. Working with one half at a time, shape the dough into logs that are 1½ inches in diameter.
Wrap the logs in plastic wrap and refrigerate them for at least 3 hours. (The dough can be refrigerated for up to 3 days or frozen for up to 2 months.
If you've frozen the dough, you needn't defrost it before baking — just slice the logs into cookies and bake the cookies 1 minute longer.)
Getting ready to bake:
Center a rack in the oven and preheat the oven to 325°F (160°C). Line two baking sheets with parchment or silicone mats.
Working with a sharp thin knife, slice the logs into rounds that are 1/2 inch thick. (The rounds are likely to crack as you're cutting them — don't be concerned, just squeeze the bits back onto each cookie.) Arrange the rounds on the baking sheets, leaving about one inch between them.
Bake the cookies one sheet at a time for 12 minutes — they won't look done, nor will they be firm, but that's just the way they should be.
Transfer the baking sheet to a cooling rack and let the cookies rest until they are only just warm, at which point you can serve them or let them reach room temperature.
Serving:
The cookies can be eaten when they are warm or at room temperature — Doris prefers them at room temperature, when the textural difference between the crumbly cookie and the chocolate bits is greatest — and are best suited to cold milk or hot coffee.
Storing:
Packed airtight, cookies will keep at room temperature for up to 3 days; they can be frozen for up to 2 months. They can also be frozen in log form for months, and can be sliced and baked directly from the freezer, adding a few minutes to the baking time.
Tips:
If you find it difficult to shape the dough into a log, do it between a piece of parchment paper. To avoid very crumbly cookie dough when slicing, ensure that the butter is soft at room temperature before mixing, the chocolate chunks are small and the dough cold but not freezing.
Let it rest on the counter for 5 to 15 minutes after being removed from the fridge or freezer. To avoid spreading cookies, chill the tray of sliced cookie dough for 5 to 10 minutes before baking.
If the log breaks while cutting, just rearrange the crumbs and press them together again to form a round cookie.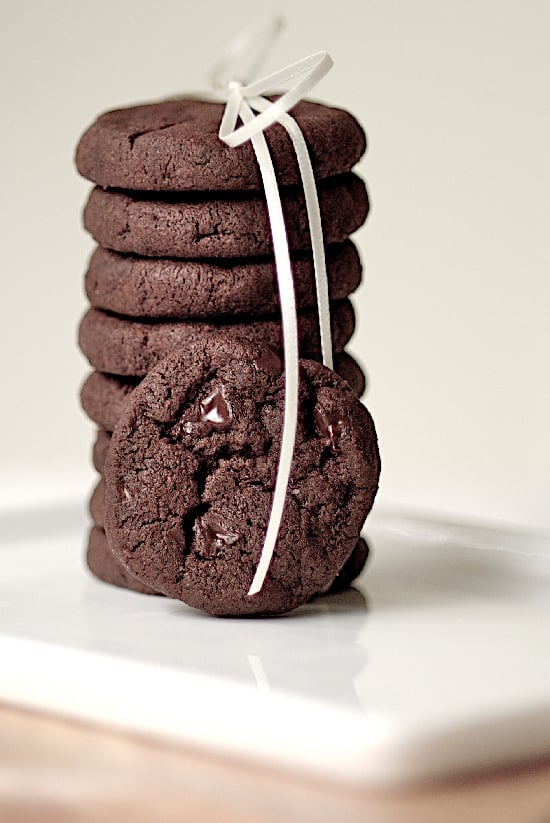 By now, you should know that I am not a very good baker, even though I actually enjoy baking.
There is a challenging baking recipe in my upcoming cookbook and I couldn't get a consistent result and Pick Yin, a fellow Malaysian, came to my rescue and that's how I discovered Life is Great, a blog about all the good things in life: food, traveling, cooking, and baking.
Please welcome Pick Yin to Rasa Malaysia as she presents us the World Peace Cookies by Dorie Greenspan. If you are doing last-minute baking for the upcoming Lunar New Year, this is a great recipe to try.
I am honored when Bee presented Life is Great the opportunity to share a recipe here at Rasa Malaysia.
Her authentic Penang Char Kuey Teow was the first recipe I tried and savoring the dish brought back memories of our delish holiday at the food haven island.
This month it is baking frenzy time at our kitchen. Chinese around the world will be celebrating the Lunar New Year in about 1 week when families and friends gather for good times filled with love, laughter and of course, food.
This year I plan to make Bee's pineapple tarts and some Dragon cookies to usher in the year of Rabbit but before that, something chocolate is required to fill our cookie jar…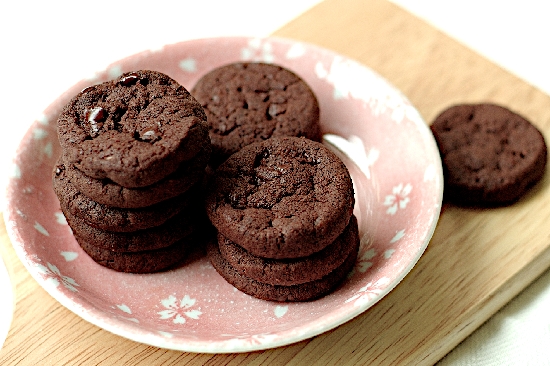 Dorie Greenspan originally called these Korova Cookies (Sablés Korova) in her dainty Paris Sweets cookbook, the name referring to the restaurant where Pierre Hermé created these dark treasures.
She then changed the name to World Peace Cookies in her famed Baking: From My Home to Yours after her neighbor, Richard Gold, pointed out that constant offerings of these cookies will surely bring out all senses of goodwill and joy in us.
This is provided we don't all turn into cookie monsters after the first bite and resort to fighting over the last cookie. If you're a chocolate and cookie lover, I highly recommend stashing the batch of your cooled cookies into the deepest abyss of your freezer and blocking the access with your meats, fish and ice cream tubs. Why, you may ask.
I licked clean the paddle of my Kitchen Aid. While slicing the cookie log I had to will myself not to eat up all the crumbs else there would be not much cookies left to bake. I ate three for testing after baking each tray.
After swallowing the first one my other half Vijay told me matter-of-factly that we don't have enough and warned me to keep watch on those cooling racks because he couldn't promise he won't steal. Making them smaller didn't help – we ate five to six each time the jar is invaded.
I almost didn't bring some to work for sharing – I counted how many while packing.
It's difficult to resist these soft, melt-in-your-mouth and intensely flavored sablés. The fleur de sel not only allow the chocolate and cocoa perform their best but occasionally explodes in your mouth like little salty dynamites, balancing all that sugar. Now there is less than ten cookies left in our big jar and I'm busy scheming on how to fit another two batches into my pineapple tart baking schedule this weekend.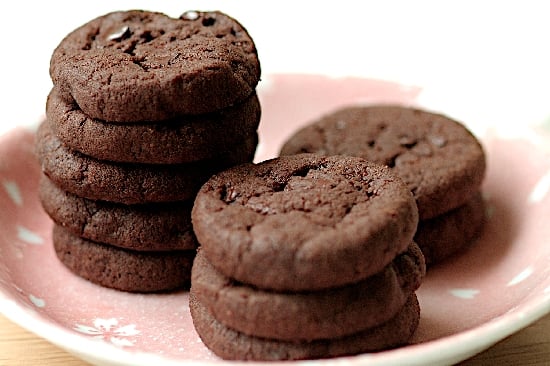 I hope you will bake this too and rest assured, if you're baking to celebrate the Bunny Year like me, these international peacemakers will not compete with the rest of your Chinese New Year cookies.
They may be long gone from the tidbits table before you can utter Gong Xi Fa Cai!
Click Here to Pin This Recipe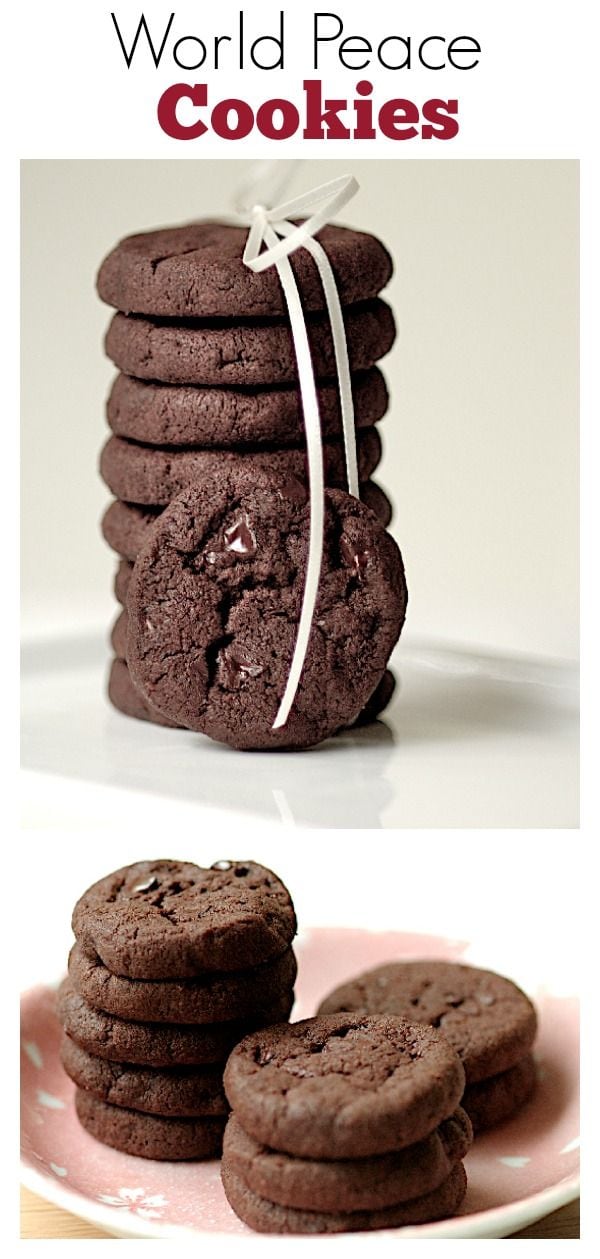 SUBSCRIBE AND NEVER MISS A RECIPE
SUBSCRIBE TO RASA MALAYSIA NEWSLETTER AND GET EASY AND DELICIOUS RECIPES DELIVERED TO YOUR INBOX. If you try my recipe, please use hashtag #rasamalaysia on social media so I can see your creations! Follow me on Facebook | Instagram | Pinterest | Twitter for new recipes, giveaways and more.