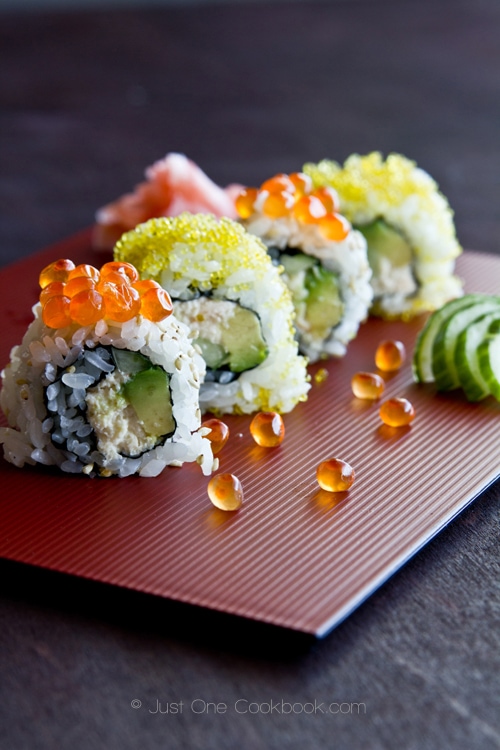 California Roll Recipe
Difficulty: Moderate | Cooking Time: 45 minutes | Yield: 9 rolls
Ingredients:
9 cups prepared Sushi Rice (3 cups uncooked Japanese rice)
2 (6oz/170g) cans crab meat
8 Tbsp. (½ cup) Japanese mayonnaise
½ English cucumbers
2 avocados
½ lemon for avocado (optional)
9 nori sheets
¼ cup white sesame seeds
For garnish, I used ikura (salmon roe), tobiko (flying fish roe), pickled sushi ginger, and wasabi.
You will need:
Bamboo mat
Saran wrap
Tezu (dipping water)
¼ cup water
2 tsp. vinegar
Very sharp knife
Method:
I. Prep
1. Crab meat: drain the water well from canned crab meat and put it in a medium bowl. Add Japanese mayonnaise and mix well. Set aside.
2. Cucumber: place the cucumber next to the nori sheet and cut off the edge of cucumber so the length of cucumber is same as the width of nori sheet. Peel the cucumbers, leaving some skin like stripe pattern for looks and texture, and cut into long thin strip. Set aside.
3. Avocado: peel and cut avocado into quarter-inch slices. You can squeeze some fresh lemon juice on the cut avocados to prevent them from turning brown (optional).
4. Nori: cut 1/3 from each sheet of nori – we will only use 2/3 sheet of nori. Keep both 1/3 and 2/3 nori sheets in a Ziploc bag so they won't become stale.
5. Wrap the bamboo mat with a large piece of saran wrap and prepare Tezu (dipping water) in a small bowl.
II: Roll Sushi
1. Lay one piece of nori sheet on top of the bamboo mat, shiny side down.
Put about a cup of sushi rice on the top of nori sheet (just enough to thinly cover the nori sheet and it's okay to have some small gaps).
Dip your fingers in Tezu and start distributing the rice toward the bottom of nori sheet.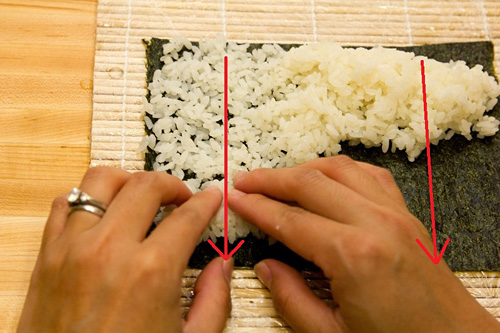 2. Sprinkle sesame seeds over the rice.  You can also put tobiko instead of sesame seeds.
3. Flip nori sheet with rice side down and line it at the bottom end of the bamboo mat.  Lay a strip of cucumber, spread crab meat, and lay avocado slices on top.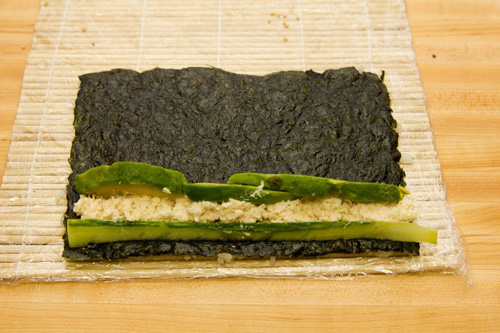 4. Use the bamboo mat to roll the bottom edge of the nori sheet over the filling. Tuck the filling in firmly.

5. Lift the edge of the bamboo sheet and roll it forward while keeping gentle pressure on the bamboo sheet.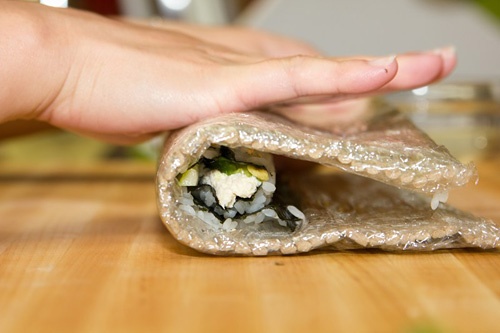 6. Take the roll out of the bamboo mat, and with a very sharp knife cut each roll in half and then cut each half into 3 pieces.  Keep wiping the knife with a damp towel after a few slices.  If there is too much rice stuck to the knife, then resulting slices won't look nice.
7. You can use the left over 1/3 of nori sheet to make Ikura Sushi.  Cut the nori sheet into half lengthwise.  Make small balls with sushi rice and wrap it with nori sheet.  Place ikura on top.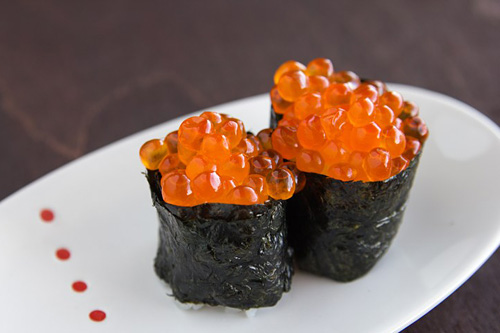 8. Serve sushi with wasabi and picked sushi ginger.  You can also garnish with the leftover ikura.
Most-Pinned Recipes
Ginger Garlic Baked Chicken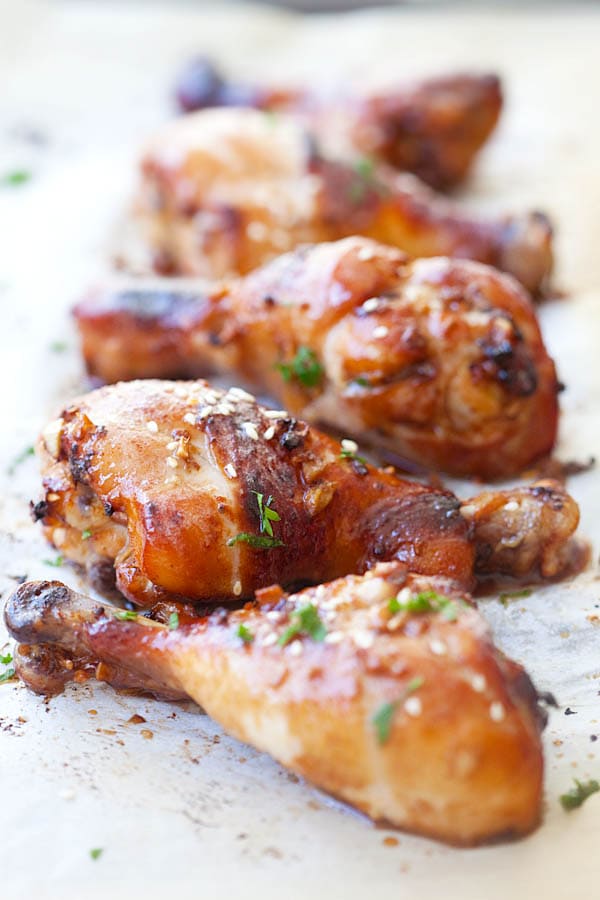 Crab Rangoon (Cream Cheese Wontons)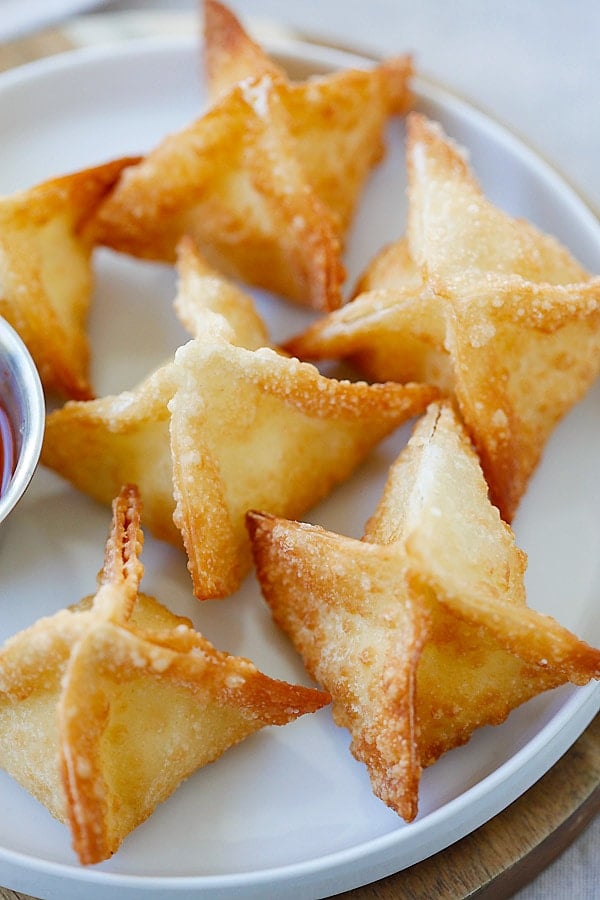 Chicken Wontons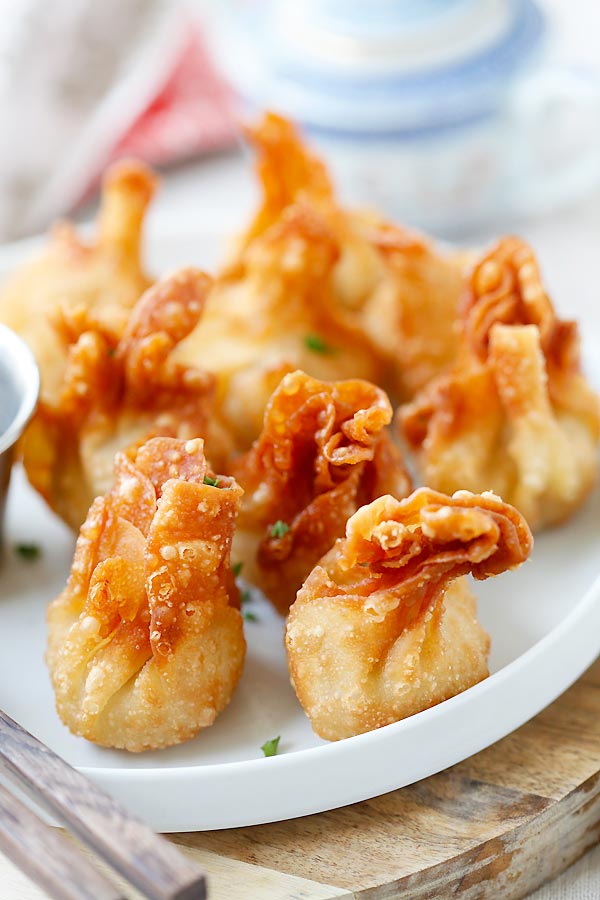 Onion Scallion Beef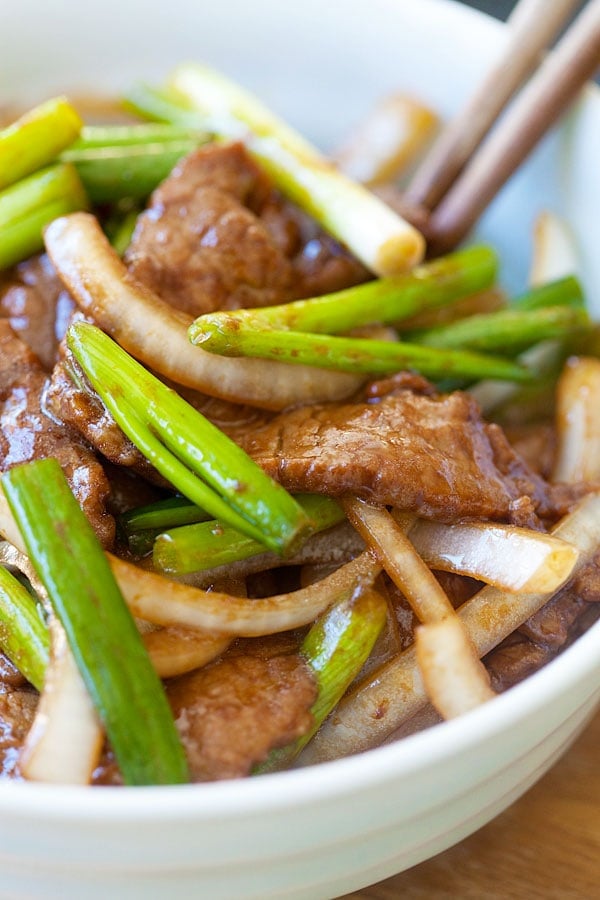 Thai Chicken Sate with Peanut Sauce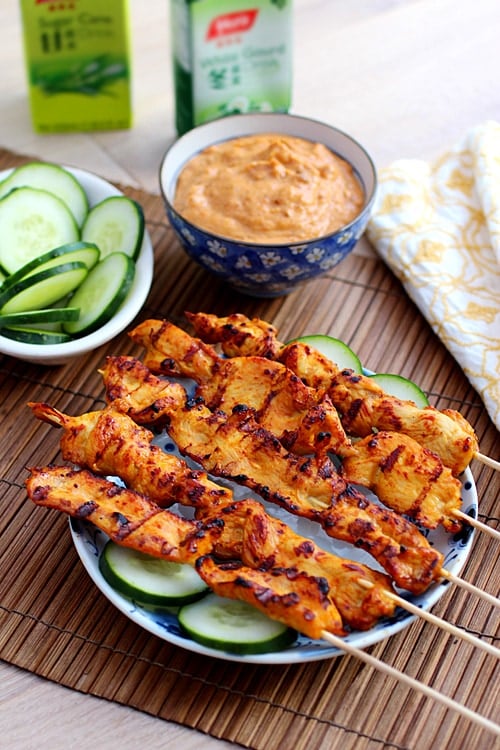 Thai Peanut Sauce