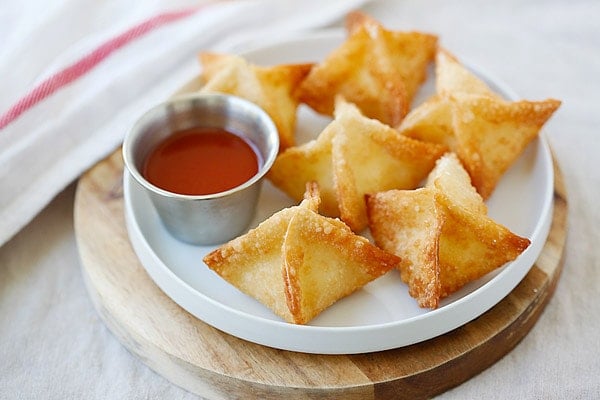 Crab Rangoon Recipe
The best, easiest & super crispy crab rangoon or cream cheese wonton recipe EVER. Quick, fool-proof, a zillion times better than Chinese takeout | rasamalaysia.com
Makes 20
Prep Time: | Cook Time: | Total Time:
Ingredients:
1 brick (8 oz) Kraft Philadelphia Regular Cream Cheese, at room temperature
2 oz crab meat or 2 sticks imitation crab meat (finely diced)
1 tablespoon powdered sugar
Pinch of salt
20 wonton wrappers
Oil, for deep frying
Method:
Mix all the cream cheese, crab meat, sugar, and salt in a bowl. Stir to blend well. Place about 1 tablespoon of the cream cheese filling in the middle of a wonton wrapper. Dab some water on the outer edges of the wonton wrapper and fold the two ends of the wrapper together. Fold the other two ends to make a tiny parcel pictured below.  Pinch to seal tight and make sure that there is no leakage.
Heat up a pot of oil for deep-frying and fry the crab rangoon until golden brown. Dish out with a strainer or slotted spoon, draining the excess oil by laying the crab rangoon on a dish lined with paper towels. Let the crab rangoon cools down a bit before serving them with sweet and sour sauce.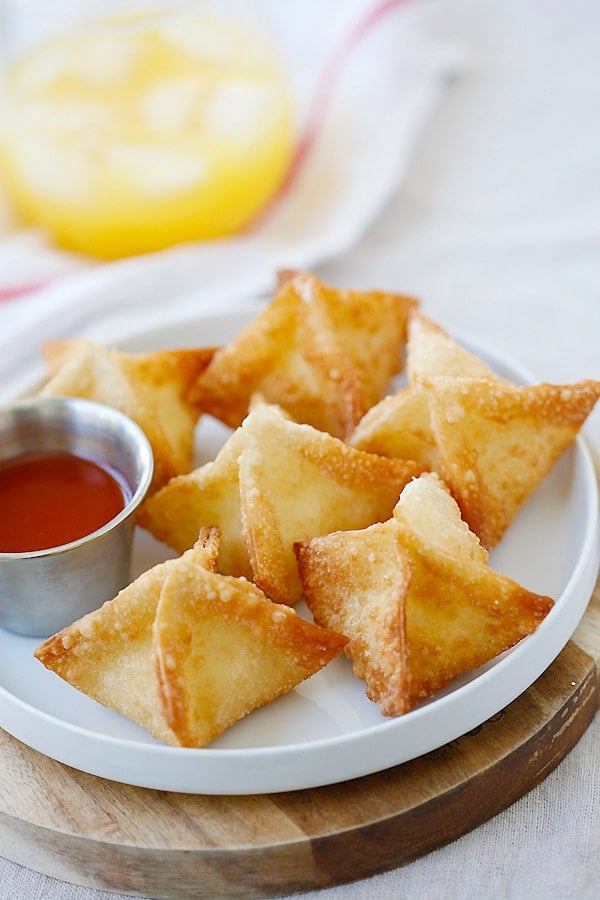 Crab Rangoon
Crab Rangoon – BEST and EASIEST crab rangoon recipe with cream cheese and wonton wrapper. Quick, fool-proof and MUCH better than Chinese takeout!!
Originally published June 12, 2011. Updated with new photos.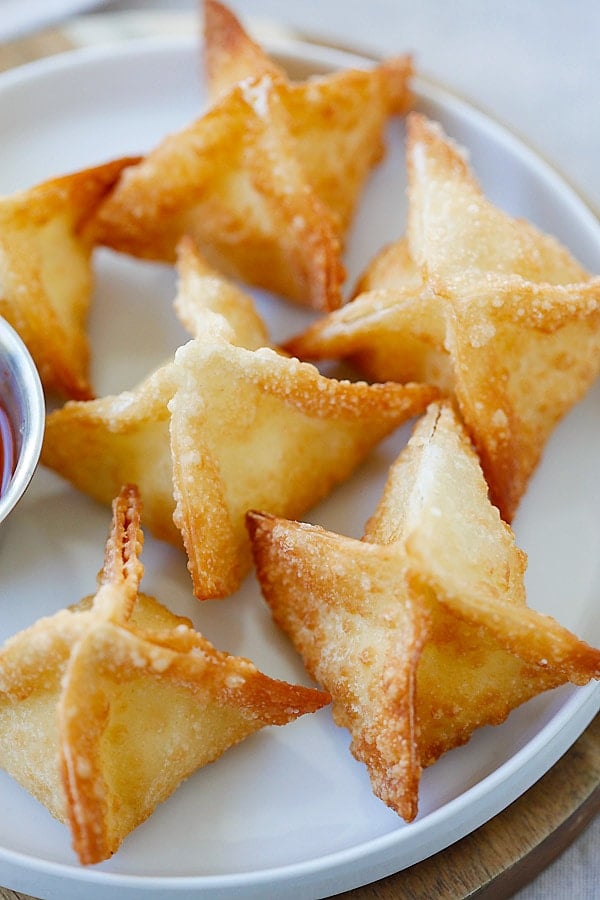 Crab Rangoon is an appetizer found in many Chinese restaurants in the United States. A classic American creation, crab rangoon is basically cream cheese wontons with tiny bits of crab meat, deep-fried to golden perfection.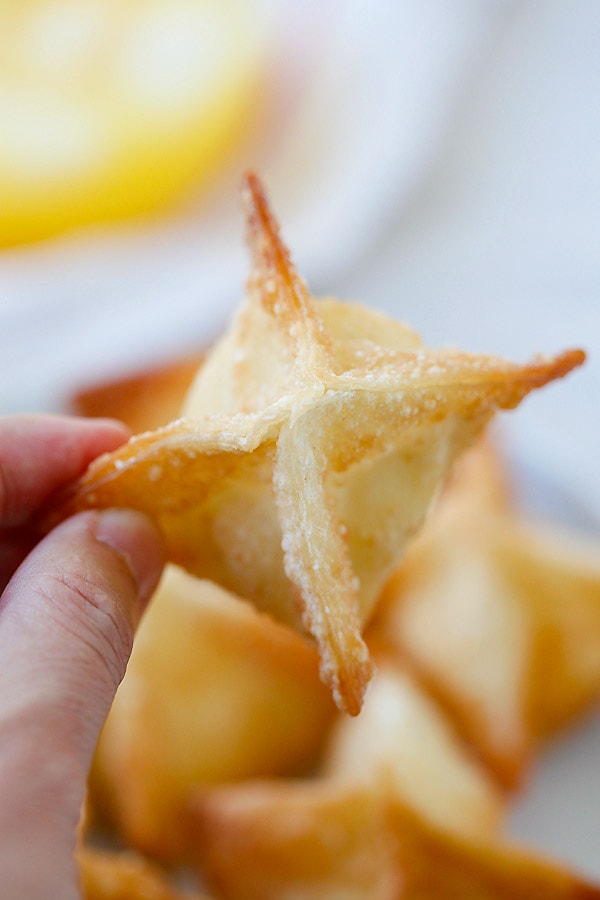 I first encountered Crab Rangoon at a Chinese restaurant in the Midwest, when I was pursuing my Master's Degree. The restaurant serves typical American-Chinese fare; the daily all-you-can-eat buffet is a huge hit with the lunch crowd. Crab rangoon is one of the items on the buffet menu, other than the regular sweet and sour pork, fried rice, chow mein, etc. As a poor international student who love Chinese recipes, having Chinese all-you-can-eat-buffet was the most anticipated event during the weekends.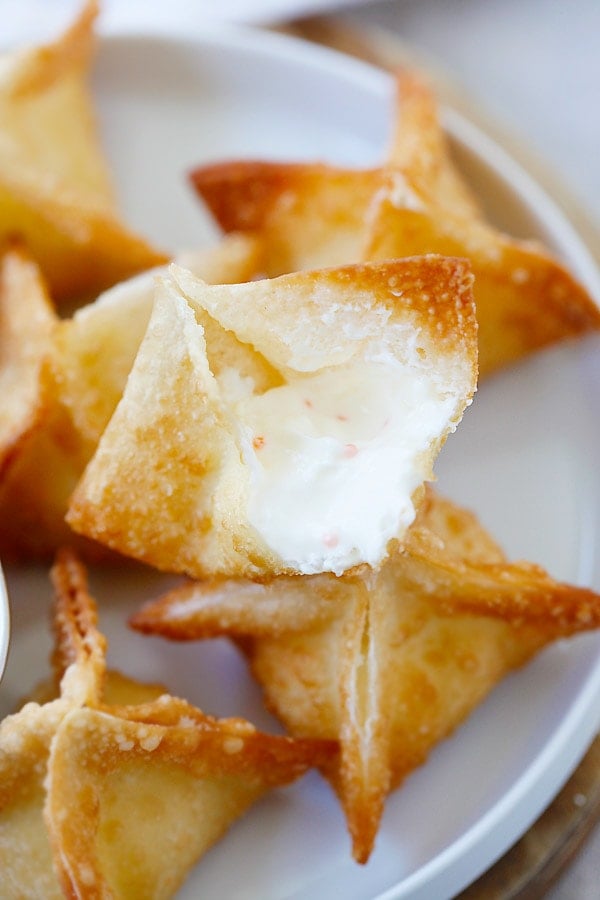 Most recently, I came across crab rangoon in a Thai restaurant here in Orange County and it immediately transported me back to my college days in the Midwest.  Here is my crab rangoon recipe, based on the taste memory from many years ago. Enjoy!
Rate This

Recipe Name

Crab Rangoon (Cream Cheese Wontons)

Preparation Time

Cook Time

Total Time

Average Rating


Based on 4 Review(s)