Kung Pao Chicken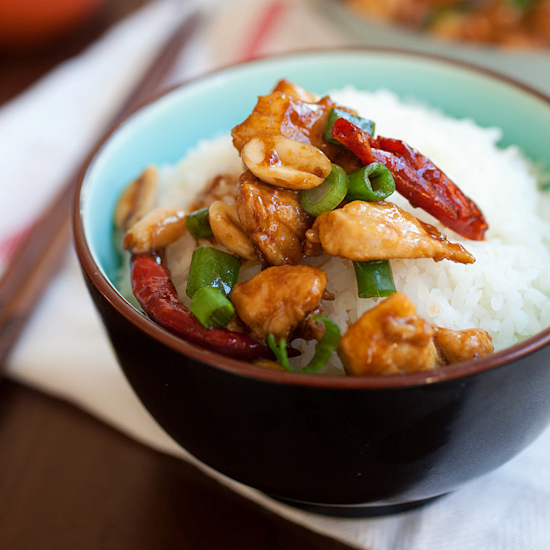 http://rasamalaysia.com/kung-pao-chicken/
This Kung Pao Chicken recipe was originally posted on Nov 18, 2007. Updated with new photos.
Today, I am sharing with you a popular Chinese recipe that is well-loved by many in the United States and all over the world—the famous Chinese Kung Pao Chicken (宫保鸡丁).
Kung Pao is a cooking technique originated from the Sichuan province of China; the authentic Sichuan Kung Pao Chicken (宫保鸡丁) or Gong Bao Ji Ding calls for the staple Sichuan peppercorn for the numbing flavor, however, the version popular outside of Sichuan has since been adapted to many regional variations. For examples: in Malaysia, Kung Pao chicken is served without peanuts, but sometimes cashew nuts are used; in Thailand, fish sauce and sweet soy sauce are used to flavor a similar dish. However, the Kung Pao chicken we get in 90% of so-called Chinese restaurants in the United States is the heavily Americanized version that appears gooey, greasy, and sweet. You will also find all kinds of vegetables in the dish such as carrots, water chestnuts, celery, zucchini, and even broccoli.
I tried to keep my Kung Pao Chicken recipe as authentic as possible, but feel free to tone down the quantity of dried chilies as you wish. I wanted to share the secret ingredient of Kung Pao chicken, which is vinegar in the sauce. It gives that subtle yet characteristic touch to complete the Kung Pao flavor.
If you like this Kung Pao Chicken recipe and Chinese recipes, you might also like the following recipes on Rasa Malaysia:
Other popular Chinese recipes: Broccoli Beef, Sweet and Sour Pork, Egg Drop Soup, Kung Pao Chicken, Chow Mein, Fried Rice, Orange Chicken, Mongolian Beef, General Tso's Chicken, Honey Walnut Shrimp, Lettuce Wraps, and more.
CHINESE RECIPES: POPULAR & ALL-TIME FAVORITES
Sign Up for Email Updates
Enter your email for new updates: recipes, giveaways, and more!