Assam Pedas Fish Recipe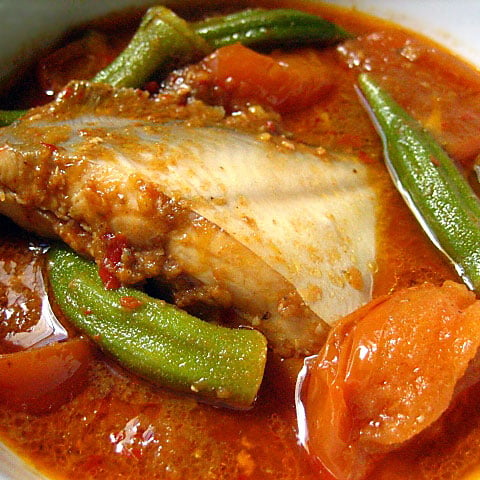 http://rasamalaysia.com/recipe-assam-pedas-fish/
Assam Pedas, or literally "sour spicy," is a classic Malaysian dish. Ask any home cooks in Malaysia–Malay, Chinese, or Indian–and you are bound to get various recipes for Assam Pedas. Everyone has their own interpretation for this favorite dish and there are endless adaptations; suffice it to say, it's sour, fiery hot, and tastes extraordinarily satisfying…
When I made my sambal for nasi lemak last weekend, I made a point to prepare some extra spice paste for this Assam Pedas dish. While traditional Assam Pedas calls for ikan tenggiri (Spanish mackerel) or ikan pari (stingray), I used pomfret instead. (In the United States, even in California, it's almost impossible to find fish commonly found in Malaysia.) I love pomfret and it's a good substitute for Assam Pedas.
Much like nasi lemak, if you haven't tried Assam Pedas, it's very hard to describe just how wonderful this is. I hope my pictures and recipe do it justice.
Sign Up for Email Updates
Enter your email for new updates: recipes, giveaways, and more!