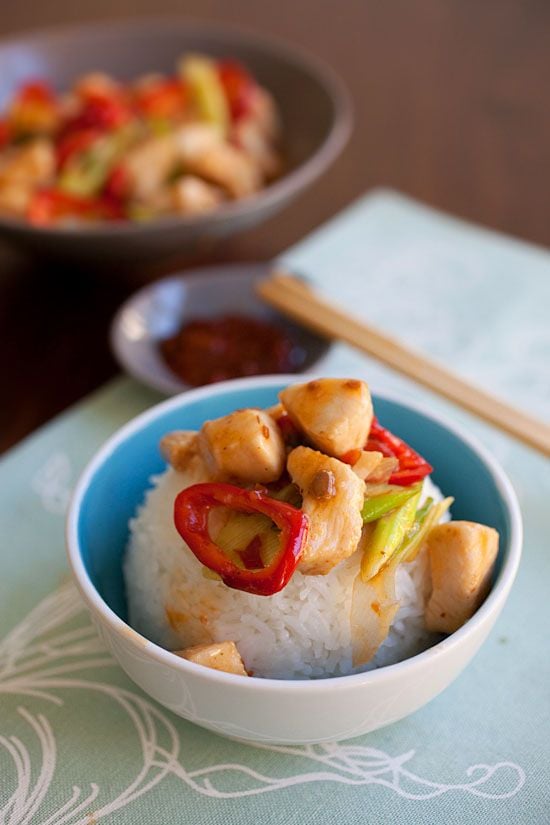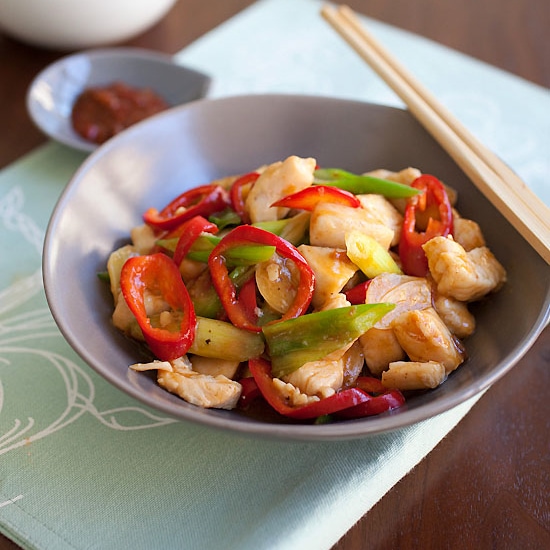 Spicy Chicken Stir-fry
Spicy chicken stir-fry, Taiwanese style or辣子鸡丁. Easy chicken stir-fry with spicy bean sauce. Easy spicy chicken stir-fry recipe.
Prep time:
Cook time:
Total Time:
Makes4
Ingredients:
1 lb chicken, cut into small cubes
3 tablespoon cooking oil
2 cloves garlic, sliced thinly
8 slices ginger
2 scallions, trim and cut into 1-1/2 inch lengths
2 red chilies, seeded and finely sliced
Marinade:
1/2 teaspoon soy sauce
1/2 teaspoon salt
1/2 tablespoon Shaoxing wine
1/2 teaspoon sugar
1 teaspoon cornstarch
1 tablespoon water
Sauce:
2 tablespoon Sichuan soy-bean paste with chili ("douban jiang")
1 tablespoon sugar
1/2 cup water
1 tablespoon cornstarch
Method:
1. Marinate the Chicken cubes for 15 minutes.
2. Mix the Sauce ingredients in a small bowl and set aside.
3. Heat up a wok with 2 tablespoons cooking oil and stir-fry the marinated chicken until they are 80% cooked or the surface turns white. Transfer out and set aside.
4. Clean the wok and add in the remaining 1 tablespoon of Oil. When the oil is fully heated, add the garlic and ginger until aromatic.
5. Add the Sauce and stir for a few times, adding the chicken back into the wok.
6. Stir continuously until the chicken meat is nicely coated with the Sauce.
7. Add the scallion and chili, stir evenly. Dish out and serve with steam rice.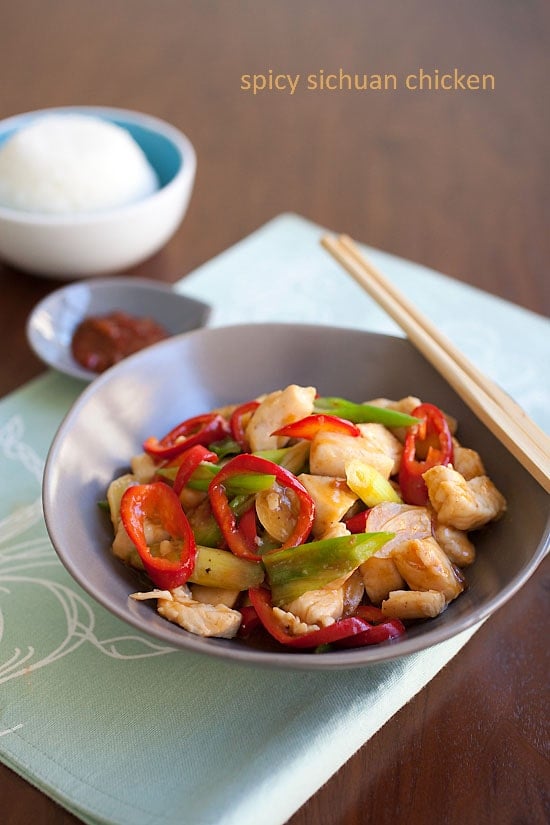 Greetings from Taipei!
It's annual vacation time again when we take our son home to Malaysia to visit family. This time, we decided to stop over in Taipei for a couple of days to visit an old friend to have fun and, of course, eat.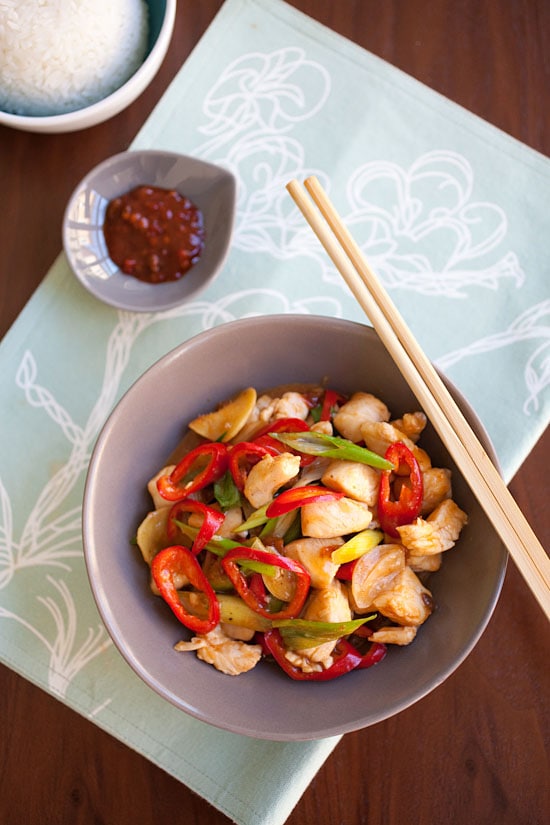 Many years ago, when I first came to Taipei, I instantly fell in love with its food—the famous Taiwanese pineapple tarts, simple breakfast of scallion oil noodles, freshly made soy milk, salt and pepper chicken, street food, as well as the many hot stir-fry restaurants with cheap and delicious food. I love Taiwanese 3-cup chicken, 3-cup squid, Taiwanese braised pork belly, as well as other delicacies, such as this spicy chicken stir-fry, or  辣子鸡丁.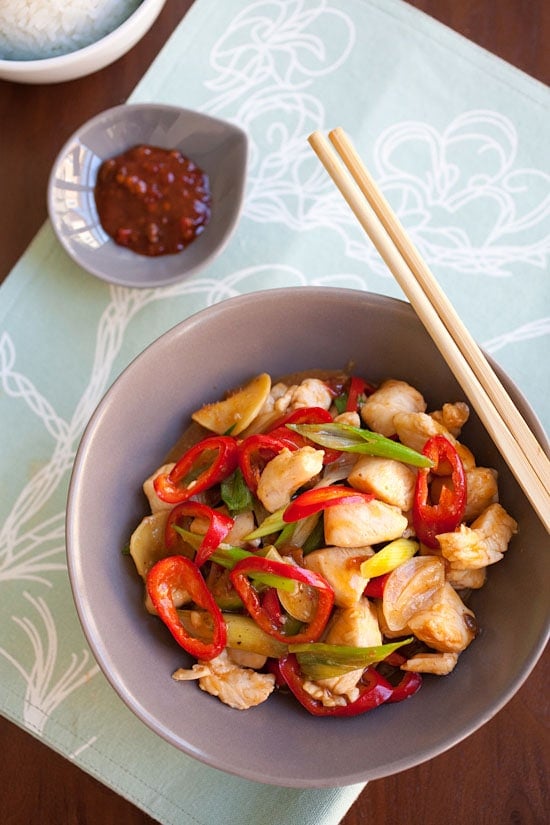 Right before my vacation, I cooked up a storm in my test kitchen, many of them Taiwanese recipes, knowing that we will be here. This recipe is adapted from my friend's Taiwanese cookbook. I am excited at the thought that I will be trying this spicy chicken stir-fry while we are here in Taipei. If you want to experience how this dish tastes and add a little bit of Taiwanese flavors to your dining table, please do attempt this spicy chicken stir-fry (辣子鸡丁) recipe at home. It goes very well with steamed rice and the tint of spiciness from the Sichuan spicy bean sauce adds great flavors and nuance to this appetizing dish. Enjoy!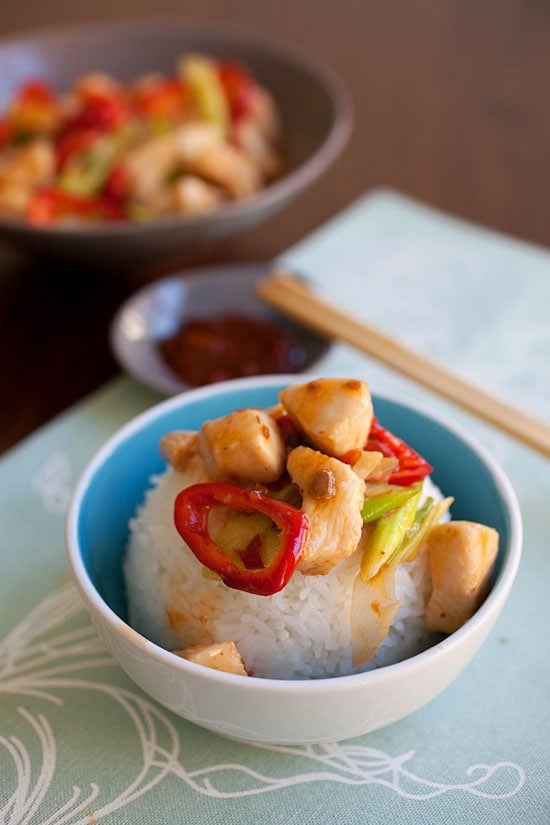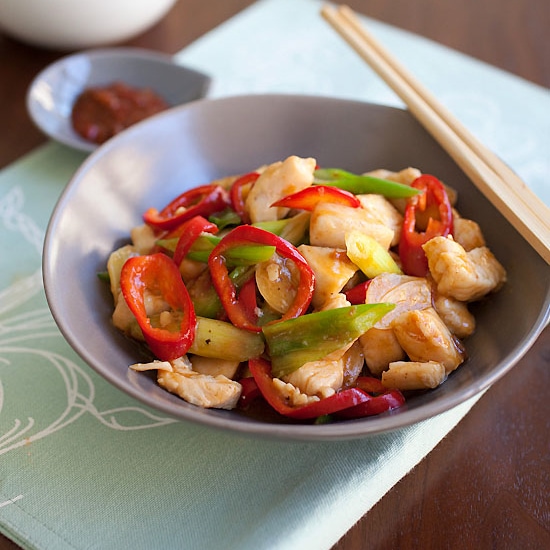 Rate This
Recipe Name
Preparation Time
Cook Time
Total Time
Average Rating

Based on 3 Review(s)