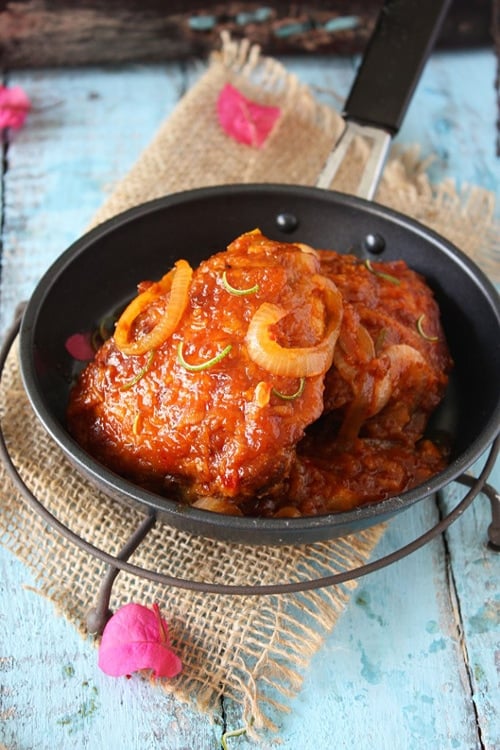 Malaysian cuisine consists of three main flavors: Malay, Chinese, and Indian. I have said it many times, but I love Malay cooking and only wished that I could eat more Malay dishes. Today, I have invited my friend Zurin from Cherry on a Cake to guest post  and she shares my favorite Malay recipe with us: Spicy Honey Chicken. Cherry on a Cake is a delicious food blog with many baking and savory recipes. The recipes are authentic and the food photography is pure eye-candy. Check out Cherry on a Cake and I am sure you will like it.
Like those before me I was ecstatic to be invited to guest post on Bee's blog Rasa Malaysia. It is the food blog that every food blogger aspires to guest post on. Bee asked me if I would be interested. Was she kidding?! If there is a hole in my roof I think I just made it…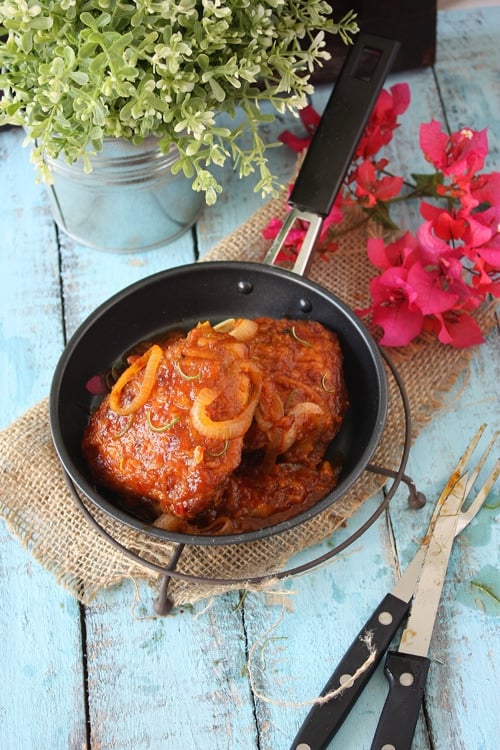 Hers is one of the first blogs I scrolled through in my early days of blogging and still follow silently because my jaw hangs each time I stop by. Everything seems professional, the recipes precise, the photography perfect and most of all her repertoire of dishes are endless. It was and still is sheer inspiration. And here I am now making my little mark and taking up a teeny space on the famous food blog of Rasa Malaysia. Imagine that!
Spicy Honey Chicken is quite akin to the Malay Ayam Masak Merah (red cooked chicken). In both, tomato ketchup is one of the main ingredients used. It is the Malay version of a Chinese sweet and sour chicken.
Ayam Masak Merah and Spicy Honey Chicken are relatively "modern" dishes. These two dishes go back only as far as the Western tomato ketchup became a popular condiment in our households and when, after much dipping, we decided to incorporate it into our cooking as an ingredient. Hence, the Ayam Masak Merah was born followed closely by Spicy Honey Chicken when honey too began to be used in our cooking.
So these were not dishes I grew up eating when I was a child. It was only in later years that it amassed popularity and became a dish that was discovered to pair well with a Rice Biryani or Nasi Minyak and was thus served at special occasions, particularly weddings.
Where most Malay dishes including Ayam Masak Merah (Red Cooked Chicken) use large amounts of onions or shallots to give sweetness and to bulk up the sauce Honey Spiced Chicken does not. This dish has very little sauce or gravy unlike a curry or sambal dish…which is quite uncharacteristic because sauce or gravy in our world serves only one purpose. To drown our rice in.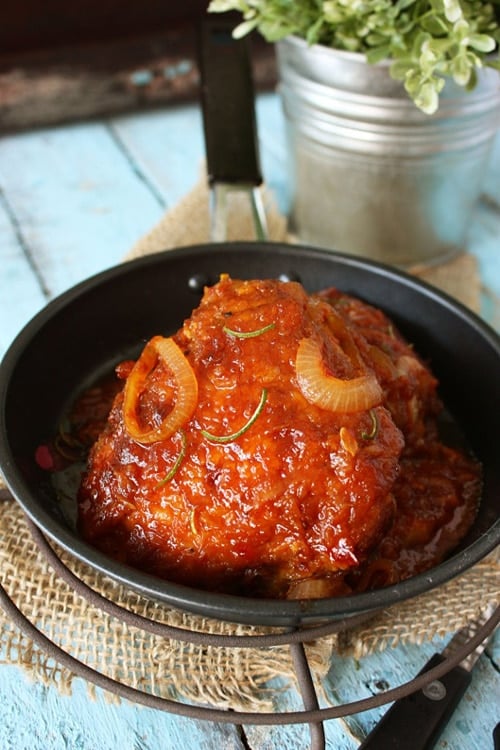 Lets face it. Rice. Is. Bland.
But I suppose we have compromised our love of sauce and sambal and have come to accept that little sauce is acceptable in some cases. And Spicy Honey Chicken is one of them.
To this recipe, however, I have departed a little by adding an extra ingredient—some lime juice—to balance out the sweetness from the honey.