Almond Toffee - super easy homemade almond toffee recipe that is sweet, nutty, and crunchy. The absolute best candy for Christmas holidays.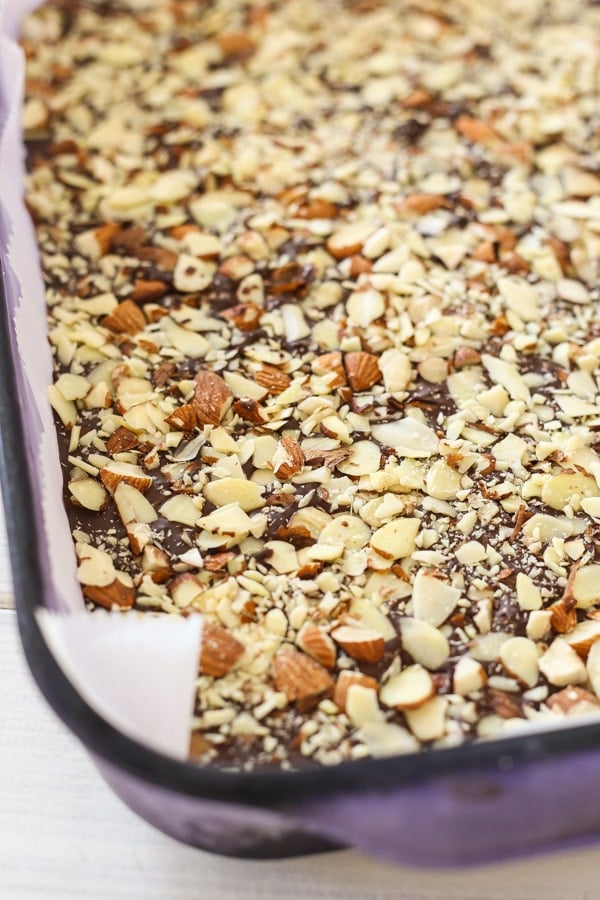 Homemade Toffee
This homemade toffee is the best ever, and the recipe calls for only five simple ingredients!
I love toffee. It is such a perfect dessert made from caramelizing sugar along with butter and flour.
It makes an excellent recipe to use for the holidays!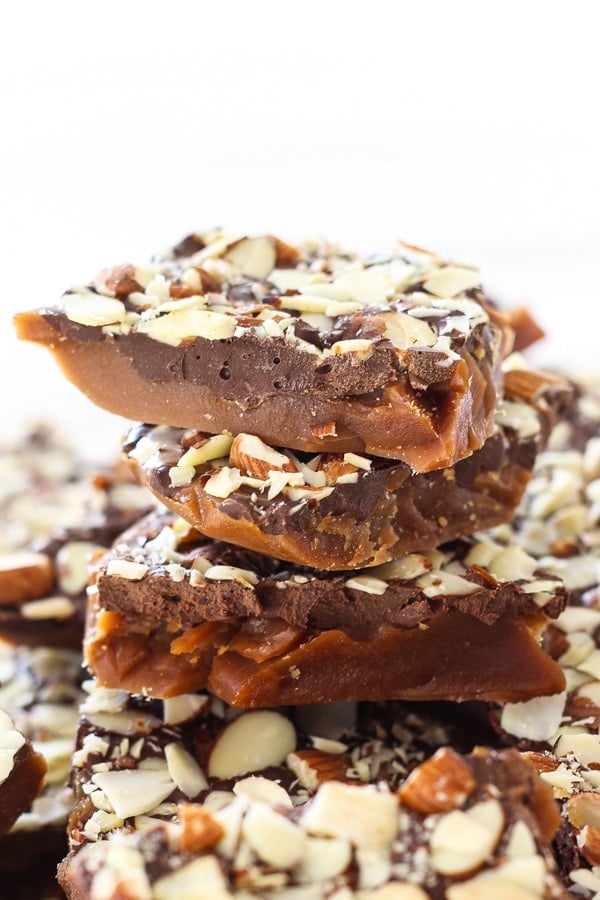 Ingredients for Almond Toffee
Unsalted butter
Granulated Sugar
Salt
Semi sweet chocolate chips
Almonds
What makes this toffee so good are the finishing touches.
The top has a generous layer of semisweet chocolate and cut up almonds, one of my favorite nuts.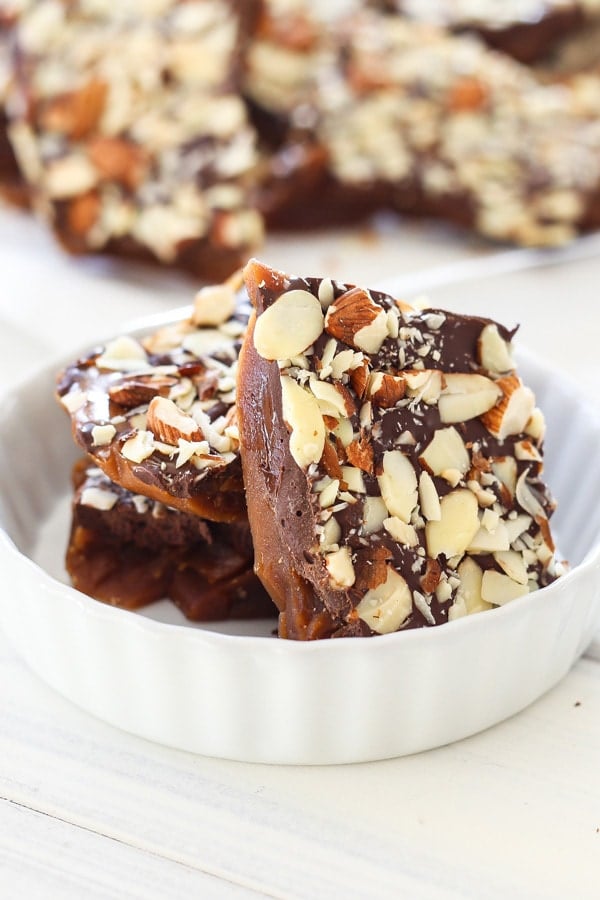 Cook's Tips
If you attempt this toffee recipe using a heavy pot, stirring constantly is a must.
Make sure you can hover over your stove for the full 20 minutes to stir with a wooden spatula, so your toffee doesn't burn.
At 300 degrees F, you can easily scorch your pot if you are not attentive.
For this particular treat, I sometimes like to cool the entire pan with the candy in the refrigerator just until the toffee comes to room temperature. Then I transfer the pan to the freezer, so the rest can set up.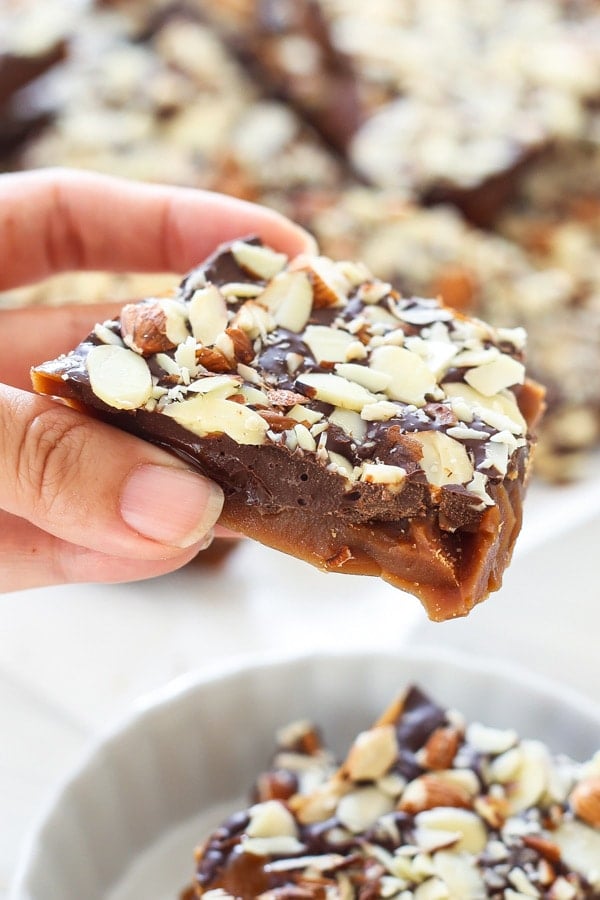 Frequently Asked Questions
What's the difference between caramel and toffee?
The difference is in how you cook it. You cook caramel at a lower temperature, while you heat toffee up at a much higher temperature in order to give it that crunch.
Should toffee be refrigerated?
Yes, it should be refrigerated to be set. You can refrigerate it for up to 6 months in the refrigerator, but if it's at room temperature, the toffee will last for 6 weeks.
How many calories?
This recipe has 418 calories per serving.
What Dishes to Serve with this Recipe?
This dish is best served as a dessert. For other wholesome holiday desserts, I recommend the following recipes.

Pairs well with: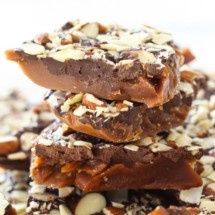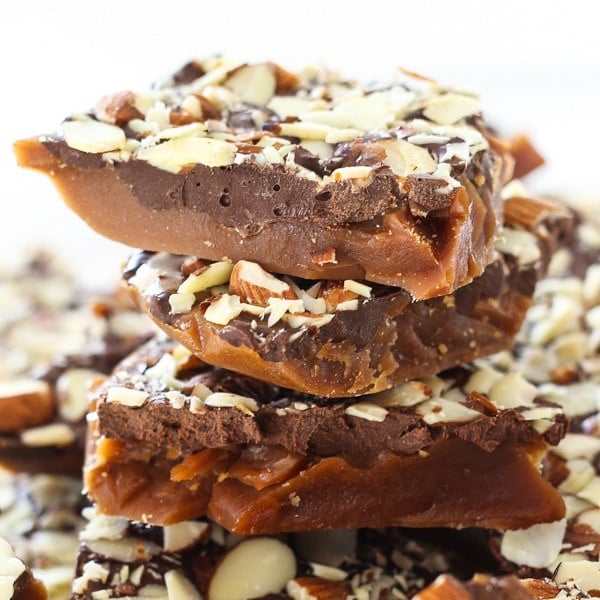 Toffee Recipe
Almond Toffee – easy and the best homemade almond toffee recipe that is sweet, nutty, crunchy. Perfect candy for Christmas holidays.
Ingredients
2

cups

unsalted butter

(480 g)

2

cups

granulated sugar

(400 g)

1/4

teaspoon

salt

(1.75 mL)

2

cups

mini semisweet chocolate chips

(450 g)

1

cup

almonds, chopped

(150 g)
Click Here for Conversion Tool
Directions
Fill a pot with butter, sugar and salt. Cook on medium heat, stirring often, until the mixture turns amber and registers 300 degrees F.

Pour the mixture in a parchment lined baking pan. Sprinkle chocolate evenly over the top. Allow to sit until slightly melted; use a spatula to smooth the chocolate. Top evenly with almonds, pressing gently so the nuts stick to the chocolate.

Refrigerate until set. Break into pieces and serve.
Recipe Notes
Store the toffee in an airtight container.
Nutrition Facts
Toffee Recipe
Amount Per Serving (20 people)
Calories 418
Calories from Fat 279
% Daily Value*
Fat 31g48%
Cholesterol 50mg17%
Sodium 34mg1%
Potassium 190mg5%
Carbohydrates 33g11%
Protein 3g6%
Vitamin A 580IU12%
Calcium 39mg4%
Iron 1.8mg10%
* Percent Daily Values are based on a 2000 calorie diet.