Black Pepper Beef - Easy Chinese stir-fry with beef, black pepper, and onion. This recipe takes 20 minutes to make and is much better than takeout.

Chinese Black Pepper Beef
Everyone loves a quick and easy beef stir-fry, especially Chinese beef stir-fry.
This quick and easy pepper steak is from my cookbook Easy Chinese Recipes.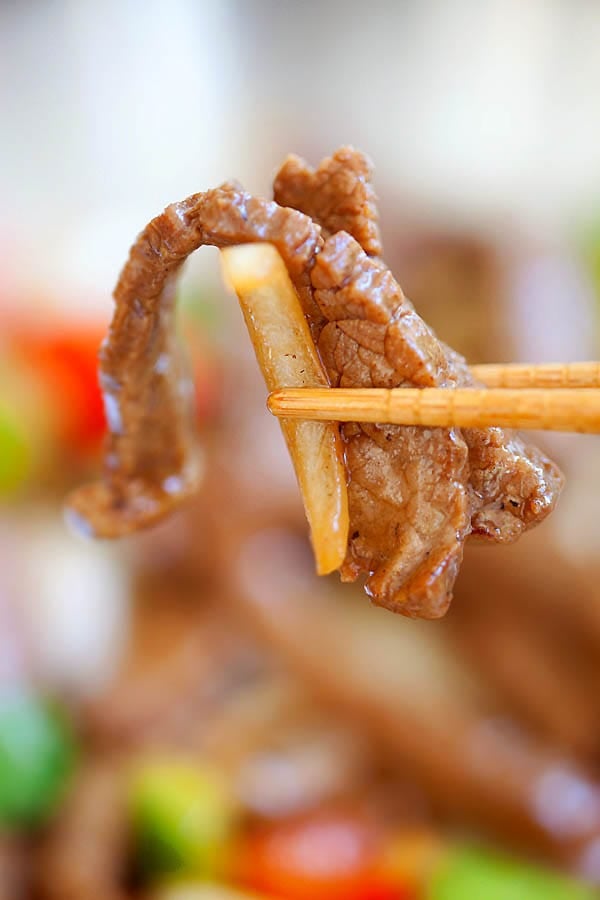 Ingredients to Make Black Pepper Steak
Black Pepper
Red and Green Bell Peppers
Soy Sauce
Oyster Sauce
Worcestershire Sauce
Chinese Rice Wine
Sesame Oil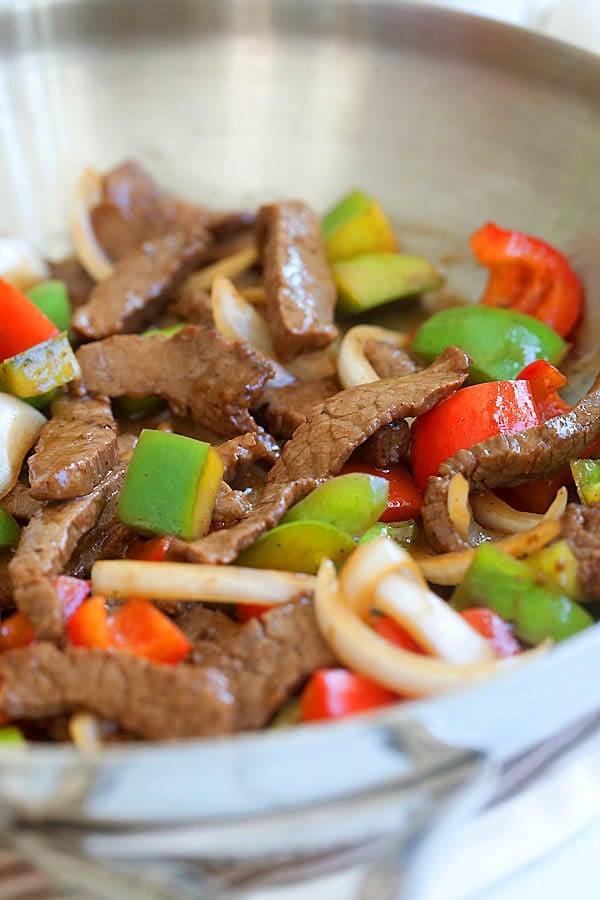 Cook's Tips
If you love the taste and texture of caramelized onion, stir-fry it a little long so the beef (steak) soaks up all the flavors.
Be generous with the black pepper like I do, as it completes the flavor of this popular beef stir-fry and delivers the ultimate black pepper beef that everyone loves.
How Many Calories per Serving?
This recipe is only 375 calories per serving.
What Dishes to Serve with This Recipe?
For a wholesome meal and easy weeknight dinner, I recommend the following recipes.
5 Secrets to 20 Min Dinners
Get tricks for quick & easy meals!
Yield: 2 people
Black Pepper Beef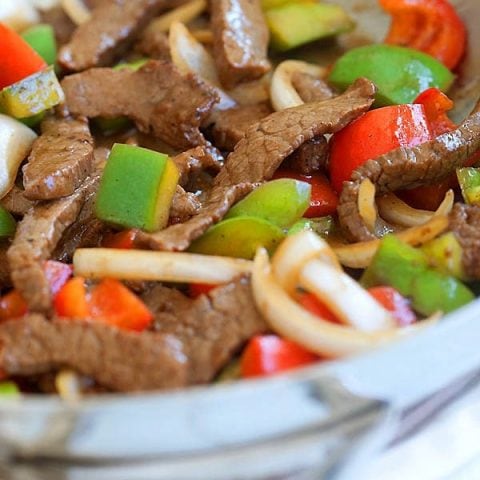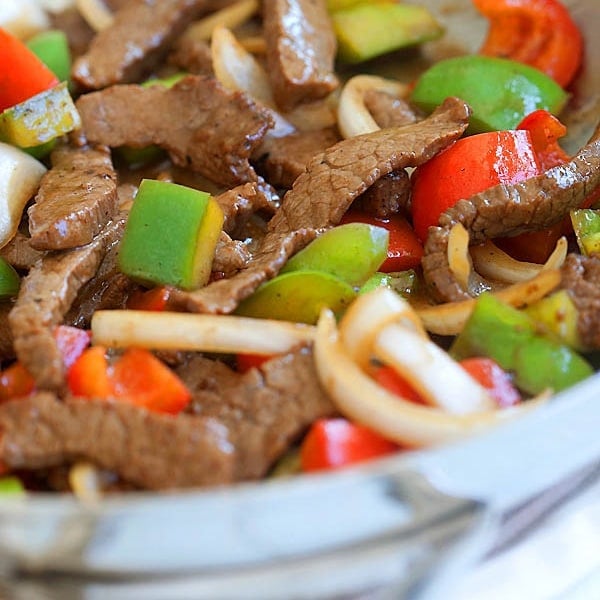 Easy black pepper beef with beef, black pepper and onion. This Chinese black pepper steak and beef takes 20 minutes to make and much better than takeout.
Ingredients
8 oz. (226 g) beef tenderloin, flank steak or flap meat, cut into pieces
2 ½ tablespoons cooking oil
1 clove garlic, minced
1 piece (2.5 cm) fresh ginger, peeled and sliced
1/2 small green bell pepper, deseeded and cut into pieces
1/2 small red bell pepper, deseeded and cut into pieces
1/2 onion, cut into strips
1 teaspoon freshly ground black pepper
Salt to taste
Marinade:
1 1/2 teaspoons Maggi seasoning sauce
1/2 teaspoons soy sauce
1/2 teaspoon dark soy sauce
1 teaspoon oyster sauce
1 teaspoon worcestershire sauce
1 teaspoon Chinese rice wine or sherry
1/2 teaspoon corn starch
1/2 teaspoon sesame oil
1/2 teaspoon sugar
Instructions
Marinate the beef with all the Marinade ingredients, about 15 minutes.
Heat 1 tablespoon of the oil in a wok or skillet over high heat. Stir-fry the beef until the beef is browned on the outside but still pink inside. Dish out and set aside.
Heat the remaining oil in a wok or skillet over high heat. Stir-fry the garlic and the ginger until aromatic, and then add the green bell pepper, red bell pepper, onion, and black pepper. Stir-fry until you smell the aroma from the ingredients in the wok.
Transfer the beef back into the wok or skillet. Stir-fry until the beef is cooked through and the center of the meat is no longer pink, about 1-2 minutes. Dish out and serve immediately with steamed rice.
Nutrition Information
Serving Size
2 people
Amount Per Serving
Calories

375
Total Fat

25g
Saturated Fat

4g
Cholesterol

68mg
Sodium

344mg
Carbohydrates

12g
Fiber

3g
Sugar

5g
Protein

26g