Buttermilk cake with blackberries – Buttermilk makes the cake extra moist and delicious, and blackberries pack all the vitamins. Easy baking recipe!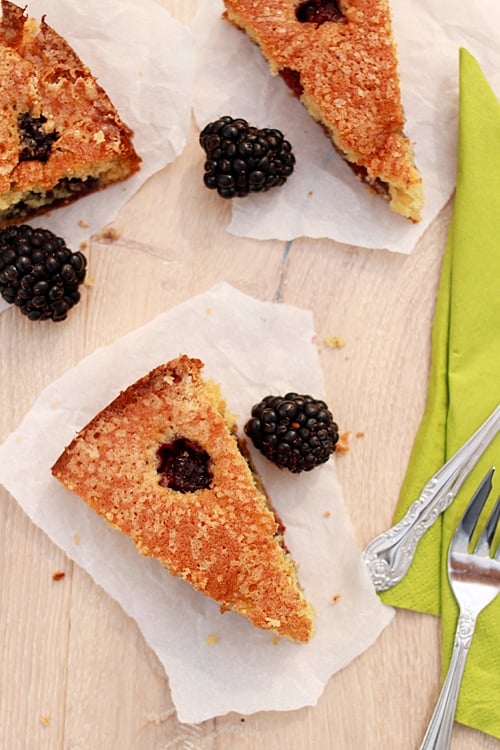 I have been baking up a storm lately and today it continues with this buttermilk cake with blackberries.
Fall is such a great season to bake, as the days get colder, the heat of the oven warms up the room while the aroma fills the crisp air.
And nothing beats a slice of freshly-baked cake, with a cup of tea or coffee while I read through my magazines.
I also love raisin butter cake, pound cake, marble cake, and of course, everyone's favorite madeleine.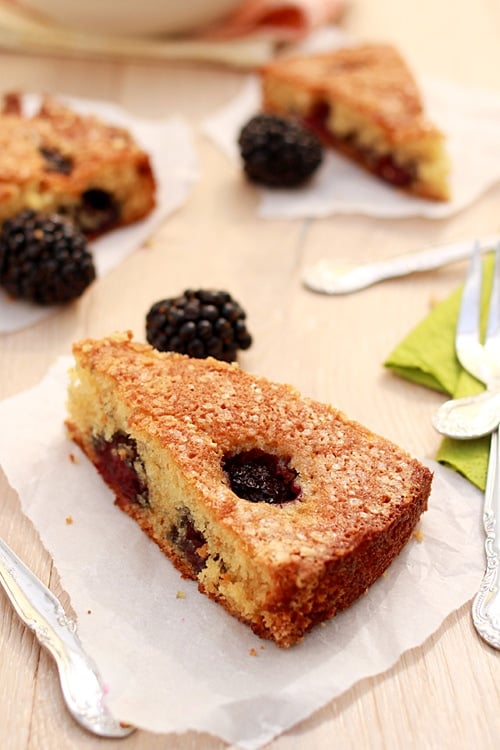 Buttermilk is a very new ingredient to me.
I have never used it in my kitchen, well, until this recipe.
Buttermilk is the leftover liquid after the butter is churned.
However, the buttermilk we get at grocery stores is cultured buttermilk, which is made by adding a bacteria culture to low-fat milk or skim (no fat) milk.
In baking, buttermilk is highly prized because it makes baked goods such as cakes moist with a creamy texture, plus it's also low fat.
In the United States, especially in the southern states, buttermilk is widely used in fried chicken as it makes the chicken extra moist and juicy.
Anyway, I was very happy with my first experiment with buttermilk.
This blackberry buttermilk cake turned out moist and delicious and we finished the cake in one day.
It was also very easy to make.
More importantly, this is another recipe that Baby G can enjoy.
The blackberries pack a lot of nutrition and vitamin C that he needs.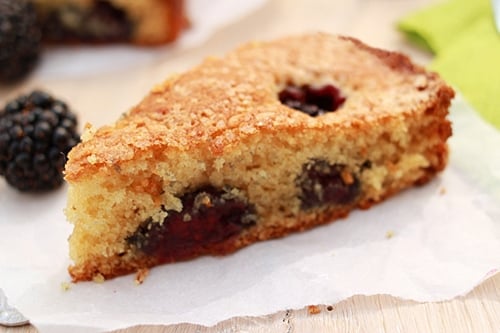 For cakes made with buttermilk, it's best to serve it on the same day.
You might keep it overnight.
If the cake is left out at room temperature, it might turn moldy beyond the second day.
So, do not keep this cake over two days.
Anyway, if you try this buttermilk cake with blackberries, I am pretty sure it won't last very long because of its wonderful taste!
How Many Calories per Serving?
This recipe is only 320 calories per serving.
5 Secrets to 20 Min Dinners
Get tricks for quick & easy meals!
Yield: 5 people
Buttermilk Cake with Blackberries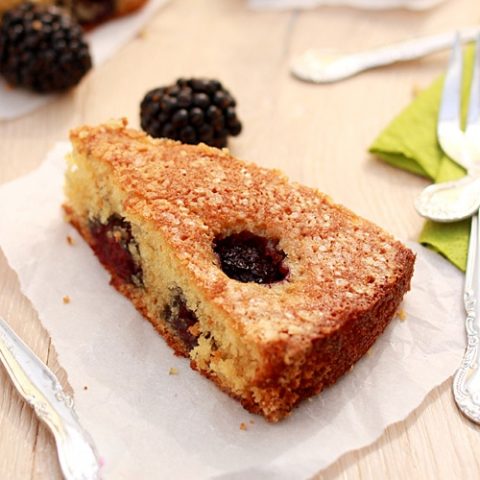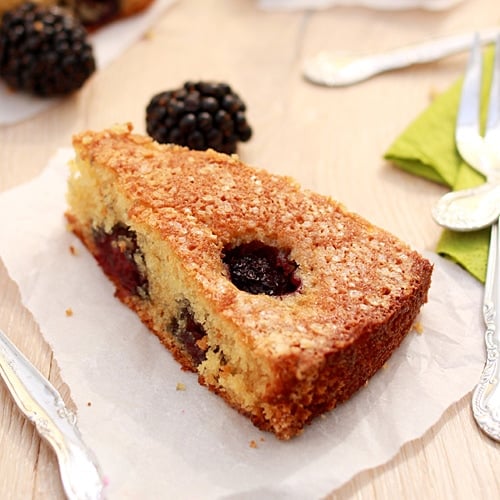 Buttermilk cake with blackberries – Buttermilk makes the cake extra moist and delicious, and blackberries pack all the vitamins. Easy baking recipe.
Ingredients
1 cup all-purpose flour, spooned and leveled
1/2 teaspoon baking powder
1/2 teaspoon baking soda
1/4 teaspoon salt
4 tablespoons (60 g/2 oz.) unsalted butter, softened
2/3 cup plus 1 1/2 tablespoons sugar
1 large egg
1 teaspoon vanilla extract
1/2 cup buttermilk, room temperature
1 1/4 cups blackberries
Whipped cream for serving, optional
Instructions
Preheat the oven to 400°F (204°C). Line a 9" round pan with parchment paper and butter the pan and paper.
Sieve and whisk the flour, baking powder, baking soda and salt into a bowl. Set the bowl aside.
Use an electric mixer to beat the butter and 2/3 cup sugar until light and fluffy. Add in the egg and vanilla extract.
Turn the mixer to low speed. Add in the buttermilk and the dry ingredients in 3 alternating batches, ending with the dry ingredients. Do not over beat.
Turn off the mixer and use a spatula to fold gently until all the dry ingredients just blended. Pour into the prepared 9" pan. Smooth the top with the spatula.
Scatter the blackberries over the batter and lightly press them in. Sprinkle the remaining 1 1/2 tablespoons sugar over the top.
Bake the cake for 30-35 minutes, or until a cake tester inserted in the center comes out clean.
Remove the pan from the oven. Let it sit for 10 minutes on a wire rack. Slowly turn out the cake, remove the paper and let the cake cool right side up on a wire rack.
Optional: Serve with whipped cream.
Notes
Do not keep this cake over 2 days.
Nutrition Information
Yield
5
Serving Size
5 people
Amount Per Serving
Calories

320
Total Fat

11g
Saturated Fat

6g
Unsaturated Fat

0g
Cholesterol

59mg
Sodium

266mg
Carbohydrates

50g
Fiber

2g
Sugar

29g
Protein

5g