Pound Cake – easy and the best pound cake recipe that calls for only a few ingredients. The cake is so moist, buttery, rich and creamy.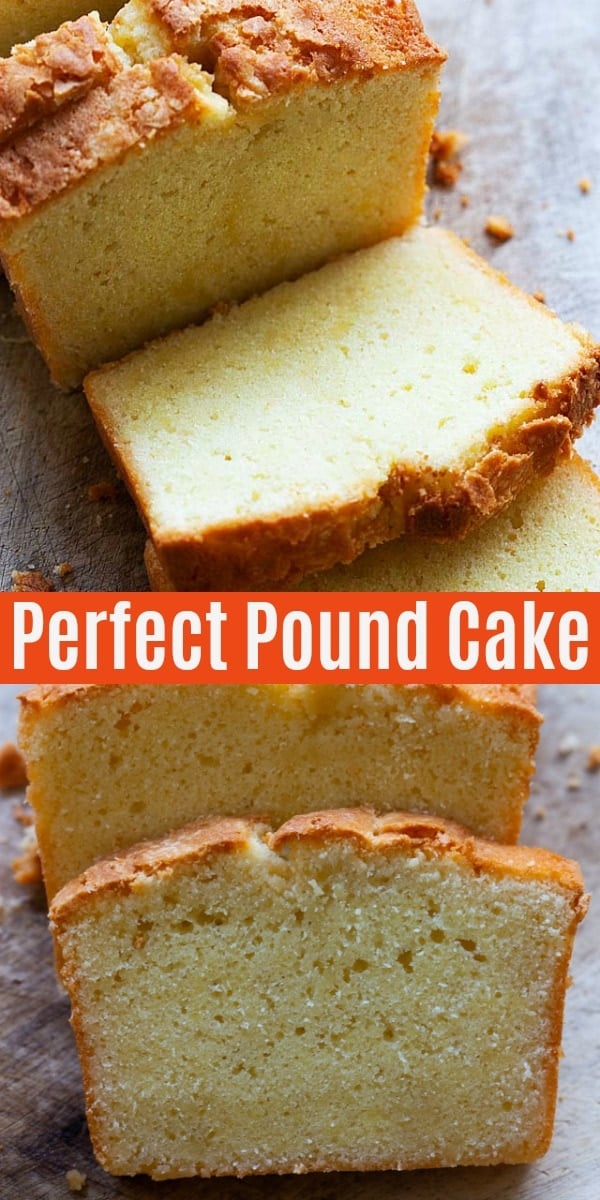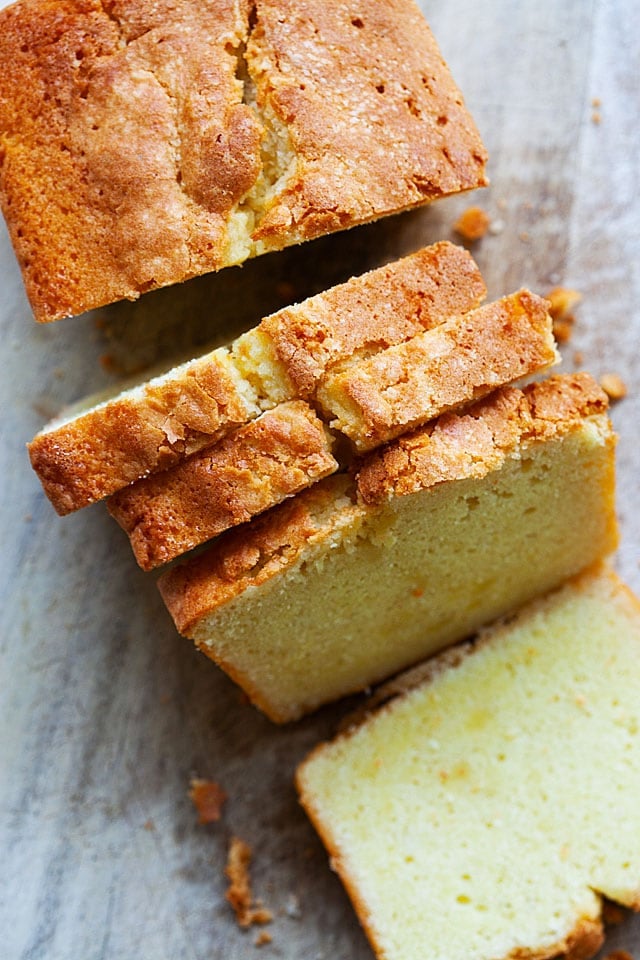 Pound Cake
This is a traditional pound cake made with butter, all-purpose flour, sugar and eggs.
I have different pound cake recipes made with other ingredients, for example: cream cheese, lemon, Meyer lemon, blueberry, pumpkin, almond, nutella and matcha green tea.
This recipe came from The Cake Book. It's the best pound cake recipe ever! It yields extremely buttery, rich, and moist cake that you can't stop eating.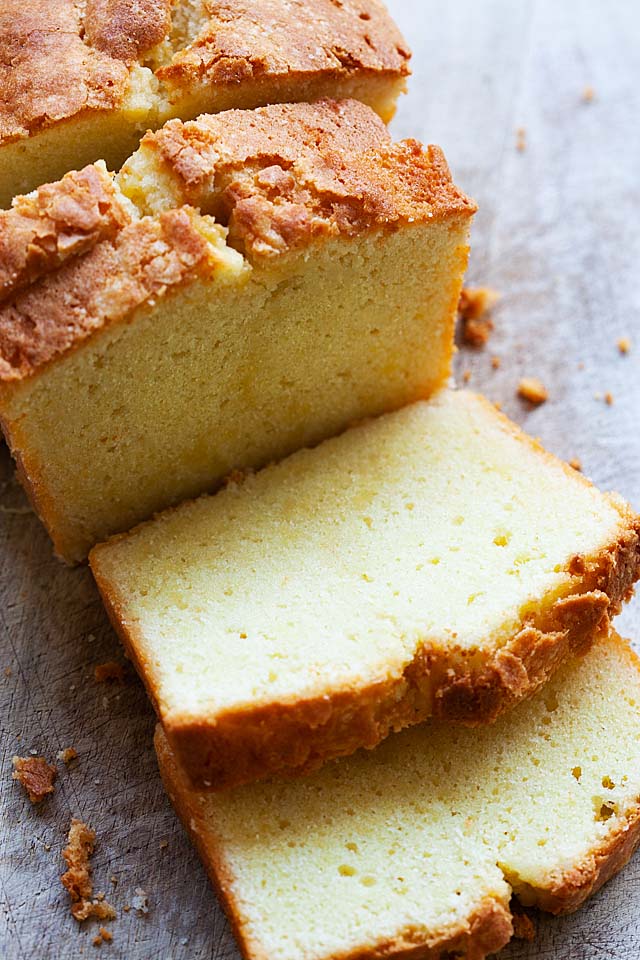 Other Cake Recipes You Might Like
How to Make Pound Cake?
This easy recipe calls for only a few basic baking ingredients. The method is very easy, fail proof and novice baker friendly.
Unsalted Butter
All-purpose flour
Eggs
Sugar
Magic happens when all the ingredients above are beaten together and then baked.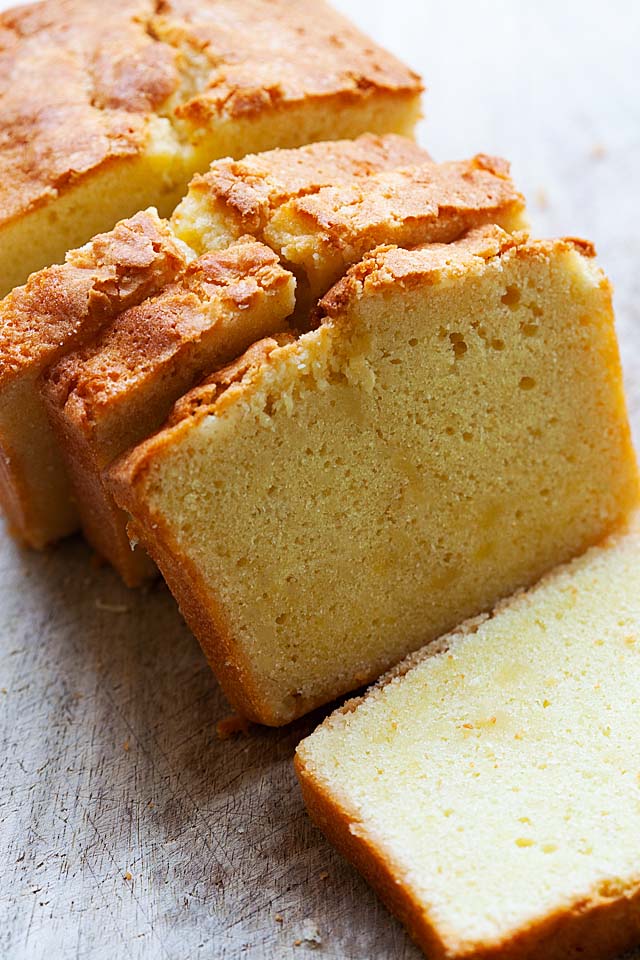 Baking Tips
For the best results, please follow my baking tips below:
Use heavy cream. It's the secret ingredient in this recipe, making the cake extremely rich and moist.
Bake the cake using two loaf pans. Stacking two pans together will make sure that the cake has a nice brown color without a thick crust.
To avoid the pound cake becoming overly brown at the top (and inside not cooked through), cover the cake with aluminum foil at 30 minutes mark or after the top of the cake is set.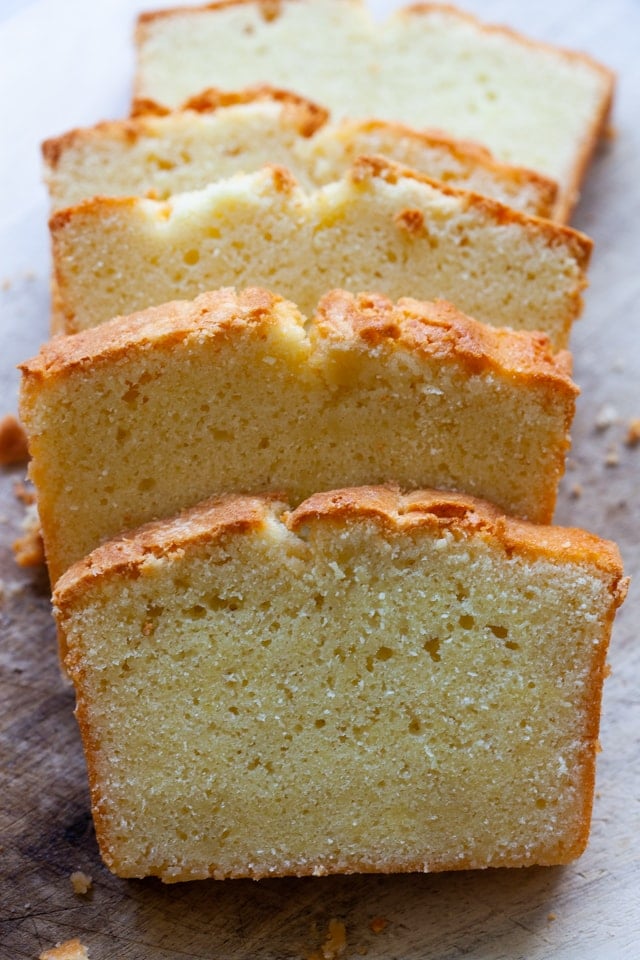 Frequently Asked Questions
Difference between Pound Cake and Butter Cake
Both cakes are very similar, with slight variation in its ingredients.
While this recipe yields the best homemade pound cake, I have to say that my butter cake recipe is better.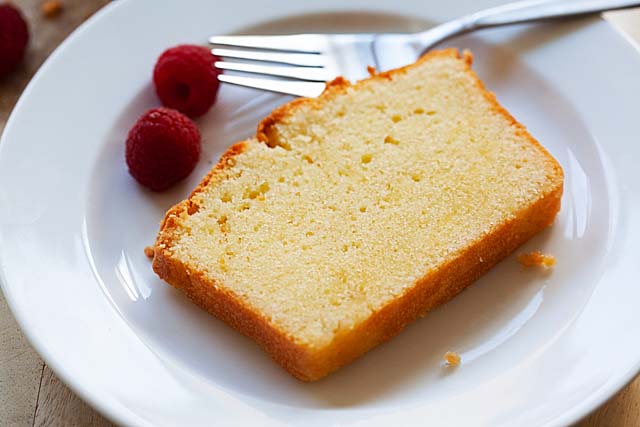 What Kind of Pan Can I Use?
Other than loaf pan, you can bake this cake with mini loaf pans, a square 8×8-inch or 9×9-inch pan.
You can also use a round cake pan.
For the best looking cake, stack two pans together before baking.
Can I Use Sour Cream?
Yes, you can use sour cream to replace heavy whipping cream in the recipe. Sour cream will also make the cake moist.
How Many Calories per Serving?
This recipe is only 336 calories per slice of cake.
What to Serve with This Recipe?
Serve this cake with other sweet treats. For an afternoon tea party, I recommend the following recipes.

5 Secrets to 20 Min Dinners
Get tricks for quick & easy meals!
Yield: 12 slices
Pound Cake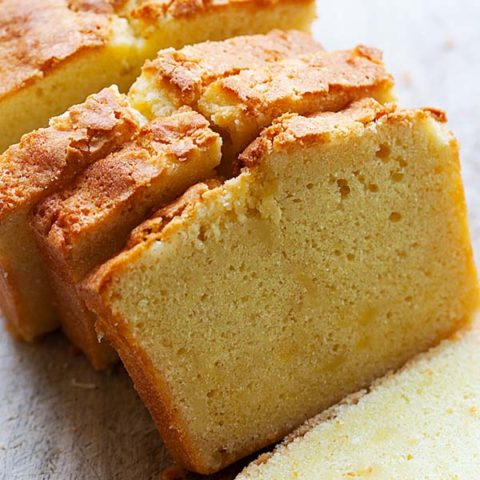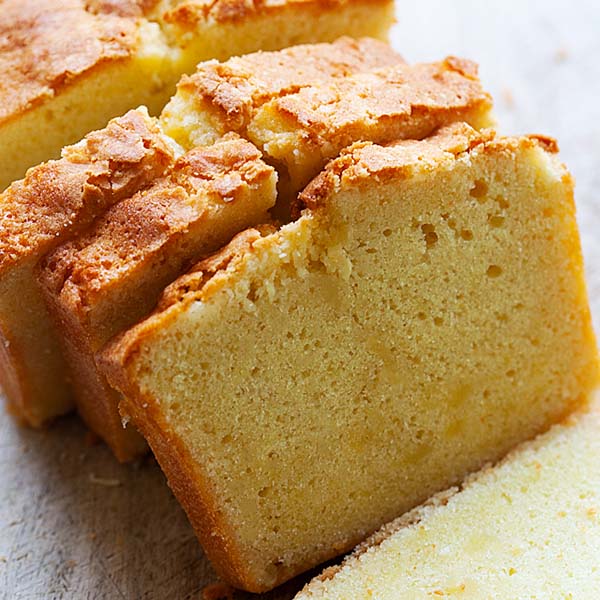 Pound Cake – easy and the best pound cake recipe that calls for only a few ingredients. The cake is so moist, buttery, rich and creamy.
Total Time
1 hour
15 minutes
Ingredients
2 cups (7 oz. /200 g) sifted cake flour
1/4 teaspoon baking powder
1/4 teaspoon salt
2 sticks (8 oz. /227 g) unsalted butter, softened
1 1/4 cups (8.8 oz. /250 g) granulated sugar
4 large eggs
1 teaspoon finely grated lemon zest, optional
1 teaspoon vanilla extract
1/3 cup (80 ml) heavy whipping cream
Instructions
Preheat oven to 325°F (160°C) Grease the bottom and sides of a 9x5-inch loaf pan. Dust the pan with flour.
Sift together the flour, baking powder and salt into a medium bowl, set aside.
Cream butter in a mixer at medium speed until very creamy, about 2 minutes. Gradually add the sugar and continue beating for 4 mins until very light and fluffy, about 4 minutes. Reduce the speed to low and add the eggs one at a time, beating well after each addition and scraping down the sides of the bowl occasionally. Add in the lemon zest and vanilla extract. Add the flour mixture at low speed in three additions, alternating it with the heavy cream in two additions and mixing just until the flour is incorporated. Scrape the batter into the pan and smooth the top.

Bake for 60-70 minutes or until a cake tester inserted into the center come out clean. Remove from the oven and let cool on a wire rack for 20 minutes. Slice into pieces and serve.

Notes
Recipe Source: The Cake Book by Tish Boyle.
Nutrition Information
Serving Size
12 slices
Amount Per Serving
Calories

336
Total Fat

19g
Saturated Fat

12g
Cholesterol

104mg
Sodium

75mg
Carbohydrates

36g
Fiber

1g
Sugar

21g
Protein

5g