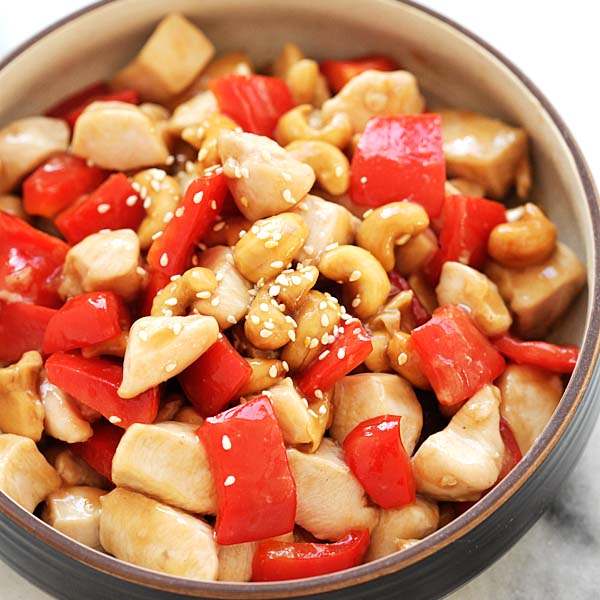 Cashew Chicken
Cashew Chicken – Crazy delicious and easy cashew chicken recipe with tender and silky chicken in Chinese brown sauce. So much better than takeout
Prep time:
Cook time:
Total Time: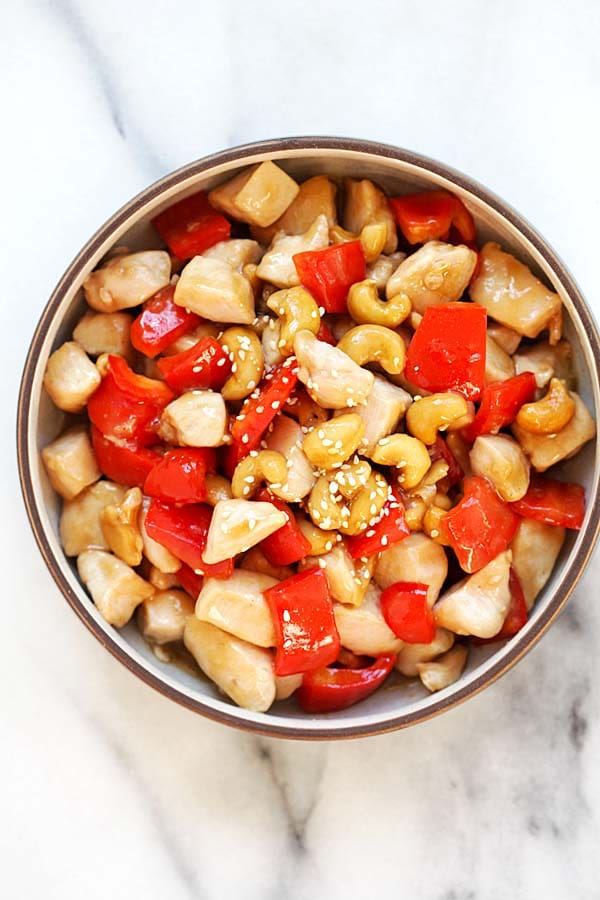 Cashew Chicken
Cashew Chicken – Crazy delicious and easy cashew chicken recipe with tender and silky chicken in Chinese brown sauce. So much better than takeout.
The key to a great Chinese stir-fried chicken dish is simple: silky smooth tender chicken meat lightly coated with a sauce, stir-fried over high heat using a wok to flash cook the chicken. To learn more about Chinese cooking and secret techniques, buy my best-selling cookbook "Easy Chinese Recipes" now.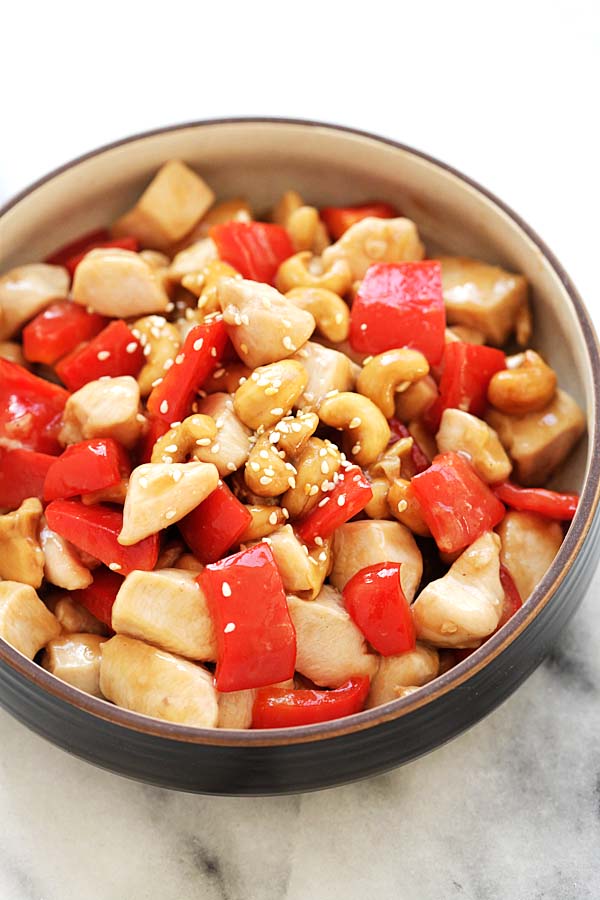 Cashew Chicken Recipe
Serves 2 | Prep Time: 20 Minutes | Cook Time: 5 Minutes
Ingredients:
10 oz. boneless and skinless chicken breast, cut into small cubes
2 tablespoons oil
5 slices peeled ginger
1 small red or green bell pepper, cut into small squares
1/2 cup unsalted cashew nuts
Marinade:
1 teaspoon corn starch
1 teaspoon Chinese rice wine, optional
Sauce:
1/2 tablespoon oyster sauce
3/4 teaspoon soy sauce
3 tablespoons water
3 dashes ground white pepper
1/2 teaspoon sugar
1/2 teaspoon rice wine, optional
1 teaspoon sesame oil
Salt to taste
Method:
Rinse the chicken breast with cold water, pat dry with paper towels. Cut the chicken into cubes and marinate with corn starch and rice wine (if using). Mix all the ingredients for the Sauce together. Set aside.
Heat up a wok or skillet with 1 tablespoon of the oil and stir-fry the chicken until they turn white (not bot completely cooked). Dish out and set aside.
Add the remaining 1 tablespoon of the oil into the wok or skillet and add the ginger and bell pepper. Stir-fry until you smell the peppery aroma from the peppers, then add the chicken back in. Stir in the Sauce and toss and stir fry continuously until the chicken is cooked and the sauce thickens. Add salt to taste.
Add the cashew nuts and do a few quick stirs. Dish out and serve immediately with steamed rice.
Cook's Note:
To make the chicken extremely tender like Chinese restaurants, you may use 1 tablespoon of baking soda to tenderize the chicken. In a bowl, add the baking soda to the chicken. Use a spoon to mix well so the baking soda coats the chicken evenly. Leave on for 5 minutes before rinsing the chicken off with cold water. Make sure you rinse the chicken well so there is no residue on the chicken. Pat dry with paper towels before marinating with corn starch and rice wine.

NEW! Menu Pairing Ideas:
Get FREE RECIPES via Email and YouTube Channel:
Don't miss a recipe! Subscribe to Rasa Malaysia newsletter and Rasa Malaysia YouTube Channel.
IMPORTANT:
All photos and recipes on Rasa Malaysia are copyright protected. Please do not use my photos and recipes without prior written permission. If you wish to republish this recipe, please rewrite the recipe in your own words instead of copy and paste and link back to https://rasamalaysia.com/cashew-chicken/. Thank you very much!
Most-Pinned Recipes
Ginger Garlic Baked Chicken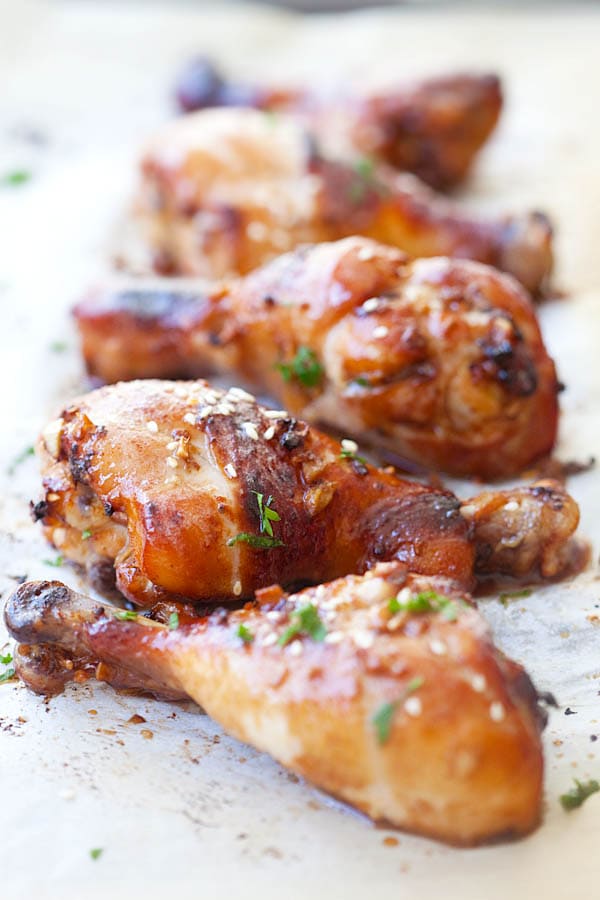 Crab Rangoon (Cream Cheese Wontons)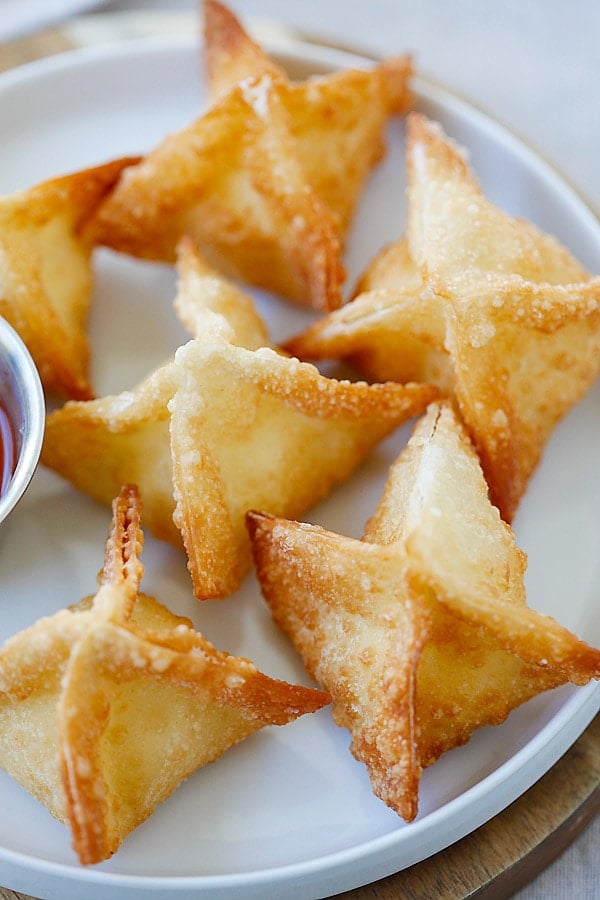 Chicken Wontons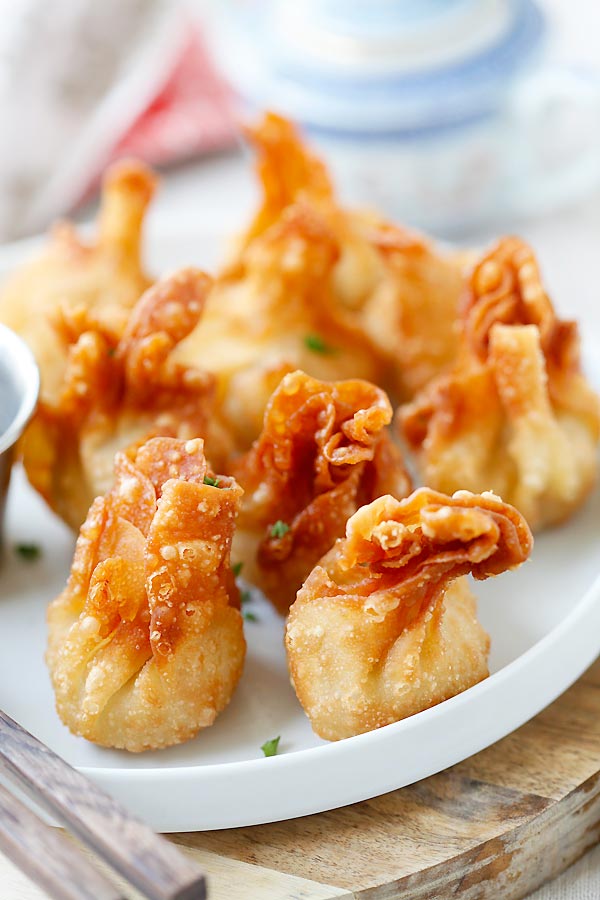 Onion Scallion Beef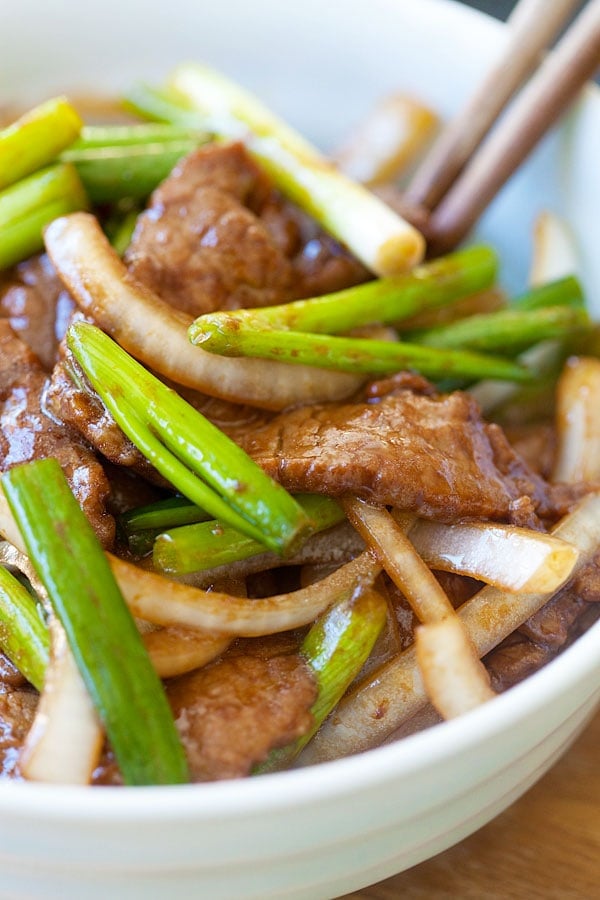 Thai Chicken Sate with Peanut Sauce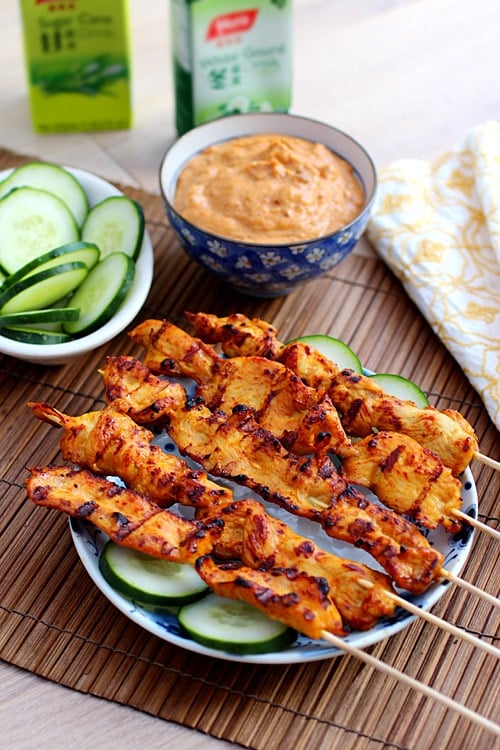 Thai Peanut Sauce